Vimeo! A popular video streaming platform, possibly the second best compared to YouTube. But then again, that's just my opinion. Some people prefer it over YouTube. But just like YouTube, there does not seem to be a direct way of downloading video content from there. So, what if you wanted the videos from Vimeo to MP4 format on your system for offline viewing and sharing? There is a solution for that! Numerous online vimeo downloader websites help you extract your favourite videos from Vimeo and download them into your preferred format, which most commonly happens to be in MP4.
See Also: 10 Best Currency Converter Apps for iPhone [2023]
You can use any of these six online tools that convert vimeo to MP4 files. They are all free and easy to use. Let's get on with it then, shall we?
Top 15 Vimeo to MP4 Converter Websites
Here are top 9 Vimeo to MP4 Converter Websites
Vimeoinmp4
Quite a straightforward name, wouldn't you say? The website is also very simplistic and requires merely a Vimeo URL from you. After you paste the link, it seems to redirect you to another site called save it offline.
There your video will be shown, and you will be asked to select the quality you want it to be in. The resolution ranges from 360p all the way to 1080p.
KeepVid
We seem to keep landing back into this one, do we not? But I have good reason to bring back KeepVid as a preferred video downloader. The online tool is meant to handle all significant formats coming from every recognizable video source on the web, including Instagram!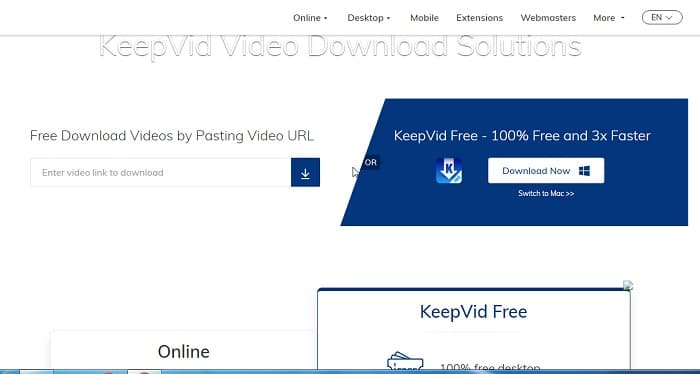 So just paste your Vimeo link in the text field and hit the download button, and it will ask you the quality, as usual. You need to be a pro user to make use of the 4K version as the download option, but it is available for free up to 1080p. This is very good for converting Vimeo to MP4. Click here! to know about Wondershare UniConverter.
Visit: KeepVid
ClipConverter
This is another reasonably favorite online tool which will help you convert Vimeo into MP4 files and download them. Just paste the Vimeo video URL into the text field and select the format into which you want the final output file to be in. That's it; it will start downloading in that required format, which in our interest, happens to be MP4.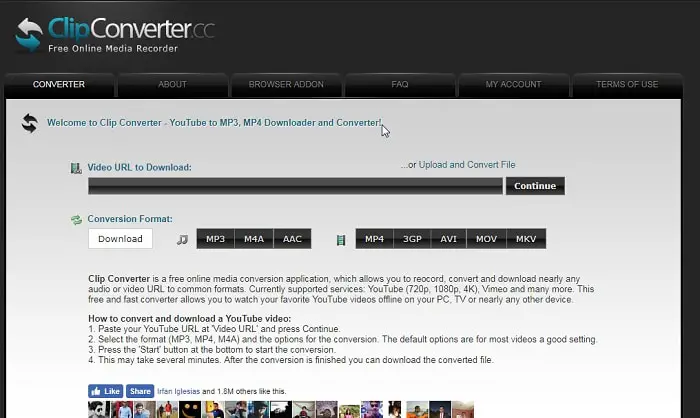 The conversion does take a bit of time. For me, it took about 10:32 minutes for a 720p video of the same length, on a WiFi 2 Mbps connection. It is a great Vimeo to MP4 Converter, apart from all the other conversion formats.
That said, you quite possibly have better internet speeds than I do, (sob), so you will have a faster conversion than this. So you should give this one a fair try, and see how it works out for you.
Visit: ClipConverter
See Also: Wondershare Free Video Converter | The Ultimate Converter of 2023
Zamzar
This tool is a stranger, even to me. But it works, and that's the whole point. It gives you a detailed illustration of each step that you need to follow, to get the download link to your converted content.
You first need to paste the link of the Vimeo video that you wish to convert and download. If you already have the downloaded file, you can upload it as well. Then you need to select the target format of the file.
In the setup, you will have to provide your email address, to where the download link for the converted file will be sent to. Then finally, you will have to hit the convert button and wait.
Again, it takes some time, but be patient, and it will get you your desired file in your preferred MP4 format. If you don't mind providing your email address, you should try out this website. It is a perfect tool for conversion of Vimeo to MP4.
Visit: Zamzar
Vimeotomp3
This website was probably initially meant for converting Vimeo content into audio, but now supports download vimeo mp4 format as well.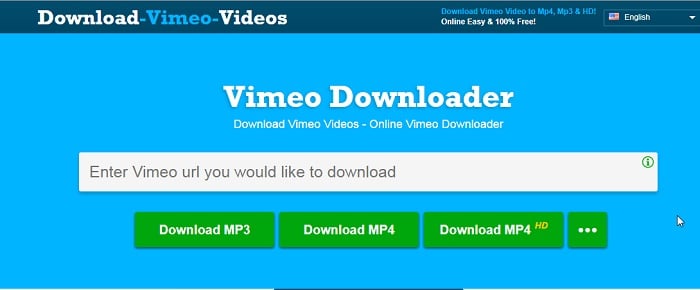 Enter the URL that you copied from the page of the Vimeo content that you want to save as MP4, and hit 'download in MP4' or 'download in MP4 HD' options, based on your preference. That's all there is to it. Your Vimeo video will immediately start to download.
Just bear in mind, there are a ton of ads on the websites that we feature above, so better have an antivirus software, just to be sure that your system is safe from any minor Trojans.
They are pretty commonly known to spread through some on click ads. That said, the website works flawlessly and downloads your videos instantly. This is just best for convesion of Vimeo to MP4.
Visit: Vimeotomp3
Videoconvert
This website is one of the more elegant ones in this list. It has a text box for you to paste the URL of the target Vimeo video and select the format to you want to convert in.
There seems to be great Vimeo to MP4 Converter and no MP4 HD option available, but it downloads it in the original quality anyway, so no need to be concerned.
You can select a good number of audio formats as well, should you ever need to. Once you hit convert, it does not take much time, unlike some other, we have seen in this list. It gives you the converted file ready to download in your specified format in a brief notice.
Videoconvert website can also download YouTube videos in the same manner. Which could prove handy for some of your friends looking for the same.
Video Keeper
AceThinker Video Keeper is a very popular video converter. It's one of the most dependable tools when one talks about downloading Vimeo videos online. It has a built-in browser which is instilled to the tool to make it simpler for you to obtain videos hassle-free.
Additionally, the tool aids downloads with websites that you may find prohibitive. The developer included extra features like recording and converting ability for your satisfaction. To convert a video to a separate format, Video Keeper helps you. All your requirements are in this tool making it great for Vimeo to MP4.
SaveClipBro
SaveClipBro is an excellent choice for converting Vimeo videos to MP4. It is a free video downloader, which is web-based. The specialty of SaveClipBro is that it can deliver Full HD video quality on MP4 format.
Additionally, it permits you to download videos from Vimeo without limitation. Also, you can even extract the audio file from Vimeo videos and convert it to an MP4 file. During the conversion process, it is one of the great options on the screen.
Y2mate
Y2mate is an online tool for converting videos. You can convert videos using the URL of the video. Its special ability that it offers the user is the ability to find the video by URL and also by keyword or title of the video. Furthermore, it permits you to download videos without restriction and convert the video into the format that you require.

This tool supports various websites like DailyMotion, Facebook, Youku, and many others. This tool is delivered & maintained by MUVI downloader. Y2mate was launched in the year 2016 and still up and running. This is a fantastic tool for Vimeo to MP4.
Visit: Y2mate
Apowersoft Free Online Video Converter
To convert Vimeo videos to MP4 format online, Apowersoft is a great option. Not just MP4, but you convert to any file format, and it also features high-speed conversion.
You can export the converted file to any device as well, including DVD player, smartphone, Tv, and others. Other features of apowersoft include video editing and converting Vimeo video to 4K video. However, it requires an online launcher plugin before it is usable.
Visit: Apowersoft Free Online Video Converter
Aconvert
If you are looking for a quick, free, and straightforward online Vimeo converter, your search ends here. Aconvert is a web-based conversion tool that also gives the option of uploading online and local files. It supports several video formats such as MOV, wmv, VOB, and others.
Not only it gives fast video conversion, but you can also choose where you want the output to be saved, be it PC or iCloud storage. Although it has some great features, keep in mind, the file limit for input is 200MB.
Visit: Aconvert
Also See: Wondershare Free Video Converter | The Ultimate Converter Of 2023?
Convert-Video-Online.com
This is a perfect web-based converter. It provides different upload locations; for instance, you can access files from Dropbox or local folders or even paste the URL. Also, it can alter codecs and supports H.265/hevc.
Besides these features, you can also change the resolution and file size of the output. For the first use, you might need a running Adobe flash player.
Visit: Convert-Video-Online.com
Files-Conversion.com
With this web-based application, it is possible to convert as many Vimeo videos as you like in any format you need.
However, the process of conversion is quite time-consuming. Nevertheless, the user interface is quite simple and easy to easy. It also allows free altering of video size as required.
Visit: Files-Conversion.com
Find: 10 Best Online YouTube to MP4 Converter Tools (2023)
Online-Convert.com
It gives three ways to upload the content, either upload from Dropbox or Google drive or access it from a local folder, and if you have a video URL, it will still work perfectly. Moreover, the best feature of the web-based application is it leaves no watermark on your videos.
It supports various file formats and mobile devices. You can easily convert vimeo to mp3, WEBM, 3GP, MP4, FLV, 3G2, MOV, or any other video file formats you like. However, keep an eye on file size as it is limited.
Visit: Online-Convert.com
Online UniConverter
It is the most popularly recommended Vimeo online video converter. Besides a Vimeo converter, it can also convert an audio format like MP3 to other file formats. All this is free and easily available online. Additionally, you can use this converter to compress video and audio files, which is helpful when it comes to storing a file in portable devices. Online Uniconverter allows you to freely choose from several different file output formats depending on your input format. You can choose from a range of MOV, MP4, MTS, WMV, VOB, and others. It also has video editing features that can be used to change the quality and look of videos before conversion.
However, the conversion process might take some time depending on the Video format, so have some tea to sip while it's converting.
Visit: Online UniConverter
Also Refer: 10 Websites To Generate Instagram Names | Instagram Name Generator