Are you a person dealing with busy schedules and hectic workloads? Couldn't attend your phone call and now you are thinking all day about why the person called you? Then you should try this. This article is all about voicemail set up on android step by step on your own.
A voice mail is mostly used when one is put in a situation where he/she is unable to answer the call. In that case, it's important for a voicemail set up on android so that it enables the caller to leave a message that they want to convey to you. To call voicemail is not a default application in every sim. It differs based on the sim card that you own. Then how do I set up Voicemail on this phone? It's very simple and straight to bring into your phone if you follow the following steps.
See Also: 5 Easy Methods to Block Unknown Calls on iPhone (2023)
How to Do Voicemail Setup on Android?
There are two ways to achieve voicemail setup on android and all you need is your phone application. The first way to set up voicemail android is carried out in two ways: firstly, you have to identify the voicemail number, and secondly, you have to dial that number. The words may look huge but the process is just a 2minute job. You can also check out how to set up APN on T mobile here.
Identify your Voicemail Number
To answer the question, How do I set up a voicemail application on this phone? 
Go straight to the Phone application –  The phone application will be the default on your android device. If not then download the Phone application first. And then click through it.
Settings menu – click on the three dots which will be almost in the top right corner once you open the phone application. Once you click that, it asks you for speed dial or settings. Click settings. But this may differ based on each mobile application.
Voicemail Settings – you have to scroll down once the settings page pops up.
There you may see the "Voicemail Settings" menu which will enable you to set up voicemail android.
Voicemail number – this step is very important as you will be able to view your "voicemail number". Mostly your number is set to freeze. And, if you feel like changing the number, you can clear the existing number and can add the number of your own. Once you are done, don't forget to click OK.

See Also: Net10 APN Settings | Step by Step Guide
Dial the Number
 Right after you get your voicemail number, return to the dialer page where you get to see the numerical keypad. Type your voicemail number and call voicemail by pressing the green button. If you're new to the voicemail app then it may take a few steps to personalize your account.
Once you place your call, it will ask you to type a 4 to 8 digit number followed by the '#' symbol. You should not repeat the same number(2222) or in ascending or descending order (1234 or 4321) or an order of your phone number. Again the voice requests you to re-enter the same pin followed by the '#' symbol for confirmation. Now you are done with the process. Go back to the main screen and you will have set up your voicemail setup on android.
See Also: Fix "Emergency Calls Only" Errror on Android Quickly With This Guide
Another way to Set Up a Voicemail Pin
This is another way of voicemail setup on android, where the process starts with the same phone application. Give a long press on number one to call voicemail. Once it gets connected, it will ask you to click some numbers to confirm the mode of language to communicate and the purpose of your call. Once it has completed the process, it will ask you to select a 4 to 7 digit secret password where you have to follow the same step that has been mentioned above ie) the password followed by the '#' symbol.
It will ask you to re-enter to crosscheck with the pin that you have mentioned earlier. You can also click on other numbers to create your voicemail greeting in different forms. 
See Also: Best Cell Phone For Seniors With Dementia – Complete Guide
How to set up a voicemail greeting?
Voicemail greeting is highly useful for business and things related to a workspace. To create a voicemail greeting you have to call voicemail.  Press and hold the number one to call voicemail service. And then press 3 to know more on the prompts, that is how to go about setting up a voicemail greeting.
Another way to achieve it is using Telzio Dashboard by logging into telzio.com. Under user settings on the top right corner, you will find a voicemail greeting where you can create a voicemail greeting in three ways. One is to record directly through your computer mic or you can do this by uploading an audio file. The third way is to type out a message where it generates an automated voice out of it.
Ways Where You Can Find Your Voicemail Number Without a Phone Application
Yes, there are ways where you can find your voicemail number without a phone application. If you don't want to do without going into a phone application, then we have another way.
Go to your mobile settings. You might find out the option called Apps or system apps settings.
It may differ on each device. Click on call settings and a page will pop up where you might find advanced settings. Click that where you'll be able to find the setup. The setup will ask you to select either sim 1 or sim 2 if you are dealing with multiple sims. Even if you have one sim, you have to click that to find the option called voicemail number. Note down this number to set up voicemail android. 
Listen to My Voicemail
By now the process of voicemail setup on android is very clear. But you may have the question, How do I get to my voice mail?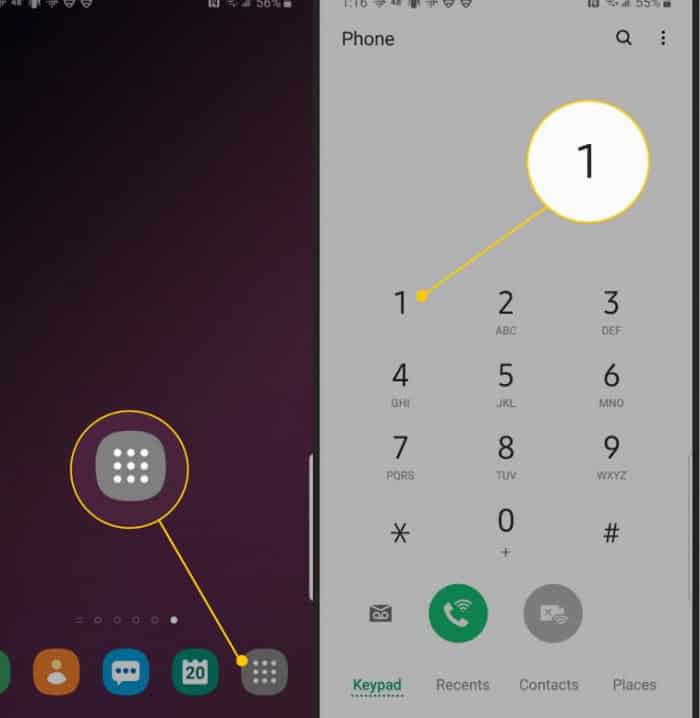 The process is quite simple. Most probably you will receive notification for the same. To listen to the voicemail, click on the Phone application. If you have a voicemail symbol on the dial page, then call voicemail out of it. Otherwise, follow the same you did for the voicemail setup. Call voicemail by holding the number one and listen to your voicemail. Once it gets over, click the end call button to hang up. 
FAQ's
How to turn off my voicemail?
You have to dial a specific code that will be available on the website. As soon as you place your call, it will enable you to connect to the support service. Inform the staff to disable the voicemail and it's done.
What can I do to change my voicemail greeting?
Go to the website Telzio Dashboard or use the Google Voice application. You can change the voicemail message on both.
Does the same process apply to every mobile to set up voicemail?
Yes, the above process is applicable to set up voicemail in all android mobiles. There might be slight differences in names, terms, and symbols. But the process is common for all android mobiles.
Conclusion
In this modern world, everything has become hectic. Especially in a field like business, every single call matters for entrepreneurs, and being away from calls is quite dangerous. To people like them, a voicemail set up on android would be helpful. And I hope the above information on how to set up voicemail on android will help you out to solve your problem.
See Also: How to Make Anonymous Calls from Any Phone – TechWhoop