Zalgo, in technical terms, is a Unicode. Unicode actually gives a certain amount of freedom to the user in constructing a design over a pre-defined character. In other words, you can add a number of symbols in up, down, and middle of a character. Thus, you must know about the best Zalgo Text Generator out there.
This is not possible for a conventional 7-bit or 8-bit numbers. Earlier, these 7-bit or 8-bit codes were used to store the alphabets or characters of a language. And each language had its own codes to store the alphabet.
Therefore, it was a tough job then to first recognize the source of any particular language and then start reading it accordingly. Unicode came into existence and simplified the problem.
Zalgo texts are specially used on the occasion of Halloween. During Halloween, you can find a lot of creepy Zalgo texts on the posters, pamphlets, magazines, etc.
But now, since it is the age of the Internet, therefore, usage of the Zalgo texts has got no limitations. If you wish to send a creepy email to your friend or even post something forbidding into your social media, you can do it with ease.
Today in this article, we have listed out few of the best Zalgo text generators, or more specifically, they are websites that you can access using the internet.
Top 8 Zalgo Text Generator
Eeemo
Eeemo is a very simple looking website that can be used for creating Zalgo texts. You need to enter the text or any message that you want to generate Zalgo text for in the right box. And choose how you want it using the tick boxes that you find below the text box.
You can choose the caricature modification to get done in the middle or while going up, or even while going down. These are tick boxes meaning that you can select more than one of them. On the right side of these text boxes, you will find Radio buttons for selecting the level of modification that you want on the original text of yours.
Right below this action area, you will find the Zalgo reference characters where the characters are listed in the coordinates of the pattern that you choose in the above generator table. You find the characters that appear while going up, characters that evident while staying in the middle, as well as the characters that you encounter while going down.
Zalgotext.net
The story with zalgotext.net is somewhat similar to Eeemo. This text generator is very similar to the others in this list and is very simple to use. You can select here to go to be added in the top middle of the bottom section of the text that you enter, just like any other generator that you come across on the internet. The only difference is that this text editor is a slightly more pleasant look at than just plain text in a web page.
I'm not expecting any use of HTML animations or anything like that, but it's always good to see some clean layout with visual design anywhere. So you just need to enter the text in the textbox and set act where you want the creepy want to be added and click on the button that says Zalgo comes! In a very emo way.
It only crops the modifications added in the middle section where the actual text lies. Any Zalgo added above or below in blank areas will not be copied for some reason. Not sure why this is, but with Microsoft Word, it did not paste the entire thing.
Interesting Facts
I noticed that on this website, the difference between Mini, normal, and max is that the extent up to which it reaches the top and blank bottom sides of the text increases and decreases. Not that it makes any difference when you copy-paste the text, of course.
As I mentioned earlier, you cannot completely copy the text for some reason. Of course, you can copy the text, but the Zalgo modifications on the top and bottom sides are not entirely reflected in the target text box where you paste it.
Hindi in the same website, we can create upside-down text emojis and smileys is as well. So if you are not into Zalgo text all the time, you can use either of these options and message them to your friends and leave them guessing how you did it.
That is, of course, until they read this article just like you did. Anyway, this is a very practical and for a website to try if you are looking for a decent Zalgo text generator.
Zalgo Text Generator by James Paterson
This website is a little bit more feature-rich as compared to the others I have listed above. The first thing that got my eyes was the default text present in the textbox which speaks of Zelda as a Hive mind, it being of those who wait behind "the wall." I had to change my pants after reading that.
Anyway, as I mentioned on this website, you can add superscripts and subscripts to the text. There are six different levels of which you can decide the level of modification ranging from doing all the way to a large amount. There is even a custom amount as well, where you can input your own values for the height of superscripts, the height of subscripts as well as the middle characters in your final text.
Keeping Zalgo text in the middle makes it a pain to read, just like they have mentioned next to that option. I suggest you keep the zygote extradition amount to small or normal instead of going to large or 1337, which literally makes it looks like a bunch of Tangled hair or something creepy I know that the whole point of the Zalgo text generator system make the courts look creepy, but they should also be readable to an extent where they can send shivers down the readers' spine, right?
For some reason, we had to copy this because it was not getting selected properly when I clicked and dragged the mouse pointer over the text, trying to select it. I am assuming that it is some minor issue with the website design, which will be easily rectified in the future. Other than that, everything else about this site is fine.
Zalgo Generator
Zalgo Generator is a free and user-friendly Zalgo text generator. It can convert any dull text into a Zalgo text and give it a creepy look. The webpage is gently animated with two text boxes and a few buttons.
One text box takes the user's input texts, and the other gives you the output. So, simply write any text into the former text box and click on the "Generate" button. It will then generate the Zalgo text. If you want more designs, keep on clicking the button.
For one single click on the create button, it will produce only one Zalgo text. You can also further customize the generated text by selecting among six different options; up, middle, down, mini, normal, and maxi.
F-Symbols
F-Symbols is another customizable Zalgo text generator where you can actually set the amount of Zalgo for any text. After you go to the site, scroll down and enter your text into the left box, and it will automatically show the Zalgo text on the other box.
You can also adjust the generated Zalgo text. You will find three options; top, mid, bottom, and along with that, you can also customize the height of the Zalgo by two sliders control; min and max.
Overall, the site is straightforward to handle without any complications. You can use the generated Zalgo text by copying it and saving it to your notepad or WordPad. You can also directly paste it into your social media post, email, etc.
Zalgo Text Generator
It is a free, simple, and easy-to-use Zalgo generating website. The website includes only the basic functionalities; generating, and re-generating Zalgo texts.
There is nothing fancy with the page layout and the user interface. After you get into the site, you need to write any fancy text in the box that says "Type text, words,…" and it will generate the Zalgo text by itself.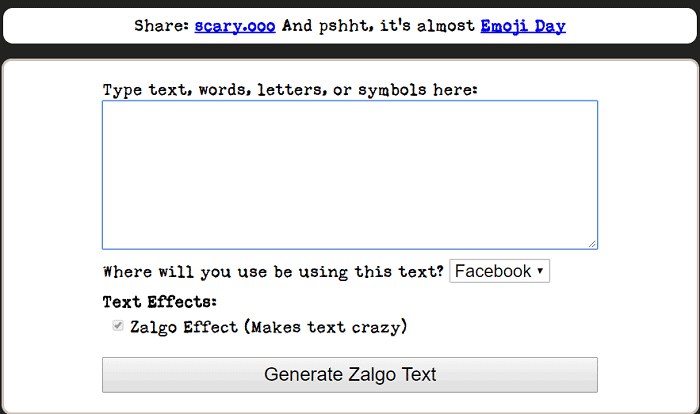 You can also select the purpose for which you are generating the Zalgo; Facebook, Twitter, Email, Other from the drop-down list. And according to that, it will generate the creepy Zalgo text.
In case you don't like the produced Zalgo, you can click on the "Re-generate Zalgo Text" button, and with every single click, it will show a new Zalgo text.
Messletters
Though it is an automatic various fonts generator when it comes to generating Zalgo text, you will have to do it manually. Do not worry; Messletters is as promising as the other Zalgo text generators.
It's actually an easy task without any complications. Once you get into the site, all you have to do is type any text in the red text box. You will find the generated text below is also a plain text without any changes.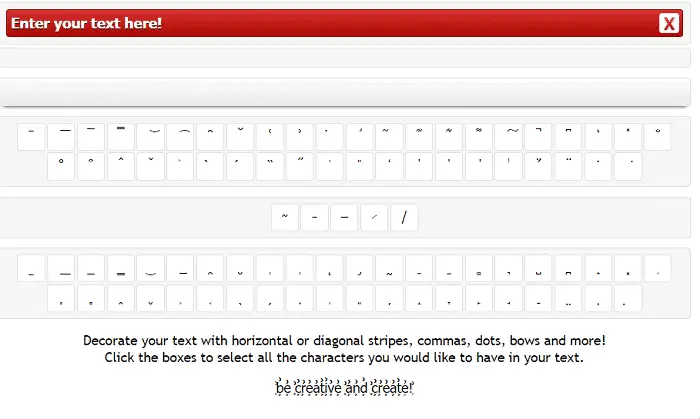 In this part, your creativity will come into action as you have to select the symbols for the upper, middle, and lower part of the text to convert it into a Zalgo. After your quota of satisfaction, copy the text and paste it to use it into your social media post, to email your friends securely, etc.
Lingojam – Creepy Zalgo Text Generator
Lingojam is the simplest Zalgo text generator in the list. It is an automated tool that will produce the Zalgo text for you without even clicking or pressing any button.
Just keep on writing as much as you want, and it will continue generating the Zalgo text simultaneously. The UI is what makes it an easy website among all.
For achieving the Zalgo text, you need to fill the left side box. Do it with any texts, words, or numbers. And it will bestow you with your desired output in the right box. You can adjust the height of the Zalgo. This is done by increasing the craziness level slider. You will find it in the right box.
Bottom Line
So, these were some cool and creepy sites where you can generate Zalgo text. Use it to either amuse or scare your friends. This must be some new trend happening among the masses because I was unaware of it until I got this topic to write on. I had no idea that making a simple line of text difficult to read by adding some weird symbols to it would add that much more personality to it.
But other than this, all of the tools mentioned above are very much functional in generating Zalgo texts. Anyway, it's been fun learning about this Zalgo text generator thing. I hope you will have just as much fun as well. Enjoy!