Mostly we see that people tend to stream and watch various online movies and shows through several platforms. This leads to the high popularity and demand of Amazon Prime Video, Netflix, and many more. Moreover, users prefer binge-watching TV shows on the big screen rather than on a laptop screen. Some also try to mirror the screen to their Fire TV for a better user experience. So, this is used to mirror Mac to Firestick.
To enable mirroring on your Mac, follow these steps: Go to System Preferences and select Display. Check the "Show mirroring options in the menu bar when available" box. Next, select your TV's name on the AirPlay icon in the menu bar. This will mirror your Mac's screen onto your Firestick TV.
This guide contains details you need to know before trying to mirror Mac to Firestick. Further, some steps define how to mirror Mac to Firestick from PC. Therefore, ensure you follow the steps carefully while connecting both devices.
See Also: Firestick Connected To WiFi But Not Internet? 7 Easy Methods To Fix
Unique Features:
Some unique features of Firestick that make it unique are:
Help in mirroring their screens on Android, iOS, Windows, and Mac.
It enables you to connect various devices by supporting several mirroring protocols, including Google Cast, Miracast, AirPlay, and DLNA.
With compatible devices, stream high-definition video with up to 4K resolution to provide a crystal-clear and lifelike mirroring experience.
As AirScreen doesn't require additional hardware, it is a practical and affordable mirroring option.
Users can adjust the mirroring using aspect ratio, resolution, and remote control parameters.
Minimum latency streams that provide a flawless mirrored experience.
To Mirror Mac T

o Firestick
Before starting, we must discuss some basic requirements and procedures for mirroring Mac to Firestick. These steps are common for connecting devices like Mac, Chromebook, Windows, etc.
Therefore, having your Firestick TV set and ready for screen sharing is crucial. The steps to cast Mac to Firestick are as follows:
1. First, you need to insert the Firestick into the USB portal of the TV screen. Also, make proper connections and turn on the screen.
2. Next, open the Home page and go to the settings option on the screen. Click the Network button to connect the Firestick to the preferred network.
Note: You must connect your Mac (or other devices) with your chosen Firestick network. In case the network is different, it will not be possible to mirror the screen. Hence, keeping the same internet networks for this process is recommended.
See Also: What Are Amazon Digital Downloads? | Complete Guide
How To Mirror Mac To Firestick
Undoubtedly, you can mirror Mac to Firestick without substantial issues. However, you need to download and install an additional app. Therefore, make sure to have the AirScreen app installed on your Firestick.
This software is designed for users who want to view the screen on the Firestick. It is available in the App Store along with other details. Once you install the applications, follow these steps, Head to the Firestick settings and look for the Airplay tab. Click the checkbox, and it should be active.
1. Next, go to the Help tab and click the macOS button among all the available options. Users must select the Airplay option and keep the device on hold.
2. Open the Mac and click the Airplay icon on the screen. If you cannot find it there, go to the Apple menu. Select the Display, where you need to tap on the Arrangement menu.
3. Tick the Show Mirroring and Mirror Displays checkboxes accordingly. Now, you can see the Airplay icon and choose the name of the Firestick TV.
Finally, the TV screen would ask for permission to share the screen through Firestick. Therefore, click OK from the remote or press the middle button.
How To Cast

To Firestick From PC
This section will guide you to the amazon fire stick cast from the computer. This method is comparatively easy than connecting Mac. Therefore, you need to follow the procedure as per the given steps. Eventually, you can cast the Firestick from your computer or laptop. The steps to cast to firestick from pc:
Final Steps Of Mirroring Mac To Firestick

 
These are the final steps mentioned below:
1. We assume you have already plugged in the Firestick and connected it to an internet connection.
2. Take your PC and connect it to the same network as Firestick.
3. Click on the Start menu and search "Connect to Wireless Display." OR For Windows 10, you can also find this option in the notification menu present on the taskbar. This is necessary to cast from PC to Firestick.
You will have a list of available screens in your area. Thus, select the name of your Firestick TV and connect to it. This will connect both devices along with mirroring the screen.
Errors While You Mirror Mac To Firestick
Many users complain about getting some errors while trying to connect with the Firestick. We have some working troubleshooters that you can try during the process.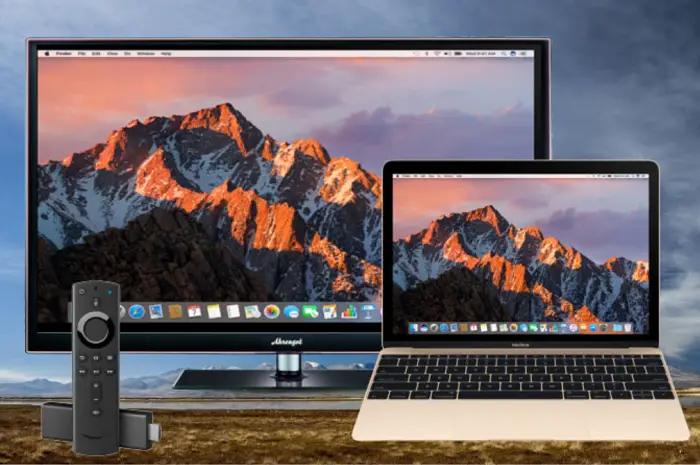 Sometimes, you might feel a lag or disturbance in the shared screen on the Firestick. It doesn't mean that the Fire TV is broken or damaged. The reason is that both devices lack compatibility at some point. Therefore, you can keep the Mac closer to the screen or update it to the latest version.
If your device cannot detect the Firestick, contact customer support of Firestick. Also, ensure they share a standard network before mirroring the screen.
You can download third-party applications related to casting videos as per the requirement. However, the pre-installed software in Firestick is quite dependable.
Other Uses:
Various other uses of Firestick are:
Netflix, Amazon Prime Video, Hulu movies, and various TV programs stream beautifully on Firestick. It also has a sizable content collection that you may use to view TV episodes and movies.
You can also play Firestick games like Candy Crush, Crossy Road, and Minecraft.
You can listen to Spotify, Pandora, and Amazon Music streams.
Using the app, you can also show photographs using a Firestick on your TV and make a slideshow for your loved ones.
You can use Firestick to give voice commands to operate Alexa to manage smart locks, lighting, and thermostats in your home. 
FAQs
How can I mirror MacBook to Firestick easily?
You can easily mirror Mac to Firestick using third-party apps like AirBeamTV or the built-in mirroring feature on your MacBook. Connect both devices to the same Wi-Fi network, open the mirroring app or feature on your MacBook, and select the Firestick device from the available list.
Is there a good app for mirroring my MacBook to the Firestick?
Various apps are available to mirror your MacBook to Firestick, including AirBeamTV, Mirroring 360, and Reflector. The best app for you depends on your desired features and specific requirements.
How do I cast MacBook to Firestick?
To cast Mac to Firestick, you can use the built-in AirPlay feature on your MacBook. The Firestick device must be connected to the same Wi-Fi network, the AirPlay menu on your MacBook must be opened, and the Firestick device must be selected from the list.
Can I stream MacBook to Firestick without Wi-Fi?
No, it would be best to have a Wi-Fi connection to stream your MacBook to Firestick. Connect Both devices to the same Wi-Fi network to ensure a stable relationship and seamless streaming experience.
What is the minimum requirement for mirroring my MacBook to Firestick?
To mirror your MacBook to Firestick, you need a MacBook running on macOS X 10.10 or later and a Firestick device running on Fire OS 5.0 or later. A Wi-Fi network must be available on both devices.
How do I troubleshoot if the mirroring process fails?
If the mirroring process fails, try restarting your MacBook and Firestick device, ensuring both devices should connect to the same Wi-Fi network and checking for any software updates. Contact customer support or consult online forums if the issue persists for further troubleshooting tips.
Conclusion
We hope you are now aware of how to mirror Mac to Firestick. There are some cases in which you need to consult an expert. If you encounter errors other than those mentioned, try to seek advice.
Just as easy this was, we made a detailed article on how to cast Zoom to Tv, click here to learn.