Vehicle manufacturers use the VIN (Vehicle Identification Number) to identify each vehicle worldwide. Each manufacturer is allotted the first three characters. The manufacturer assigns the remaining characters, and they frequently change across models and years. But how do you check the Tesla VIN? Use this tesla vin decoder 2022 guide to find out how.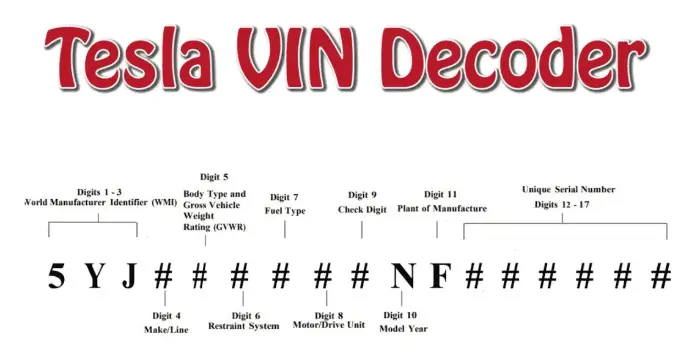 The dashboard on the driver's side or the front passenger seat door jamb should have your Tesla's VIN on them. So, any VIN can be interpreted by consulting the codes for its assembly plant, model year, manufacturer, and vehicle details.
You'll need to check your vehicle identification number when it comes time to sell your automobile, update your vehicle registration, or renew your driver's license. But most individuals need to be aware of a VIN's exact meaning. This article will cover where to look for your VIN and how you can decode it.
See Also: Best Free Ford VIN Decoder Tools
How To Check The VIN Of Your Tesla
Use this tesla vin decoder guide to find your tesla vin number. Your VIN may be located in several places:
Original window sticker.

Select SIGN IN on the Tesla website, then enter your login details. The VIN will appear next to your car's image on the left.
The VIN is inscribed on a metal plate on the dash. It is visible outside the car through the bottom of the driver-side window.
When you unlock the driver's door and look at the center pillar, you can see the white Vehicle Identification Label with the VIN printed on it.
Then, launch the trunk hatch. A white sticker with the VIN may be present on the hatch lip's right side. It isn't the label for emissions control. It needs to be clarified if this label appears on every car.
The VIN is imprinted on the chassis in the frunk beneath the center repair panel close to the windshield.

The VIN and system version is displayed when you launch the Tesla mobile app and go to the bottom of the page.
The 17-character VIN, often known as the car id number or VIN, is used to identify the particular Tesla you ride.
The location of your Tesla's VIN is as follows:
The insurance card you have

on the registration paperwork

On your console, select software under controls.

Written on a sticker on the dashboard's driver's side.

The product plate on the right side doorjamb is visible when the rear passenger door opens.
If your Tesla was produced in the United States, your VIN could be engraved within the right-side doorway pillar, just beneath the interior trim. Also, your VIN would be stamped on the floor just behind the front passenger side of your Tesla was made in China.
How To Use Tesla VIN Decoder
DMV employees require your VIN to process most car-related services. But what precisely are they looking at?
Despite the fact that VINs have been in use since the 1950s, current laws didn't exist until 1981. Modern VINs all employ the same standardized set of 17 characters, each of which has a distinct meaning consistent across all makes and models.
Except for I, O, and Q, which are easily confused with 1, 0, and 9, VINs are made up of alphabetical letters and numerical digits (0–9).
Also, Chevrolet VIN decoding tools are used to decode car VIN codes. These can be used by automakers or by dealers.
See Also: Car History Report Generator Tools
Positions 1-3: Global Manufacturer Identification
The world manufacturer identifier, or WMI code, is the first 3 digits of your VIN.
Manufacturer: Tesla, Inc. is the interpretation of your Tesla's WMI, which is 5YJ.
Positions 4-8: Vehicle-Specific Information
The next five digits represent details about your Tesla:
Position 4 lists the brand, model, or series of your car.
Your vehicle's body shape or weight category is listed under position 5.
Position 6 indicates safety equipment.

Your automobile uses position 7 on the fuel chart.

Position 8 represents the engine in your car.
This section of the VIN identifies the specific Tesla you're driving because there are various body styles and trim levels available for Tesla. However, you can learn about VIN from their official website.
Tesla Mobile App: iOS | Android
Position 9: VIN Check Digit
Because VINs are standardized, creating a phony VIN should be simple, right? VIN is challenging to forge, especially to the 9th digit!
The check digit, often known as the ninth digit, is used to confirm the number's validity. 
Position 10: Model Year
Since VINs reuse numbers and characters that already correspond to older model years, the technique used to indicate the model year of your car can appear somewhat convoluted. The following list, however, includes the model number codes for the last 20 years:
| 1. Code | Year |
| --- | --- |
| 2. | 2001 |
| 3. | 2002 |
| 4. | 2003 |
| 5. | 2004 |
| 6. | 2005 |
| 7. | 2006 |
| 8. | 2007 |
| 9. | 2008 |
| 10. | 2009 |
| 11. | 2010 |
| 12. | 1981 OR 2011 |
| 13. | 1982 OR 2012 |
| 14. | 1983 OR 2013 |
| 15. | 1984 OR 2014 |
| 16. | 1985 OR 2015 |
| 17. | 1986 OR 2016 |
| 18. | 1987 OR 2017 |
| 19. | 1988 OR 2018 |
| 20. | 1989 OR 2019 |
| 21. | 1990 OR 2020 |
| 22. | 1991 OR 2021 |
| 23. | 1992 OR 2022 |
See Also: Best Free Mercedes VIN Decoder Tools
Position 11: The Assembly Plant
Each automaker has its own set of codes to identify its assembly facilities. China, Germany, Texas, California, and Texas each host a Tesla factory.
However, the code for every Tesla facility is located at the VIN's eleventh position. It is as follows:
| Plant | Code |
| --- | --- |
| Fremont, California | F |
| Austin, Texas | A |
| Berlin, Germany | B |
| Shanghai, China | C |
Positions 12-17: Vehicle Serial Number
The last six digits of the VIN correspond to the unique serial number of your car.
Although serial numbers normally provide some insight into the manufacturing order, they are frequently allocated in batches, making it very hard to pinpoint exactly where your Tesla was assembled.
See Also: How Old Is My iPhone? This Is How You Find Out!
FAQs
Can I search for Tesla features using my VIN?
A Tesla VIN number is a specific code that distinguishes your automobile from others. It includes precise details about your car, such as its specs, history, recalls, and, if you're lucky, the recommended Tesla parts.
How can I determine when my Tesla was built?
Although we don't anticipate having an identical match across every VIN, the VINs on either side of yours should provide you with a general idea of when the vehicle was made or left the factory. We used reasonable efforts to ensure accuracy, and Tesla provided the data.
How do you locate a Tesla's specifications?
You can now find a View Information link below the software version of your vehicle on the home screen of the most recent Tesla app if you scroll to the bottom of the screen. Also, you can view your car's complete specifications and warranty details by tapping the link. You can now find a View Information link below the software version of your vehicle on the home screen of the most recent Tesla app if you scroll to the bottom of the screen. Also, you can view your car's complete specifications and warranty details by tapping the link.
What characteristics does my car have by VIN?
Visit the manufacturer's website and look for the tesla VIN decoder section to utilize a VIN to check a car's choices. Then, use the final seven digits of your VIN to get details about certain features like trim color, seat material, and power windows and seats.
See Also: Best Free Dodge VIN Decoder Tools
Conclusion
In conclusion, this Tesla vin decoder guide will help you to find tesla vin. However, our tutorial has addressed the most frequent and uncommon problems if you attempt to figure out using the tesla vin tracker. Also, the Toyota VIN Decoder tools are used by car dealerships and other service providers to decode the VIN of vehicles.
You can also get extra help from Tesla Support in the meanwhile. We hope your future riding with Tesla is fantastic!