Every vehicle has a VIN code. It is a 17-character-long alphanumerical code that is physically present in the car's body. It acts as both a signature to identify the individual vehicle as well as provide information about each car. Thus, you must know about the best Ford VIN Decoder out there.
If you plan to buy a car, it would be wise to look up the VIN of the same to find information regarding whether the vehicle has been involved in any illegal activities or anything of the sort, or to look up the date of manufacturing, plant, and other vital details. Some of the Best Free Ford VIN Decoder Tools are Vincario, Vehicle Identification Number, Ford Truck Enthusiasts, Team BHP, etc.
The following is a list of online Ford VIN decoders that you can use to look up your VIN information.
Top 10 Finest Free Ford VIN Decoder Tools
To help you out we have provided you with a list of several decoders.
Vincario
Vincario is a handy vin decoder ford if you wish to decode your VIN information. The site provides a basic schematic of the VIN at the home page itself. It can be used to get an idea of what the VIN indicates.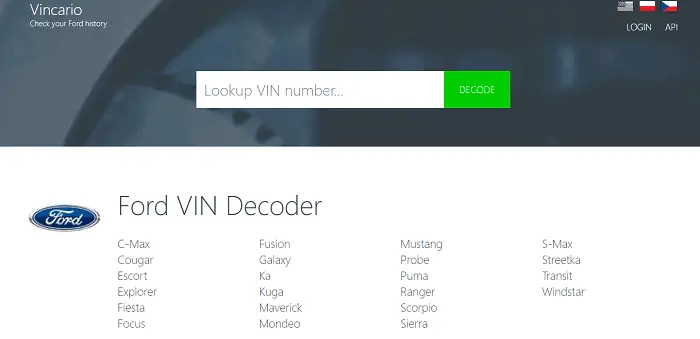 You can obtain the information by merely typing in your VIN on the home page. An API is available for bulk checking as well. However, this is exclusive for registered users. Registered users can access this and vehicle search history and more. The registration is free of cost, but multiple uses of the API will be charged.
Visit: Vincario
VINDecoderz
This is another handy and straightforward way to look up your VIN. This website can provide vehicle history and is a free decoder with build sheet and specs as well. It is easy to use, by just providing the required VIN on the homepage.

The website also holds a list of Ford vehicle models. These can be used to perform ford vin lookup on the vehicle model.
The site is useful if you wish to search for Ford parts, as this can be done by using VIN as well.
Visit: VINDecoderz
Team BHP
Team BHP is a website for automobile enthusiasts. They too offer a Ford VIN decoder on their website. However, this is a bit more manual when compared to the previous sites.

Here, you are given the information encoded in your VIN in a detailed and concise manner. You can look up the various information provided based on the vehicle manufacturer to get the details you seek.
Visit: Team BHP
Ford Truck Enthusiasts
Ford Truck Enthusiasts is a website for Ford Truck lovers. They offer a ford truck vin decoder feature as well. This can be accessed from their homepage by entering your VIN code.

They can decode and provide information, including engine specifications, interior, exterior, safety equipment, vehicle features, technical specifications, and much more. The Ford Truck Enthusiasts supports vin number decoder from 1971 to the present.
Visit: Ford Truck Enthusiasts
Vehicle Identification Number
This is a website that shows VIN decoding information in a list form for the user to decipher by themselves. It has a list sorted by manufacturers and displaying make, model, year of manufacture and similar data.
This is useful for users wishing to use the VIN to find such data. However, an advanced VIN decoding option is available by pressing the button on the homepage, which takes you to Carfax.
Visit: Vehicle Identification Number
Carfax
In the previous tool, a button at the bottom redirects to Carfax. Once the VIN is entered on the homepage, the user is automatically taken to the Carfax homepage, where the details are visible.
This website offers VIN decoding tools that include the complete vehicle history, mileage check, title information, and accidents. This information includes details of vehicle status, problem checks, and police records.
You can obtain the information by using this tool.
Visit: Carfax
Safercar
This is a service by the US NHTSA (National Highway Traffic Safety Administration). It can decode input VIN codes to obtain service information and safety recalls over the past 15 years.

However, this free vin lookup site does not contain several vital details including international vehicles—also complete protection recall information and the ones from 15 years ago.
Visit: Safercar
VINDecoded
This Ford VIN decoder is available for Android platform. It is available on the Google Play store by MTS Dealer Solutions LLC and is for Android versions 4.0.3 and up.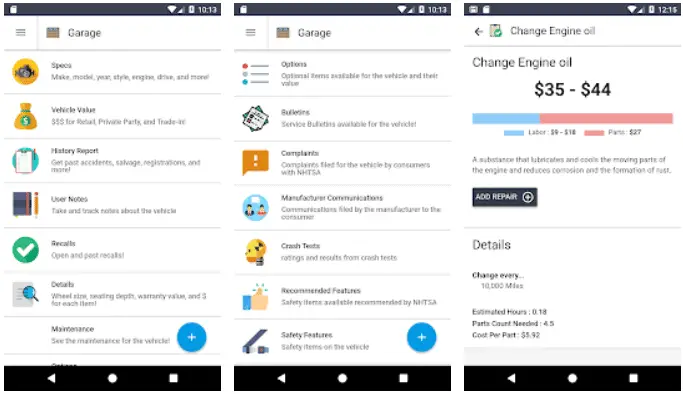 This is a quick, on the go application that can decode your VIN with the help of a barcode scanner and can share the details of VIN by email or text. This can also give you your vehicle values from Kelley Blue Book or Edmunds.com. This is quite a useful tool.
Visit: VINDecoded
Vehicle History
Vehicle History is another website that can come in use for VIN decoding. The website interface is pretty straightforward.
The Ford VIN decoder is accessible from the homepage. And then you enter the VIN code to access the vehicle history corresponding to the VIN entered. This is a free and convenient service.
Youcanic
It is a website that guides people to fix some vehicle issues on their own. Their site offers a decoder for VIN. However, it is still in the beta phase, and not all VIN codes may work. The basic VIN info obtained after decoding is free to access. But to get the history report with all the details, you have to pay.
The VIN code is present on the car, either on the corner of the dashboard and windshield. When you look outside the vehicle, near the door latch on the driver's side, the list above has the 10 free Ford VIN decoders you can use to obtain vehicle information.
FAQs
How do I use a Ford VIN decoder?
Using a Ford VIN decoder is simple. Just enter the VIN of the Ford vehicle you want to decode into the decoder tool, and it will generate a comprehensive report with detailed information about the vehicle's specifications and history.
What information can I obtain from a Ford VIN decoder?
A Ford VIN decoder can provide you with a wealth of information about the vehicle, including the manufacturing year, assembly plant, engine size, transmission type, trim level, and optional equipment installed at the factory.
Is it free to use a Ford VIN decoder?
Many online Ford VIN decoding services offer a basic decoding level for free. However, some advanced features or detail reports may require a paid subscription or a one-time fee. It's essential to check the specific decoder tool's pricing structure before accessing the information.
Can a Ford VIN decoder provide vehicle history?
While a Ford VIN decoder primarily focuses on decoding vehicle specifications, some services may also provide limited vehicle history information. However, for a comprehensive vehicle history report, it is advisable to use dedicated vehicle history services that provide detailed accident, ownership, and maintenance records.
Can a Ford VIN decoder determine if a vehicle is stolen or salvaged?
No, a Ford VIN decoder alone cannot determine if a vehicle is stolen or salvaged. It can provide information about the vehicle's manufacturing and specifications. Still, to check for theft or salvage status, it is recommended to use official databases and services that specialize in such information.