In these days where social media apps are enjoying their roaring success, content sharing has become very common. I am sure that I'm not the only one who uses apps like WhatsApp and Hike Messenger. There are these groups in which you will be a member and whatever media is shared in a group will naturally be available to you. If you have kept automatic media downloads, you will most likely have tons of duplicate photos in your gallery, since the same things are shared in multiple groups of which you might be a member. Thus, you must know about the finest Duplicate Photo Finder out there.
So when there are tons of images shared each day, keeping track of unique pictures by manually deleting the duplicates is next to impossible. Note that I said manually.
So how about we use some software to help us out with it? Here is a list of 5 best duplicate photo finder tools to remove duplicate photos. Let's get started.
Top 4 Duplicate Photo Finder Software
Visipics
Visipics software tool automatically detects the duplicate photos present in a folder and delete them. They say at their website that they apply five different sets of filters for comparison of photos to avoid removing the pictures that you might've taken from your camera, which might happen to look identical since you deliberately pressed the shutter multiple times to get a right image.
It is one of the fastest ones I've seen out there, at least concerning the interface. Depending on your system speed, it could take a long time to load all the images and find duplicates from the path that you have chosen.
The left pane displays all the photos, with the duplicates marked automatically. You can choose to move or delete the selected items. You can even choose to ignore the entire folder and unselect the current entries.
To resume its execution, you just need to press the play button again. All the important details about the selected duplicates will be listed in the middle window. Things like their sizes, type, name, and image resolution will be listed as the attributes.
It is a speedy and straightforward duplicate photo finder tool for Windows-based systems. (XP/Vista/7) The system requirements are relatively minimal.
You need a minimum of 512 MB RAM and a dual-core 2 GHz Intel Pentium Processor. A piece of cake, right? It is worth noting that though they have only mentioned Windows OS up to Windows 7, the software runs just fine on my laptop running on Windows 8.1, so go ahead and download it on your newer systems.
Duplicate Photos Fixer Pro
Duplicate Photos Fixer Pro is a duplicate photo finder software that runs on your Windows/Mac based system. You can scan for duplicate photos like a pro! One can change the matching level and bitmap sizes in your comparison criteria.
You can also use this software tool to scan external drives and devices. So if you have a ton of photos on your external hard drive like me, you can hook it up and tell this software to look for duplicates in there.
You can also drag and drop a photo in there and have it look for similar or exact matches on the designated drive. I did not use this feature at all, but it could be useful if you want to know how many copies of the same image you have in your storage, eating away precious space.
Alternatively, you can check out their website and find out a bit more for yourself.
Duplicate Photo Cleaner
Duplicate Photo Cleaner is one of the preferred duplicate photo finder tools used by experts and amateurs alike. If you have a vast collection of images because you like to click several shots at a single object, this will help you get rid of repetitive duplicates.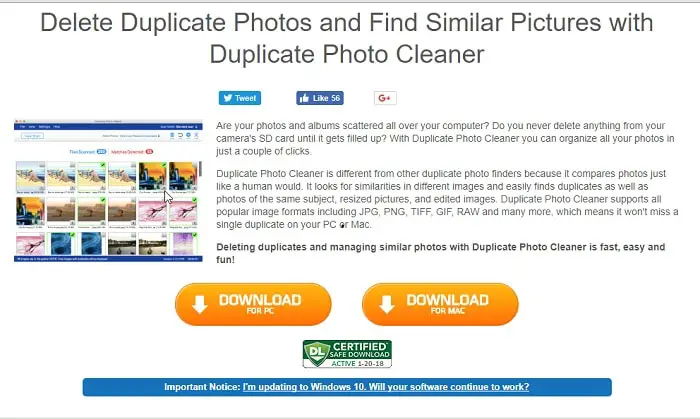 The picture finder is to automatically detect a duplicate and select the copy which is of lesser quality. The higher resolution sample is intact unless you choose otherwise.
It works very well on windows, though I have not personally tried out the Mac OS version of this tool. But I'm almost sure that it will function equally well, if not better. The download links are readily available on their website.
Duplicate Images Finder
Duplicate Images Finder is one if a reasonably minimalist software, with only the necessary options available. It allows you to scan and detect seemingly duplicate files and nothing more.
There does not seem to be any options for changing the sensitivity or increasing any other image finder conditions. You just select the folder you want to target and hit the giant scan button in the bottom right corner.
It gives you a list of images found with some percentage of similarity in them. I don't think you should take those percentages into serious consideration, as they seem rather non calculated.
But it finishes the job by removing duplicate files. And that is more than enough for most of us. Find out more about this duplicate photo finder tool over at mind gems website.
Awesome Duplicate Photo Finder
Awesome Duplicate Photo Finder is one of those tools which does not contain any spyware or Malware or any annoying pop-ups and gets the job of finding duplicate photos in your systems done efficiently. Which is top load or select a picture from the existing files and click on the scan button to find identical files in your file system. And it's pretty smart at searching it as well!
It looks for any changes such as resizing of the same picture or if the images have undergone any color changes and are taking up space unnecessarily in your computer's storage. We have displays the duplicate photos in such a way that user can directly access them and delete them or move them elsewhere if desired.
Make sure you check it out once before you decide to move on to other options. If you're looking for a simple highly functional tool. A tool which finishes the job quickly without a lot of gimmicky features, then you have found it.
Anti-Twin
Even though it sounds like the title of some cool murder mystery game, Anti-Twin is a software that is used to detect and delete duplicate photos that are eating away storage on your computer. It looks like a highly sophisticated and complex piece of software, but it is really easy to use and works very well.
You can choose a file to be put as a reference for searching other files in your hard drive. From the list of matches found for a selected image, you can either choose to navigate to its location or delete it straight away. To delete it simply click on the box to the left of the entry and click on the Red X mark to delete it, in a sense, send it to the recycle bin.
Other than you find duplicate files and deleting them for your hard drive, you can also look for duplicate MP3 files which have always been a pain, in my case. I download a ton of songs on my smartphone as well as my PC, and then I copy them to and fro now and then. I have a lot of songs, and they can't ask to choose through every single one of them, so I just copy the entire folder every single time.
This results in a lot of duplicate copies in both my smartphone as well as my PC. I can handle the ones on my smartphone, because my music player, that is Poweramp Pro, automatically picks the relevant ones and leaves out the duplicate ones and the relevant audio files, but it becomes a problem when the traditional File Manager of my Windows PC. A software like anti-twin can be beneficial if your someone like me.
So, if you are someone like me and have problems with either MP3 files or duplicate photos in your system make sure you give this one try.
Similar Image Search
Similar Image Search is a simple standalone JAR file to run which you need Java installed on your system. It's one of the simplest and one of the most straightforward software. Which allows you to scan for duplicate images on your PC, and delete them.
Firstly, you will have to add the folder which you want to scan. Then, click on the library search and click the option that says reverse image search from the sub-menu. It will show you the list of all the duplicate images. All that are present in the selected folder, and then you can easily delete them.
You can right-click on either one of them. And select whether to reveal it, or open it, or delete it straight away. This duplicate file finder tool is a very high-performance app. It was designed for photographers to go through a large number of photos in their SD card's dump. So don't underestimate based on it simple looks. It can take some very heavy photo workloads. And compare them against the one that you want to check with.
Just a reminder that requires Java 7 to install on your system. As long as your system meets the requirements specified by it, it should work just fine.