In this era of social connectivity, every being is connected to each other via means of social platforms like WhatsApp, Facebook, Twitter, etc. Thus, you must know about the best WhatsApp Chat Generator out there.
For the need for text messages and conversations, WhatsApp can be said to have replaced efficiently the default messaging services provided by the network carriers.
And why not? WhatsApp is not only faster and more convenient, but it also operates upon your Internet data rather your operator bill. It also allows sharing of other media like images, videos, location, etc., making it a more powerful solution for standard messaging.
In amidst of all the great options for entertainment we have in our hand, teasing your friends take the top spot on everyone's list! One such way to prank your friends is generating fake WhatsApp chats and teasing them apart!
There are a lot of tools for Android and iOS devices and a few online services which provide a solution for this void of humor.  Today, we have listed ten such tools which, in our opinion, are the most convenient and user-friendly.
Top 10 Fake Whatsapp Chat Generator
Yazzy (Fake Conversations)
Yazzy definitely tops the list regarding sheer power and usability. It not only allows fake conversation tools for WhatsApp but for all the other social media platforms you can imagine out there too!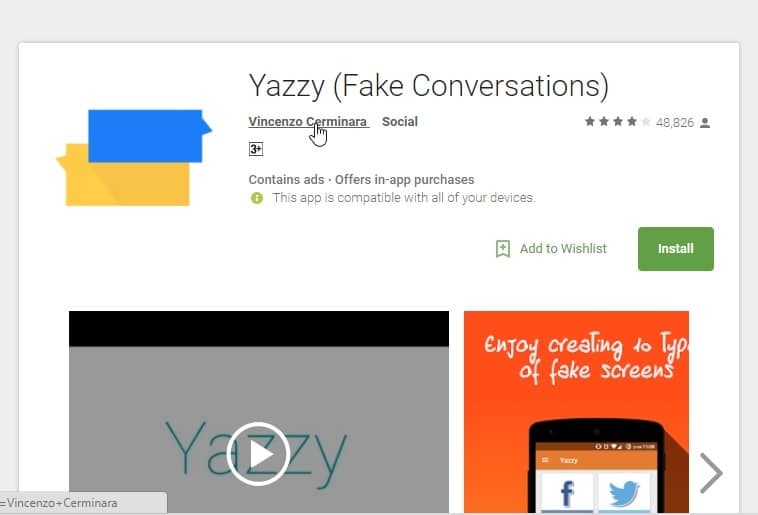 Here's a teaser for the platforms Yazzy supports:
iPhone SMS with emojis.
WhatsApp with emojis and images.
Facebook Messenger.
Facebook Status with comments and likes.
Tweets with hashtags and mentions.
Google searches.
WhatsApp groups with pictures and emojis.
Google translate.
Ask. FM.
iPhone WhatsApp with pictures and emojis.
This is a one-stop solution for all the fake conversation pranks you are planning.
WhatsFake
WhatsFake is a solid replacement for Yazzy as a WhatsApp chat generator. While it doesn't support as many platforms as Yazzy, it gives you unparalleled control over the nuances of the chat screen that, making it almost impossible to tell if the chat is fake or not.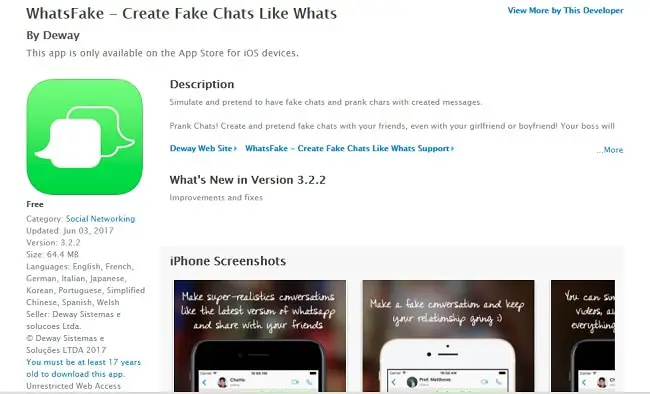 With WhatsFake, you can:
Create chats with any person you want.
Create screenshots identical to the chat app, and your friends might not tell the difference.
Control the two sides of the chat.
Send pictures and audio.
Change status as "last seen," "online," and "writing."
Change messages' status as "seen," "received," and "sent."
You can also download the ad-free version called WhatsFake Pro.
Fake Chat Simulator
Fake Chat Simulator is a powerful WhatsApp chat generator that contains all the maneuverability you may need in your chats to sell them as the original.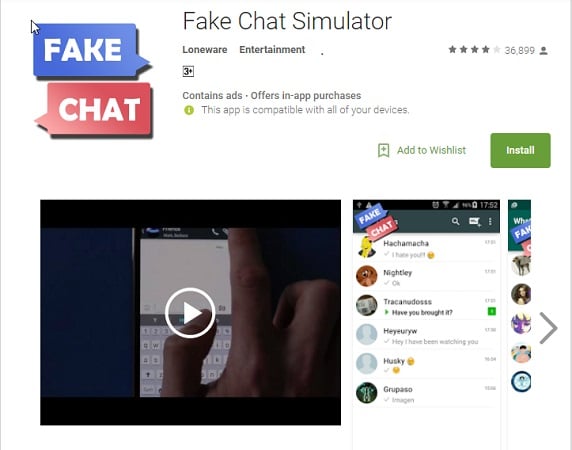 It has a snappy user interface and provides detailed options for changing various aspects of a chat, like the time-stamp of the messages or the background of the chat screen.
Some of its features are:
Adding multiple fake chats to your home screen.
Allows changing the status of the messages to "Seen," "Sent," or "Received."
Allows changing the time-stamp of the messages and the screen background.
Changing battery percentage, operator name, network signals, etc., on the chat screenshot.
Fake Chat Conversions
Don't mistake it for the Fake Chat Simulator featured above. While the names might sound familiar, there are distinct differences in the functionality and uses of both WhatsApp chat generators.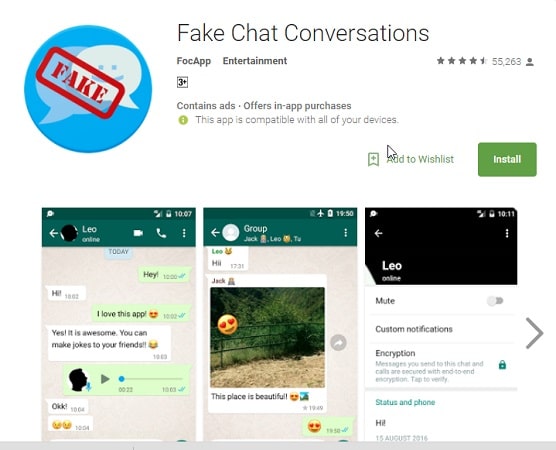 Fake Chat Conversations has a smooth user interface and an easy-to-use system of making fake chats.
Some of its features are:
Full customization of friend's profile.
Creation of real vocal messages.
Creating simulated calls or video calls.
Creation of a fully working fake status.
You can also send videos or images in your conversations.
Full support for starred messages.
The Prank Chat & Prank SMS
Prank Chat & Prank SMS is a fast and snappy WhatsApp chat generator for those who do not want to spend their time perfecting every nuance of the fake chat screen.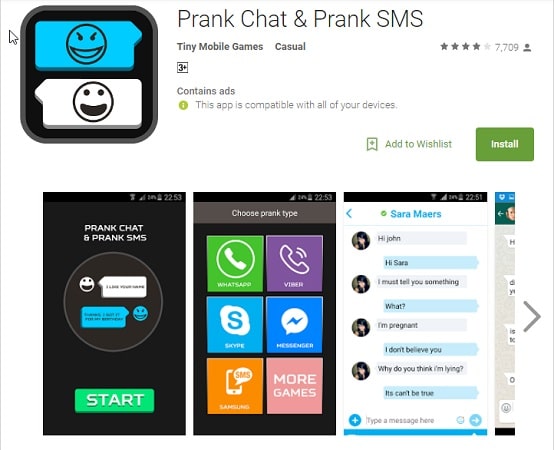 Platforms supported are:
WhatsApp
Skype
Viber
Facebook Messenger
Samsung Chat
Prank – Fake conversations
The prank is a lightweight WhatsApp chat generator that is a perfect solution for those low on time and storage.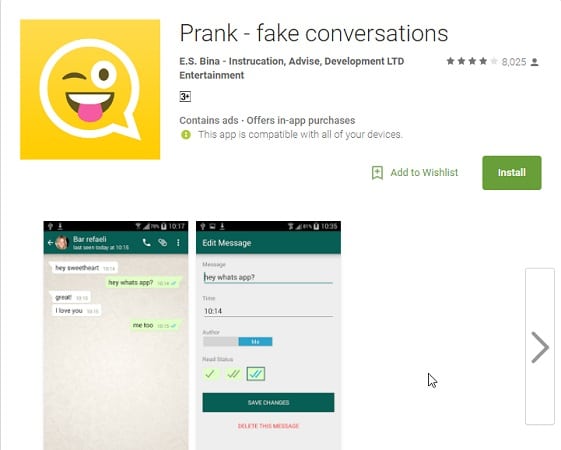 Prank – Fake conversations provide complete control over the messages, and you can make fake chat screenshots giving originals a run for their money!
Fake Call & Chat
Fake Call & Chat is a lightweight WhatsApp chat generator with snappy performance and powerful options.
Some of the features are:
Creating full fake chat threads.
Option to change the background window.
Customizing messages as per the preference.
In-built help option.
This is definitely a powerful application for all your prank needs.
iOS7Text
iOS7Text is a WhatsApp chat generator for iOS devices. It is not an application, instead, a website that allows unparalleled customization options for creating fake WhatsApp chat screens.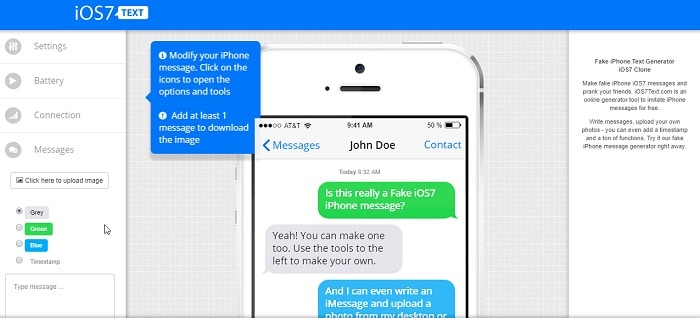 One thing to note is that this website only provides fake chat screens for WhatsApp's iOS version.
Foxsash
Foxsash is another WhatsApp chat generator website. It provides a multitude of customization options like:
Changing sender's and receiver's names.
Modifying the time-stamp of the messages.
Modifying the status of the messages to "Seen," "Sent," or "Received."
Changing the battery percentage, signal strength, and operator name on the screen top.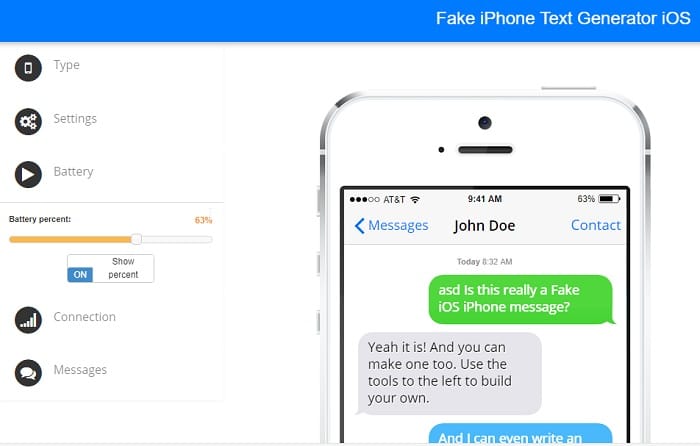 FakeWhats
FakeWhats is another website that provides a plethora of options to create original-like fake chat threads. It allows the user to customize the message details like the time-stamps, status, text, etc.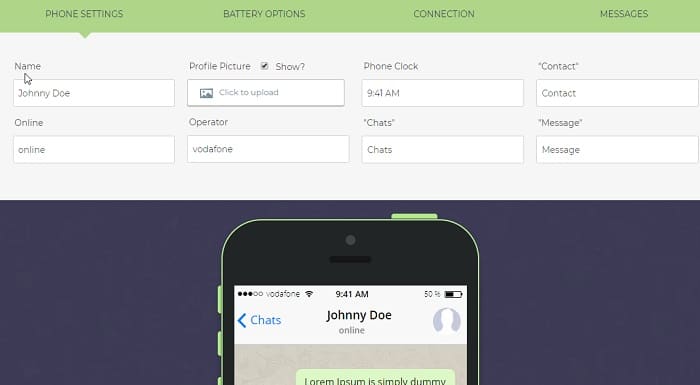 You can set your or your friend's status to "typing," "online," or "offline." You can change the phone settings like operator name, WiFi signals, network strength, time, battery percentage, etc.
It is an all-in-one tool for creating realistic WhatsApp chat threads.
Final Thoughts
While it is fun to prank your friends and play tricks on their minds, make sure your messages do not leave a lasting impact on their minds.
All the tools featured above are for entertainment purposes only, it is leveraged that these should not be misused to prevent the rotting of the WhatsApp community. Apart from that, go and have some fun!