Facebook has always been a top social media website, but as a prank the possibilities are endless. You are probably aware of the potential fun you can have with fake Facebook statuses or conversation screenshots. You could send them to friends and leave them very confused- when did you post that status? The answer is, never! You will be delighted with the following 6 websites that act as fake Facebook status generator.
You must note that they are fake statuses, and most only produce screenshots, hence the title fake status generator. They are not connected to your Facebook account, so you can be sure they're safe to use and fun to play with.
List of Best Fake Facebook Status Generator
Here is the list of fake Facebook status generators:
Simitator's Facebook status generator
Simitator is a website that offers good possibilities for your imaginary status. It lets you type a name- yours, or a celebrity's, to make it more exciting- and a message of your choice, and lets you generously apply emojis to the message.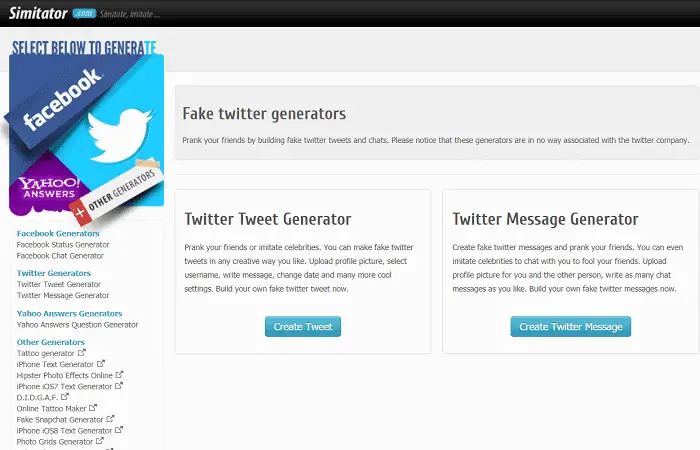 You can decide the number of likes the fake status has received, a "like this" alternative- in case your language is different, the time the status was posted, as well as alternative text for "Like" and "Comment". This site does its very best to make your fake status more believable!
Status Clone
Status clone is a great fake Facebook status generator. You will be satisfied with its options: the site lets you upload a profile picture of your choice, enter a suitable name, enables you to decide the number of likes and liker names to start the line with and allows you to determine if you choose to "like" the fake status or not.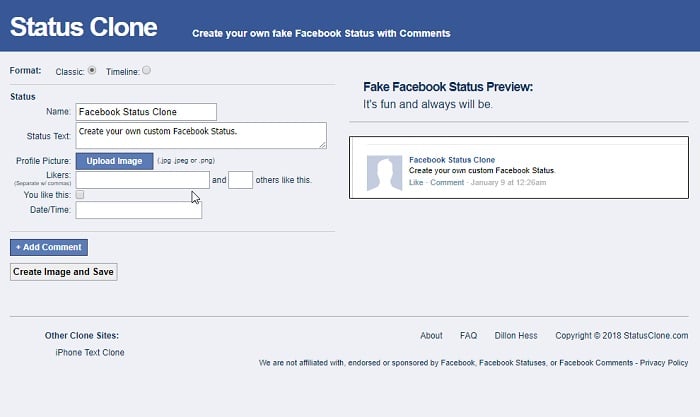 One also get to enter the date and time and add any additional comments. You will feel this site to be quite thorough and believable.
Prank Me Not
Prank Me Not is a famous fake Twitter and Facebook status generator site. One can create statuses and messages on this website. You get to choose the language, a perfect profile picture, your fake profile name, and you can even add an image to the message. You can also use emojis in your message.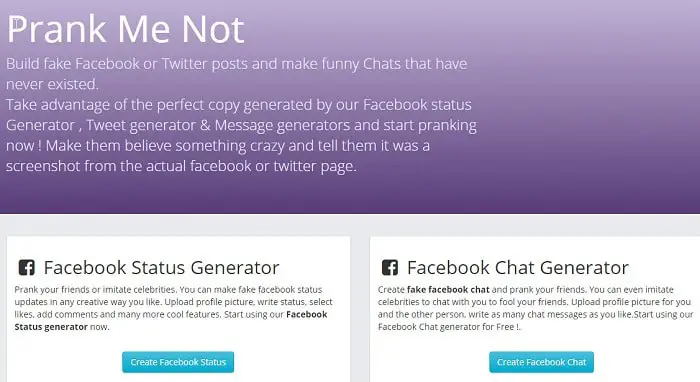 Like the other tools on this list, you can decide the number of likes and also determine the number of shares. You can decide whether or not you are opting to like the fake status or not, as well as type your like text, reply text, share text, write a comment text and real comment text. You can decide if the fake status is visible to public or friends. Could you ask for more options?
Post Maker for FB- Fake FB post
You are probably relieved to see an app in a list full of websites. This Facebook status generator has secured a 3.9 rating on Google Play Store, for an impressive 100 thousand downloads.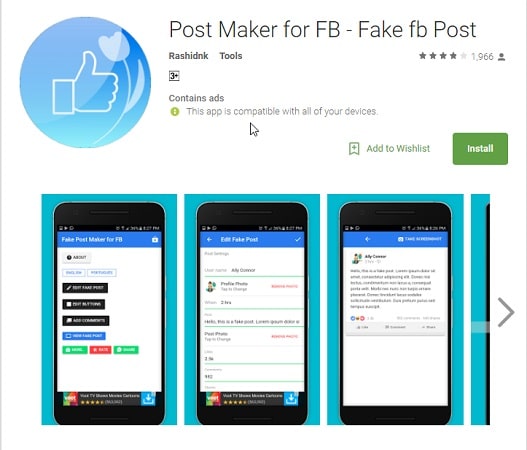 You can create a screenshot of the fake status after adding FB post pictures, comments and a profile picture. One drawback is that it contains ads, like most apps.
Facebook status generator by galau.me
Galau.me is a website that lets you create fake Facebook and Twitter statuses and messages. You will discover the following range of modifications: language of text, profile picture, getting to add comments, a fake profile name, a message and an image to go with the status post, the number of likes and shares, the names of the people who "like this", and time of status.
It also lets you decide to like, comment, reply, share and write a comment text, as well as who the faked status should be "visible" for!
Fake Facebook status generator by iGenerator.eu
iGenerator.eu is a website that offers to help you generate not only Facebook statuses or messages, but also hilarious fake material for Twitter, Snapchat and WhatsApp. First, you upload a profile picture to make your status convincing. Next, you add a name, status and image with status if you wish.
After that, you can look forward to getting to edit the number of likes, shares, like and like this text, time, reply, share and comment text. Visibility and write a comment text is also offered up. The great thing about this site is the full range of fake generator options, as it moves beyond Facebook and Twitter.
FAQ's
How does a fake person generator work?
The fake person generator usually takes data from different people and combines the features from thousands of data available. It forms a new image concerning these faces.
Is a fake person generator application legal?
The fake person generator app is legal. The information provided in the app is inaccurate but does not prevent you from using the app. Regulations are there about using technology for illegal motives.
What is the best fake person generator app?
FakePerson Generator is the best app for generating a fake person. It is very user-friendly and updated. It does not require you to log in or provide your details.
What other Apps are available for generating a fake person?
Several apps generate fake names, identities, interests, and faces. You can combine all of these and form a new identity, which is an artificial person. Many websites provide additional features to customize the fake person you are generating.
Final Words
You are undoubtedly excited to try out these six fake status making tools. One should be reminded of the possibilities and precautions. You can make crazy statuses go viral, and cackle at your friends' enthusiastic responses to the status screenshot you share with them.
One don't even have to make it seem like their status. You could confuse people into thinking a celebrity posted something absurd and funny or better yet, as though a celebrity replied to your comments!
However, be sure not to post anything unkind. Also be aware of the fact that these websites don't post statuses, they only produce fake Facebook screenshots.
You must also ensure the screenshots offered by a particular site perfectly match your Facebook account's update appearance. You don't want your friends to know immediately that you're trying to fool them! So have fun creating the perfect fake Facebook status screenshot. And if you ever run out of ideas about what ridiculous thing to post. You can solve your problem with a quick Google search.