Snapchat has created messaging cool and funny with photographs. It is the application to share your moment with your friends instantly. Once you upload your picture, it will be open for few seconds to your friend view it. Then it will be deleted without any trace of the photo. Creating friends through Snapchat is a cool and funny one. For which you may need some cool and crazy username because you may be bored of using usual names. There are many innovative tools to work as a Snapchat username generator.
See Also : 8 Websites to Generate Tumblr Usernames | Tumblr Username Generator
List of 12 Best Snapchat Username Generator
Are you excited to create crazy names for you, don't overthink about it just get the help of online websites? Today I have presented some cool sites to get funny and exciting usernames.
Fakedetail.com
Most of us, especially the kids above 14 or 15, spend their significant hours in finding a suitable username that matches their profile, attitude, and culture. Like other Snapchat username generator tools, this is one of the most influential websites that offer millions of usernames matching your characteristics and requirement.

Now, you may save your time and find the appropriate username for your snapchat profile through Fakedetail.com.
Visit : Fakedetail.com
Last Pass
In the era of a security breach, it has become essential to select the appropriate usernames and passwords to keep your data safe. Among many, LastPass is one of the best websites among many Snapchat username generator tools that may help to generate an active username.
Visit: LastPass
Though the features of the app are premium, if you try using it, you may experience the best experience ever.
See Also : 7 Best Online Free Fake Name Generator Tools
Turbo Future
This website is one of the suggestive snapchat username generator, but like other websites, it has something unique to offer. Most of us think of phobias as the greatest fear, and this website helps to overcome your fear if generated as a username. Precisely, this website offers phobias as the best usernames.
These may not only describe your profile on the popular social media app, Snapchat, but it can also help you in creating your blog with the same name. Like other generators, Turbo Future too offers a collection of cool and cute usernames to make you happy and updated.
Visit : Turbo Future 
Domains Bot
These days, the teenage kids and the young adults wish to make the right choice every time, especially when they are choosing their usernames or domain name for any social media application. Most of us want our usernames to be catchy and not bizarre at the same time.
That is why to make your profile amazing and attractive. Domains Bot is one of the most popular Snapchat username generator offering usernames that are suitable for your profile. Also, it helps to create your ideas into the best names.
Visit : Domains Bot
SpinXO
SpinXO is the website which can generate usernames based on the keywords you give. Give your name, nickname, hobbies, things you like, important words, numbers, etc. to get some exciting usernames.
Visit : SpinXO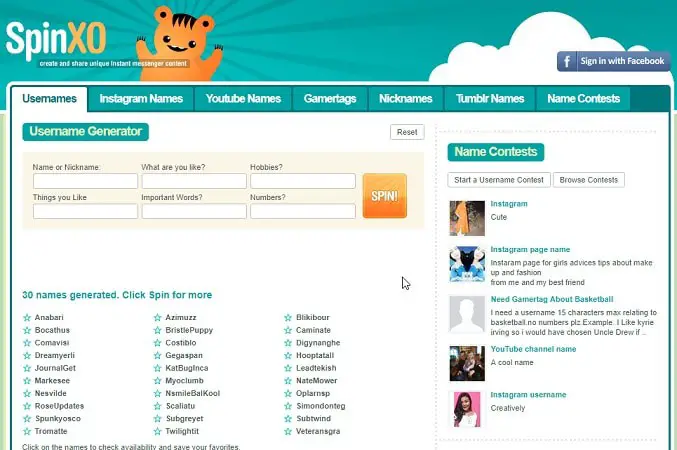 Fill the information in the space given and click on the Spin option to generate usernames. You can also get the username ideas in this Snapchat username generator.
See Also : 5 Best Free Steam Name Generator Tools (2020)
Username Generator
Username Generator is one of the best Snapchat username generator tools which generate names based on the names given or by the things you like. It also asks for the length of your name to be produced.
If you like the name, you can click on the name to get more related Snapchat names and also it will check for the availability of selected name in any other social media sites. To get the username ideas type the favorite name or even letters you like.
Visit : Username Generator 
BT Names
BT Names is a Snapchat username generator website that gives you the chance for going through the list of names for getting the attention of people from various countries. It provides the opportunity to create your names with the meaning of French, Arabic languages.
If you wish to be identified by a French, Arabic, Japanese, Brazilian, Argentinian, Dutch, British girl/guy on Snapchat, you can make use of the BTN website. It has the full range of options to create names according to your wish in any language.
Visit : BT Names 
JIMPIX
Jimpix is one of the Snapchat username generator sites where you can go through the names from the given list of categories. You can go for the option of random categories if you don't have any idea about usernames. If you think of getting any personal names which should carry any meaning specifically then go for other categories to get the related names.
Visit : JimPix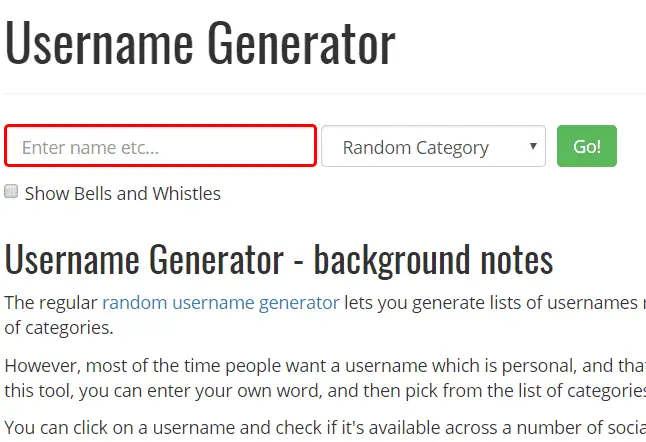 Two boxes with Your Word and Category will be available in which type the specified name and click on the run button. The length of the names can also be specified along with the letter in the first and last.
See Also : 14 Good Username Generator Websites of 2023
Namestation
Namestation is one of the best sites for Snapchat username generators. It offers simple user interface to a get a huge number of suggestions within few seconds. It has 200,000 users, and it is regarded as the top 1st domain to get cool kickass usernames.
Tauno Novak is the one who designed this website during 2005. It carries several ways to form new trending words based on your wish. Namestation provides you the better assistance for searching and suggests keywords based on your query word. It is the automated and fast tool to perform bulk searches within few minutes.
Visit : Namestation 
Speedy Password
Speedy Password not only allows you to create the unique and fresh username but can also secure your username using a secure password.
One can customize the username using several words, numbers, symbols, and characters. It has user-friendly interface and functions more smoothly than others. It is just different from other Snapchat username generators.
SPNG
If you are seeking for the naughty username to attract the attention of Snapchat users, then this tool will helps you out. It is one of the ultimate Snapchat Username Generator tools to get lovely username of your desire. Entering the desired name on the site will generate ultimate trendy names to keep it as a username in Snapchat.
Smart Username Generator
You may have some ideas and keywords using which you can generate usernames. Smart Username Generator will help you regarding that.
This Snapchat username generator allows you to enter to add the words to resemble in username and topics of your preference. Select the topic which matches your attitude, interests, and ideas.
Final Words
Plenty of trending websites are available on the Internet to get cool, funny, and interesting names to grab attention from the Snapchat world. All the sites given above are easy to use and within few clicks, one can quickly get username suggestions.
Username generators are most trending on the internet which reduces the risk of overthinking on apt usernames that matches your interest.
See Also : 6 Best Free Tiny Text Generator Tools (2023)