Have you ever wondered about having a cool username? Be it for any gaming activity, or cool social media handles, in this world of technology, it becomes quite boring to use regular names. But the main problem lies in the fact that most of the time we are not able to come out with a kickass and cool name, especially when there are billions of users surfing the internet. Thankfully some username generator websites do the task for us. This article presents the 14 good username generator websites.
List Of Good Username Generator
Here are some of the best Generators for usernames that you can use for yourself.
JIMPIX (Good Username Generator)
This website comes on the list of favorites for users out there. Jimpix is the first choice of maximum users across the Globe. It just uses a random word or name which describes our Personality, individuality, or particular taste in some specific areas.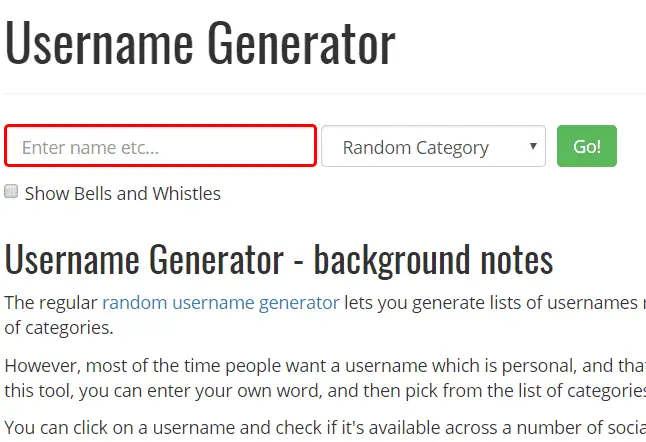 It gives you a good range of names. Jimpix is a user-friendly platform and straightforward interface. This website provides additional amenities such as names for specific social media platforms and a one-word username.
Visit: Jimpix
Best Username Generator
As the name suggests, Best Username Generator is an excellent website for creating a random username. But its interface confuses the users. Still, it has proven to be a good username generator. The site offers other significant and cool tools for social media platforms such as Instagram name generator, Snapchat usernames, and much more.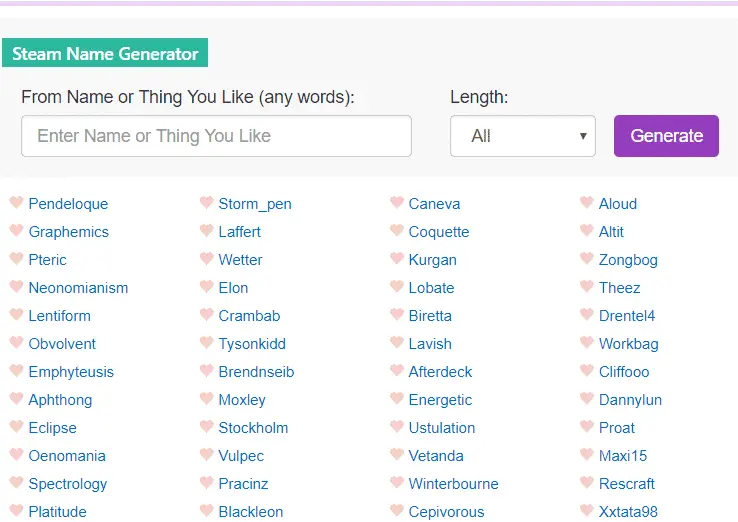 It provides a wide range of options for creating a username. The best username generator is very popular among Gamers, as it gives some kickass usernames.
Visit: Best Username Generator
SpinXO (Good Username Generator)
SpinXO is a very reliable website that gives you a username based on the information you provide. It takes into account your name, nickname, hobbies, and other stuff.
And after that gives you the option of choosing the username among the given options. It also provides very user-friendly tools such as gamer tags.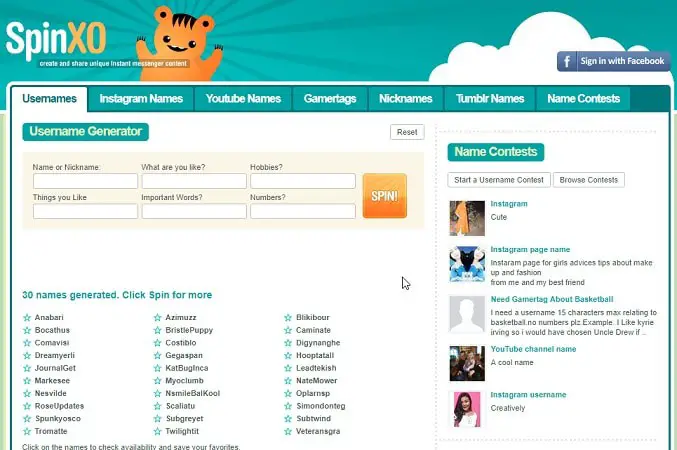 Visit: SpinXO
Screen Name Generator
The Screen name generator works by taking into account the adjectives you choose, to generate a very reliable username of your interest.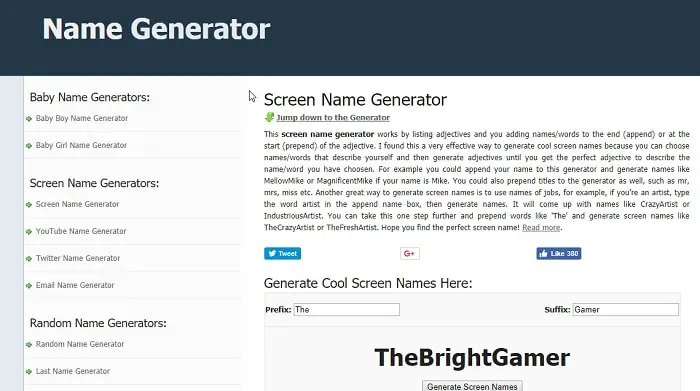 The best part of this website is that you can choose your username and then modify it by selecting the adjectives, to form a cooler username for your social media handle. It is also possible to add titles like Mr. and Mrs. to give a more professional look to your name.
Visit: Screen name generator
Speedy Password (Good Username Generator)
Speedy Password is a different username generator website. It not only generates a username based on your interest but also creates a secure password for this specific username. This is a perfectly good username generator website.
Besides its security, it also provides the option to customize the username using the various characters, numeric values, symbols, etc. The above features enable a very user-friendly interface for smooth functioning.
Rum & Monkey
Rum & Monkey is especially useful for the gamers. Nowadays gamers find it quite challenging to get a kickass username for their handles. Some of them are quite common. Rum & Monkey fulfill this purpose. It provides a wide range of fresh usernames. Rum & Monkey provides the option of choosing from over 5000+ names.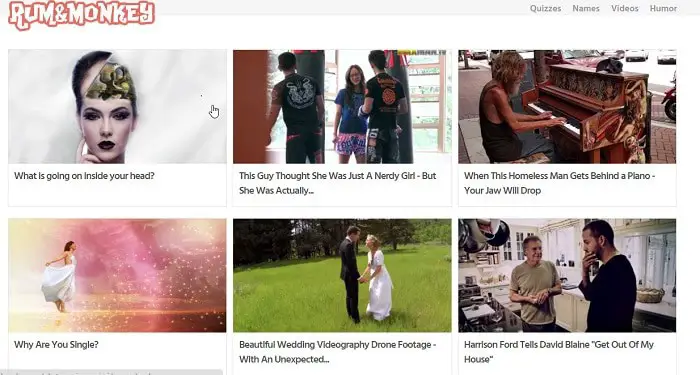 It also creates usernames from various genres such as Minion Game generator, Korean game generator, Monster game generator, etc. This is considered an excellent username generator website.
Visit: Rum & Monkey
Fantasy Name Generator (Good Username Generator)
Fantasy Name Generator is yet another excellent username Generator website, which allows you to choose a different username for purposes such as Gaming and other activities meant for a Social Media platform. This site generates about 10 usernames at once, from where you can choose your username based on your liking.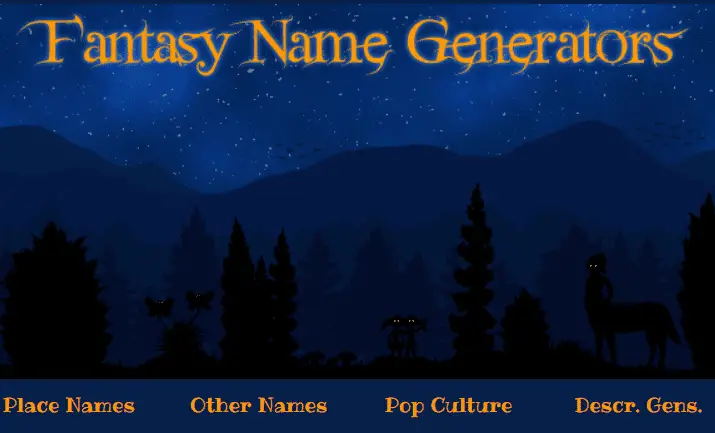 This limited number of options is provided because, this website prevents the generation of thrash usernames such as" Warlord," or" xxxLegoxx" for some obvious reasons. This site offers some new and humorous usernames which are well-liked by the audience.
Visit: Fantasy Name Generator
GENR8
Genr8 is exclusively for gaming purposes. It helps to create hundreds of usernames, which enables the Gamers to choose from a variety of options. Be it PSN username or Gamertag; this website has the best username generator for this purpose.
Moreover, this site enables the users to customize the generated username for various games such as Arcade games, Strategy, Combat, Action, RPG, RTS, Adventure, or FPS games. This website is counted as one of the best username Generator Websites, because of its ability to create a memorable and kickass username.
Visit: Genr8
KPARSER (Good Username Generator
Kparser name generator website is dedicated to YouTubers. It is essential to sound very good and professional for a YouTuber, especially with the growing number of YouTube channels. Thus it is indispensable to create a unique brand name, in the YouTube community.
This website helps to generate a very cool and professional username for a YouTube channel. It is considered one of the best username generators for a YouTube channel to give it a unique and Professional tag.
Visit: Kparser 
LingoJam
LingoJam is yet another website to create a good username Generator. This site is dedicated mainly to all Instagram users. Some websites often provide usernames of the same structure twice. This is not the case for this website. The site offers various usernames which can be chosen by the user based on his/her preference.
It consists of a seed word, which could be the actual name of the user after which the website provides hundreds of ideas for the username, about one-fifth of which consist of the seed word. This site offers unique and cool usernames, which enables the user to sound cool in the online community.
Visit: LingoJam
See also: 4 Websites to Generate Tumblr Usernames | Tumblr Username Generator
Turbo Future (Good Username Generator)
Choosing a great username for websites is required. It's the primary impression somebody will notice, so pick carefully to give a good opinion. Sadly, getting up with a great username can be troublesome—it can appear like all the great ones are used, particularly on great social media places like Twitter, YouTube, and Instagram, wherever there are billions of users.
You'll get a few creative to decide on a distinct and different username to use on certain sites. Any site/app needs a slightly unusual road when it comes to designing a username, a method that I will work over as well.
Visit: Turbo Future
LastPass
Many personalities use an identical online username around multiple principles and websites, from Gmail to bank websites. A single exposure to a person's username can open up to name theft.
Retain Snapchat's 2014 data breach? It penetrated 4.6 million usernames and telephone numbers. No passwords or email addresses were out; Snapchat still helped users to create new usernames and passwords. Practicing a casual username is like having two passwords for an account because it performs it more difficult for someone to pick your username and disclose it.
Visit: LastPass
NameNami (Good Username Generator)
As mysterious as it seems, NameNami is a rather legit online YouTube generator. It takes an (arbitrary) prefix and a suffix as fine, though you can make names outdoors them. But I noticed that the names made without either the prefix or the suffix of your option are just crap.
It even outputs casual words from the implication for you externally any of your prefixes or suffix. I've even got advice as basic as "hostile." But combine that with a suffix, and it makes a rather great name.
So I suggest you move the prefix area blank but add a suffix for your sound. Something like "TV" or "Gamer" will do. But related to the different ones on this list, this one is a little heavier to give results. But the effects are good enough to be held, just take my word and settle in a suffix.
Name Generator 2
You know it's real stuff when the generator has a series! The name generator open over at namagenrator2 is a lot related to the Screen name generator tool, which you read on earlier.
It is just titled as Username generator and has the corresponding selectable areas as on the screen name generator. You can choose your favored prefix and suffix to be set into your name and agree on the Generate Usernames key.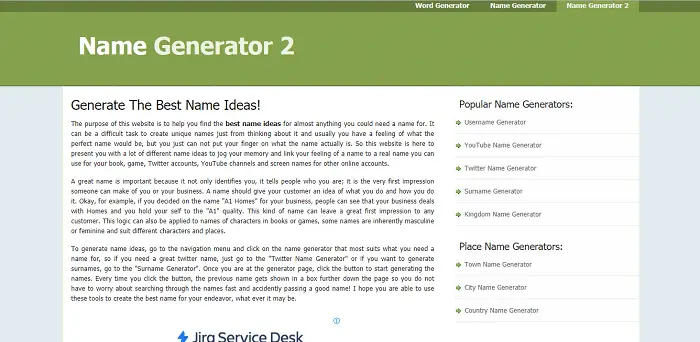 It will provide you with some offbeat titles with original and last words identical to your choice. Namegenerator2 stocks all the usernames created each time you hit the generate usernames button, and you can add the names to your preferences list by agreeing on them. It does tell you to copy your names before you go back. 
Visit: Name Generator 2
Final Thoughts (Good Username Generator)
The username generator websites are becoming a new trend these days. Especially in the age of the Internet, where most people like to sound cool. The username generator is undoubtedly an asset.