eAre you up for generating fantasy names for your gaming avatar? Or maybe you want a super cool name for your Instagram, Twitter, or Snapchat handle? Why keep tedious and straightforward terms for something to start afresh? Be it gaming, your YouTube channel, or any social media handles. Here's the list of the best fantasy name-generator tools.
Top 11 Fantasy Name Generators:
1. Fantasy Name Generators
2. Fantasy Name Gen
3. Donjon
4. Name Generator
5. RinkWorks
6. DiceLog
7. Chaotic Shiny
8. Scrivener
9. Reedsy
10. Behind The Name
11. Story Shack
Well, picking up any random name that is too fantasy is tedious. So, to make it simple, we have an intuitive solution.
See Also: 7 Best Fantasy Shows on Netflix You Must Watch
Top 11 Fantasy Name Generator Tools
Fantasynamegenerators
Fantasynamegenerators offers you many other name generators. But it isn't a name generator itself. As soon as you enter this site, you are greeted with a completely blue interface and many options.
You have endless opportunities to generate names. Generate names for games like World of Warcraft. And many other online and offline games like Clash of Clans, etc.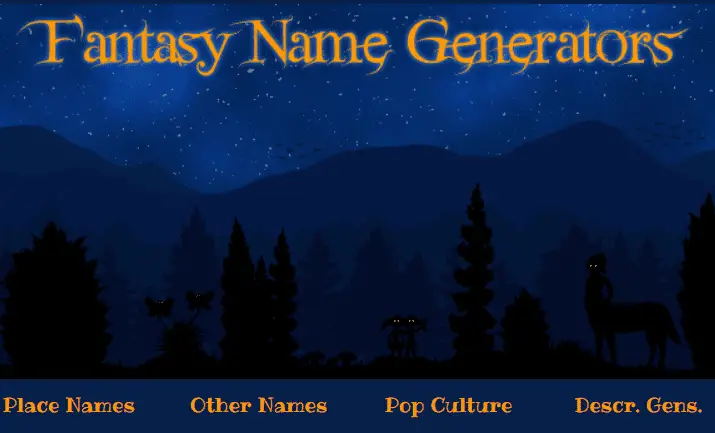 Not just that, this website offers you many different genres as well to generate names. A total of 1100 unique names can be generated on this website. Although the interface isn't right still, it is usable.
Fantasynamegen
Fantasynamegen offers you more options to create names. Unlike the one above, it has a better interface and no limitations to its library. You are greeted with many options as soon as you enter the website. You can select the length of the name: short, medium, or long.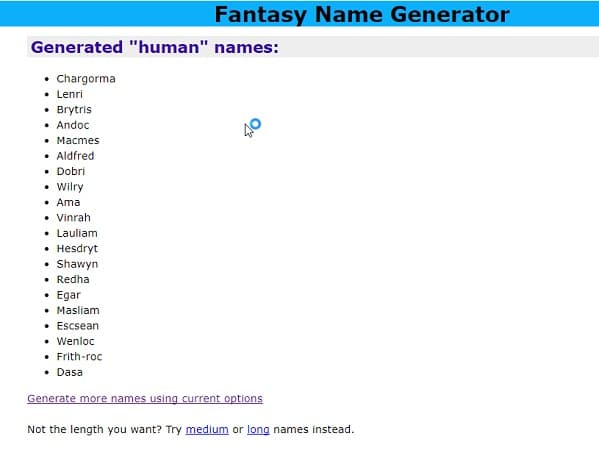 Moreover, you can choose the purpose for which you want the name. You can generate a name for your gaming avatar or a fictional character for your novel. The options here are endless.
You have options to generate Arabic-like names. It also includes scientific names, fantasy titles, hero names, dwarf names, elf names, etc. This website has a decent design and user interface.
See Also: 9 Best Online Fake Person Generator Tools in 2023
Donjon
Up for generating some ancient and historical names? Donjon is the right place for you. Other than just fantasy names, you can generate Ancient and historical names with this Fantasy Name Generator.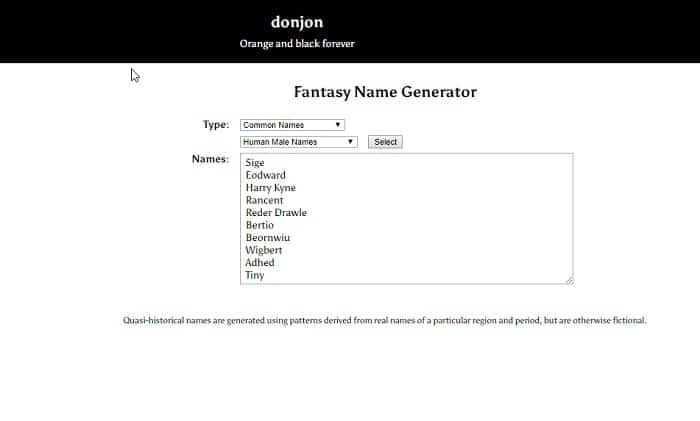 You can create fantasy names like Monstrous names and outsider names. You can also generate Historical titles such as the Ancient World and Medieval Europe. This also includes Asia and Far Eastern names, etc.
You will see an ugly white page and a straightforward interface when you enter the website. We get lots of options here. You can generate nearly a million combinations of different names.
Name generator
Name generator offers a straightforward interface and tons of options to generate names. You can create tons of terms for your YouTube channel or social handles. You can generate fancy words for your offline and online gaming avatars.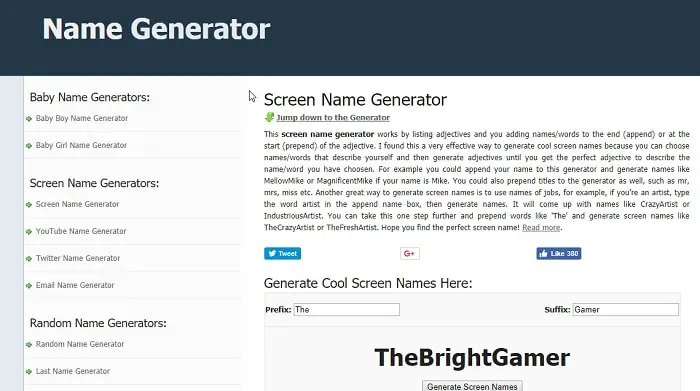 As soon as you enter the website, you are greeted with many options like a middle name generator, last name generator, fantasy name generator, and generate names for cartoons or fictional characters. The possibilities are endless, and the list stretches long. The Fantasy Name Generator website has a dull but boring interface that is usable.
See Also: [Updated] 7 Best Online Free Fake Name Generator Tools
RinkWorks
RinkWorks offers you a straightforward interface and many options to generate names. You are provided with different categories of words to cause. Moreover, there are tons of options to choose from. You can create millions of combinations of words.
You get a simple interface when you log in to the website. Although the interface isn't fun, the site is still usable.
DiceLog
Yafnagen by Dicelog is another random name generator website. Just like the website mentioned above, you get almost the same options. But the bonus is a simple and much better interface. As soon as you enter this site, you will get a pleasant surprise by its user interface.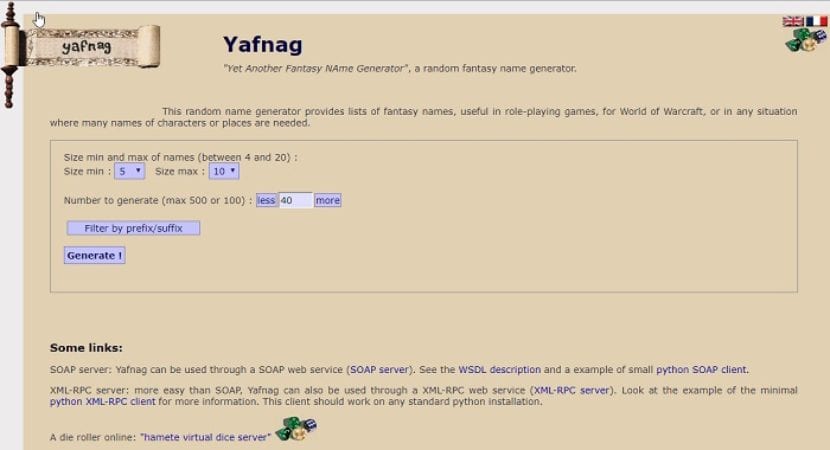 You would get many options like all the generators above in the list. So you are covered for making your social media handles. Also, it includes YouTube channel names, gaming avatars, or the upcoming hero for your novel. You can also use it as a fake name generator website.
Chaotic Shiny
Chaotic Shiny is another fantasy name generator, just like the abovementioned options. As soon as you enter the website, you get the necessary votes. It includes gender and the number of names you wish to generate.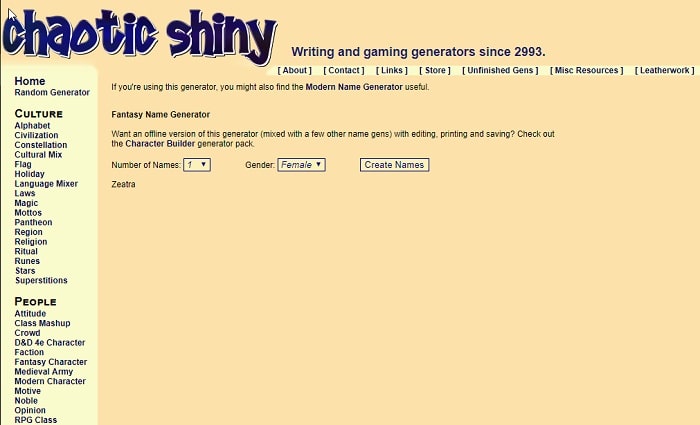 The interface of this Fantasy Name Generator is relatively straightforward but is annoying to use. Although the interface could have been better, it is still entirely usable. One main advantage is that the website isn't very fancy. It includes many bells and whistles, even on a slow internet connection. The site would load like a breeze.
See Also: 14 Good Username Generator Websites of 2023
Scrivener
The Fantasy Name Generator of Scrivener has an extensive selection of aspects. You can choose to extract titles or preset names. Even you can call for double-barrel alliteration from a wide range of countries.
Set the indications, and you can build up to 500 names concurrently by clicking on a button instantly without any hassle. When you start using this tool, you will like the names generated by it. It is one of the top-rated tools online.
Reedsy
For a fantasy writer, it's tough to find the best fantasy name. This popular fantasy name generator is for those who struggle to develop their fantasy label. Also, the fantasy names are abundant with possibility.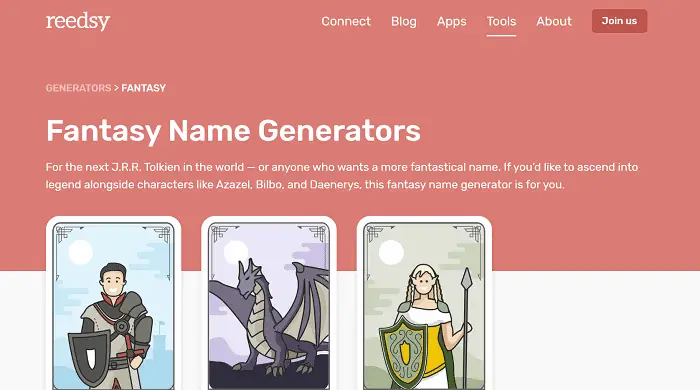 So we have built them to give you a first look for the perfect name, making your work easier.
See Also: 10 Best Funny Username Generator Websites [Latest]
Behind The Name
The tool creates a unique Fantasy name creator with a name sense. It also includes generating random titles and random life stories, which can be made much more accessible.
A 25-year-old Italian American introduced this Fantasy Name Generator tool from Texas. However, this is not necessarily all you need to do. These specifics help you to generate the right fantasy name. The name contains a comprehensive list of examples of terms in Asia, Europe, and Africa. This is one of the top fantasy name generators specified by search engines. It may satisfy your needs seamlessly.
Story Shack
Explore this popular Fantasy name-generator tool. This will begin your next creative idea or adventure at a different level. The variety is increasing, enabling unique Fantasy names for characters, locations, and universes. It is to be created, and you will be easily hit by the wall irrespective of whether you start a fictional simulation.
The latest one or anything else might need a fantasy name for the scenario. Many other Fantasy name lovers have already taken words. The perfect one seems to be out of reach. Using fantasy names for millions of suggestions is never a bad idea. This best tool is suggested by many people who love to write fantasy names.
FAQ'S
What is the best random name generator?
When seeking a reliable random name generator, consider tools like 'Fantasy Name Generators,' 'NameRobot,' or 'RandomLists.' These platforms offer diverse options for creating names for characters, businesses, and more. Remember to pick one that suits your specific needs and respects any copyright concerns.
What's a cool fantasy name?
Creating a captivating fantasy name depends on your creative style. Blend unique sounds and meanings to forge names like 'Aeloria Dawnstrider' or 'Eldric Frostbane.' Remember, the key is originality and resonating with the essence of your fantasy world or character. Experiment and let your imagination soar!
How do I pick a fantasy name?
Picking a fantasy name involves several steps. First, consider the character's background, culture, and personality. Mix sounds and meanings to craft a unique name that fits the world you're creating. Ensure it's easy to pronounce and memorable. Seek inspiration from mythology, literature, or language for an enchanting result.
How do you name an elf character?
Naming an elf character requires a touch of elegance. Choose names with ethereal sounds, using nature or celestial elements for inspiration. Research mythologies for elf-like names, and consider their role and traits in your story. Crafting names that evoke beauty and magic adds depth to your character.
How do I find a good character name?
Discovering an appealing character name involves delving into their personality, era, and setting. Experiment with various combinations till you get a name that resonates. Online name generators, historical research, or modifying existing names can spark your creativity and yield a name that perfectly encapsulates your character's essence.