If you want to be a famous Instagram celeb, and dream of having thousands or millions of followers, you need to choose your Instagram name selectively. A name speaks volume about you and gives a rough idea as to what your Instagram account is all about. You might see that most of the popular names have already been taken. Thus, you must know about the best Instagram Name Generator tools out there.
Don't worry, you might be late on to the Instagram bandwagon, but there are a couple of nifty Instagram name generator websites which will help you in choosing some truly cool and unique names.
Best Instagram Name Generator
Here is the list of best instagram name generator that you could use.
LingoJam
The basic premise of LingoJam is pretty simplistic. There are two columns on the landing page, one on the left side where you input your primary name that you want to use for your Insta account; the right column is where the website suggests you ideas based on your name. You don't have to use your name necessarily; it can be anything that you want to be associated with.
For each word, you will get hundreds of possible options, but few of them are just out of context, and you would wonder why those names are there. So, sort out the names carefully and you will surely find some gems among them.
Visit: LingoJam
Gramlike
Gramlike is purely built for Instagram lovers. The website is dedicated to cool and funny Instagram usernames. This Instagram name generator has different categories of funny Instagram names and cool boy and girl usernames.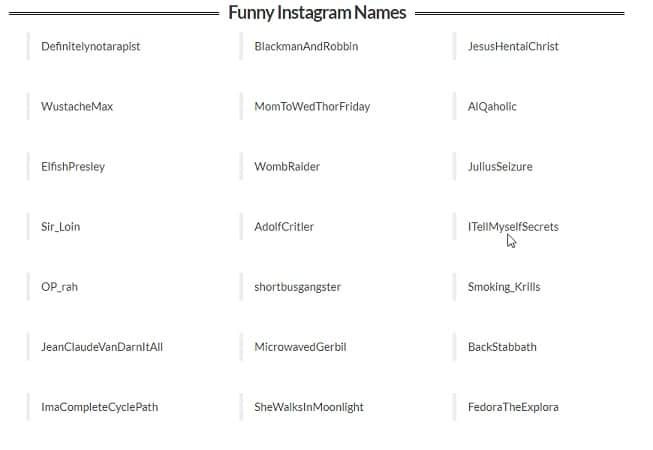 The best part is that other users have submitted these, and if you like any, you add a little of your customization, like your favorite number or nickname, and you have your unique username.
Not to forget, you can also recommend funny username ideas, and if it's good enough to make a list, you will get 200 free followers. Sweet, right?
Visit: Gramlike
Best Username Generator
BestUsernameGenerator is a resourceful website where you can easily find your favorite Instagram name. All you need is to enter the name of a thing or creature that you like, and select the length of your name, typically between 10-18 letters, and hit generate for the creative usernames.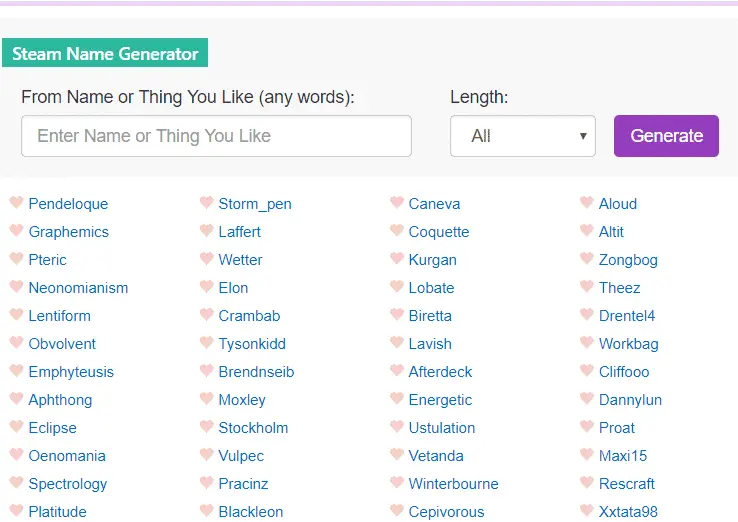 You will get over hundreds of choices to choose from, and if you like any choice, click on it. And a separate page will open that will check for the availability of the name. This is across different social media handles to make sure that it is not in use by someone else.
Visit : BestUsernameGenerator
Pro Pops Quiz Maker
This Instagram name generator is truly unique in the sense that it uses a quiz to determine your personality and suggest the best matching name. The quiz has a total of 8 questions and tests what kind of images you post on Instagram, the number of followers you have, is your account private or public, the things you like, your opinion about filters, etc.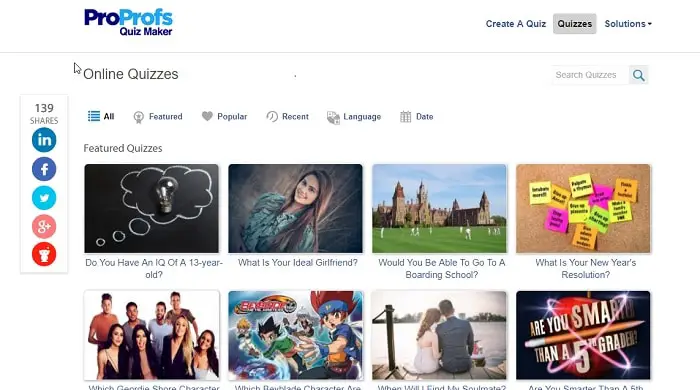 Once done, you will get a truly unique and funny username. You can also share your result across your social media handles. By the way, I got "The Foodie". Go check it out here.
Visit: Pro Pops Quiz Maker
Screen Name Generator
Screennamegenerator will work perfectly as your Instagram name generator. It has two columns: prefix and suffix. You may enter the combination of your first and last name, the names of your favourite pets, it's all your choice. The choices are limited, but those are unique names that haven't been taken by someone else.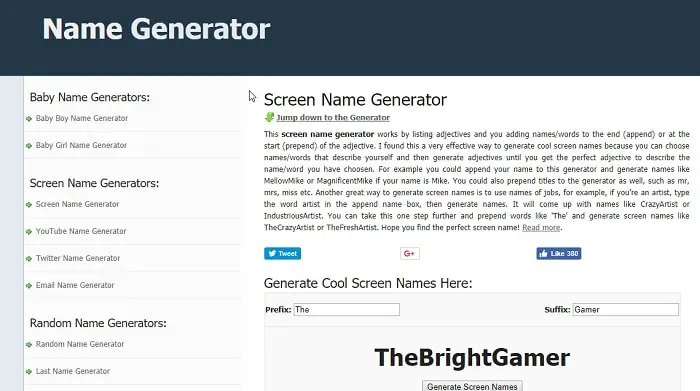 Visit: Screennamegenerator
RumMonkey
RumMonkey is the big daddy of random name generator available online. Not just as an Instagram name generator, you can choose all sorts of names you want, be it best vampire names, best minion names, etc.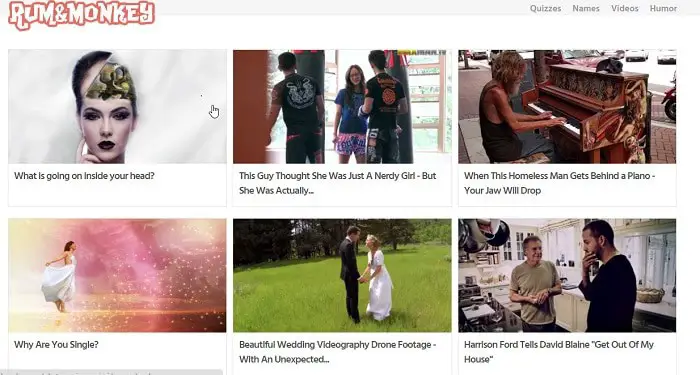 Whether you are an artist, a writer, a foodie, photographer or travel enthusiast – RumMonkey has got you. There are dozens of name generators on the website; choose one which closely resembles your Instagram account. Happy hunting.
Visit: RumMonkey
SpinXO
The interface of SpinXO is quite interesting as you get multiple choices to base your name upon. You can choose your nickname, your favorite words, numbers or hobbies, the things you like and hit SPIN.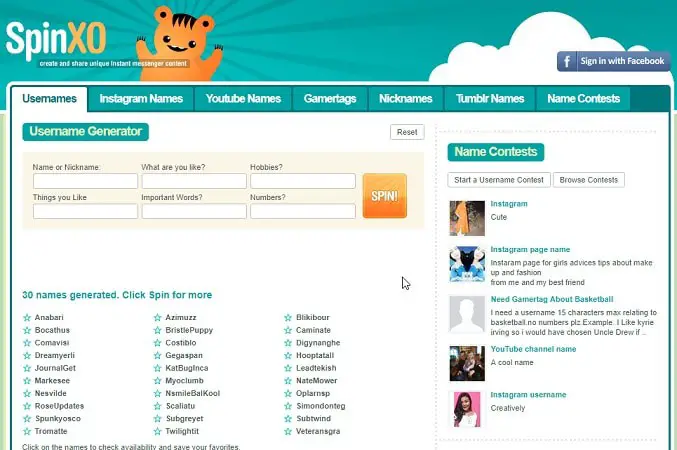 You will get a list of 30 usernames. If you are not happy with those usernames, just hit thee SPIN button again. Before proceeding, click on the name and check if it is already in use or not.
Visit: SpinXO
JimPix
The working principle of JimPix is pretty simple compared to other Instagram name generator websites. You head on to the website, and it presents you a couple of random Instagram names. You want more – go and press the refresh option.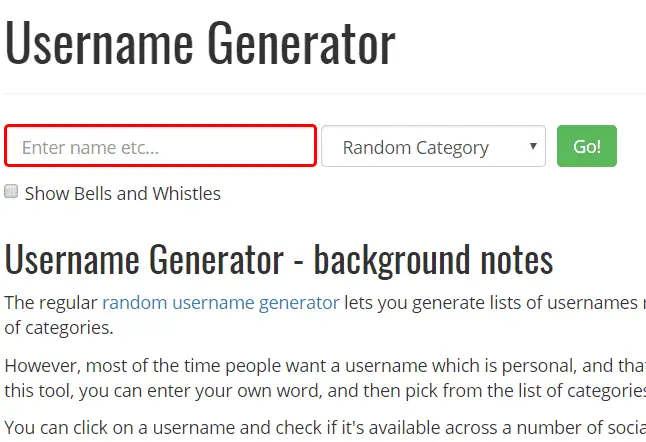 One can also sort the results by according to letters or numerals, ascending or descending. Just keep in mind that each name should be less than 30 characters, and made up of only letters, numbers or underscores.
Visit: JimPix 
Username Generator
Username Generator has just the basic functionality of entering your desired name and the number of names that you want, anywhere from 10-100. The names that the website generates are pretty crazy, some sound realistic and some of them are just outlandish.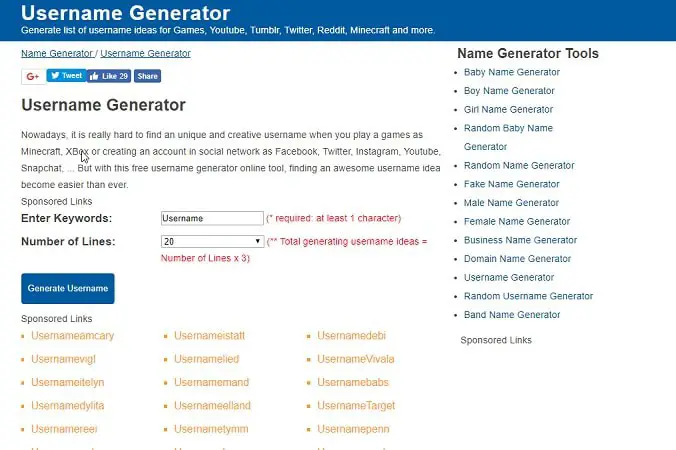 The possible number of names is literally unlimited. But do check before making that your Instagram name as it might be already in use.
Cool Name Generator
The interface of Cool Name Generator is similar to other Instagram name generator websites, but it is bolder, in all pink accent. It's ideal if you want some punk-style or emo-style name for your Instagram.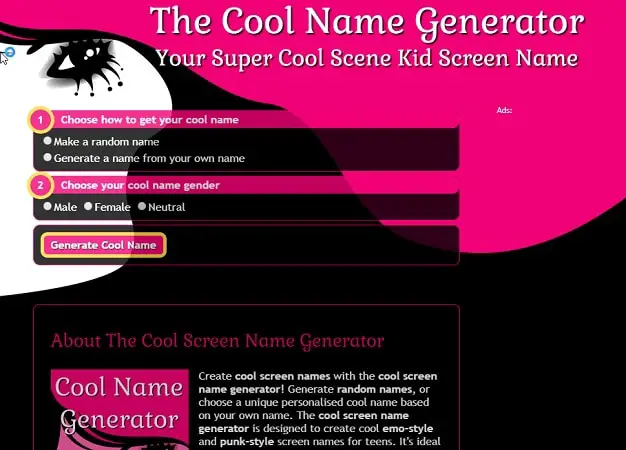 You get the choice to either choose your name or some random one, then pick out your gender, and voila you have your Instagram name ready. It's as simple as that.
Visit: Cool Name Generator