If you are a gamer or even an everyday tech nerd like me, you will be familiar with a famous gaming console developed by Nintendo. It is the Wii U. It is a gamepad with a display in between, but unlike the more recent Nintendo Switch, it is not modular by any stretch of the imagination. Thus, you must know about the sites from which to download Wii U Roms or Wii U ISO.
The Wii U is completely equipped with all the dope sensors that a great gamepad should have, such as a gyroscope and an accelerometer, and rubberized analog knobs.
See Also: Top 10 Sites to Download PS2 ROMs Safely
It became popular because it got along just fine with the existing Wii controllers, as you could use it as a standalone controller when playing with multiple other players on a console hooked to a TV or something. Nintendo knows their stuff!
What to Know Before You Download Wii U Roms for Cemu
Now, even though the Wii U is the official gig for running the commercial games designed for it, it can't stop the market from coughing up emulators that can mimic its functionality seamlessly. (well, more or less!) One such well-built emulator is known as Cemu; you have probably heard of it. It allows you to emulate games originally meant for Cemu to run on your PC.
This emulator can run all commercial games meant to be executed on the Nintendo Wii U gaming console. This emulator software is still a bit of work in progress. But the developers behind it are working extra hard to make it as impressive as possible for us, the users.
You can, of course, use their services for free. But it is tough to maintain it on their end, considering all the sweat they put in to make it better every day. So it would be flipping awesome of you to donate a little to them over at their Patreon page. Here is the website link.
They have been bringing some fantastic things to Cemu recently. Stuff like enabling 60 FPS gaming on the thing! They have used some miraculous compiler software that can handle such high frame rates.
Anyway, now that even multiplayer support is added, you should be looking for ways to install Wii U ROMs on Cemu, and rightfully so. Who wouldn't want a taste of Mario Kart 8 at 60 frames per second? So here are the four best websites where you can find and download Wii U ROMs for Cemu.
| Roms | Description |
| --- | --- |
| Portalroms | It is a great place to get some ISOs to enjoy on your Cemu emulator. |
| DarkUmbra | their tagline reads "Your source for custom gaming awesomeness!" |
| ChaosGames at Discord | you have to create an account at discord to be a part of all their custom gaming action. |
The Best Sites to Download Wii U Roms
If you find it difficult to read the article, then here's a video explanation of Wii U Roms mentioned in the content:
Portalroms
Visit Portalroms; if you are looking for a fast website to install Wii U ROMs for the same, you should be heading over to PortalRoms. The website seems responsive, and more importantly, you can easily download the ROMs from the site.
You can download ISOs for Mario Kart 8, Super Mario Bros, Xenoblade, super Mario maker, etc. You can find some more ponderous titles like the legend of Zelda and also Bayonetta over there!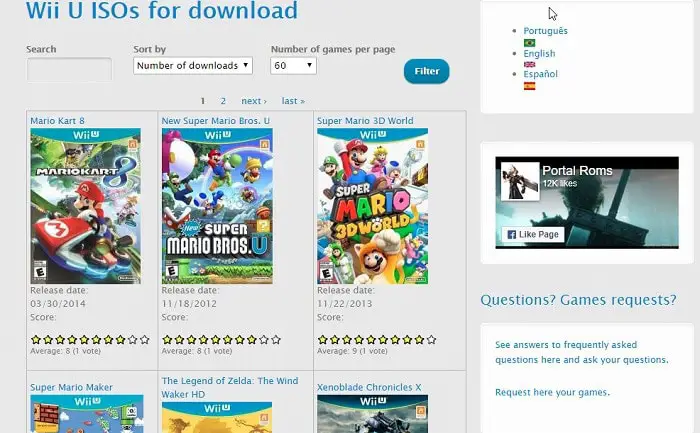 But it looks like they no longer have specific games like super smash bros. I mean, the last upload dates were there from 2016. Which is to say, older titles have not been refreshed if they have formerly got any updates. But it is a great place to get some ISOs to enjoy on your Cemu emulator.
DarkUmbra
DarkUmbra is the place for all your custom gaming needs. A very nerdy combination of a computer graphics term there! I mean, their tagline over at their website reads, "Your source for custom gaming awesomeness!".
They have a forum, a leaderboard to see the most active uploader, and stuff over there. You can search for pretty much any game you want in the search box, and I can almost guarantee that you will get instant results.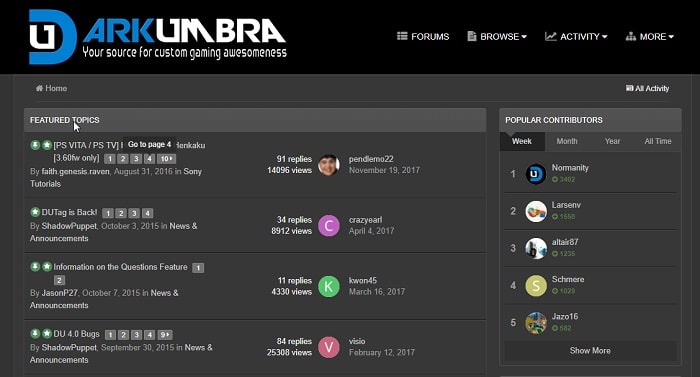 There have not been any instances where a fellow gamer who is looking for some dope ISOs for their Cemu emulator has returned gone back empty-handed. You can find all the major titles here and easily download them, but you need to register yourself as a member.
More About DarkUmbra
One can browse the content and see details about the games and the ROMs as a guest, but the download links and other specifics will hide but obvious. You can use your existing Facebook or Twitter accounts to sign up, just like any other website these days, so no sweat there.
Under the "more" option, there even seems to be a donate button. So that you can support your favorite member over at DarkUmbra, it shows error messages when people access it, but then again, I am not a registered member.
That could be why I got the error message that read, "could not locate the item you are trying to view."
But overall, I am digging what they have going on at DarkUmbra. Worth taking a look at if you are after some great Wii U ROMs, i.e., ISOs.
ChaosGames at Discord
Although ChaosGames had its forum community, it was shut down on November 26th, 2017. Discord is like a free voice mail and a chat app designed for gamers if you don't know. Pretty cool.  The public forum is now dead. And you will find the same notice over at what otherwise would've been their official site.
You can, however, direct yourself to join the gamers' social media, known as Discord. They have their groups and chats as usual over there. But you will have to create an account for yourself at discord. To be a part of all their custom gaming action.
For the sake of writing this paragraph, I registered with a dummy account. Without, a legit email id or username for my account, something like 12344321. I'll have to say, the verification process they have over there is pretty legit.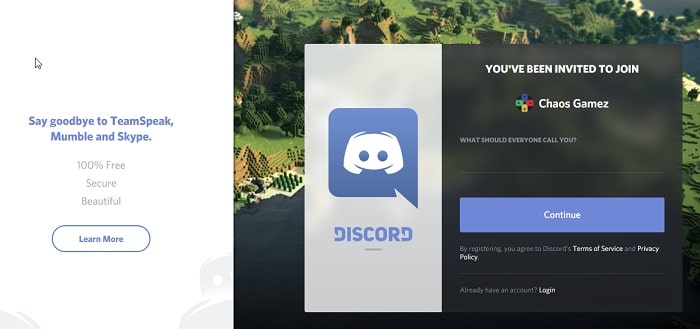 About Discord
It did not ask me anything secure and did not check my email validity either during joining. So going in, I initially think that this place hosts most of the spam accounts and bot-generated accounts. And eventually would close down again.
But I got a message from the ChaosGames group or "server" as they call it at Discord, that I will have to go through the rules page and then, answer two questions. Them being "how did you find us" and "why are you here."
If I don't answer them within an hour. And if they cannot reliably confirm my authenticity of being a real user. They will remove my account in the next hour of my joining. That is cool if you ask me.
All chat services should do that before allowing new members to access and crawl all over their content. So what I am trying to tell you is, you don't have to worry about the authenticity of the existing members. Or the files that you are about to download from there.
Visit: ChaosGames
Cboxera
This is the website you can trust to get Wii U roms for cemu and also find some great games to play on your PC. This Site offers you more than 1000+ games that give you amazing results. Your download will be super smooth as all its servers work perfectly fine.
They also have a chat room for gamers, where you can find ROMS and also games that are 100% working and verified by the gamers. The signup for this site is free and you can enjoy the abundance of games available here.
Final Words
So, this was all about the Wii U Roms websites where you can download them. And, there is a lot of it. You can find most of the popular gaming titles made for Wii Roms and download their ISOs for your Cemu emulator.
Just follow the staff rules for the time that you're there, and you should have easy access to all the shared links over at their discord server.
So join the gamers' chat room, chat with some automated bots and real players, download your favorite Wii U ROMs or Wii U ISOs, and have fun!