As we all know, Discords are very useful for a gamer. It helps in enhancing and managing the server and helps in communicating in a faster and more reliable way. In other words, it boosts your gaming experience and makes your server more powerful.
There are many Discord Bots available online that help you reduce your effort and time, but there are also some Bots that you can use to give a little kick to your dose of entertainment. They are known as Dumb Discord Bots or Funny Discord bots.
Users widely use these Bots for entertainment purposes. Still, they also include all the necessary features and perform all the essential tasks that an average Discord Bot would do. If you want to cross out text in Discord, click here.
Top 17 Funny Discord Bots
Here are the Top 17 Funny Discord Bots for you to use in 2023.
GAwesomebot
This is one of the best Discord bots that can help increase your guild's activity. It impresses many discord users with top-notch designs, an easy-to-operate interface, and other unique features like search commands and anti-spam.
This tool provides many in-chat tools, so you can certainly handle the task of moderating chats well. This Bot has covered everything from generating funny usernames to generating polls. Also, Gamers can grant positions to partners and other guild members. Check out the link below to know more.
Visit: GAwesomebot
Tatsumaki (Funny Discord Bots)
Most of the game freaks love this discord bot for the varied range of features it offers. You can set pleasant messages for people who enter the chatbox to welcome them and add notifications.
It allows gamers to interact with other guild members, thus yielding them XPs through polling among all guild members. The more you interact with users, the more XPs you earn. This prominent feature of this tool can increase users' activity and make them more competitive.
Visit: Tatsumaki
See Also: Discord Won't Open? Here's How to Fix It
Rythm (Funny Discord Bots)
If you are one of those gamers who love to play while enjoying music in the background, you are just in the right place. You can undoubtedly get the best music adventure from numerous sources through this Bot. It is effortless to tackle and has gained 6 million users.
This Bot stands out from the rest of the bots because it doesn't give rise to music lag even when using wireless Bluetooth headphones. You will get the best music experience and other features like lyrics to support without any degradation in sound quality. Check out the link below and uncover more new features!
Visit: Rythm
Sesh
Sesh is one of the best-devoted bots available in cyberspace. Many gamers might know Discord cannot let users see calendars and other related schedule managing features. Sesh does that apart from moderation.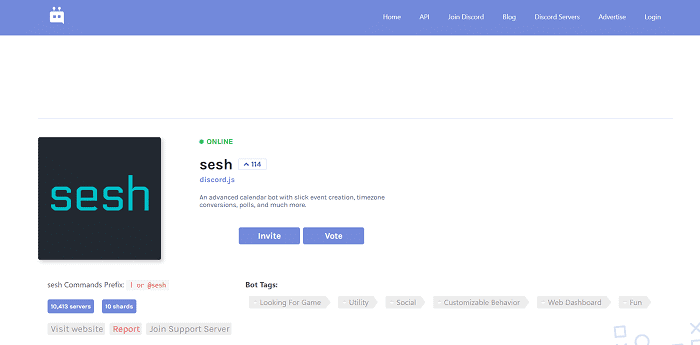 You can set reminders, organize tasks most comfortably, and plan your events accordingly. Moreover, you can also incorporate Google Calendar to support timezone conversations while interacting with gamers all over the planet.
Begin your gaming journey now with this Bot that can keep reminding you of upcoming tournaments.
Visit: Sesh
YAGPDB (Funny Discord Bots)
YAGPDB is yet another discord bot that can perform multiple tasks on the server. It is an abbreviation for "Yet Another General Purpose Discord Hot." As the name explains, this app has everything that a general purpose must not include.
This Bot favors only Reddit and apps like YoutTube to get the information on your server. An "Automatic Moderator" is a powerful bot version that can kick or ban users if it observes any violation of commands.
Visit: YAGPDB
Karuta
Karuta is a fun card bot by Discord. This Bot features higher than 70,000 anime characters. Karuta bot is related to bots like Pokécord and Mudae but gives multiple features to manage your server full for long periods.
Many developers are working to improve it, and it is presently available in the beta phase. Developers plan to attach extensions featuring large files of video games, fashionable versions of current cards, and other unique features.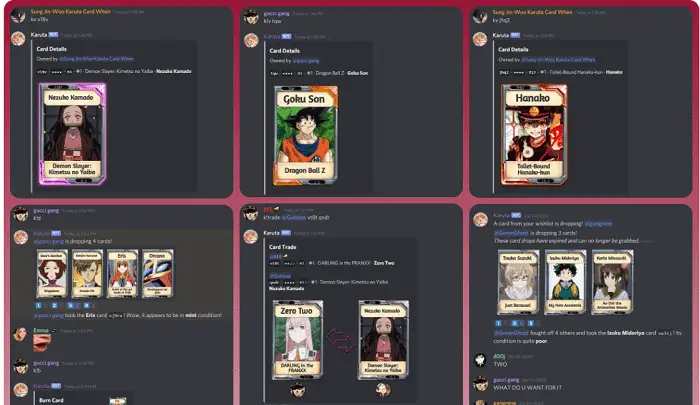 Karuta provides meaning to your cards; items can transfer across all Discord servers. An automatic card drops whenever your server is running, and a Manual card drops on your commands once every 30 minutes (at most) per user. Every card has a unique shortcode and can perform card trading with other users.
Visit: Karuta
Pokecord
Pokecord is a Discord Bot that enables you to collect, battle, and trade Pokemon with having fun. Rather than throwing Poke Balls, a bot will generate a Pokemon in an assigned channel in a participating Discord.
The image of the Pokemon is going to display without its name. It is the job of the user to answer with the name as immediately as possible. The user who answers the name of the Pokemon receives the Pokemon.
You can instruct your collected Pokemon and battle with your friends or swap them to complete your collection. Here are some essential commands which will help you. You can use the "p! pokemon -name" command to get your particular Pokemon by searching for any specific Pokemon.
See Also: 8 Ways to Fix Nexus Mod Manager Won't Open (Updated)
Mudae
Mudae is another Discord bot. This Bot is Famously known for its waifu generator. Along with this feature, it also provides a Pokémon Rocket casino and many other fun things. It has Twenty thousand anime/game characters to command, and you can fight with them.
Users can capture Pokémon and enjoy unique and real multiplayer games with friends. It has various multiplayer games like the word-based game and many more.
Users can get anime quotes and Customize countdowns. We hope you have a better idea of this discord bot. Give Mudae a try on your server and enjoy it.
Visit: Mundae
Dark Memer
The app is one of the funniest discord bots and is loaded with fun features. You can control anything on this app. It allows you to manipulate an image, create unusual or silly sound effects, etc. Before every command, you must add 'pls' as a prefix.

It guarantees you produce the soggiest meme you have ever come across. You might find the commands of Dank Memer stupid and annoying, but once you get used to them, they will seem attractive. Not all of its commands will gain access to it. But if you are a Patreon user, you can enjoy all of them. Dank Memer is one of the Best Funny Discord Bots by all means.
Visit:  Dank Memer
MatBot (Funny Discord Bots)
MatBot has various commands, from the elementary and essential commands to the cheekiest ones. Along with ensuring you with entertainment, it also helps in moderation and managing your server and other features.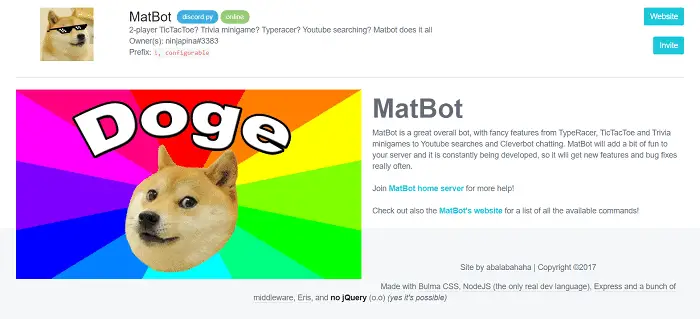 As a user, you can also retrieve data from the server, allowing you to control and continue your game. If you are looking for a moderate Bot, you can go for this app without a doubt, making it one of the funny Discord Bots.
The app has too much detailed data that would inevitably reduce your workload and save time. It has over 90 commands in it, and the fun part is that around half of its commands are dumb, and the rest you can use to enhance the utility of the server.
Visit: MatBot
Visit: 7 Ways to Fix Discord Update Failed Error
Gnar
The Gnar Bot has a theme of the League of Legends. The app has specific commands for creating funny memes but mainly focuses on music bots with many essential features.
The dumbest command in this app is the 'poop command.' The command generates an animated graphic of a person pooping out. It has maintained an excellent reputation for entertaining the servers.
If you use this fun Bot, people on your server will not be bored because many funny and entertaining features are stuffed in it, including several comics, toys, etc.
Visit: Gnar
Bonfire (Funny Discord Bots)
Bonfire is a complete package of all the funny Discord Bots stuffed with all the essential and fun features. Once you get into the app, you will find 21 pages of commands. You can use these commands to change the Bot; moderation, music playback, games, memes, etc.
Aah! You should know one thing in these Funny Discord Bots: the app has a built-in game named Roulette. If you play the game, make sure you win, or else you will be thrown out of the server, and the Bot does it by itself. You can't control that. It will methodically analyze your performance and kick you out if you are found to be a loser.
Along with being dumb fun discord bots, You can also use them for performing some essential tasks to enhance your server.
Visit: Bonfire
Guilded Bot
Guilded Bot does not offer you a lot of commands. So, if you are expecting a wide range of commands, these fun discord bots might find you upset, but to let you know, it is one of the utmost Bots you can add to your server.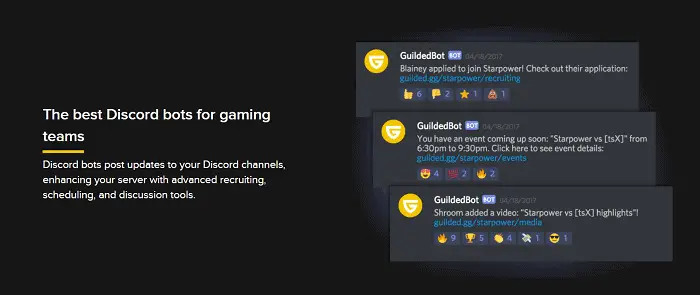 This one of the fun bots for Discord has only five commands within which you have to perform all your tasks. There is a command "doge" that produces a dog's face. But the most exciting thing about this command is, there it unlocks each of its faces, with each of some continuous activities on your server.
For example: if you receive too many calls in a row. These Funny Discord Bots will produce an angry dog face, similar to different activities on your server. It will unlock a new facial expression of the dog. And you will be able to discover the change. And sometimes, you might find the dog looking at your eyes.
Therefore, use the app and keep collecting all the stickers so that you can use them later.
Visit: Guilded Bot
MeMez Bot (Funny Discord Bots)
We all like memes that make us laugh our guts out, right? If you want to have a significant amount of fun, then MeMez Bot is the perfect One for you.
It's the best Bot to share some quality memes with your Discord community while making you laugh.
MeMez Bot produces some of the most widespread memes, i.e., cute cats, doggo, Pepe the frog, and numerous other posts to spice up your conversation, making it engaging and one of the funny Discord Bots.
You can even call upon MeMez Bot to tell a story about someone's life or share random sounds on the voice channel.
Visit: MeMez Bot
See Also: 10 Best Funny Username Generator Websites [Latest]
LenoxBot (Funny Discord Bots)
LenoxBot is a perfect multipurpose bot. It offers a dashboard where you can set up everything you want. It offers several features, such as Music, Fun, Searches, Currency, Administration, Moderation, etc. LenoxBot has multiple provisions for users to share funny memes from its curated collection.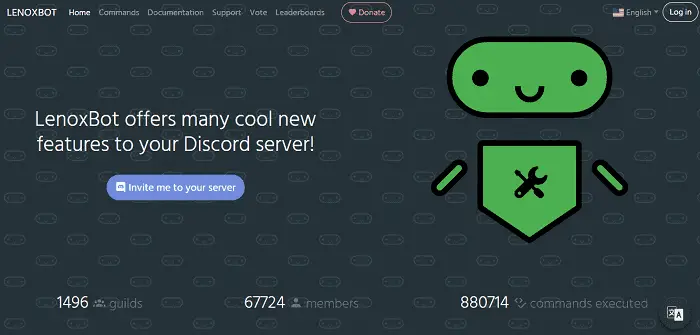 The Bot also has over 1400 servers; having said that, it is a pretty decent Bot. While making the users have a lot of fun, it wants to offer them one-stop for their needs. LenoxBot is highly configurable and has 99.99 % uptime.
See Also: CrashPlan Unable To Connect To Backup Engine [Solved]
Birb (Funny Discord Bots)
Birb is a Discord Bot developed in 2016 and has served users since then. The Main Goal of Birb is to help with as many features and options as possible and send all the options out to Discord Users. It does all these without lacking in quality.
Multiple Discord users have already adapted Birb to their Discords. Thus, Birb grew its user base to over 9000 guilds/servers and over 145 thousand users. This number of users are highly addicted to Birb because it is Multipurpose.
It includes jokes sharing, meme sharing, and picture sharing with other users and, in turn, being called the funniest person. Thus making it one of the Best Funny Discord Bots.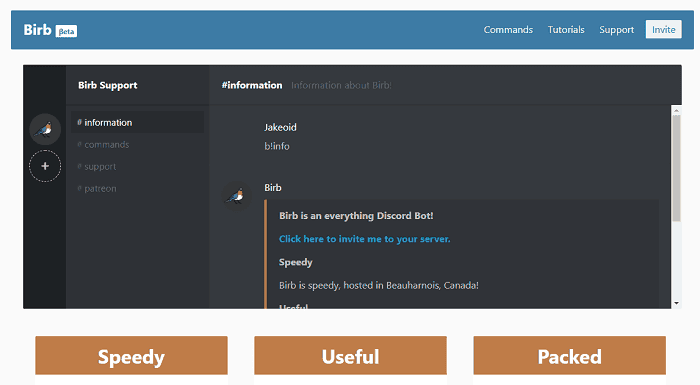 Birb Provides users with very relaxed and fun features while getting support from its Patreon. Also, donating to Birb's Patreon will give the user firsthand access to its brand-new fun part.
Typical Bot
A typical Bot is a very Powerful Bot. Though it is a powerful Bot, it is straightforward to use. It offers users a few tools they can use in the limit to kick, ban, announce, or soft ban any of the servers — mainly discussing fun features. A typical Bot is one of the funniest Bots for a user to laugh and have fun.
Along with being funny, it provides users with mini-games and music that a user can stream on YoutTube. You will have total control over the permission you give out to other users/viewers.
It is a perfect bot for random jokes that make you laugh over the floor. It will provide dog or cat pictures and essential information like ServerID, etc. Thus making it one of the Best Funny Discord Bots.
Conclusion (Funny Discord Bots)
We have compiled the best collection of fun discord apps for you. You can add these apps to your life and
play action or other games
 you like
.
That brings us to the end of our article on the best Discord bots. But what end would it be to leave music bots out of the scenario, here is some detailed information on
Octave and other music bots
. We believe you've found various bots to
try on your public Discord server
.