As we all know that Discords are very useful for a gamer. It not only helps in enhancing and managing the server but also helps in communicating in a more faster and reliable way. In other words, it boosts your gaming experience and makes your server more strong and powerful. There are many Discord Bots available online that help you reduce your effort and time, but along with that there are also some Bots those you can use to give a little kick to your dose of entertainment, they are known as Dumb Discord Bots or Funny Discord bots.
The users widely use These Bots for entertainment purpose, but along with that they also include all the necessary features and perform all the essential tasks that an average Discord Bot would do.
We have listed out five best and cool, funny Discord Bots which will enhance your server along with which you will also not get bored of using them.
See Also: An In-Depth Guide To Set Up an Omegle Bot from Scratch
Top 9 Funny Discord Bots
Here are Top 9 Funny Discord Bots for you to use in 2019
Dank Memer
The app is one of the funniest discord bots and is loaded with fun features. You can control anything on this app. It offers you to manipulate an image, create some unusual or silly sound effects, etc. Before every command, you will have to add 'pls' as a prefix.

It guarantees you to produce the soggiest meme you have ever come across. You might find the commands of Dank Memer stupid and annoying, but once you get used to it, they will seem to be interesting. Not all of its commands you will gain access to. But if you are a Patreon user, you can enjoy all of them. Dank Memer is one of the Best Funny Discord Bots by all means.
Visit:  Dank Memer
MatBot
MatBot has a variety of commands starting from the elementary and essential commands to the cheekiest ones. Along with ensuring you with entertainment, it also helps in moderation and managing your server along with other features in it.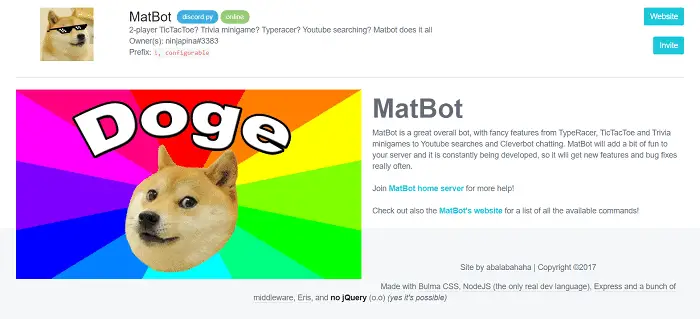 Being a user, you can also retrieve data from the server which allows you in controlling and continuing your game further. If you are looking for a moderate Bot, you can go for this app with no doubt making it one of the funny Discord Bots.
The app has got too much of data in details that would inevitably reduce your workload and save your time. It has got over 90 commands in it, and the fun part is, around half of its commands are dumb and the rest you can use to enhance the utility of the server.
Visit: MatBot
Visit: 7 Ways to Fix Discord Update Failed Error
Gnar
The Gnar Bot has a theme of the League of Legends. The app has got its specific commands for creating funny memes, but it is mainly focused on the music bots with lots of essential features related to it.
The dumbest command you can find in this app is the 'poop command.' The command generates an animated graphic of a person pooping out. It has maintained an excellent reputation in entertaining the servers.
If you are using this fun Bot, people in your server will not be bored because there are lots of funny and entertaining features stuffed in it which includes; a number of comics, toys, etc.
Visit: Gnar
Bonfire
Bonfire is a complete package of all the funny Discord Bots, stuffed with all the essential and fun features in it. Once you get into the app, you will find 21 pages of commands. You can use these commands for making any change to the Bot; moderation, music playback, games, memes, etc.
Aah! There's one thing you should be well aware of these Funny Discord Bots, that is the app has a built-in game named, Roulette, if you play the game make sure that you win or else you will be thrown out of the server, and the Bot does it by itself, you can't control that, it will methodically analyze your performance and kick you out if found to be a loser.
Along with being dumb fun discord bots, it can also be used for performing some essential tasks to enhance your server.
Visit: Bonfire
See Also: Discord Won't Open? Here's How to Fix It
Guilded Bot
Guilded Bot does not offer you with a lot of commands. So, if you are expecting a wide range of commands, then this fun discord bots might find yourself upset, but to let you know, it is one of the utmost Bots that you can add to your server.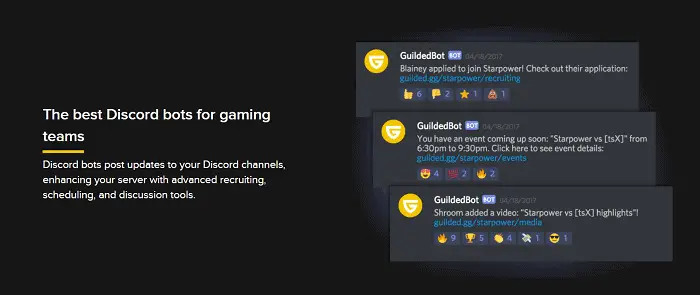 This one of the fun bots for discord has got only five commands within which you have to perform all your tasks. There is a command "doge" that produces a dog's face. But the most exciting thing about this command is, there unlock each of its faces. With each of some continuous activity on your server.
For example: if you receive too much of calls in a row. These Funny Discord Bots will produce an angry dog face. Similarly, with different activities going on on your server. It will unlock a new facial expression of the dog. And you will be able to discover the change. And sometimes you might find the dog looking at your eyes.
Therefore, use the app and keep collecting all the stickers so that you can use them later.
Visit: Guilded Bot
MeMez Bot
We all like memes that make us laugh our guts out, right? If you are one of those who wants to have a significant amount of fun, then MeMez Bot is the perfect Bot for you.
It's the best Bot to share some quality memes with your Discord community while making you laugh.
MeMez Bot produces some of the most widespread memes, i.e., cute cats, doggo, Pepe the frog and numerous other posts to spice up your conversation making it engaging as well as one of the funny Discord Bots.
You can even call upon MeMez Bot to tell a story about someone's life or also share random sounds in the voice channel.
Visit: MeMez Bot
See Also: 10 Best Funny Username Generator Websites [Latest]
LenoxBot
LenoxBot is a perfect multipurpose bot. It offers a dashboard where you can set up everything that you may want. It offers several features, such as Music, Fun, Searches, Currency, Administration, Moderation, etc. It has multiple provision for users to share funny memes from its curated collection.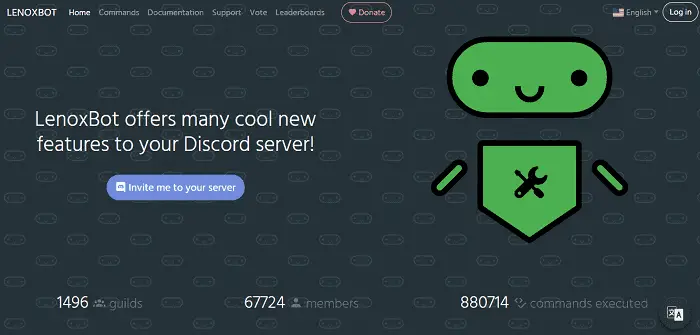 The bot is also over 1400 servers having said that, and it is a pretty decent Bot. Here while making the users have a lot of fun, it wants to offer the users, one-stop for all the users' needs. LenoxBot is highly configurable and has 99.99 % uptime.
Visit: LenoxBot
Birb
Birb is a Discord Bot developed in 2016 and has been serving users since then. Main Goal of Birb is to serve as many features and options as possible and all the options out to Discord Users. It does all these without lacking in quality.
Multiple Discord users have already adapted Birb to their Discords. Birb is thus successful in growing its userbase to more than 9000 guilds/servers and over 145 thousand users. These number of users are highly addicted to Birb due to it being Multipurpose. It has the provision of jokes sharing, meme sharing and picture sharing with other users and in turn be called the most funny person. Thus making it one of the Best Funny Discord Bots.
Birb Provides users with very relaxed and fun features while getting support from its Patreon. Also donating to Birb's Patreon will get the user firsthand access to its brand new fun feature.
Typical Bot
Typical Bot is a very Powerful Bot. Though it is a powerful Bot, it is very easy to use. It offers the users a few necessary tools that a user can use in the limit where it can kick, ban, announce, or soft ban any of the servers — mainly discussing fun features. Typical Bot is one of the funniest Bot for a user to laugh and have fun.
Along with being funny, it provides users with mini-games, music that a user can stream in YoutTube. You will be having total control over the permission you give out to other user/viewers.
It is a perfect bot for random jokes which make you roll over the floor laughing. It will provide you with dog or cat pictures and also important information like ServerID, etc. Thus making it one of the Best Funny Discord Bots.