Discord is an app for Gamers which helps them to communicate with each other via private/public servers. Discord app works on both mobiles and computers, which makes it very convenient to use. It is one of the best platforms for Gamers to text and voice chat with each other, which is why people often call it Skype for Gamers. The latest trend of online gaming has made Discord so popular that it has reached a milestone of 250 million+ users to date, and more than 15 million people get logged in every day. It helps Gamers to fix meets and socialize with other Gamers using any of the best public Discord servers. While using Discord, you have the option of choosing either between your browser or the app.
After creating a new discord account, either you can send an invite code, or you can join a pre-existing server via invite code. You can also create a server by yourself. Discord offers free services to its users, and also it has a very interactive user interface, which makes it one of the best chat apps available on the internet for users. Along with the services, there few best public discord servers for the users to connect to.
Refer: ChaosGames Review | Cemu Roms Available on Discord?
Ten Best Public Discord Servers
From our experience, we were successful in compiling a list of the 15 best public discord servers to use in 2023, so let's get going and see them all.
Frogs Dream World 
Frogs Dream World is a global network substantially connected to the Dream World Network. It surrounds over thirty global emotes. However, it is one of the successful global emote servers with over 20 emotes.
While ranking in the list of best public discord servers, it is interconnected with one of the popular communities called Slippy's Dream World. Here, it is possible to connect at two different spots as the community has a population of over one lakh. 
It is a must for users who get enlightened while collecting global emotes. As there is a vast population available, it becomes a great place to enjoy your time. Though when the server is active, you can meet more people and cherish your moments. 
Check Out: Frogs Dream World 
Quantum Labs 
Quantum Labs is another famous and one of the best public Discord servers available in the market. Even if you are up at 2 am and using this server, you will find someone around. Also, it is helpful for those people who do not enjoy the thoughtful details. Instead, they enjoy the specific and exceptional elaborations of the thing.

As said before, it is a 24×7 active server streaming connection all the time. It is an ideal server for professional work and is suitably organized with no overcrowdedness. Similarly, like the above one, it also has over 20 emotes. 
Lastly, it offers a currency system while inviting you to join an active and mature community with a stream or a Spotify premium card!
Check out: Quantum Labs 
AnimeBase (WLA) 
It is one of the largest and the most active servers on Discord. If you want to meet similar people, i.e., who share your interests in anime, then it is the ideal server for you. The server itself is very ambitious, which leads it in the ranking of the best public Discord servers.
The interface of the server allows the user to stream their interests in anime. The popularity of the server has been making plans for the users to unite in some places. This server is soon to climb the ladders of success with growing members each day.
Check out: AnimeBase (WLA)
See also: How To Add Bots To A Discord Server | Only Guide To Read
Weeb Empire 
It is one of the best public Discord servers for anime fans. It offers a friendly atmosphere with a more pleasant space. However, it has two NSFW categories. The general channel usually has 3.6 million messages, but if you are looking for an active chat, then you may join fifty thousand members at Weeb Empire.
If any of the two are not your thing, then it is better to move forward to other best public Discord servers in the list. 
Check out : Weeb Empire
Chillzone
The activity of the servers has been the most until now, with more than 100000 users. It is a topicless server that will never let you get bored. Thus making it one of the best public Discord servers which you should definitely check out. The chat room is forever active with lots and lots of people around the globe of different age groups and interests.
You can tell them a specific topic of your concern and see how they start sharing their opinions about it. You can find several people to interact with and get free from your boredom.
Check out: Chillzone
Slippy's Dream World
Slippy's dream world is a prevalent topicless global emote server that offers an active community of more than 250,000 users, and 107 emotes. The number of users clearly gives an idea about the variety of people to interact with and get along.
If you enjoy the super active servers and boosted chats, you should check this one out. Here the chat never dies, and it is fun to be a part of such an active lobby.
Check out: Slippy's Dream World
PUBG Mobile
It is 2022, and everyone has heard of the game called PUBG. If you enjoy playing PUBG, then this is one of the best public Discord servers for you as it is full of PUBG lovers around the globe. PUBG mobile is an exciting and challenging game due to which users like to play with more and more advanced level players to challenge their skills.
Refer: 2 Best GameCube Emulators for Windows (2023)
In this discord server, you can find plenty of expert-level PUBG players. You can play alongside them and even adopt some of the excellent skills from their gameplay.
Refer: Top 8 Most Addicting Android Games To Play This Winter
Check Out: PUBG Mobile
Meme Jesus Mafia
By the name, it's evident that it is a fun and exciting server to join. It is one of the most active services in the text chat category with more than 149000 users. It offers 158 emotes now. You can meet a variety of people there and discuss topics ranging from social media, memes, and gaming.
The group chat is always active, and you will never get bored when you are texting in the group. All of us enjoy memes, and this discord server has several memes creators. For all you Meme Lovers, this is one of the best public Discord servers you can join.
Refer: Top 5 Best Meme Generator Tools to Make Memes (2023)
Chill corner
Chill Corner is a friendly discord server that allows you to make friends all around the world and have fun with them. It has more than 125000 users with an active group chat that will always make you feel like a part of this community.
You can discuss several topics ranging from gaming to social media. One good fact about this is that you may even find a new friend in your city or country who uses this discord server with whom you can hang out and get along in the real world.
Check Out: Chill Corner
Points Prizes
Points Prizes is a unique discord server in which you can earn points. In return, you can also claim gifts as prizes. It has nearly 150000 users who actively participate in several games and tasks. Thus earning points that can be later redeemed via gift vouchers. This server often announces giveaways, which makes it very interesting for users.
If you want to have fun, play games, and earn something at the same time, then this is one of the best public Discord Servers for you. If you are good at gaming, you might even win some terrific prizes so go ahead and check out this cool Discord Server.
See Also: Best Discord Themes That You Should Try In 2023 | Top 10
Innersloth Discord
This is the official Discord server given by the developers of Among Us. Innersloth is one of the biggest Discord servers Among us, with over 383,000 individuals from everywhere in the world. This is the best spot to examine everything about Among Us, from abilities to objectives, spoilers, updates, and so forth. I like this server because you can find a group through Discord and use voice chat to play Among Us in the background.
This makes the game more intelligent, and anybody can rapidly discover the impostor through voice chat. Kindly likewise note that the server has strict standards, so you need to keep the guidelines. In any case, Innersloth is a decent Discord server for Among Us players. This server is your most ideal decision.
Check Out: Innersloth
The Choco Bar 
Choco Bar is an exceptionally open communication channel. In contrast to most channels on our rundown, there is a subject. The primary reason for this server is to assemble individuals to talk random things to allow everybody to join this gathering, no matter what their interests are.
Nonetheless, some of the points most users in this gathering talk about are literature, politics, art, fashion, and so forth. Accordingly, in case you are keen on these sorts, you can join this group from here.
Ping and Salar 
Ping and Salar's emote lists are worth focusing on. This is a server devoted to assisting individuals with finding more worldwide emoticons. Without such a worldwide emoji list server, it would be considerably harder to gather worldwide emojis.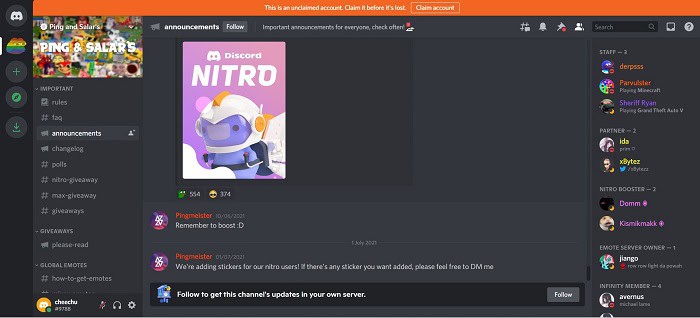 If you need to discover more emoticons, join this server if it's not too much trouble since they truly make your life simpler!
Check Out: Ping and Salar
Anime Soul 
If you are an anime fan, this is the best compared to other Discord servers since you can discover companions with similar tastes. The worker is predominantly intended to assemble all anime fans and discuss fascinating facts about the most staggering anime and the world in the animated universe.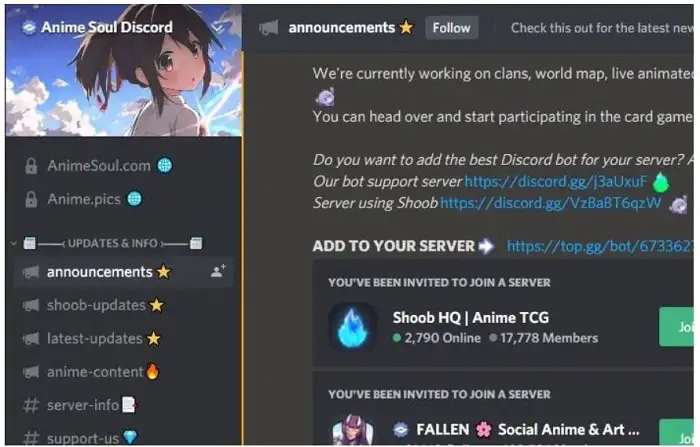 Anime Soul has a massive network of almost 47,000 users. In this way, assuming you need to make companions who like anime, Anime Soul Discord is your decision. You can join the anime soul discord from here.
Among Us Discord
Among Us have more than 480,000 users and is the biggest Discord server. You can get every one of the advantages, like matchmaking, pranks, voice chat, and community fan art. However, remember, this Discord server isn't for everybody, particularly if you are a beginner. Now and again, the server turns out to be extremely harmful, and the mediator must block users from the left, right, and center.
On the off chance that somebody persuasively attempts to join your voice chat, you can record their raider ID and delete the individual from the server.
Since the group is enormous, there are many Discord bots that can assist you with working on your experience. So, in the event that you need a huge community of Among Us players, this Discord server will make you feel comfortable.
Check Out: Among Us
Conclusion
Discord is one of the great places to socialize anonymously. It offers you to meet and speak with thousands of other people around the globe at your fingertips. Having a variety of servers, you need to find out which one is the best for you. You can also be on multiple servers if you like to be in multiple places. Once you have the experience of using different servers, it will refine your interest in activities and topics.
You can even create a server of your interest. Consequently, we have compiled a list of the 10 most popular, user-friendly, and best public discord servers. Discord will help you enjoy and have fun with plenty of other users at ease. So go ahead and check out all of these servers and decide it for yourself, which server suits you the best.
We hope you liked this article about the ten best public discord servers to use in 2023. You can click on the name of servers from where you will be re-directed to a webpage that holds the capability to let you join that server.
Refer: How To Add Bots To A Discord Server | Only Guide To Read