Skype is one of the best video calling software used worldwide. Not only video calling you can also send text messages and chat with the opposite person through Skype. You have to download the Skype software to your PC and then create your Skype id that will be visible to your contacts and then start video calling or chatting with your family, friends, and whoever you want to. But it would be fun if they didn't hear your actual voice and heard some modulated one. You can use this list on Top 10 Voice Changing Software For Skype and drop their jaws.
Now coming to voice changing, it is something that fascinates every one of us as will love to do it. Playing pranks on someone or making fun is what everyone wants and doing that makes you relax and gives you pleasure and takes off the burden from you after your stressful day.
Voice changing, the term itself explains its meaning, i.e., to change your voice. It can be done by any means. You can change your voice to women's voice if you are men or to men's voice if you are female or you can also change it to animals voice or young voice or any voice you would wish to that makes you happy or that is something you or the different persons would like.
As I mentioned earlier voice changing is done by person who wants to play pranks, but it is not really necessary that it should be only used for pranks, some of them use it to get leave from school by changing their voice to their mom's voice or make an excuse by changing their voice to an ill person.
Some of them use to make people laugh by their voice modulation as the mimicry artists do in the reel as well as real life. Voice changing can also be done while playing games and also while using different Android/iOS applications. They are some anonymous voice changer tools also in the market. You can use them too as an alternative.
List of Best Voice Changing Software for Skype
Here are some voice changing software that people commonly use for Skype:
Skype Voice Changer
This Voice Changing Software For Skype is available for voice changing only on Windows platform. Skype Voice Changer is the most basic and one of the best voice changing software available.
You have to install it on your PC and then grant few permissions required for the functioning of the software, and there it goes it just works as an equalizer. You can change your voice into any voice you want and also lets you pitch down your voice.
Visit: Skype Voice Changer
Garageband
This voice changer skype is only available for Mac, i.e., specially designed for iOS platform or Apple laptops or PCs. You should install Garageband to modulate your voice on Skype.
It gives you funny and humorous voices that you would never have experienced. You will be able to change your voice on Skype by use of the vocal transformer. You also need to install Soundflower to process this.
Visit: Garageband
Virtual Personality
Virtual Personality does not have any limitations and can be downloaded for windows as well as mac and functions quite normally on both the operating systems.
iFX TomTom Voice Changer
DoNaut
DoNaut Voice Changing Software For Skype lets you modulate your voice, and the best part of this software is it shares the music when voice calling your friends or family. It has a user-friendly interface that enables you to change voices quickly.
Visit: DoNaut
Athtek Voice Changer
Athtek voice changer was built just for using Skype, which means it will give you one of the most compatible and smoothest performances on every version of Skype that exists. With its preset pitches for males and females and many more sounds, it sure isn't a time-consuming voice modulator.
You can also download emoticons such as smile, laughter, heart to send in chats, and make it livelier. If smooth performance and a fun conversation on Skype are all that you're looking for, Athtek voice changer is the best option for you.
Visit: Athtek Voice Changer
Fake Voice
Fake Voice is one of the leading voice-changing software out there. It helps you sound like a female, male, aged, young, child, boy, girl, or someone entirely different. You can also get effects like robotic Voice and echo, which gives your listeners a feel that you are speaking from an empty room or the mountains.
Fake Voice is a simple software to use as it has multiple sliders for you to play with so that you get your required results. Fake Voice can be installed in your device, and its small size is a bonus. You can also record messages for your friends and goof around using the sliders. You can also use it to get voice clarity over Skype. It's an entertaining software to use.
Visit: Fake Voice
Clownfish Voice Changer
Clownfish voice changer is one of the extensively used voice changers not only in Skype but also across many live streaming websites like hangouts, Viber, etc. You can use it to add background music to your sounds, as well as send pre-recorded sounds like laughing, clapping, etc.
You can turn your Voice into one of the robots. Its built-in spell-check and voice recording features are rarely found across other software. If you want to come across as funny and also want it to be easy, Clownfish voice changer is the one for you.
Visit: ClownFish
Voice Mod
Voice Mod is free voice-changing software. It changes your voice to sound like a female, male, aged, young, child, boy, girl, animals, aliens, robots, and even breathed.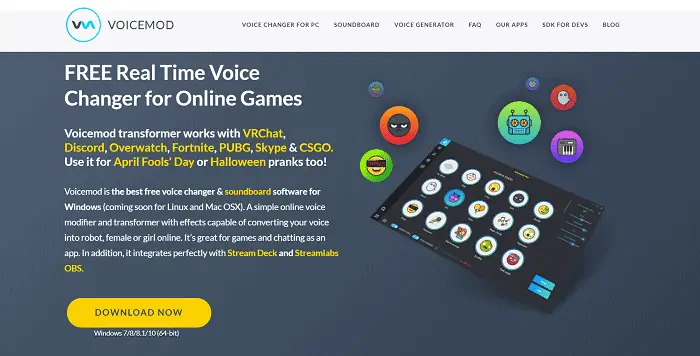 Its versatility is very incredible as it can be used not only in Skype but also in Twitch, Steam, Discord, and other online video streaming services. You can also have fun using it to record voice notes to send to friends and family. Voice mod has a user-friendly interface, so it should not be difficult to handle.
Visit: Voice Mod
Bonus – AV Voice Game
AV Voice Game is used for making voice modulations while playing games online or offline and make funny characters out of it. You can also apply it for Skype and make your voice tune into desired voice by making proper use of it.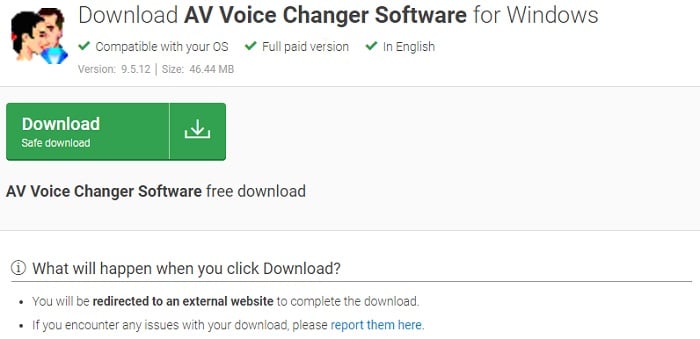 But you have to pay 29.95$ to download it. It also comes with a 14-day trial, so if you have interest, you may go for the trial version and check it out.
Visit: AV Voice Game
There is some more voice-changing software that I haven't mentioned above. Some of them are:
MorphVox Pro voice changer
Voice candy
Voxal voice changer
Hero Voicer
Hero Voicer
Although there are a bunch of great voice changers out there, Hero Voicer stands apart because of its peculiar features. We're all fans of TV shows or games and often find ourselves doing voiceovers for the same. Hero Voicer enables you to change your voice to a TV show or game character of your choice.
Thus, this tool is best for playing pranks on Skype calls or just mere entertainment. It's packed with a lot of great features like creating your voices. Additionally, you can make use of the background scores for a better video call experience. It is recommended that you try it yourself.
MasqVox
MasqVox is hands down a great tool to change your voice from one form to another. It has an easy-to-use interface and changes your voice in real-time. You can easily change your voice from female to male and vice versa while speaking during a Skype Call. Additionally, it also allows you to change the voice on pre-recorded files. Another good feature MasqVox has, is the ability to change background tracks.
What makes it great is its compatibility with Skype and other applications like Facebook and Hangout. Users have come forward to say that overall, MasqVox is a tremendous multifunctional voice changer for calls, gaming, and other purposes.
IVoice Voice Changer
IVoice works by changing voice characteristics to meet your voice changing requirements. The characteristics include the frequency of the voice, timbre, pitch, and period. These words might sound strange if you're unfamiliar with the musical side, but IVoice does wonders. It has a whole voice optimization toolkit to carry out numerous audio operations. IVoice is supported by most applications that provide support for microphones.
It comes with two levels-Basic and Expert. As the name suggests, you get the basic functionalities of changing voice form and exporting the audio file on the basic level. On the other hand, the Expert level has a few high-grade features like real-time voice modification or parody voice. Overall, an excellent tool.
Voxal
Voxal is another excellent voice changer for Skype that allows you to create, save and load different voices. One of Voxal's striking features is the ability to change voice on pre-recorded audio files. You have to select a Voice and run Skype or any other application to use the voice.
Voxal's collection of effect libraries has a lot of variety, ranging from robotic voice to an echo. It also comes with a Preview option for you to hear how the voice will sound. Thus, it is a complete package of excellent functioning and smooth user experience. If you're satisfied with Voxal, you can also go for its premium version.
FAQ
Do Voice Changers have a virus?
Most voice-changing software is safe to use. Some have also been through several anti-virus checks, and they are free of malware, trojans, worms.
Which is the safest Voice Changer?
Clownfish and Skype Voice changer are found to be the safest.
Conclusion
Hope our list of best voice changer for Skype was in help to you. Do let us know your thoughts. Also kindly let us know your suggestions if you know more such cool voice changers! Cheers!