Skype is one of the best video calling software used worldwide. Not only video calling you can also send text messages and chat with opposite person through Skype. You have to download the Skype software to your PC and then create your Skype id that will be visible to your contacts and then start video calling or chatting with your family, friends and whoever you want to. But it would be fun if they didn't hear your actual voice and heard some modulated one. You can use this list on Top 10 Voice Changing Software For Skype and drop their jaws.
Now coming to voice changing, it is something that fascinates every one of us as will love to do it. Playing pranks on someone or making fun is what everyone wants and doing that makes you relax and gives you pleasure and takes off the burden from you after your stressful day.
Voice changing, the term itself explains its meaning, i.e., to change your voice. It can be done by any means. You can change your voice to women's voice if you are men or to men's voice if you are female or you can also change it to animals voice or young voice or any voice you would wish to that makes you happy or that is something you or the different persons would like.
As I mentioned earlier voice changing is done by person who wants to play pranks, but it is not really necessary that it should be only used for pranks, some of them use it to get leave from school by changing their voice to their mom's voice or make an excuse by changing their voice to an ill person.
Some of them use to make people laugh by their voice modulation as the mimicry artists do in the reel as well as real life. Voice changing can also be done while playing games and also while using different Android/iOS applications. They are some anonymous voice changer tools also in the market. You can use them too as an alternative.
List of Best Voice Changing Software for Skype
Here are some voice changing software that people commonly use for Skype:
Skype Voice Changer
This Voice Changing Software For Skype is available for voice changing only on Windows platform. Skype Voice Changer is the most basic and one of the best voice changing software available.
You have to install it on your PC and then grant few permissions required for the functioning of the software, and there it goes it just works as an equalizer. You can change your voice into any voice you want and also lets you pitch down your voice.
Garageband
This voice changer skype is only available for Mac, i.e., specially designed for iOS platform or Apple laptops or PCs. You should install Garageband to modulate your voice on Skype. It gives you funny and humorous voices that you would never have experienced. You will be able to change your voice on Skype by use of the vocal transformer. You also need to install Soundflower to process this.
Virtual Personality
Virtual Personality does not have any limitations and can be downloaded for windows as well as mac and functions quite normally on both the operating systems.
This Voice Changing Software For Skype also works for telephone lines and also yahoo messenger. All you need is to pay 28.45$ to download it and then you will also be able to fool or in other words making fun of your callers also.
Blaze Audio Voice Cloak Plus
This is a very interesting software as you also have background voices inbuilt in the software so that you can master in voice modulation and completely stun the opposite person by your voice modulation.
Blaze Audio Voice Cloak also comes with an inbuilt equalizer to make your voice much efficient. But the bad thing about the software is it is very much expensive.
Voice Master
Voice Master is also a very interesting voice changing app which shows your voice informs of wave and you'll be able to pitch your voice with the help of software. You have to open Skype first and then start voice master and grant the permissions required. And then you may start voice modulation according to your convenience.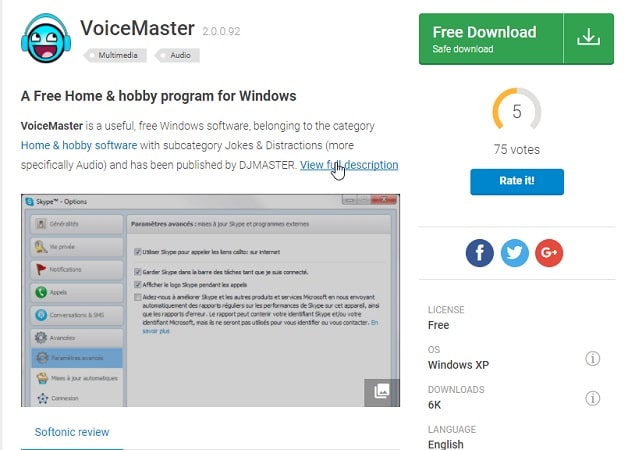 AV Soft Voice Changer
AV Soft Voice Changer is a skype voice changer free that lets you change your voice from male to female or from female to male or a celebrities voice or an animal's voice or a cartoon character's voice. But it is a paid software.
All you need is to pay 59.97$ for the full version of this software. But you can also try for the trial version of the software for 15 days.
Voice Changer for VOIP
This Voice Changing Software For Skype is available to process on many applications such as Yahoo Messenger, Skype, QQ international calling, yy calling, etc., so, for Skype, it is a well-known software to be installed and made pranks and fun on the opposite caller. Voice Changer for VOIP also has various voice effects, and it also can sync voice over different calls on any of the platforms.
All in One Voice Changer
It helps you pitch your voice in different ways and lets you show your humorous side to your friends, family, relatives or any particular person in your life so All in one Voice Changer is beneficial if you are trying to play pranks on any of your friends or family.
iFX Tomtom Voice Changer
iFX TomTom Voice Changer is somewhat different from above software's as this software lets you make your voice and then use it, isn't that interesting? You can make your duplicate voice and then circulate it among your friends for making fun.
DoNaut
DoNaut Voice Changing Software For Skype lets you modulate your voice, and the best part of this software is it shares the music when voice calling your friends or family.
Bonus – AV Voice Game
AV Voice Game is used for making voice modulations while playing games online or offline and make funny characters out of it. You can also apply it for Skype and make your voice tune into desired voice by making proper use of it. But you have to pay 29.95$ to download it. It also comes with a 14-day trial, so if you have interest, you may go for the trial version and check it out.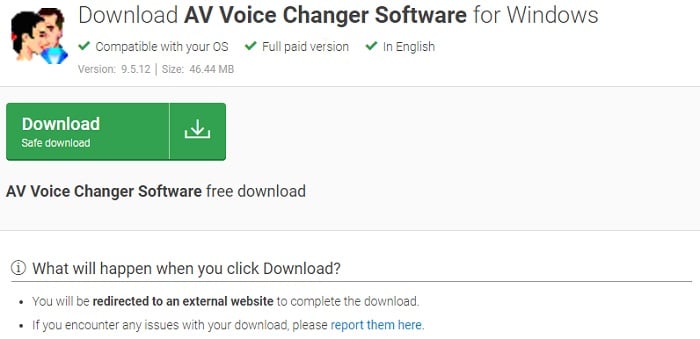 There is some more voice changing software that I haven't mentioned above. Some of them are:
MorphVox Pro voice changer
Voice candy
AV Voice Changer
Ath Tek skype voice changer
Fake voice
Voxal voice changer
Clownfish voice changing software
Hero Voicer
Hope our list of best voice changer for Skype was in help to you. Do let us know your thoughts. Cheers!