Isn't the idea for the whole thing so interesting? Android Smartphones are so run-after these days, and the users are also turning out to be smart by using the smart applications. Voice to text is one of those hard-nosed solutions that completely makes our work easier. It's done by transferring our messages at a much more supersonic speed and also helps to enhance our productivity. Thus, you must know about the best Voice to Text Apps out there.
Great thanks to "Nuance," the one behind this great innovation. Life is never easy, and when you are loaded with multiple tasks, you would always want to find a way out.
Dictating your messages and sending them easily to the other side without letting you use your fingers to type and neither allowing your concentration leave you for even minutes is one of the awestruck qualities of this experiment.
Developers are making sure to have this feature installed in maximum devices has made a lot of people feel disburdened. Allow me to share a few selected smartest Voice to Text apps that will help everyone to send text messages in an easy way! Doesn't matter either you can type or not. Sound Great? So, let's dig in.
5 Best Voice to Text Apps
Dragon Dictation
Dragon Dictation is one of the finest Voice to Text Apps by Nuance; he has been a new company in the world of voice to text conversions. The Dragon Dictation is controlled by the free NaturallySpeaking technology and guesses a fascinating part of the application? It has an inbuilt design that works five times faster than the keyboard you use to type.
The application works with you speaking and the messages getting typed instantly. Great way to soothe your task and have a smooth flow towards putting reminders and notes while you are busy.
Also, it supports tons of languages. Try the app to find out for yourself. You can speak and instantly see your messages and emails converted into text. It lends its hand to provide complete support on the social media as you can create reminders with it. Not to forget, it also supports an extensive list of languages.
TalkBox Voice Messenger
Another one of the Voice to Text Apps and rapid way for the transfer, share and post voice messages. Talkbox Voice Messsenger provides an impressive platform allowing you to communicate with your kids, friends, and partners. All you need to do to start the function is to speak into your microphone, the application, in no time converts your spoken words with high accuracy.
An additional feature includes a short voice bubble appearing on the chat. It also provides multiple functions which consist of photo sharing and location sharing. TextBox also allows you to hold group chats with up to 9 people at maximum. It works on Android for free.
Evernote Voice to Text Extension
Evernote is another masterpiece android application brought up to assist you in remembering all the significant information and notes on the go. It plays an essential role in enhancing your productivity.
It does that by saving all your ideas, capturing photographs, taking your notes, recording voice reminders, creating to-do Lists and gives hands up in keeping yourself organized as well.
There is a speech to text update for this application. According to this feature, you have the freedom to shout loud and let the application take care of the rest as it will take notes itself.
It has turned out to be a widely used application for teachers and students as a valuable learning tool and allows them to take important assignments related to their work through the voice. Also, this app works only on Android 4.0
ListNote Voice to Text App
After the installation of the application is done, the first thing worth noticing after running the ListNote app is a popup menu very conveniently asking you to enable the light or dark theme user interface.
After you are finished with selecting the theme, start with the voice to text converter tool which comes inbuilt in Listnote. For that, look for the speech recognition button and start speaking.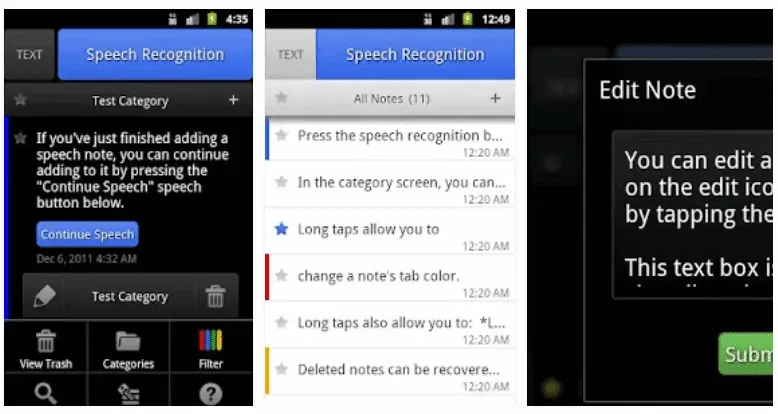 It also comes with the astounding feature which lets you pause and reset the recognition engine. The words have to be recognized by the application, once recognized the words appear in the text area.
The contents of the text field are not lost but saved in the form of notes. These notes can be edited anytime, even shared with your phone contacts and with your folks on social media.
Voice Text
With this one of the Voice to Text Apps developed by Matthew Rice, it is possible for you to manage your texts and calls swiftly and in an efficient manner. Voice Text lets you dictate your voice or data, and as a result, the application reads them out loud for you. Again, you don't have to use your keyboard. This is the brightest part of the application.
It brings along multiple customization options which include – setting up your commands, which is fascinating. Also, does not drains your device's battery.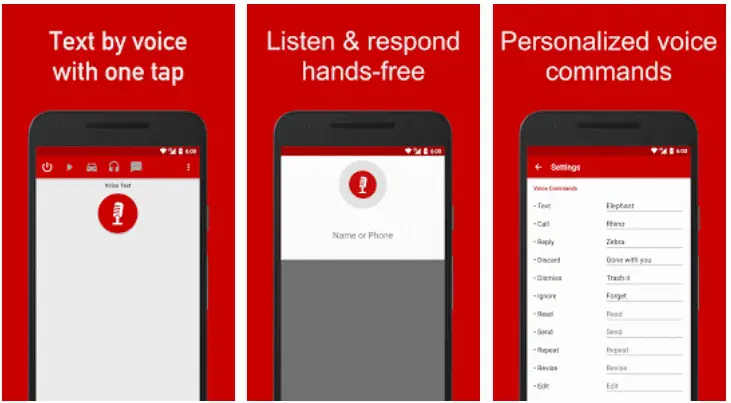 It is available free and has some In-app purchases which you can ignore if you don't need them. Concludingly, Android has also come with plenty of impressive voice to text application which you need to experiment for yourself by using them.
Give some rest to your fingers, of course, and they get tired of typing too. They save you an ample amount of time from typing all those long messages, and it's also very gripping to use them.
Not everyone owns a car or an airplane to experience the voice recognition technology in them. But everyone does own a smartphone. The enormous efforts put by Google to make Android OS, the best mobile phone operating system in the world. There are series of possibilities to do which could be barely thought of when Nokia ruled our hearts.
So, make sure to give Android and these Applications a chance to not only to make you proud but also to feel proud while you are on the go of using them in the multiple tasks you perform.