Voice to text conversion, isn't the idea for the whole thing so interesting? Android Smartphones are so run-after these days, and the users are also turning out to be clever by using smart applications. Voice to text is one of those hard-nosed solutions that make our work easier. It's done by transferring our messages at a much more supersonic speed and also helps to enhance our productivity. Thus, you must know about the best Voice to Text Apps out there.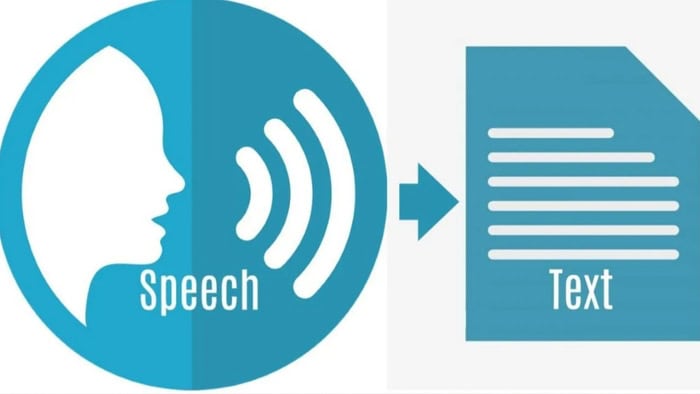 Great thanks to "Nuance," the one behind this great innovation. Life is never easy, and when you are loaded with multiple tasks, you will always want to find a way out.
Dictating your messages and sending them easily to the other side without letting you use your fingers to type and neither allowing your concentration to leave you for even minutes is one of the awestruck qualities of this experiment.
Developers are making sure to have this feature installed in maximum devices has made a lot of people feel disburdened. Allow me to share a few selected smartest Talk to Text apps that will help everyone to send text messages in an easy way! Doesn't matter whether you can type or not. Sound Great? So, let's dig in.
See Also: 10 Best Text to Speech Software with Natural Voices
14 Best Voice To Text Apps
Here are the 14 Best Voice To Text Apps for Android in 2023.
See Also: 9 Best Free Tiny Text Generator Tools (2023)
Voice Notebook
Voice Notebook is yet another feature-full application to make life easy. Among its many notable features is the voice-command undo an action, the capacity to import from Google Drive, and even the non-stop dictation option.
Moreover, it offers a word counter for dictation. To make it fancier, there are In-app purchases that enable Bluetooth transfer, power backup, etc. You can avail these depending upon the heaviness of your work.
An interesting feature of this app is that it recognizes almost all the local languages. All you need to do is download the language pack to let it recognize the local dialects as well. Thus, all kinds of bilingual translations are easily done.
Furthermore, Voice Notebook is capable of categorizing, importing, and exporting files through its app. This is sure to make your work easier.
Visit: Voice Notebook
Live Transcribe
Live Transcribe, as the name suggests, transcribes all the voice input into text in real-time. Literally, just as the words are spoken, it translates rapidly into words. This feature allows you to keep a check on the transcript because word-to-word transcription may not give out the same meaning.
It is powered by Google's automatic speech technology and is extremely beneficial for those with hearing disabilities. Like the Voice Notebook, it too supports bilingual transcripts and supports over 80 languages.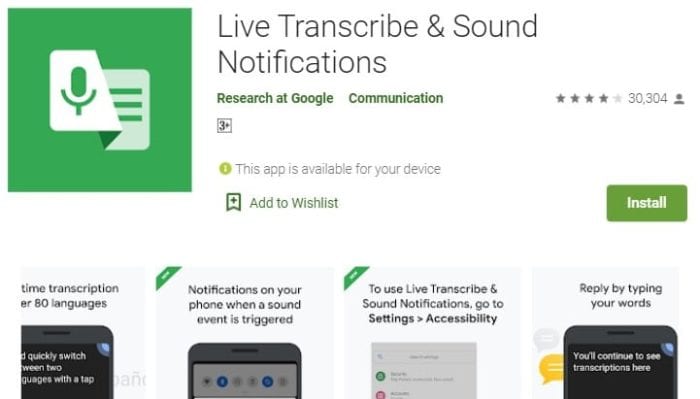 Yet another interesting feature of this app is its human-like quality. It can separate the background noises, such as construction noise, traffic noise, etc., clearly from the voice. This allows smoothness and accuracy.
Imagine yourself being in a boring lecture, it is attendance time, and you are bound to miss it because you weren't paying attention. This app is a savior! As it allows a vibrate feature when your name is spoken. Isn't that cool! Such features have made this app popular, with an enormous rating of 4.2 on Google Play.
Visit: Live Transcribe
Dragon Dictation (Voice to Text Apps)
Dragon Dictation is one of the finest Voice to Text Apps by Nuance; he has been a new company in the world of voice-to-text conversions. The Dragon Dictation is controlled by the free Naturally Speaking technology and guesses a fascinating part of the application? It has an inbuilt design that works five times faster than the keyboard you use to type.
The application works with you speaking and the messages getting typed instantly. Great way to soothe your task and have a smooth flow towards putting reminders and notes while you are busy.
Also, it supports tons of languages. Try the app to find out for yourself. You can speak and instantly see your messages and emails converted into text. It lends its hand to provide complete support on social media as you can create reminders with it. Not to forget, it also supports an extensive list of languages.
Visit: Dragon Dictation
TalkBox Voice Messenger
Another one of the Voice Text Apps and the rapid way they transfer, share, and post voice messages. Talkbox Voice Messenger provides an impressive platform allowing you to communicate with your kids, friends, and partners. All you need to do to start the function is to speak into your microphone, and the application, in no time, converts your spoken words with high accuracy.
An additional feature includes a short voice bubble appearing on the chat. It also provides multiple functions, which consist of photo sharing and location sharing. TextBox also allows you to hold group chats with up to 9 people at maximum. It works on Android for free, making it one of the best Voice to Text Apps.
Visit: TalkBox Voice Messenger
See Also: Best Anonymous Voice Changer Tools You Can Use
Voice Notes
How often has it happened to you when you have a breakthrough idea but not pen to note it down? You fear you'll forget it and frantically look for a paper and pen. Well, to avoid such a panic, here is the Voice Notes app. Technology is not always bad, after all!
Voice Notes is a free voice-to-text app that recognizes your speech and converts it into text. It is very efficient and easy to use. Maybe you want the script of a meeting instead of taking down important points. Or online classes taken by the pandemic batch! This tool here is rather helpful for you.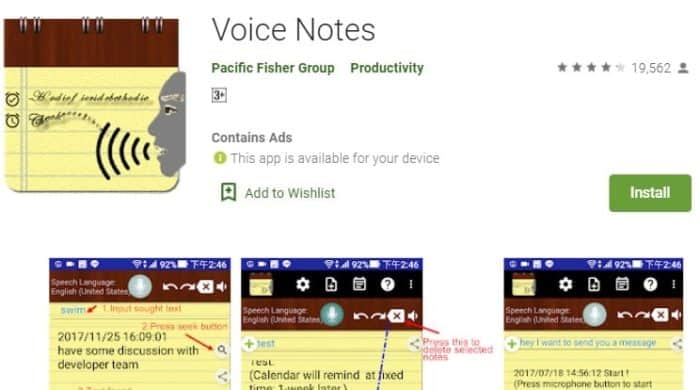 After recording the notes and converting them into text, you can organize them and customize them according to your convenience. Sort it by date or size and name it whatever you want. You can access the notes anytime you want, as they will always be there on the app.
Its premium version has many other extensive features, but the free version works well enough. You can even record the speech while your phone screen is black. Moreover, it supports more than 110 languages that it can recognize and convert into text. All you need for it to work is the Google voice search on your phone.
Visit: Voice Notes
Evernote Voice to Text Extension (Voice to Text Apps)
Evernote is another masterpiece android application brought up to assist you in remembering all the significant information and notes on the go. It plays an essential role in enhancing your productivity.
It does that by saving all your ideas, capturing photographs, taking your notes, recording voice reminders, creating to-do lists, and giving hands up in keeping yourself organized as well.
There is a talk-to-text update for this application. According to this feature, you have the freedom to shout loud and let the application take care of the rest as it will take notes itself.
It has turned out to be a widely used application for teachers and students as a valuable learning tool and allows them to take important assignments related to their work through the voice. Also, this app works only on Android 4.0
Visit: Evernote
ListNote Voice to Text App
After the installation of the application is done, the first thing worth noticing after running the ListNote app is a popup menu very conveniently asking you to enable the light or dark theme user interface.
After you are finished selecting the theme, start with the talk to text converter tool, which comes inbuilt into ListNote. For that, look for the speech recognition button and start speaking.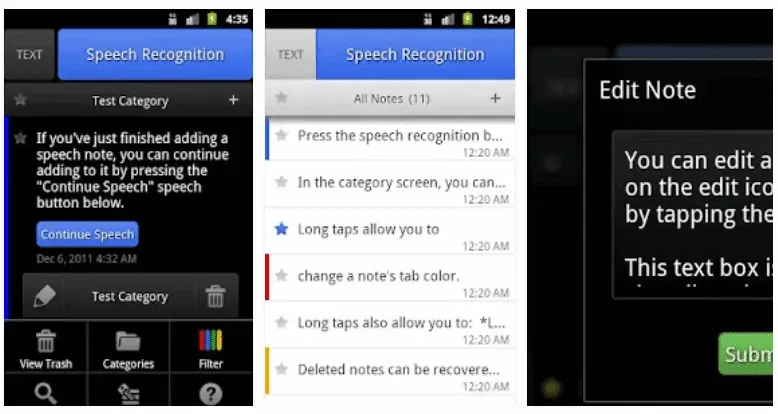 It also comes with the astounding feature, which lets you pause and reset the recognition engine. The words have to be recognized by the application; on recognition, the words appear in the text area.
The contents of the text field are not lost but saved in the form of notes. You can edit these notes anytime. You can even share them with your phone contacts and with your folks on social media.
Visit: ListNote
Voice Text (Voice to Text Apps)
With this one of the Voice to Text Apps developed by Matthew Rice, it is possible for you to manage your texts and calls swiftly and in an efficient manner. Voice Text lets you dictate your voice or data, and as a result, the application reads them out loud for you. Again, you don't have to use your keyboard. This is the brightest part of the application.
It brings along multiple customization options, which include – setting up your commands, which is fascinating. Also, does not drains your device's battery.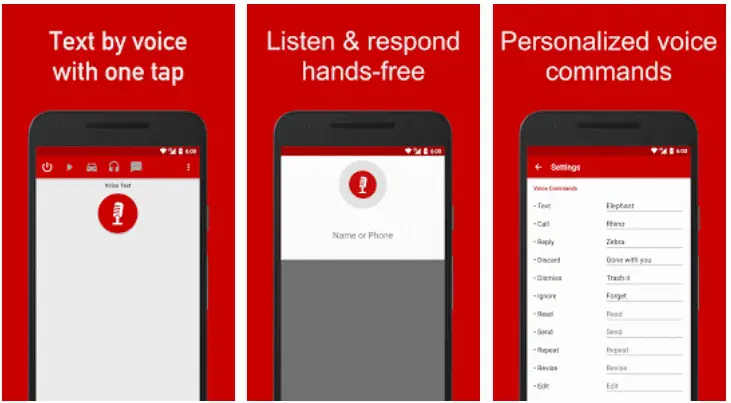 It is available free and has some In-app purchases which you can ignore if you don't need them. Concludingly, Android has also come with plenty of impressive voice-to-text applications which you need to experiment with by using them.
Give some rest to your fingers, of course, and they feel fatigued from typing continuously. They save you an ample amount of time from typing all those long messages, and it's also very gripping to use them.
See Also: Top 10 Free Voice Changing Software For Skype
Speechnotes
The best feature of this gem of an app is its punctuation keyboard. The majority of the people find it inconvenient to dictate punctuation marks. The punctuation keyboard has on-screen buttons for the most frequently used punctuation, allowing you to compose sentences quicker and more efficiently.
The keyboard also consists of a custom keys row. You can use this to swiftly add your most-used expressions, such as your signature, name, or acknowledgments.
It also has Bluetooth support, offline note-taking, etc. offering continuous recording. Unlike other dictation applications, you can take long pauses between sentences while you figure out the words and the app will still keep listening.
Visit: Speechnotes
See Also: 10 Best Free Voice Chat Apps and Services for Gamers
Google Assistant (Voice to Text Apps)
It is very crucial for us to mention Google Assistant when it comes to Voice Text Apps. Unlike others, it is not necessarily a voice-to-text app primarily, but it fulfills the needs of a user.
Google Assistant has many beautiful features, which include a podcast player, the ability to control your smart home devices, location-based reminders, and more.
You can use Google Assistant for making verbal reminders, making voice-based lists, and also letting you manage a diary. It also uses the speech-to-text feature to add events to your calendar.
Visit: Google Assistant
SpeechTexter
Not all voice-to-text apps support offline mode. Here SpeechTexter comes into the picture. SpeechTexter works well both online as well as offline. A surprising feature of this app is that it uses Google's backend; therefore, for you to use the offline mode, you'll have to download the necessary language packages.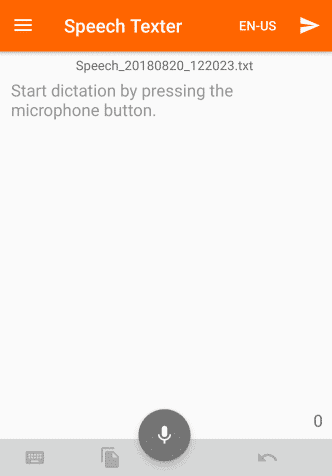 You can download the language packs by going to Settings, then to Languages and input, then to Keyboards and input method, and finally to Virtual keyboard. There, tap on Google voice typing and select Offline speech recognition. Tap the All tab and scroll down and select the language you want.
One can also use SpeechTexter to send emails, tweets, and SMS. Finally, this app also has a custom dictionary for you to add personal information, such as phone numbers and addresses. Thus it is one of the best voice texting apps for Android.
Visit: SpeechTexter
We have listed some best mass text messaging services you can use.
Otter (Voice to Text Apps)
Otter is an advanced AI tool and the best dictation app for android. This app is great for live meetings and webinars. Otter features sharing and invites for collaboration to edit and highlight the notes and provides live captioning for the deaf, ESL (English as a second language) people, and anyone who needs the live captions.
You can insert photos in the notes. Apart from this, the Otter app automatically divides paragraphs, takes care of the punctuations, and capitalizes where needed. You can input voice in Otter by using a built-in-mic or Bluetooth device.
It has one more amazing feature in which you can search for the word and directly go to that audio part and also has adjustable playback speed. Moreover, it allows you to export text as a PDF, SRT, or TXT file.
It is an excellent speech-to-text app for android. You can start your free trial and use the basic version that allows you to have 600 minutes of transcription per month or purchase the Pro version, which allows you 6000 minutes per month with other interesting features.
IBM Speech to Text
IBM Speech to Text software can be your best bet as a customer service company or a call center. This software helps to improve call center performance and provides live call text conversion/transcribing.
This powerful and excellent software supports multiple languages, and you can run it anywhere, including Cloud. IBM's Speech to Text software gives you 500 minutes of free transcribing every month for its free version, and its Premium plan gives you 150,000 audio minutes to transcribe per month.
Converse Smartly
If you are looking for Free voice-to-text apps for android, Converse Smartly can be your best stop. It is an online tool that provides you with a smooth transition of audio into the text.
Converse Smartly is a creation of Folio3. This tool has an automatic summary generator tool for what is written. It supports English, German, Spanish, and French languages and transcribes them automatically. Moreover, it is a free tool with a live audio transcribing feature, and there is a Pro version also.
FAQs
Which is the best free voice-to-text app?
Which is the best free voice-to-text app? There are a lot of apps to try, but with amazing features like live audio transcribing, different language support, and free voice-to-text, you can refer to Google Gboard, Converse Smartly, and Otter (600 minutes per month for a free version).
How long does Otter AI take to transcribe?
Otter app takes approximately 20-25 minutes to transcribe a 1-hour file.
Is Rev better than Otter?
Rev and Otter both have basic free and Pro versions to use. Bua According to user reviews, Otter provides better accuracy than Rev, and that too at lower prices.
Is Otter safe to use?
Yes, the Otter app is safe because it has a secure encrypted server, and Otter has more than a 100Million daily users that trust this tool.
Conclusion (Voice To Text Apps)
Not everyone owns a car or an airplane to experience the voice recognition technology in them. But everyone does own a smartphone. The enormous efforts put by Google to make Android OS, the best mobile phone operating system in the world. There are a series of possibilities to do which could be barely thought of when Nokia ruled our hearts.
We hope you found our article on talk to Text Apps for Android free, and useful. Do let us know in the comment section below!