Adobe Acrobat is one of the best and the most used document reader as it interacts and supports all type of documents. Adobe Reader DC 2015.007.20033 is the latest version of Adobe. They've renamed it where DC stands for Document Cloud which represents mainly the integrated cloud storage.
A Brief Info About Adobe Reader
Adobe has come up with all new additional features such as optimization for touch devices, ability to send documents online. In addition to this, you can highlight the text and even comment something below it, and it allows you to fill the forms digitally.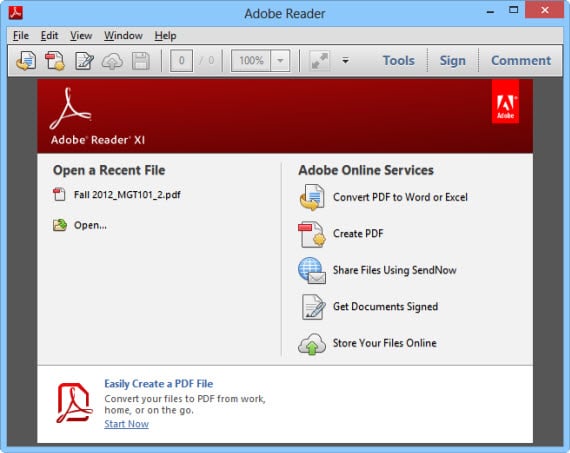 It is available for both Windows and Mac users and in fact its available even for Android and iOS so that you can use them in your cell phones. In this article, you will get to know about all the necessary information you need to know about Adobe Reader. Let's start with the minimum requirements that your device must meet before installing the software.
Adobe Reader Requirements
Every software has its minimum requirement for the installation device. Your device must have the minimum configuration to support Adobe. Although Adobe doesn't take much. Here are the minimum requirements for Adobe Reader DC:
Processor: Intel 1.3 GHz or faster than this.
Operating System: Microsoft Windows XP Home, Vista (Home, Basic, Premium, Business, Ultimate, or enterprises), Windows & (Starter, Home, Premium, Professional, Ultimate or Enterprises) both 32-bit and 64-bit.
Ram: 256 MB but minimum 512 is recommendable.
Hard disk: 335 MB of available hard disk.
Supported Browsers: Microsoft Internet Explorer 7 or 8, Mozilla Firefox 3.5 or 3.6
Features of Adobe Reader
The latest update of Adobe reader DC 11 comes with a lot of new extraordinary features. Here are some of the highlights.
Starting from the interface, Adobe has a simple and an elegant user interface which makes it really easy and convenient to use.
It supports all type of documents. You can work with PSD files along with all its types including emails, Spreadsheets and even a video with other multimedia element.
Adobe Reader DC has some whole new writing tools. It allows you to highlight the texts or mark the text of the PDF and write notes in the PDF.
The software has professional search phrases in the PDF document and displays the result in mere seconds.
Adobe is available for both Windows and Mac operating system.
Its availability in for different operating systems makes it possible to share documents over various formats.
As the Adobe Reader DC has cloud storage, you can access your document any time from any device.
You can email your document through Adobe itself which saves your time and effort.
Adobe reader 11 has features such as e-signature and you can fill any form digitally.
Adobe Acrobat Reader DC Direct Download Links
Well, if you've looked at all these highlighted features of the software, you must be wanting to download it. So, here are the direct download links to Adobe Acrobat DC for both Windows and Mac operating system.
And just if you are concerned, these links are entirely legal and safe for your PC to run and absolutely free to download.
Link to Download Adobe Reader Offline Installer for Windows for both 32-bit and 64-bit:
Link to download Adobe Acrobat DC for Mac:
Installing Instructions
For a smooth installation process, close all other tabs including virus protection software.
It's recommendable to install an account which has administrative privileges.
In the process of installation if you face any trouble, use Adobe Assistant.
Here's all that you needed to know about Adobe Reader Offline Installer. You can download Adobe Reader from the direct download links given above for both Windows and Mac OS users. Feel free to comment below in case of any doubt.