What is keylogger software? Keylogger software is a tool that stores information about the keys entered on a keyboard by a person using the computer without his knowledge. Keylogger records absolutely everything that the person has typed using the keyboard.
Discover the ultimate parental control app that lets you watch your loved ones without physically accessing their phones. You can see all phone data with real-time data syncing without rooting or jailbreaking. Our app has received glowing 5-star feedback from happy customers and is highly user-friendly. Plus, with a lifetime upgrade, you can trust that you'll always have the latest and most outstanding features. Try it now!
One advantage of using Keylogger software to monitor keystrokes is its ability to operate covertly without the user's knowledge. Although this software can help track the online activities of children and employees, it can also be misused by someone to gain unauthorized access to your passwords and private information.
See Also: 6 Best Computer Diagnostic Software Tools to Download
18 Free Keylogger Software for Windows to Monitor Keystrokes
Along with recording keystrokes, free Keylogger software also records information like the websites visited, total time spent on the computer, functions performed, etc., on the computer by the person. Keylogger software can be used for tracking the online activities of your kids. The Internet is not a safe place for kids. With Keylogger software, you can find out who your kids are talking to, what messages they are sending online, etc. A keylogger is a software that corporate firms use to track the productivity and time spent by their employees working on computers.
Here you will find a few of the best free keylogger software for Windows to monitor Keystrokes easily.
All in One Keylogger
Is there a surveillance feature free keylogger software? Yes, the 'All in One software for Keylogging is the one you want. It also provides you with a virtual all-logging feature. This software tracks all the other software working on your Windows 10. It also allows you to save your web chats and copy text to your keyboard. You can click pictures from your webcam, take snapshots, and even record yourself using a mic.
Also, the user interface is hard to comprehend. All these features define why this software is known as All in One. It has many parts, but they all come at a price. This software provides only seven days of a free trial.
Visit: All in One Keylogger
Elite Keylogger For Windows
Elite Keylogger is the most famous free keylogger software for Windows 10 and other versions. It can be installed on your computer and is very easy to use. This software also provides 24×7 customer support. If the software encounters any problem, you can contact remote support anytime with your issues. This software works elegantly without disturbing your computer.
Elite Keylogger even allows you to automatically log the strokes without the user noticing. Try it free for seven days, and you can work on any Windows version, including XP, Vista,7,8,10 32, bit, or 64-bit. This software even has a different version for Mac users, which we will discuss later.
Visit: Elite Keylogger
Wolfeye Keylogger
Wolfeye keylogger is a straightforward keylogger. It is specially designed for Windows Versions. It works perfectly on any Windows version, including XP, Vista,7,8,10 32, bit, or 64-bit. This was developed with the motive of recording your social media. It then sends the saved critical moments to a local server.
This Keylogger has been awarded the German IT Innovation award (because this software was developed in Germany) for being the most helpful software of 2017 for small-scale businesses. This Keylogger watches over FB, emails, and other social media platforms and saves the keystrokes with just a click. Try it free for three days. Although, this software has stopped receiving updates for security and further support from the developer.
Visit: Wolfeye Keylogger
See also: 6 Best Audio Enhancer Tools for Windows
Elite Keylogger For MAC
There are many flawless, free keylogger software for the Windows operating system. But which software to download for Mac OS? Don't worry; we have researched our Mac readers and found the unbeatable Keylogger for the Mac operating system. As mentioned above, this software is the sibling of the Windows version of Elite Keylogger.
It is a straightforward and basic keylogger. This is amazingly powerful, which tracks your activities like emails, chats, usernames, passwords, etc., and records them for you. It is shocking, but this is freeware and best to use for Mac. To install it fast for your Mac OS.
Visit: Elite Keylogger For MAC
See also: Keylogger for iPhone
Best Free Keylogger
It's a user-friendly software that records all your activities on the computer. It is arguably one of the best free keylogger software for Windows, which is free to use. However, for more advanced and unique features, you can also go for its pro version for $39.
This software stands out because it makes clear and understandable texts from senseless keystrokes. This software has covered everything from reading your chats to your activities on the screen.
Visit: Best Free Keylogger
Stupid Keylogger
Don't pay heed to the brand. This is one of the best keylogger software, which can be downloaded for free. It is significant to use and design with the best and most crucial vital components. It will automatically launch as you start your machine.
It's a top-notch utility that can satisfy all your requirements. All you have to do is download this software. It will then store all your data and information with record dates. Thus, it keeps parental control over your internet activities.
Visit: Stupid Keylogger
Windows Keylogger
As the name suggests, it is a decent free keylogger software for Windows. It can keep track of your keystrokes, clipboards, and application practice. Two versions are available for this keylogger software- one is free to use, while another is a paid version. To record your activities of screenshots and report delivery, you can go for the premium version.
A list of the count is helpful for each date. The interface is not very modern, but it includes essential features for recording your keystrokes. An application mode can make the reports more favorable and precise. This will help you to comprehend the words quickly.
Iwantsoft Free Keylogger
It is yet another free keylogger software to keep a close eye on your web activities for free. The interface is very convenient and modest. It keeps track of your web activities and application practice and monitors keystrokes. A web restriction mode is also available to prevent users from visiting a list of websites.
Like the Windows Keylogger Software, you can access report deliveries and screenshots through a paid version. Download this software now to learn more about its exciting features, layout, and user-friendly interface.
Visit Iwantsoft free keylogger.
Real PC Spy
Like other free keylogger software, it can also serve as surveillance to monitor web activities, chat conversations, and other social media movements. Nobody except the owner of this software could be conscious of the existence of this software in your machine.
It functions well with Windows XP/Vista/7/8/10. As you start your PC, it'll automatically turn on and record your activities. You don't have to worry about the reports being delivered to the wrong person as it is programmed to operate with your admin account only. Download it now to make yourself more aware of this software and its pros and cons.
Free Keylogger
This is one of the best free Keylogger software. It records keystrokes, website addresses, and other activities performed on the computer. As its name suggests, this software is entirely free. You can run this software in incognito mode. You have to do this manually. To run this software in incognito mode, follow these simple steps.
Right-click on the Free Keylogger icon in the notification bar.
Click on Apply and Spy.
The disadvantage of this software is that it does not go incognito automatically upon the reboot. You can use a shortcut to remove the software's name from the start and uninstall lists. The shortcut is "ctrl+shift+Alt+U." Once you do it manually, it will run in incognito mode until the next reboot.
Visit: Free Keylogger
See also: 7 Ways to Lock Your Keyboard With Ease (Updated 2023)
Refog Free Keylogger
This is another excellent free Keylogger software for Windows. This software has a free version as well as a paid version. The free version is pretty good for most users. It will do the job. The free version records the keystrokes, websites visited, clipboards, and run programs. If you need more advanced features, purchase the advanced version of this software.
The drawback of this software is that its icon appears in the notification bar. You can set a password for this software so the other person won't be able to access it. The user might find out the fact that his activities are being logged.
Visit: Refog Free Keylogger
Danusoft Free Keylogger
This is a pretty good keylogger software for Windows to Monitor keystrokes. This software is straightforward to use. The UI of this software is very user-friendly. This software can be customized to run automatically in incognito mode whenever the computer reboots. Danusoft free keylogger does not appear in the start option or notification bar but in the Windows Task Manager.
This software has a keyword-based response system. If you want to open this software, you have to type SHOWKEY; if you want to close this software, you have to type HIDEKEY. There is no other way of opening this software. This software records keystrokes accurately, making it a good Free Keylogger Software.
See Also: 6 Best Free Internet Blockers to Boost Your Productivity
Real Free Keylogger
Absolute Free Keylogger is one of the best software for Windows to monitor keystrokes. This software runs in incognito mode. You can guard this software with a password. You can set a shortcut of your choice for opening the software whenever you want to. This software does not appear in the notifications bar.
This software stores a person's keystrokes and other activities on the computer. You can even export the stored data using this software. The UI is very user-friendly.
Revealer Keylogger Free
This is one of the best free keylogger software for Windows to Monitor keystrokes. You can take screenshots of the recorded information on this software. This software can be protected with a password. You can effortlessly install and run it on your computer as the size of this software is very small and does not alter the performance of your computer in any way.
Assigning hotkeys on this software to perform various tasks and delete the recorded information is possible. It records the keystroke activity efficiently and accurately.
Visit: Revealer Keylogger Free
Kidlogger
If you want to record the activities and keystrokes of your kids on the computer, this software is for you making Kidlogger a great free keylogger software for Windows to monitor keystrokes. There are many features in Kidlogger that you won't find in other keylogging software. For example, Kidloggers record microphone activities, take screenshots of Skype videos, record USB file usage, etc.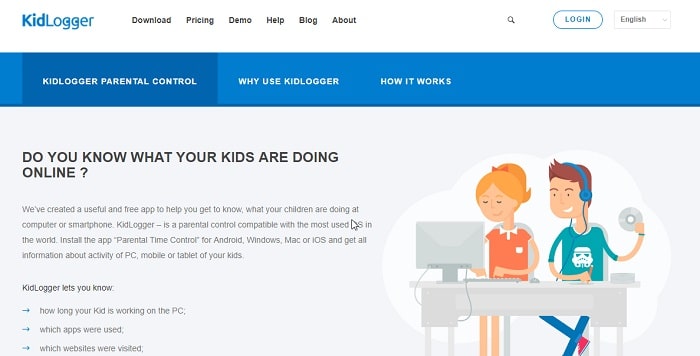 This software is a lightweight, Free Keylogger Software software. You can assign hotkeys for performing various tasks. Kidlogger runs in incognito mode. You won't find it on the notification bar, but Kidlogger is visible in the Windows Task Manager.
Visit: Kidlogger
Spyrix Free Keylogger
A Keylogger Software that promises to be completely undetectable by any antivirus software is Spyrix Keylogger Free. This great promise and Spyrix Free Keylogger is an award-winning keylogger.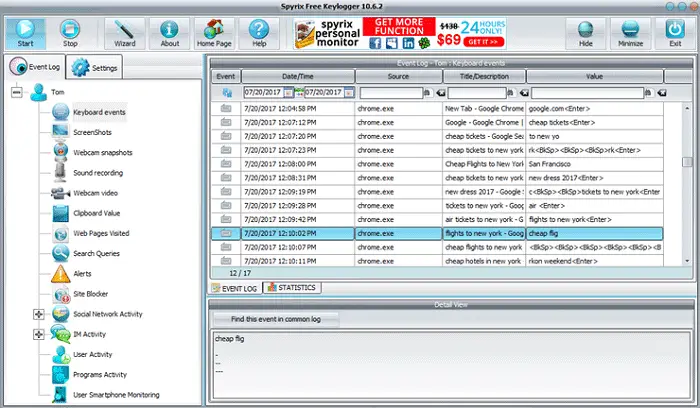 The keystroke recorder of Spyrix Free Keylogger is controlled remotely from any place. It can also be controlled with any device with a current web browser through a reliable web interface. Spyyrix Free Keylogger eliminates needing to visit the monitored computer to retrieve log files or uninstall the keystroke recorder. As the name suggests, Free Keylogger Software can be used without putting a hole in your pockets.
Visit: Spyyrix Free Keylogger
Ardamax Keylogger
One of the most compact and free keylogger software is Ardamax Keylogger. Although it is close, it's a highly capable Keylogger. The unique feature that it offers, unlike other Keyloggers, is its ability to use the microphone to record audio and the ability to use the webcam to record video. Blended with its ability to capture keystrokes from every application, Ardamax Keylogger surfaces as a very prominent computer activity monitoring solution.
Consequently, it keeps track of what's happening on and in front of the computer. Ardamax Keylogger comes with a Seven Day trial version that will allow you to test the complete functionality of the product for free. Though it is primarily paid, you still get Free Keylogger Software for seven days.
Visit: Ardamax Keylogger
KidInspector
Kidinspector is primarily designed for parental monitoring of their children's activities on smart devices and computers. Although the primary concern of the design was parental monitoring, everyone who wants to supervise someone's online activity can use it. KidInspector is a budding brand starting as a traditional keylogger. It has several remarkable features, such as capturing visited websites and search queries, making screenshots of active windows, live broadcasts of the screen and webcam, saving chats in the most famous social networks and messengers, audio and video recording, etc.
KidInspector also provides several other features to control Internet usage. Users can also block unwanted websites by a keyword, a category, or a URL. KidInspector is accessible for Android/iOS and macOS/Windows, solving all the primary problems related to a child's activity on any smart device or computer. It is one of the Best Free Keylogger Software in the market.
FAQs
Does Windows 10 still have a keylogger?
Windows 10 does have a keylogger, but the user is free to turn it off anytime they need to.
Are keyloggers illegal?
If key logging is done and some other devices invest in their privacy, it is illegal in most countries, including the US.
Which is the best keylogger software?
All-in-one keylogger, Wolfeye Keylogger, Elite Keylogger, and Windows Keylogger are all software you can use.
Can keyloggers steal passwords?
Keylogger does not steal passwords, but it does have the information. So any hacker who can have access to your keylogger account can get to know your password.
Conclusion
So here it is! Our hand-picked list of 18 Best Free Keylogger Software for Windows in 2023. I hope you all found it informative.
See also: 10 Best 7z File Opener Software [Free & Paid] | Updated