Computers are an integral part of any business nowadays. It is difficult for any business to survive in the modern business environment without the help of computers. Computers make business activities faster and more accurate. Almost all our work is dependent on our computers, and our work can come to a stand-still if something is to happen to our computers. Thus, you must know about the best Computer Diagnostic Software Tools to avoid any issues.
Continuous and non-stop usage of computers have its effects, and sometimes your computer might face some or the other problem due to this. In this case, you would want the computer repairing person to repair your computer as soon as possible so that you can start working on your computer again as soon as possible. You can also opt for using some anti-malware tools.
See Also: 17 Best Trusted Ad Blocker Software for Windows (2019)
Diagnosing the problem quickly is the key factor in solving the problem quickly. The problem can be solved swiftly only if the problem is identified quickly in the first place. For diagnosing the problem quickly, the person repairing the computer can use computer diagnosing software tools.
Computer Diagnostic Software Tools are software that helps in detecting the problem on the system that you have installed the software to.
Such software scans the computer completely and shows you all the problems that your computer has, especially hardware and driver related issues.
Best Computer Diagnostic Software Tools
Following are some of the best computer diagnostic software tools to download.
Process Explorer
Although the size of process explorer utility is small, it is a quite powerful diagnostic software tool. It helps in identifying which handles or DLL files have been opened or loaded. This is a very helpful utility for finding problems related to DLL problems or handle leaks that lead to problems in your computer making it one of the Best Computer Diagnostic Software Tools.
There are two windows in process explorer. Along with the owning accounts, the top window also shows the currently active process. The bottom window will display the handles or the DLL's loaded currently according to the mode that you have selected.
Visit: Process Explorer
Sysinternals Suite
Sysinternals Suite is a bundle of various diagnosing and troubleshooting utilities that has been rolled up into one single suit. This suite contains all the necessary tools for diagnosing and troubleshooting various problems in your computer making it one of the best computer diagnostics software tools.
The Sysinternals Suite is a bundle of following sysinternal utilities. AccessEnum, AccessChk, AdExplorer, AdInsight, AdRestore are some of the troubleshooting utilities that have been included in Sysinternals suite.
Visit: Sysinternals Suite
System Explorer
This tool gives you an in-detail diagnosis of the problems in your computer. This tool is very useful for diagnosing and solving various problems in your computer. System explorer gives you in-depth details about tasks, processes services, opened files, etc.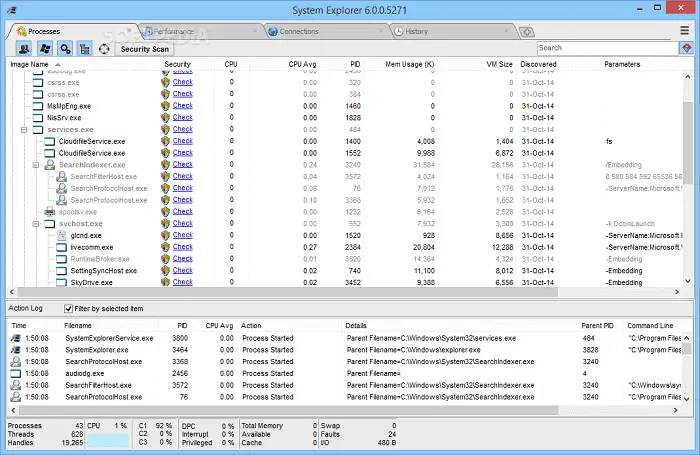 File database in the system explorer helps you in finding suspicious files that might be causing problems in your computer. You can fix the suspicious file once you successfully find it using system explorer.
System explorer also gives you a detailed graph of system resources. You can easily monitor processes activities and system changes in your computer using system explorer. System Explorer is an award winning software.
Visit: System Explorer
Also see: 10 Best T-Shirt Designing Software for Windows – TechWhoop
System information for Windows
System information for Windows is another one of the Computer Diagnostic Software Tools. It gives you the following information regarding your computer.
Software information
Information regarding OS, software licenses, Installed programs, security, Regional settings, running processes, loaded DLLs, drivers, defragging etc.
Hardware information
Information related to hardware parts in the computer, for example, information regarding motherboard, BIOS, CPU, memory, Sensors, System slots, Network adapters, video card, etc.
Network information
Basic extended information about network statistics, connections, configurations, etc. System information for windows is a very good diagnostic software that collects detailed information about your system and helps you in finding various problems in your computer.
Visit: System information for Windows
HWinfo
HWinfo is one of the really good computer repair tools that gives you alerts about the health of your system by real time monitoring. This software is very good for monitoring of software utility and hardware monitoring. A detailed analysis of your computer is provided by HWinfo.
Hwinfo has won various awards in the diagnostic software tool category and is one of the best diagnostic tools for a computer in the market. It can create reports and log files in XML, HTML and CSV formats.
This software also has customized tables and graphs option for showing different problems in your system.
Visit: HWinfo
See Also: 6 Best Free Keylogger Software for Windows [2019]
Speccy
Speccy is one of the Computer Diagnostic Software Tools designed specifically for detecting hardware problems in your PC. It finds diagnoses problems in your motherboard, CPU, RAM, graphic card, etc. The best part about this software is that it is absolutely free of cost. It is a fast, lightweight and advanced system information tool. There is a free and pro version of Speccy.
The interface of this software is user-friendly and clean. Speccy shows you real-time temperatures of critical components in your system. This will help you in stopping the problem from causing before-hand only.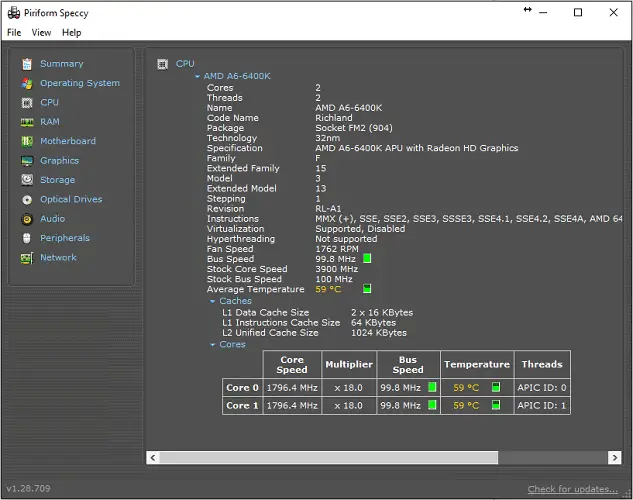 You can save snapshots of your scan results or save them share them as XML or text file. Speccy free version has fewer features as compared to the Speccy Professional version.
The pro version has Advanced PC insights, automatic updates, premium support and is recommended for home users. The price of Speccy pro is 19.95 USD. Speccy free does good enough job of diagnosing the problems too if you do not want to shell out any cash.
Visit: Speccy
See Also: 10 Best Free & Paid Uninstaller Software for Windows
MalwareBytes
MalwareBytes is one of the most popular Computer Diagnostic Software Tools when it comes to malware scanning and has been for many years. For the majority of Computer users, MalwareBytes is a must-have application.The best thing for all you lovely users is that MalwareBytes comes in Free as well as Premium versions.
The Free version will mostly suffice all needs of a domestic home user. The Premium is a bit more advanced and comes with a few more features, used mainly by Professionals. With the Premium version real-time protection is very preemptive, scans can be scheduled etc. The features it provides with Free and Premium Versions, MalwareBytes surely lives up to its name.
Visit: MalwareBytes
CrystalDiskInfo
There have been times when we all wonder whether our hard disk drives or SSDs are in good condition or not. Honestly, it is not at all easy to find this out, and this is where CrystalDiskInfo comes into the picture.
CrystalDiskInfo will give a complete overview of the condition of all your data drives, HDDs, USB drives, and SSDs. It will let you know of all the information of these data drives, which would include uptime, error rates, the temperature of the drive, spin-up time, and many more.
Primarily it calculates the Overall Health of your data drives and will give you a systematic Health Status. You, as a user, will have full awareness of your data disk's health.
Thus, these features make CrystalDiskInfo one of the best Computer Diagnostic Software Tools.
Visit: CrystalDiskInfo
HD Tune 
HD Tune is one of the greatest Computer Diagnostic Software Tools when it comes to HDD and SSD diagnostics. The primary feature it offers is that it allows you to 'benchmark' your storage device, which many tools don't offer. This benchmark will show you the minimum, maximum, and average transfer rates, which will give you a brief idea of your data drives.
Along with the benchmark feature, HD Tune also offers error scanning, drive health, and detailed drive info. It's PRO version permits you to check the health status of multiple such drives. It also provides you with folder usage info, disk monitor, cache test, extra tests, and secure erase.
It helps you discover different problems and also to fix them, within your network and hard disk's configuration. You don't have to search for small problems manually, rather it will work automatically requiring you to provide next to no effort.
Visit: HD Tune
Conclusion
Here we have listed descriptive information of the Best Computer Diagnostic Software Tools you can use in 2019. With Modern times and technology getting upgrades exponentially, it is crucial to maintain your system's health. We hope this task solve your problem of finding the best computer diagnostic tools. Do comment your choice below!
Also see: Top 5 Best Disk Cloning Software for Windows – TechWhoop