Defragmentation is a technique of placing data bits together so that your hard drive can access them quickly, minimizing the seek time. Now, this has been around since ages, and the pro geeks among us have been manually doing it all the time. But if you are not that tech savvy and don't understand how it's done, don't sweat it mate! There are some excellent Defrag software out there that can do the job for you.
Now, you have to admit that fragmentation originally arises when your computer, being the genius that it is, created too much disk space to spare when you created a new file. That space must not be wasted and will be converted as a fragment for something else when it is created.
But we can help out our hard drive and make it a bit easier to find all the bits and pieces of some data that you tend to access often. So here are 4 Best Defrag Software for Windows to help you out with just that, in 2017. Let's begin.
Best Defrag Software
Piriform Defraggler is a Defrag software that can be used to defragment files present on your internal or even external storage space. You can use this freeware to do some brilliant stuff, like moving the least accessed data to the end of the disk space, defragmenting hot zones that are pretty much always in use, and even check a selected drive for error at run time or boot.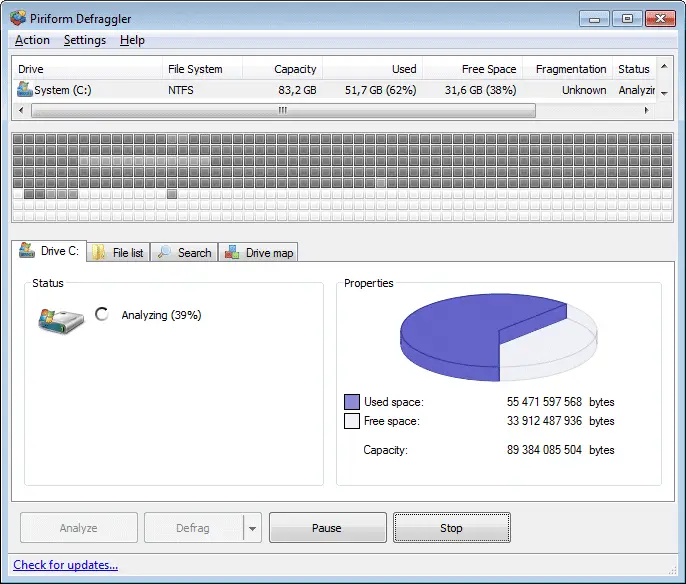 There is a particular version for flash storage units that can detect and list all the fragments available. You can select the fragments you want and deferment them at your will. This will reduce internal fragmentation and helps you get the most of your high-speed SSD.
You can get the Defraggler for your Windows 7/8/8.1/10 PC from their official website. There is a standard installer and portable version available for free download.
See also: – 10 Best Video Compression Software (Free & Paid)
See also: – 8 Best Video Converter Software for Windows (Free+Paid)
Disk Speedup is one of the simpler ones out there when it comes to Defrag software for Windows OS. What I find refreshing about this software tool is that you can set your custom range for the sizes taken up by directories, so they can be listed for defragmentation only if they fall under your specified range of storage sizes. That's pretty smart if you ask me.
This software can be configured to automatically shift lighter, smaller fragments to the front and keep the larger memory chunks to the back of the disk, to make it easier to launch the smaller files. Don't be fooled by its simple look; it has a lot of features packed under its software hood.
You can download this software for free on your Windows PC. Just head over to the glarysoft official web page.
Irrespective of how it is supposed to be pronounced, Puran Defrag is one of the best Defrag software tools out there. To move the commonly accessed lighter files to the end of the disk, it uses an exclusive, custom optimizer called as PIOZR or Puran Intelligent Optimizer.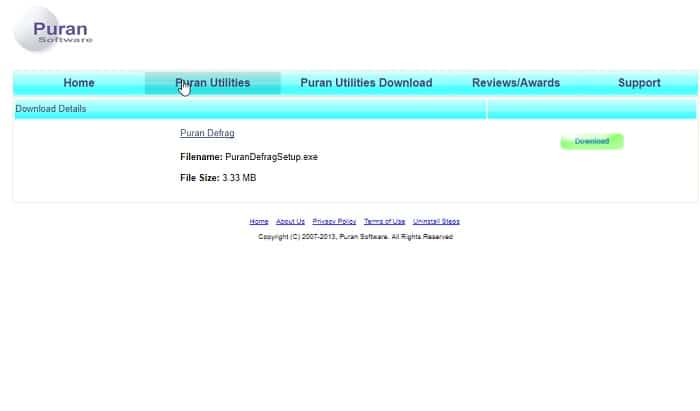 There are some fresh options as to when to run the defragmentation algorithm. You can set it to execute whenever your system screen saver pops up when left idle. Also, you can set it when you know that you will be watching movies the whole day and want this tool to run once every few minutes.
You can get this defrag software easily from anywhere around the web. That's the beauty of Windows freeware. The sources to get your hands on free stuff are practically unlimited. That said, I did notice that this Puran Defrag tool tends to install some other things that you did not intend to have on your system. You can quickly detect and uninstall these recent programs later on, so I guess it will not be a huge bag of worries to many.
See also: – 7 Best PC Cleaner Software to Supercharge Your System
See also: – 5 Best Mac Cleaner Software to Supercharge Your Mac
Toolwiz Smart Defrag is a rather lightweight software which was the quickest to install among the lot. When compared to most of the tools out there, this one is not the prettiest one to look at when it comes to user interface but is fast at what it's meant to do.
This software is meant for people who want to get the defragmentation done then and there. Even if you aren't one of those lots, you don't have a choice here. It does not give you any scheduling or timing options. Furthermore, it focuses on being fast at what matters, listing and defragmenting the sections that the user selects. That's it!
This is my kind of a software and happens to win my personal preference. If you want a fast and functional tool for limited time usage. Moreover, you don't want some advanced stuff running in the background, I encourage you to check this one out.