Utility tools play a key role in our everyday lives. From work and official stuff to unofficial and fun, everything is somehow in connection to some kind of utility tool. Whether you're designing a cool graphical logo or fixing some DLL errors or maybe creating an e-book to be published online. There are so many utility softwares out there and here we will be focusing on Defrag software.
Defragmentation is a technique of placing data bits together so that your hard drive can access them quickly, minimizing the seek time. Now, this has been around since ages, and the pro geeks among us have been manually doing it all the time. But if you are not that tech savvy and don't understand how it's done, don't sweat it mate! There are some excellent Defrag software out there that can do the job for you.
See Also: 11 Best Free EPS File Viewer Software (Updated)
Now, you have to admit that fragmentation originally arises when your computer, being the genius that it is, created too much disk space to spare when you created a new file. That space must not be wasted and will be converted as a fragment for something else when it is created.
But we can help out our hard drive and make it a bit easier to find all the bits and pieces of some data that you tend to access often. So here are 4 Best Defrag Software for Windows to help you out with just that, in 2019. Let's begin.
Best Defrag Software
Here is the list of best defrag softwares.
Defraggler
Presenting you a complete package, recommended as the best defrag software, Defraggler. It gives you two choices to choose from: Either defrag all the files individually or defrag all of them in one go.
This software is highly efficient and takes no time for results. It is effortless to use. Run-on analysis, and choose files you would like to defrag. We have provided a link that is mentioned below. Click on it to get your Defraggler.
Buy: Defraggler
See Also: Top Restaurant Management Softwares
Smart Defrag 6 Pro
This defrag software is designed to automate fast start-up file positioning. It comes with a three-button GUI. This software is as smart as its name. It enables quick data access. It defrags HDD and enhances drive longevity.
This is designed in many different languages. It is proven to be the best defrag software in those cases when there is a schedule for defragging. Not only this, but it also prohibits essential files and folders. It also skips those files that exceed the specified size. The link for this Defraggler is given below.
Buy: Smart Defrag 6 Pro
Glarysoft Disk Speedup
Another defrag software that we would like to present to you is Glary Disk speedup, known for its easy-to-use interface. This software is engineered to enhance the efficiency, speed, and overall performance or your computer. It is founded as 100% clean without any malware, viruses, trojans, etc.
Not only this, but it offers better results when we use the optimized tools presented by this software. It never damages and affects your hard drive or other relevant data stored. It is swift, intelligent, and smart. You will find it very attractive because of its colorful interface with different buttons. Download this software from the link provided below.
Download: Glarysoft Disk Speedup
See Also : Best Video Capture Softwares
Auslogics Disk Defrag
You might be experiencing a usual slowdown because of numerous files on your PC, or some data are taking a lot of time to start. We recommend you to choose Auslogics Disk Defrag software. It improves efficiency and compels you to work without any glitch. You can give it a try for around two weeks and if you like it buy it at a very reasonable price.
Now you can optimize scheduling as per your usage and requirements. It is safe and effective in multiple tests, and many experts recommend it. Used by various engineers and technicians. Give it a try by clicking on the download link provided below.
Download: Auslogics Disk Defrag
Piriform Defraggler
Piriform Defraggler is a Defrag software that can be used to defragment files present on your internal or even external storage space. You can use this freeware to do some brilliant stuff, like moving the least accessed data to the end of the disk space, defragmenting hot zones that are pretty much always in use, and even check a selected drive for error at run time or boot.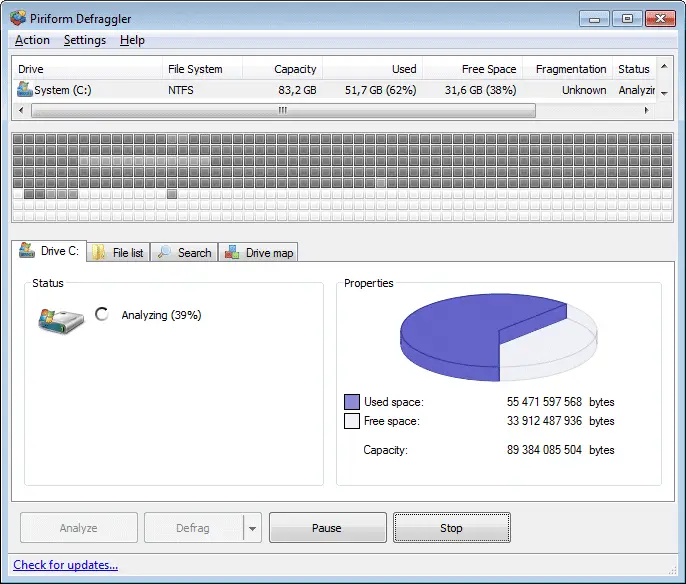 There is a particular version for flash storage units that can detect and list all the fragments available. You can select the fragments you want and deferment them at your will. This will reduce internal fragmentation and helps you get the most of your high-speed SSD.
You can get the Defraggler for your Windows 7/8/8.1/10 PC from their official website. There is a standard installer and portable version available for free download.
Visit: Piriform Defraggler
See Also: Best karaoke Softwares for Windows
Puran Defrag
Irrespective of how it is supposed to be pronounced, Puran Defrag is one of the best Defrag software tools out there. To move the commonly accessed lighter files to the end of the disk, it uses an exclusive, custom optimizer called as PIOZR or Puran Intelligent Optimizer.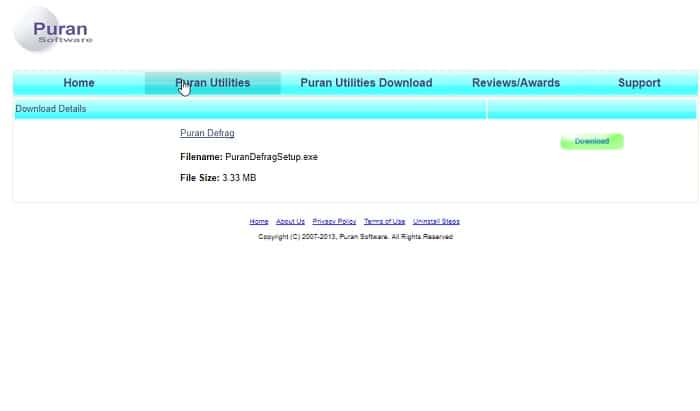 There are some fresh options as to when to run the defragmentation algorithm. You can set it to execute whenever your system screen saver pops up when left idle. Also, you can set it when you know that you will be watching movies the whole day and want this tool to run once every few minutes.
You can get this defrag software easily from anywhere around the web. That's the beauty of Windows freeware. The sources to get your hands on free stuff are practically unlimited. That said, I did notice that this Puran Defrag tool tends to install some other things that you did not intend to have on your system. You can quickly detect and uninstall these recent programs later on, so I guess it will not be a huge bag of worries to many.
Visit: Puran Defrag
See also: – 7 Best PC Cleaner Software to Supercharge Your System
Toolwiz Smart Defrag
Toolwiz Smart Defrag is a rather lightweight software which was the quickest to install among the lot. When compared to most of the tools out there, this one is not the prettiest one to look at when it comes to user interface but is fast at what it's meant to do.
This software is for people who want to get the defragmentation process everywhere at an ease. Even if you aren't one of those lots, you don't have a choice here. It does not give you any scheduling or timing options. Furthermore, it focuses on being fast at what matters, listing and defragmenting the sections that the user selects. That's it!
This is my kind of a software and happens to win my personal preference. If you want a fast and functional tool for limited time usage. Moreover, you don't want some advanced stuff running in the background, I encourage you to check this one out.
Visit: Toolwiz Smart Defrag
Defraggler
Defraggler is a freakish defrag software for Windows that appears along with a decision to either independently defrag the files or defragment the whole disk in a single go. This disk optimizer enables you to defragment by choosing specific data and performs any task within less than no time.
All you would want to do is run an analysis, and it'll prepare down all the fragmented data on the drive. Hence, you'll be able to collect the data that you necessitate to defrag.
Visit: Defraggler
See Also: Best Computer Diagnostic Software tools to download
O & O Defrag
O&O Defrag Free Edition has a simple, designed, easy to utilize interface. It underpins conventional components located in comparable defrag programming, such as developing a drive, survey a rundown of all the classified documents, and monitoring a drive for several errors. The app holds all those features which gain it one of the best disk defragmenters for Windows amongst many available apps.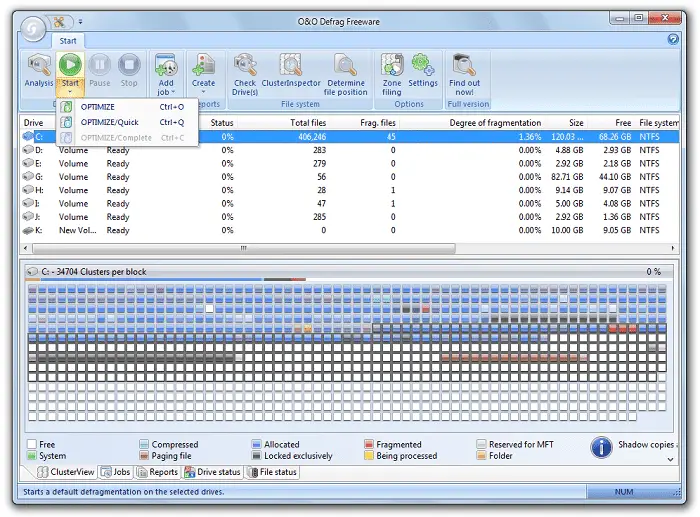 Moreover, it defrags your disk on a hebdomadal basis as well, which you can besides arranging O&O Defrag Free version to begin a defrag in an automatic manner when the screensaver jumps up.
Visit: O & O Defrag
Smart Defrag by IObit
When it gets down to cataloging an automated defrag process then, Smart Defrag shows out to be one of the best defrag software for Windows.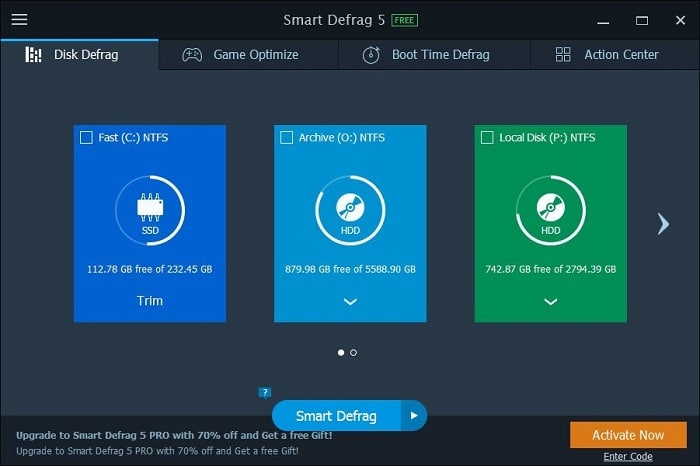 Smart Defrag is able of prohibiting documents and folders from a defrag, patch Windows Disk Defragmenter, defrag only Windows Metro Apps, and jump defragging documents that are over a specific file size.
Visit: Smart Defrag by IObit
See Also: Best Webcam Softwares for Windows 
Conclusion
This is our list of best defrag software. Hope you liked it. Let us know your opinion down in the comments.
See also: – 5 Best Mac Cleaner Software to Supercharge Your Mac