There was a time when karaoke machines were the main source of entertainment for people visiting pubs, bars or even for people in a home party. You had to setup the karaoke machine, the white screen and the mic to get started with. However, here we will talk about list of some decent Karaoke Software.
In the era of mobile phones, one can have multiple options to entertain themselves. It can be a good music downloading site, or maybe a nice action game in your mobile phone. If you're are not into gaming and music, then probably online TV shows or movies or crossword puzzles can be a good companion to spend your free time.
See Also: Top 6 Best Free Karaoke Apps for Android & iOS
The background music is played, and the lyrics start showing on the white screen of the song you selected. Nobody has a karaoke machine nowadays. However, if you do want to have some good time singing, you don't even need a karaoke machine nowadays. All you must do is to download a karaoke software on your PC.
23 Best Karaoke Software That You Should Use in 2020
Here are some best Karaoke Software for your Computer. Make sure you give each one of them a shot!
Karafun Player
It is the most trusted and highly accessed software among the user. The interface that is being provided by them is straightforward and friendly. It is the most extensive free downloaded software. It has around 31,000 songs in it. The feature that makes it unique from others is its offline access to this software. You can save all the songs that you like the most, and without also internet connection you are ready to use it.
Karafun Player is a another software for your Windows PC. If you enjoy singing in the privacy of your room with the BGM of a song, all you have to do is download Karafun player on your PC. Karafun lets you save the songs you like. Karafun also has a useful feature of offline sync. With this feature, you can enjoy your favorite song even without connectivity. Karafun player has more than 21,000 songs to choose from.
Visit: Karafun
See Also: 5 Best Book Writing Software for Beginners | Updated 2019
Kanto Karaoke
Kanto Karaoke lets you record the song you are singing and lets you listen to it later. It is a very good software for karaoke in PC; it supports almost all multimedia files. Kanto Karaoke has n number of song that you can choose from. This software is free to use. However, if you wish to avail some more features, you can purchase the paid version of the software.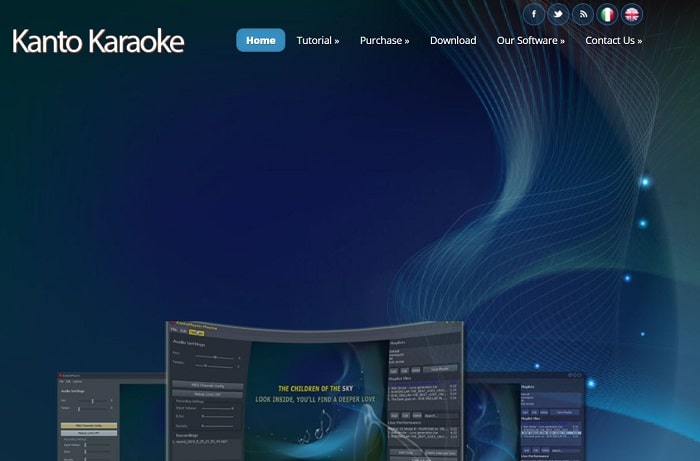 It's a platform which not only allows audio but also allows video facility. It's well known for its fantastic features like we can access and save any number of songs. Moreover, it will enable us to collect or record our songs, and we can go live on it, the lyrics are displayed on a full-screen format, we are open to editing our songs as well.
Visit: Kanto Karaoke
OneKaraoke
One karaoke is another karaoke app for PC. One karaoke is one of the best karaoke software available for Windows. What makes it the best is that you can operate this software with hand held remote, wireless mouse, keyboard, numeric keyboard, etc. One karaoke supports almost every multimedia format.
See Also: Crello Review: Easy to Use Free Online Graphic Designer Tool
This software easy to understand and install. It exactly fits in our current lifestyle. Also, it can be accessed with a keyboard or remote. It has many amazing features which make it unique. It's handy and trust able as well. It supports any format like KAR, WMA, MOV, DAT, MP3, MPG, MID etc.it also accept your VCD's and DVD's as well.
See also: Top 10 FM Transmitter Apps for Android & iOS 
Siglos Karaoke Professional
Siglos Karaoke Professional is the ultimate karaoke software for your PC. You can download your favorite songs, and you are ready to go. You can avoid the confusion and pressure of carrying CDs with you for karaoke with the help of this software. Siglos Karaoke professional has a two screen display.
It's the finest and indeed the most beautiful karaoke software that makes karaoke more efficient and fast. Due to its multiple functionalities, we can enjoy to our fullest. This software reduces the burden of bearing a massive number of CD's, thereby decreasing the chance of any misplacement of these data's via CDs. It has numerous features like the dual-screen which enhance the readability, it given access to any song in the world within a fraction of seconds.
See Also: 5 Best Free Equalizer Software for Windows
Visit: Siglos Karaoke
Aria
Aria is one of the best karaoke software in the market. It is compatible with both Mac and Windows. Aria is software which is easy to use. It has a simple and user-friendly interface. Aria lets you compile all your favorite songs so that you don't have to search for them again and again.
It is a package, full of new and fantastic software which is extensively made for the user. It provides the user with a real karaoke understanding. Also, it has so many features that it does not fail to charm anyone at anyplace. It has a straight forward and secure user platform. The most interesting facts about it are that we can access different aria modes at any time anywhere. It provides music to user nonstop with creating any hindrance for them.
Visit: Aria
See Also: 17 Best CPU Temperature Monitor Software to Try in 2021
PC DJ Karaoke
PC DJ Karaoke is the best software for someone to host a karaoke party. This software makes it easy for everyone by providing details of who is the next singer, singer history, lyrics, etc. It is the ultimate karaoke software. PC DJ Karaoke is integrated with Song Book DB.
As the name suggests, it is a special karaoke software made for the party purpose. It's effortless to understand and access. It has the entire feature that can rock your party. It has numerous features next screen for singers, history of singers, dual-screen facility, song editing, key-control, jukebox player and much more new facility.
Visit: PC DJ Karaoke
Walaoke
This is also entertaining karaoke software which is available for free to the user with many exciting features. We get access to numerous songs, can make our playlist, it also provides a platform for DVD & VCD as well, provides lyrics of the particular song, video background display as well.
User can use their videos to play on the background they are supplied with many editing features like say filters etc. It also supports various other formats like KAR, MP3+G, DAT, VOB, MKV, MP3+LCR, MPG, etc.
Advanced Karaoke Player
Advanced karaoke player's interface is very professionally designed for the utmost user satisfaction. The software has a smart search option which makes it easier for you to search for the song you like. This software has options like love hits, latest hits, search song by name, search song by the movie, etc. Advanced karaoke player is being used in many pubs and bars for karaoke entertainment. This software supports almost all multimedia files.
See Also: 10 Best DXF File Viewer Tools for Windows – TechWhoop
It's very frustrating when we are unable to find a particular thing which we desire the most. Likewise imagine you are searching for a song and you don't remember where it is either in your laptops, PC, pen-drives, hard drives, CD's, DVDs, etc. Advance karaoke is the solution to such types of problem. This also has many features like you can record your music, and it accepts any format of the media file.
Just Karaoke 2
Just karaoke 2 has over 70,000 songs for you to choose from. If you cannot find your favorite song, you can even download and enjoy it using this software.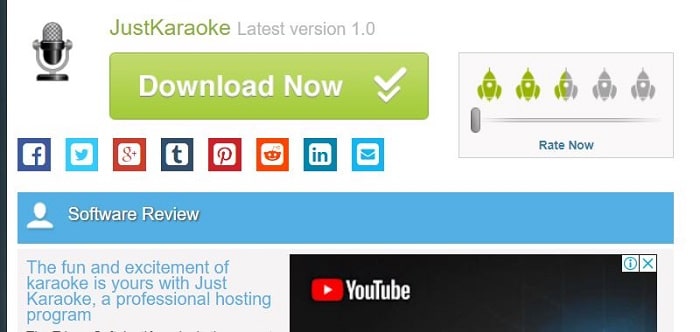 This software has features like playlists, singer history, auto song rotation, etc. All these features make this software good for use.
Visit: Just Karaoke
OkeOke
As it's open-source software, it's available for free to users. Editing like say add of any new and exciting features and deleting the unwanted features are welcomed in this platform as its open-source software.
Likewise, other software it also has many exciting features among them the most popular features are wire and wireless facility available, keyboard search of the required song, remote control to select a particular song, editing of the song necessary many more. We can record our song and save songs from pen drives, DVD's, VCD's, hard drives, etc.
Visit: OkeOke
See Also: 8 Best Free and Paid Virtualization Software of 2019
Karaoke Player
Karaoke player is the pretty basic karaoke software available for your Windows. If you have an old system with less RAM or not so the latest version of the processor, then this software is for you. The user interface is black and white and pretty basic. But, it does the job of a karaoke machine for you. You can download your favorite songs too.

If we are so much into music and want to have karaoke software, then here is the solution karaoke player.
Now a day's every house has personal computers, and this software allows PC's to convert to a player within a fraction of minute though this platform is a bit tedious, yet it is straightforward and easy to access. We can control this software barely with few keys. Once the track plays the quality of sound depends from the source one downloads it.
Visit: Karaoke Player
CDG Plugin for Winamp
Winamp is a popular media player for Windows and millions of people around the globe use it. If you have Winamp media player in your Windows PC, all you have to is download the CDG plugin for Winamp.
You don't even have to install an additional karaoke software in your PC. You can avail the services of any karaoke software with CDG plugin for Winamp. The best part is CDG plugin is free.
See Also: Top 5 Tested Employee Scheduling Apps for Android | 2019
Visit: Winamp
iSTAR
Getting bored at night? Want to have fun? And want to sing your heart out? Then why not try iSTAR? It is a great karaoke platform with a very user-friendly look and easy to use. It is made for Mac users only with great in-built features to enhance the fluidity of the app.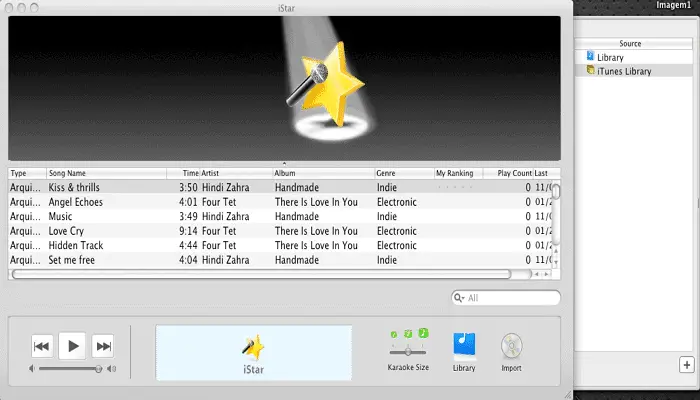 The app can convert any type of file. This karaoke supports a huge amount of audio and video data and play them for you. You can design your own music playlist and can arrange them according to you. It is a paid app but has free trials too. Try it now!
See also: Want to buy a soundbar? We can help!
 Visit: iSTAR
QMIDI V2.0
Looking for karaoke that can adjust your lyrics according to you? Here is the best app for your mac users. QMIDI V2.0 allows the user not only to change your lyrics but also the instruments, music, and chord of the song.
It also comes with another great feature of syncing the playlist to play the music in an orderly fashion, although it's paid software of price EUR 14.99. It has an in-built sound mixer and lyrics editor. Don't waste your time on Spotify and download QMIDI to have fun while listening to music.
See also : Best Ringtone Making Apps
 Visit: QMIDI V2.0
KJams
Finding a karaoke that can transfer your song to your iPhone or your iPod or any other iOS device you own? KJams is the one where your search ends. It is a karaoke platform for the Mac users priced $70 having an interface just like the iTunes.
Here you can easily download your song and sing just the way you do on any other karaoke. So why waste time on checking likes on Facebook, download Kjams, and enjoy.
See also: Can't afford a piano? These software won't disappoint you?
 Visit: KJams
Karaoke 5
Are you a first-time karaoke user? Or an advanced user? Karaoke 5 is the perfect option for you. A windows based karaoke software that allows you to use all the major formats of audio and video with a very cool feature of broadcasting lives, second-screen display, and a mixer-controller.
This software has free versions, but the upgrades are paid and start for a price of $33. Install it now to become a professional at karaoke and startle your friends.
 Visit: Karaoke5
TunePrompter
Tired of searching for lyrics of your favorite songs? Want your karaoke software to automatically search for the lyrics? TunePrompter is the karaoke app you need. It has a very easy interface letting you create your own tunes.
This software comes with an easy to transfer your videos to any of our mac devices or on the CD. It is a free software compatible with both mac and windows. Just plug into your microphone and headphones and you are ready to rock.
Visit: Tune Prompter
Winamp Karaoke
In contrast to another professional karaoke software, the Windows CDG plug-in fills in as a plug-in application for Winamp. Winamp gives a music player and assists you with utilizing the karaoke function of the plug-in application without adding some other applications.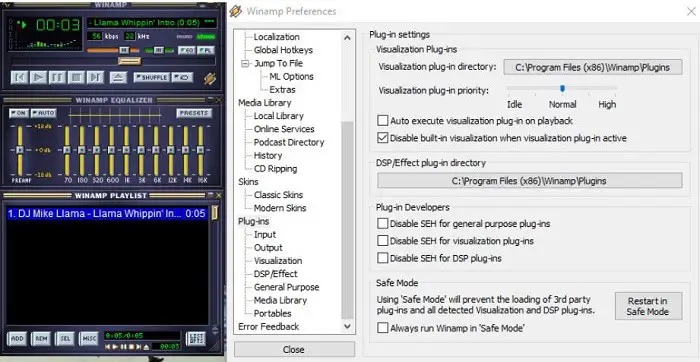 It is designed only for Windows, you need to put the CDG file (mp3 + g) with the music document, and a search box will open for more data. You can make appropriate music files that can be effortlessly saved in the Winamp application: this plug-in is another extra advantage of the Winamp application.
Visit: Winamp Karaoke
Smule
With Smule, you can sing, yet additionally, make music of your choice. There are numerous free melodies with the music and verses you need. You can change the pitch, record music videos, and add as many visual effects as you need.
This application assists you with adding different filters to give your videos an expert look. Melodies are added to this karaoke application each day.
Visit: Smule
KMid v2.4.0
KMID is another best karaoke software for pc that permits you to play multimedia files handily and karaoke files. You can undoubtedly change the speed, pitch, and volume of the music file being played. You can encode character settings, textual styles, and letter colors as you want.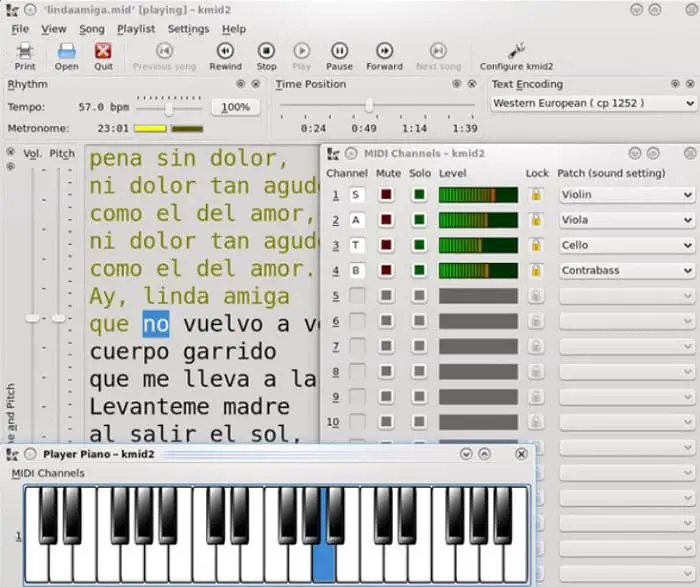 With KMid v2.4.0, graphic player for piano and numerous different instruments are likewise accessible. It furnishes you with a multimedia metronome, just as instrument switches and various programming synthesizers.
Visit: KMid v2.4.0
Selectatrack Burner
With Selectatrack Recorder, you can make a karaoke CDG disc with MP3 + G files without much of a stretch. There is a gigantic music library, and the product is just accessible for Windows Vista/7/8/10.
You can switch between more music and different choices to make music more wonderful and singing more productive. This free karaoke application gives you more decisions, including synthesizers, equalizers, and some more. Selectatrack Burner is one of the best karaoke applications for pc.
Visit: Selectatrack Burner
Karaoke Anywhere
The Karaoke Anywhere is one of the best karaoke softwares, that allows you to listen to free melodies from a massive music library and record, mix and offer your performances on Twitter, Facebook, and iTunes.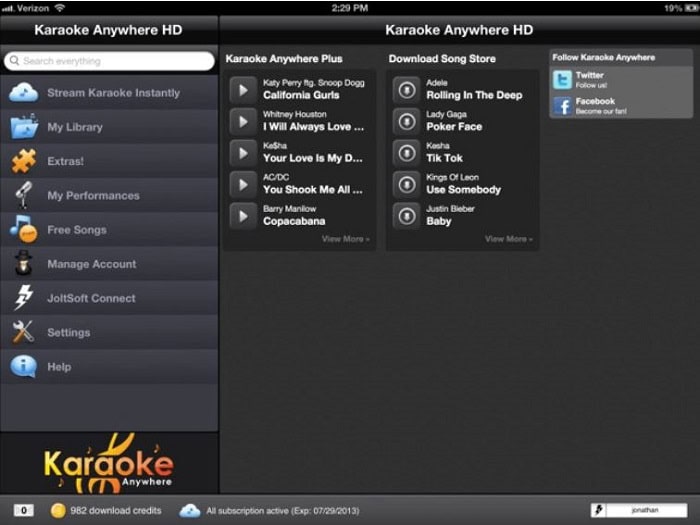 There is a karaoke night, listening to MP3 + G all over the world. Without much of a stretch, you can transfer files to this application from the system or iPad.
Lyrx
Lyrx is one the best free karaoke programs for windows and Mac. It upholds top-notch karaoke file types and naturally imports your iTunes playlists. It has filters and effects to add a superb touch to your music. Does this sound incredible? Basically, Lyrx is another karaoke programming that is required to meet the needs of today's time.
It additionally has a built-in key recognition function; you can utilize it to roll out new improvements to the melody. Moreover, it additionally supports various zip formats. All in all, what are you searching for? Download this product and start your singing excursion.
Conclusion
This is our list of some best karaoke players. In case you have something else in mind, feel free to suggest them down in the comments.
See also: Best beat making software of 2020