Watching a movie becomes fun only when the sound quality is premium. With the pandemic, people can only watch movies through a phone or laptop screen. No matter how amazing the movie is, if the sound quality is not to the mark, there is no fun.
Top Volume Booster for Windows PC [FREE]
Boom 3D
VLC Media Player
DFX Audio Enhancer
AudioRetoucher
Volume Booster
Breakaway Audio Enhancer
Fidelizer Audio Enhancer
GOM Media Player
If you own a Windows 10 PC or laptop, here is something for you.  Want to know how you can grab the free sound booster for Windows 10? Know about the best IPTV players for Windows 10, click here.
Indeed, such a thing exists. This article will present the procedure to help you get free sound boosters for your device. 
See also: How Do Guitar Amps Work? [Complete Guide]
Free Sound Booster For Windows 10
Here is a list of applications that will assist you in getting the free sound booster for Windows 10. The primary thing for you to know is how to set up the booster. Even if you have a basic sound system knowledge, running the software is unchallenging. The list is not in any order of preference. All of them are at par with one another.
See also: 5 WiFi Antenna Booster for Android | Best WiFi Signal Boost Apps
Boom 3D
One of the trustworthy free sound boosters for Windows 10 is the Boom 3D. It is compatible with both Windows and Mac too. If you are worried that it may not be compatible with your earphones or headphones, you need not think of that! The customizable interface is what makes it stand out. It is finally possible for you to listen to songs in the way you want.
If you are unsure whether this option is perfect, go for the trial version first.
Visit: Boom 3D
VLC Media Player
Some Windows devices have this preinstalled in them. VLC Media Player is one of the free volume boosters for PC. An additional benefit is that it has one of the most user-friendly interfaces designed out there.
The 10-band equalizer makes it stand out from its competitors. No matter what type the audio file is, if you have VLC, you can play it!
Visit: VLC
DFX Audio Enhancer
Another option to think of is the DFX Audio Enhancer. This booster will act in the way you want it to. You can go beyond the default capacity of your device and listen to top-quality sound.
You must note that this is not an entirely free application. Some of the features will require you to take up its paid version.
Visit: DFX Audio Enhancer
AudioRetoucher
Windows 10 is also compatible with something known as AudioRetoucher. There is an option for you to make the sound in the way you wish for. You just need to set out the variables, and you are done with this application. 
A noticeable feature of this application is that it is extremely easy to use. The fact that it is extremely quick to set up and use makes it all the more ideal for usage. Even the most minor details play an essential role here.
Visit: Audio retoucher
Volume Booster
As the name suggests, this accessible volume booster for a laptop would help you experience a new type of sound. You need not necessarily indulge in downloading this application. If you use Google Chrome, you can add this to your extensions.
This aspect makes it simpler for you to trust this application. Majorly, it can be used for sites that are accessed through the internet.
Visit: Volume Booster
Breakaway Audio Enhancer
Subsequently, this application will not leave you with a dilemma about how to use it. If you use this app, you will never find your sound out of place. Correction and control of the music rest in your hands now.
There is a provision for a free trial period that will help you explore the features. Make it mandatory for yourself to take benefit of this provision.
Visit: Breakaway audio enhancer
See also: Fix Audio Services Not Responding Error in Windows 10 – TechWhoop
Fidelizer Audio Enhancer
The booster that has won the trust of the market is the Fidelizer Audio Enhancer. No matter what type of music application you wish to use, this application is compatible. It is of no concern if it is an online platform or something you have already downloaded.
You can either take up the free version or take up the other two premium ones.
Visit: Fidelizer
GOM Media Player
GOM Media Player is a famous free media player for Windows, which can enhance sound. You can use this accessible music booster software to play sound and videos in various formats and boost its audio.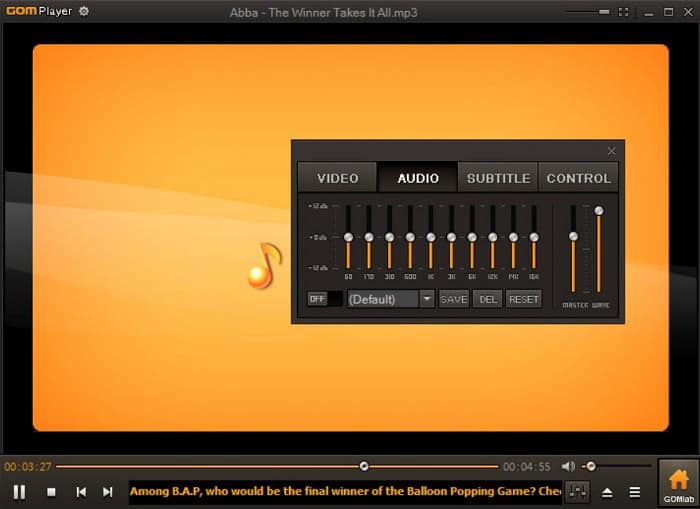 This software offers filters,3D enhancements, audio effects, external device settings, and other advanced options. You may access these advanced settings by hitting the F5 key or the Settings (preferences) icon on the upper left corner of the screen.
Volume and Control Panel are the two techniques for boosting audio with this sound booster. The sliders are easily adjustable in the volume part of the player. Unlike other sliders, this one can go beyond 100 percent up to 150 percent.
Visit: GOM Media Player
MusicBee
MusicBee Player is a freeware and fully open-source sound enhancer and music player. You can add, organize, and listen to any music on this player. This application is a sound booster because it includes standard sound boosting functions such as Equalizer and Pre-amplification.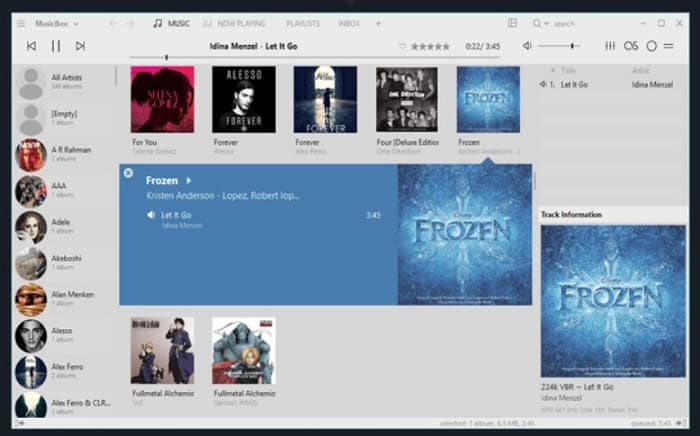 These options are in the player's bottom right-hand corner, under the Equalizer and DSP [on/off] settings. To improve the audio level, go to Equalizer and raise the Pre-amplification and Equalizer frequency settings. A peak boost of 15 dB is available for each channel.
Visit: MusicBee
Equalizer APO
With this very cool and easy-to-use Equalizer APO, your quest for a free sound enhancer for Windows 10 may be over. It includes a variety of functions to keep your PC in good shape. The application uses less CPU power and has low latency. It also has a pretty good UI that is very easy to use and understand and a modular visual design.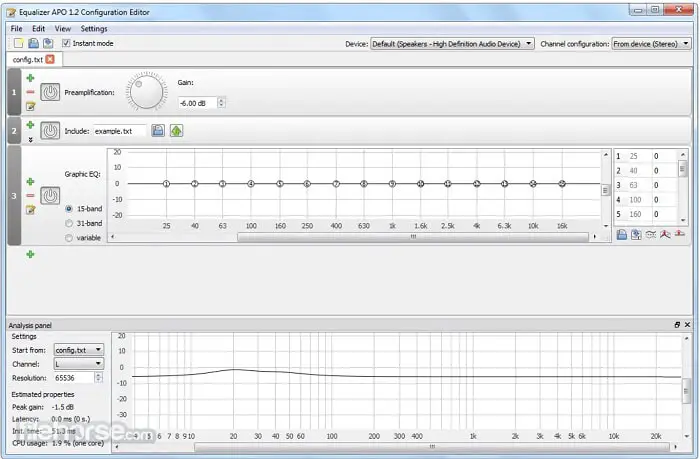 This application is open source, which means you may customize its features, making it the finest free PC sound enhancer for Windows PCs. It may, however, take a bit more time for you to set up.
Visit: Equalizer APO
FX Sound
FX Sound is another well-known name on the list of top free sound enhancers for Windows 10. They aim to provide everyone worldwide with easy access to studio-quality playback without needing expensive headphones or large raw audio files. It has a user-friendly UI and all the world's conveniences to allow you to enjoy its operations without wringing your hands.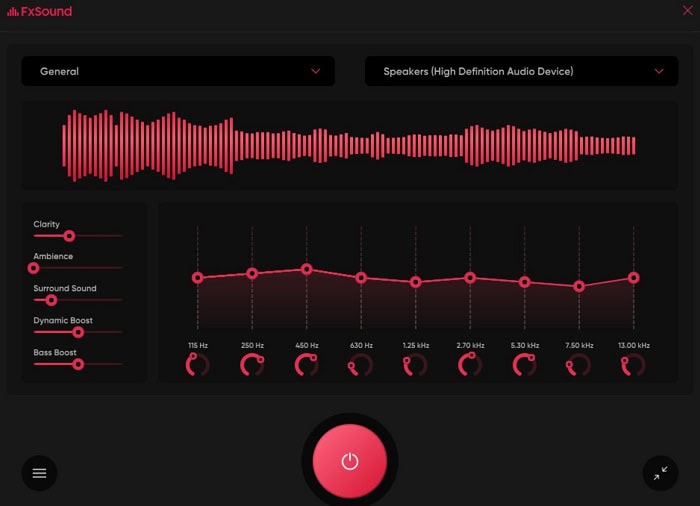 This best PC sound enhancer has presets that assist you in exploring various music genres and excellent compatibility with Windows 10. Furthermore, it would be in your interest not to overlook its perfect sound equalization. A 7-day free trial version of this software is available to try out.
Visit: FX Sound
Viper4Windows
ViPER4Windows (v4w) is a Windows sound improvement application that improves the sound quality of your laptop speakers or HiFi system. The application enhances the sound quality of headphones, onboard speaker systems, and external speakers. Enhance computer sounds to improve the sound of music, movies, video games, and online radio. Increase the loudness to the maximum.
The software enhances the sound of tiny audio systems such as movable speakers, PC speakers, or earphones without sacrificing sound quality for accessibility. With its Dynamic bass technology and ViPER Bass, ViPER Audio enhances bass.
Visit: Viper4Windows
FAQs
Is a free sound booster safe to use?
Yes, a free sound booster for Windows 10 is generally safe to use. However, it's vital to download software from reputable sources to avoid potential malware or adware. Additionally, use the software responsibly and avoid excessive volume levels to protect your hearing and prevent damage to your audio devices.
Can a free sound booster improve the excellent quality?
Yes, a free sound booster can enhance the excellent quality of your Windows 10 computer. It can optimize audio settings, boost bass or treble frequencies, and provide a more immersive experience. However, the extent of improvement may vary depending on the quality of your speakers or headphones.
How can I adjust the sound settings with a free booster?
A free sound booster typically provides a user-friendly interface where you can adjust various sound settings. These may include volume controls, equalizer presets, and additional audio enhancements. You can customize the settings to match your preferences and optimize the sound output according to your needs.
Can a free sound booster work with any audio application?
Yes, a free sound booster for Windows 10 can generally work with any audio application on your computer. It can boost the sound output of media players, web browsers, video conferencing apps, games, and more. It functions as a system-wide audio enhancement tool, improving the sound across different applications.
Are there any alternatives to free sound boosters for Windows 10?
Yes, there are alternative methods to boost sound on Windows 10. You can manually adjust the volume settings, use external audio amplifiers, or invest in high-quality speakers or headphones for better audio performance. However, free sound boosters provide a convenient and software-based solution.
Can a free sound booster damage my speakers or headphones?
While it's unlikely, irresponsibly using a free sound booster or excessively high volume levels can potentially damage your speakers or headphones. It's essential to exercise caution, avoid excessive volume, and ensure your audio devices are compatible with the boosted sound levels.
Conclusion
The techniques prescribed for obtaining the free sound booster for Windows 10 do not require too much technical knowledge. To complete it simply, you just need to download any of the applications presented here. The list that has been provided includes the best free audio enhancer options you can ever find. Most options that have been presented allow you to choose how you want to hear your music. 
It is strongly advised that you only take up one out of the above free sound booster for Windows 10. This is because you do not need to clutter your device with many enhancers for one purpose only. Invest some time in understanding how the application functions. Although not many technicalities are involved, you should obtain essential knowledge about sound systems and the terms used.
Always exhaust using the free version of the apps first so you are thorough with the features. Once you know how it works, it becomes easy for you to choose the best option.