For most of us, Mp3 files are the best format for storing and listening to high-quality audio files. Most of us don't even know if there is any other format for listening to high-quality audio files or not. The answer is yes; there is a better format than Mp3 for listening to high-quality audio files, it is FLAC. FLAC stands for Free Lossless Audio Codec. Thus, you must know about the best FLAC Media Players out there.
FLAC lets you enjoy original CD-like audio quality in your digital audio playing device like mobile, Computer, etc. It is slowly gaining the popularity that it deserves. It provides the perfect copy of the CD that too is half the size. FLAC compresses the size of the audio file without diminishing the quality of the audio. Here are some of the FLAC Media Players for your Windows PC that lets you play FLAC in windows media player.
Best FLAC Media Players For Windows
Let's look at some of the best FLAC media players for Windows
VLC media player
VLC is one of the best FLAQ players for Windows PC. This is the best media-playing software out there. It supports FLAC audio files along with supporting many other audio and video formats like Mp3, mp4, AVI, etc.
VLC is very good software with constant updates making sure that VLC is always up to date. Many shortcut keys and a user-friendly interface make VLC the people's favourite media player. You can also see how to clear VLC history very easily.
Visit: VLC Media Player
5K Player
It is a popular tool. 5K Player, lets you hear FLAC files in high quality on your Windows PC. You can convert videos to Mp3 or AAC files using this media player.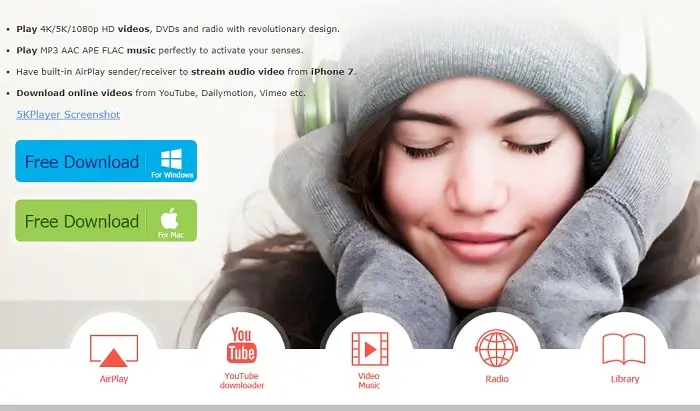 This one of the FLAC Media Players has many interesting features and options. But, on its home page, it shows only those options that are important and useful to avoid clutter on the home page. You can share media files with different speakers and screens using the airplay feature. Here you can figure out how to play FLAC files easily.
Visit: 5k Player
Groove Music
Microsoft developed this music software for Windows 8, Windows 10, and the upcoming upgraded OS if they are planning to launch. Groove Music Pass was also launched in 2014-15, like iTunes and Google Play for streaming music online but it was discontinued in December 2017.
But the players are still available to listen to music, UI is also designed well with colours shadows with light and dark themes.
Visit: Groove Music
Media Monkey
Media Monkey is a great one of the FLAC Media Players for your Windows PC. It automatically detects all the music and video files on your PC once you install it.
It has a very basic and simple default user interface and it is easy to know how to play flac files on windows One can change the default home screen of the software and customize it according to his taste or needs.
Visit: Media Monkey
Foobar2000
Foobar2000 is another popular media player that supports FLAC audio format. This is quite popular among its users. The uncommon feature of this media player is the customization settings that it offers.
Replay gain is another unique feature that this media player provides. Replay gain in simple terms is automatic control of volume. It has a user-friendly interface and has keyboard shortcuts for easy use.
Visit: Foobar2000
Dopamine
Presumably quite possibly the most unrated free FLAC player we have at any point seen that has numerous highlights, yet it needs advancement and spans. Presently it upholds sound codec resembles FLAC, MP3, WMA, APE, WAV, and that's only the tip of the iceberg.
An all-around planned player that gives you premium involvement in highlights like Audio inactivity, Last FM joining, and download verses from the in-constructed instrument from sources like LyricWiki.
See Also: Top 4 Loud Music Player For Android To Use In 2023
Winamp
Winamp is one of the older FLAC Media Players. It has been out there since 1995. So obviously, this media player is one of the best out there. It supports almost all media formats out there including FLAC. It is really easy to use because of its simple interface.
Winamp is a very big player in the media player scene. It is trusted and used by millions across the globe. You can easily create a playlist, rate the songs in it and organize your playlist accordingly.
Visit: WINAMP
Bread Player
It is an open-source FLAC music library and player that is intended for Windows 10 clients, the exquisite plan, which makes individuals use it to an ever-increasing extent. It upholds numerous organizations; however, it comes up short on a few highlights.
On the off chance that your solitary target is to tune in to the music from Bread Player while playing a game or chipping away at your PC, at that point, this is for you. It upholds FLAC, MP3, M4A, WMA, and then some.
Visit: Bread Player
See also: Top 12 Free Sound Booster For Windows 10
Music Bee
Music Bee is one of the best media players for Windows PC that supports FLAC files. It has an equalizer on its home screen for adjusting the sound settings easily. This software imports songs from various libraries on your PC.
It can be used for creating a playlist according to your taste and choice easily. Music Bee has features like automatic tagging, ripping, automatic playlists, etc.
Visit: Music Bee
Winyl
Winyl helps numerous clients to remember bygone times. The sound codec utilized in the Winyl is progressed, yet it is one of the lightest free FLAC players on the rundown on the off chance that you need to appreciate music without adding any heap to your PC; at that point, go for Winyl.
You can trade the verses and play sounds like MP3, FLAC, OGG, WMA, M4A, and that's only the tip of the iceberg. Lightweight progressed sound codec and a few choices to improve music quality.
Visit: Winyl
See Also: How To Add Album Art In Windows Media Player [Updated 2023]
GOM Player
GOM is another media player that supports FLAC audio format. You can easily download and play FLAC files on your Windows PC by downloading and installing the GOM player. GOM player is quite a hit among the users due to its user-friendly and simple interface.
It supports almost all media formats out there. GOM has a codec finder feature which makes it an ideal media player for all your playback needs.
Visit: GOM Player
Pot Player
Pot Player is extraordinary compared to other media players accessible for the Windows working framework. It permits you to play various organizations of records, sound, or video, including FLAC player documents, effortlessly. It furnishes you with fantastic functionalities with customization choices.
Pot Player has a multi-layered interface with loads of alternatives showed for your utilization. It offers different playlist controls to customize your media experience. With Pot Player, you have the freedom to play sound and video records persistently. You can choose the beginning and finishing point of the document you need to rehash, and Pot Player will utilize the A-B rehash highlight to complete the interaction.
Pot Player likewise permits you to play 3D records with no glitch. The player gives you the office to stack a large number of tunes and recordings and play them consecutively without even a flicker.
You can utilize Pot Player to measure and utilize the capacity of de-noising to get a reasonable sound document. It likewise empowers you to play halfway downloaded or harmed with no trouble. Pot Player likewise accompanies a novel component called "Equipment Acceleration," with which you can help the CPU's speed to play hefty sound and video records effectively. You are sure to succumb to this element. It is surely one of the best free FLAC players in the market.
Visit: Pot Player
JetAudio
JetAudio was available in 1997 when the mp3 blast was clearing the PC world. Winamp as the ruler of the sound player around, then evidently can, in any case, be grown once more. What's more, this is seen by numerous other application producers as a chance to hold onto the market.
Stream Audio has benefits (around then) numerous equalizer choices, better Bass, and flawless playlist the board capacities. Albeit now, numerous preferable music players over JetAudio, for the obsessive fans who have been acclimated, this player stays the primary decision.
Visit: JetAudio
Audacious
This one of the FLAC Media Players is very popular in many countries as mostly every Windows user has heard or used it once. The UI and the program of the media player itself are simple but have many features like tools, plugins, stream, and much more.
It is one of the media players supportable with FLAC format. It is also an open-source audio player which was released in October 2005, basically supported for Linux and Windows.
Visit: Audacious
See Also: Best Music Player For Mac To Try in 2023 | Top 6
Trout
Trout is a very basic one of the FLAC Media Players that take the minimum possible place on your computer and makes sure that it does not affect the performance of your computer. It has features like tagging, searching, and editing.
Trout is a very basic and simple media player which supports FLAC and other audio formats. So, if you are scanning for something very fancy you should try some other software. But, if you want a very basic, portable, easy to use media player. Trout is the right media player for you.
Visit: Trout Player
iTunes
iTunes does not support FLAC files but you can convert them from FLAQ files to ALAC which is supported by the OS. iTunes has an online radio feature where you can listen to hand-picked favourite songs of other users. You can customize the layout of this media player. You can check out other media players for MAC here.
You can also decide the size of the media player on your computer screen according to your choice. It has a unique feature where it analyzes your song listening pattern and suggests new songs for you from the genre you love.
Visit: iTunes 
See Also: Elmedia Player Review: Multifunctional Free Media Player for Mac
Z Player
Z player is another one of the FLAC Media Players. Zplayer is built on the Java platform. It looks very simple and basic in its layout. It can be run on Windows, Linux, and Mac. Z Player has features like an auto-generated playlist.
It keeps a complete record of the songs you played in the past. Although this media player is very basic in its looks, it has some amazing and cool features. You can add plugins to this media player.
Visit: ZPlayer
FAQs
Which is better for listening to music-FLAQ or MP3?
A regular file in FLAQ is up to 6 times bigger than a regular file in Mp3. FLAQs, however, is probably half the size of CDs but can have just as good boosts in quality of audio. Also, you can get quite a few types of FLAQs. You may get the 16 bit CD quality or the even better 24 bit-192kHZ version which will give you an even better quality. It is also better from another aspect. Even for transporting files, it reduces the downloading time to less than half.
Is FLAQ better than vinyl?
Vinyl provides an analog source of media whereas FLAQ is digital. Music coming from vinyl depends upon factors like player, stylus, pickup, phono amplifier. This implies that the same vinyl will produce different audio quality because of the above-mentioned factors. Since they are of completely different making there is no point comparing vinyl to FLAQs because variations in quality may be completely random.
Is FLAQ supported by iTunes?
Unfortunately, iTunes does not support FLAQ files. But trust Apple to come up with their own version. However, it is very easy to convert these files that you want to hear to lossless quality to Apple Lossless or ALAC. ALAC is also known as Apple Lossless gives you apple's version of FLAQ with no loss.
How do I play FLAC files on my stereo?
You may connect FLAQ files to your speaker via Bluetooth and the speaker will support the files. However, unfortunately, the audio quality would not be without loss anymore. Bluetooth uses its own encryption and coding while being employed and it automatically degrades the FLAQ files to a lower quality. Not even using LDAC will save the audio quality in this case.
FLAC/WAV- Which one is better and why?
FLAQ is compressed, WAV does not require compression. They are good options for providing audio in a lossless fashion. But the compressed FLAQ is a better option for hearing audios whereas WAV is better suited for editing and compiling. Sample rates and bit depth also vary. FLAQ has a comparatively lower rate and depth while WAV offers an unlimited supply.
Is FLAQ supported by Windows 10?
WIndows-10 does support FLAQ throughout all platforms. FLAQ is now supported across the platform and so any Win32 format is capable of supporting FLAQ without running into any issue. Previously, users had an issue with using third-party apps or software or plug-ins that can support FLAQs. Now that has changed. A windows user can now easily access a FLAQ file just like WAV or Mp3. This will allow a huge increase in demand for FLAQ files which can now be downloaded and listened to without the hassle of going through other apps to support the file.
How many versions of FLAC are there and which is the latest?
The FLAQ format has been around since it was created in 2001.So there have been more than 7 versions of it with the latest one being released in 2019, with version 1.3.3.
Conclusion
The above-mentioned audio and FLAC Media Players are the best media player for FLAC files. They will not let you down or interrupt your favourite movie with errors or advertisements!