Earlier people used to judge others by the clothes they wear. It is not the case anymore. Nowadays people judge others by the ringtone of their mobile phones. Have you ever been made fun of because of your silly ringtone just because your mom decided to call you while you were talking to a good looking stranger? Thus, you must know about these Ringtone Making Apps.
Have you ever faced embarrassment due to your funny ringtone in front of your friends or colleagues? Well, not anymore. Here are ten best ringtone making apps for Android and iOS. It can also be done through your PC by using some of the Best Audio Editing Software For Windows.
Top 10 Ringtone Making Apps
Ringtone DJ
Tired and bored of the custom ringtones in your iPhone? Unleash your inner DJ and create some sick beats/ringtones for your phone using the Ringtone DJ app. The only shortcoming of this application is that it does not support MP4 format.
This app lets you choose any track on your phone and add some cool DJ effects to make it sound a lot cooler. You can create your ringtone with some awesome DJ effects using Ringtone DJ app. How cool is that?
Ringtone Maker ( For Android)
This Android Best Ringtone Making Apps lets you customize ringtones according to your choice. Ringtone Maker has a very simple interface which makes it very easy for the user to customize the ringtones.
All you gotta do is pick an existing music file from your mobile or record a voice using the app. The app then shows the whole audio in wave forms.
You can select the start point and the end point of the ringtone you wish to create by simply tapping on the sound wave. This app is one of the best ringtone making apps for Android phones, and it supports almost all formats.
Ringtone Designer
Ringtone Designer is simple yet a powerful Best Ringtone Making Apps for creating custom ringtones and alert tunes for your iPhone. If you are a person who aspires to make a custom ringtone without doing too much of work, this app is for you.
All you have to do is select a music file from your mobile phone and customize it. The only thing you will find irritating about this app are the unwanted ads.
Ringdroid
Ringdroid is one of the simplest and powerful apps available for creating custom ringtones, alarm tones and notification tones for Android devices. It is really easy to use because of its simple interface and provides great sound quality.
The sentence "if it's free, it isn't good" does not apply for this app as this is accessible for free in the google play store. The cons of this app are the poor sound recording quality and the ads that make a user annoyed.
Ringtones for iPhones
This app lets you use the music files or even the voice recordings in your phone as your ringtone. This app is trustworthy as over 10 million users have put their faith in this app.
Ringtones for iPhones even let you share the customized ringtone on your social media accounts like Facebook and Twitter. The app has a large number of tones you can choose from. The drawback of this app is some crash issues.
Music Ringtone Creator (For iOS)
Music ringtone creator lets you add cool sound FX and create an awesome talking caller ID ringtones for all your contacts. It lets you choose from funny sounds available. The drawback is that there are very few such funny sounds to choose from.
You can create customized talking caller ID ringtones by just recording few lines of content of your choice for each contact in your phone. You can use this customized ringtone as your email alert, text message notification or even your alarm ringtone.
Audiko ringtones
Audioko ringtones have over 10 million ringtones to choose from for you Android devices. Audiko is a very good app with default languages French, german, Spanish, Italian, English, Chinese, Swedish to choose from.
This probably is the feature that Audiko offers, and no other app does. Your phone needs to be connected to the internet to get access to millions of ringtones offered by Audiko ringtones.
Ringtone Maker (For iOS)
Ringtone maker app is very easy to use and is one of the most popular ringtone making apps for iOS. It has an unlimited number of good quality ringtones with a feature that lets you save the ringtone you like very quickly.
You can edit the tunes available in the app according to your wish by selecting the start and end point and even assign it to a specific contact. Ringtone Maker is available for free in the apple store.
Easy MP3 Downloader Pro
Easy mp3 downloader pro lets you search for songs that you wish to keep as your ringtone in the app itself. Its playback feature lets you play and hear the music that you downloaded the app.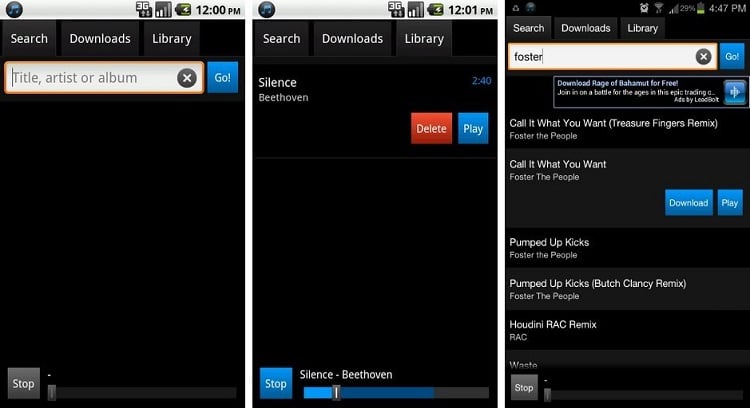 The app lets you search, download and erase MP3's. Easy downloader pro assists you in searching music with the web crawler feature. It is one of the most useful apps for finding the ringtone of your choice for your Android device.
Mp3 Cutter and Ringtone Maker
Make your ringtone by cutting the favorite part of your favorite song using the Mp3 cutter and Ringtone Maker. This one of the Best Ringtone Making Apps backs up the trimmed part of the song to your phones memory automatically so that you don't have to do all the work again.
This app lets you share the trimmed part on your social media accounts. MP3 cutter is very easy to use because of its user-friendly interface.