"Music gives a soul to the universe, wings to the mind, flight to the imagination, and life to everything." The beauty of music is expressed in a single sentence very melodiously. One can never hate music of whatever kind it is. There is always a rhythm in our mind playing our favorite part of the song, and we want it to be heard all the time, whether when someone calls or messages or when you set your alarm. We surf the internet to download that part of the song as a ringtone but do not always get it. In such cases, ringtone-making apps are helpful.
Some of the best ringtone maker apps are:
ZEDGE™ Wallpapers & Ringtones.
Ringtone Maker.
MP3 Cutter and Ringtone Maker.
Ringdroid.
Pi Music Player – MP3 Player.
MP3 cutter.
Cool Ringtones.
MP3 Cutter and Ringtone Creato.
Audio MP3 Cutter Mix Converter.
There is a huge craze among people to have customized ringtones. In a world where everything is possible, there are apps in the Play Store and various platforms through which we can download the app and make our ringtones.
Top 17 Ringtone-Making Apps of 2023
If you are curious to know the best apps to make our ringtones, then here are a few of them:
Timbre
Timbre is one of the best ringtone-making apps for Android and iOS platforms. It lets you cut, split, and join audio and video files for free. It enables you to do almost everything all other apps allow, and downloads run into millions.
Blend as many files as you like with its impressive quality and fast mp3 cutter. It is straightforward, explaining this app's growing popularity and ratings.
It supports many audio formats like MP3, WAV, FLAC, PCM, and AAC, and video formats like mp4, AVI, mov, etc. Cut any part of your favorite file, customize it, and set it as an alarm tone, notification sound, or phone ringtone.
Visit: Timbre
RSFX
Ringtone Slicer FX allows you to create unique mp3 ringtones for free. This application has covered everything from an excellent user interface to great functionality.
It is rated 4.8 on the Google Play Store, thus making it one of the best ringtone-making apps. Add sounds from your music files, personalize, and make the format apt to be set as a ringtone.
If you're refraining from making lots of effort, this app is exclusively for you. All you have to do is choose your favorite song and edit it with START and END sliders. Press the save button and set it as your new ringtone.
Visit: RSFX
Pi music player
One of the best ringtone-making apps, the Pi music player is easy to use and functions well. The constraints are pretty effortless, and the app is pretty decent.
Select any track from your music file and twist it into your ringtone, a notification sound, or even an alarm tone. With excellent UI, equalizer, and themes, it offers users a diversified range of browsing categories.
It is free to use. The application also contains wallpapers. However, the quality and design can vary per category. It's an excellent app for ringtones and allows you to search specifically.
Visit: Pi music player
Clideo
If you don't want to lose the high quality of your track, Clideo is one of the best ringtone-making apps one can recommend.
It allows you to trim your file without installing it on your cell phone. You can directly assign the duration of your favorite segment or move the marker over selected portions.
It offers a comprehensive database of free ringtones, and the quality can satisfy your music taste. It is packed with various components and animations, thus bringing out the zest of working in users.
Ringtone for iPhone: Infinity
Offering many tracks and unique features, this app can be one of the best ringtone-making apps for iOS.

If you have a paid subscription, it allows you to browse a classic collection of rhythms. Just chop off your favorite segment and select it as your default ringtone.
The Premium version begins at $7.99, and you can customize your ringtone by choosing audio files from various genres. Be it pop, rock, jazz, or even Electronic, this app has covered it all for premium users.
Visit: Ringtone for iPhone: Infinity
Ringtone DJ
Tired and bored of the custom ringtones in your iPhone? Unleash your inner DJ and create some sick beats/ringtones for your phone using the Ringtone DJ app. The only shortcoming of this application is that it does not support the MP4 format.
This app lets you choose any track on your phone and add some cool DJ effects to make it more relaxed. Using this ringtone making app, you can create your ringtone with excellent DJ effects. How cool is that?
Visit: Ringtone DJ
Ringtone Maker ( For Android)
This Android Best Ringtone Making App lets you customize ringtones according to your choice. Ringtone Maker has a straightforward interface, making it easy for users to customize the ringtones.
You must pick an existing music file from your mobile or record a voice using the app. The app then shows the whole audio in waveforms.
You can select the start and end points of the ringtone you wish to create by simply tapping on the sound wave. This app is one of the best ringtone-making apps for Android phones, and it supports almost all formats.
Visit: Ringtone Maker
Ringtone Designer
Ringtone Designer is a simple yet powerful Best Ringtone Making Apps for creating custom ringtones and alert tones for your iPhone. If you are a person who aspires to make a custom ringtone without doing too much work, this app is for you.
All you have to do is select a music file from your mobile phone and customize it. The only thing you will find irritating about this app is the unwanted ads.
Visit: Ringtone Designer
Ringdroid
Ringdroid is one of the most straightforward and powerful ringtone-making apps for creating custom ringtones, alarm tones, and notification tones for Android devices. It is short because of its simple interface and excellent sound quality.
The sentence "if it's free, it isn't good" does not apply to this app as this is accessible for free in the Google Play Store. The cons of this app are the poor sound recording quality and the ads that annoy a user.
Ringtones for iPhones
This app lets you use your phone's music files or voice recordings as your ringtone. This app is trustworthy, as over 10 million users have put their faith in this app.
Ringtones for iPhones even lets you share the customized ringtone on your social media accounts like Facebook and Twitter. The ringtone-making apps have a large number of tones you can choose from. The drawback of this app is some crash issues.
Visit: Ringtones for iPhones
Music Ringtone Creator (For iOS)
Music Ringtone Creator lets you add excellent sound FX and create awesome talking caller ID ringtones for all your contacts. It enables you to choose from the funny sounds available. The drawback is that there are few such funny sounds to choose from.
You can create customized talking caller ID ringtones by just recording a few lines of your choice's content for each contact in your phone. You can use this personalized ringtone as your email alert, text message notification, or even your alarm ringtone.
Visit: Music ringtone creator
Audiko ringtones
Audioko ringtones have over 10 million ringtones to choose from for your Android devices. Audiko is a perfect ringtone-making app with default languages French, German, Spanish, Italian, English, Chinese, and Swedish to choose from.
This probably is the feature that Audiko offers, and no other app does. Your phone needs to be connected to the internet to access millions of the ringtones provided by Audiko ringtones.
Ringtone Maker (For iOS)
Ringtone Maker app is straightforward and one of the most popular ringtone-making apps for iOS. It has unlimited good-quality ringtones with a feature that lets you quickly save the ringtone you like.
You can edit the tunes available in the app according to your wish by selecting the start and end points and assigning them to a specific contact. Ringtone Maker is available for free in the Apple store.
Easy MP3 Downloader Pro
Easy mp3 downloader pro lets you search for songs you wish to keep as your ringtone in the app. Its playback feature allows you to play and hear the music downloaded from the app.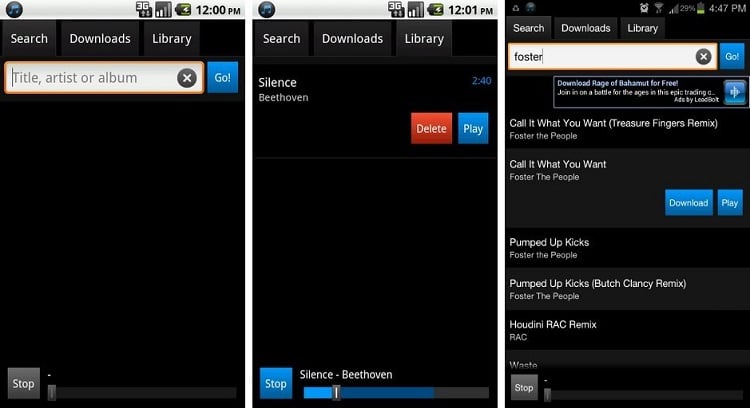 The app lets you search, download, and erase MP3s. Easy Downloader Pro assists you in searching for music with the web crawler feature. It is one of the most useful apps for finding the ringtone of your choice for your Android device.
Mp3 Cutter and Ringtone Maker
Make your ringtone by cutting the favorite part of your favorite song using the MP3 cutter and Ringtone Maker. This one of the Best Ringtone Apps automatically backs up the trimmed piece of the music to your phone's memory so that you don't have to do all the work again.
This app lets you share the trimmed part on your social media accounts. MP3 cutter is very easy to use because of its user-friendly interface.
Visit: Mp3 cutter and Ringtone Maker.
Zedge Ringtone
It is among the top ringtone-making apps for iOS users. You can even add fun sound effects to your ringtone.
Select and cut the song using tools; add yours, and you are ready. Enjoy your ringtone with a bit of uniqueness added to it.
Visit: Zedge Ringtone
Mobile9deco
The main highlight of this app is that it provides a ringtone for your wallpaper. Besides editing the music you want as your ringtone, you can even have wallpaper. Isn't it cool? This innovative app is available for iOS users.
A few other apps available for Android and iOS users are:
MP3 cutter and ringtone maker
My name is Ringtone maker
Music cutter & ringtone maker
Ringtone make- MP3 cutter
Visit: Mobile9deco
FAQs
Is there a genuinely free ringtone app?
Yes, there are several truly free ringtone apps available, such as Zedge, Audiko, and Myxer.
Which ringtone sites are safe?
Some safe ringtone sites include Zedge, Mobile9, and ToneTweet.
How to download free ringtones on iOS?
To download free ringtones on iOS, you can use apps like Zedge or GarageBand or visit websites like Zedge, Audiko, or Mobile9. These platforms offer free ringtone downloads compatible with iOS devices.
Is Zedge safe for iPhones?
Yes, Zedge is considered safe for iPhones. It is a reputable app with free ringtones, wallpapers, and other personalized content for iOS devices.
What's the best free ringtone website?
Some popular free ringtone websites include: Zedge, Mobile9, and ToneTweet. These websites offer a vast selection of ringtones across various genres and are frequently updated with new content.
Are there better ringtone apps than Zedge?
Yes, there are some better ringtone apps than Zedge. Some popular options include Audiko, Myxer, and Ringtones for iPhone by Ringtone App. The best app may depend on individual preferences and specific features desired.
Conclusion
Having a ringtone of yours is excellent. Isn't it? These few ringtone-making apps are pretty popular among Android and iOS users to make ringtones. In this busy world, we need to work fast, and it's a bingo to have an app that can satisfy our needs. I hope this was helpful.