FM has been ruling the music world for ages. The modern era has brought various technologies in advancing the approaches of providing easy music to people. MP3 players, iPods, boom boxes, and much more have occupied their places in this era, but none of them has ever been able to replace our favorite FM radios. Thus, you must know about the best FM Transmitter Apps out there. You can also check out Alexa radio stations here.
Music is the best remedy to cure you mentally and emotionally. It gives you a refreshment that heals you from inside. All those modern-day devices can give you the pleasure of music only after occupying so much memory to download or store the music files. But FM Radios belong to a different category of providing you with all types of songs from devotional to rock-and-roll. The songs are played according to the time, climate, and occasions helping you live your life with utmost satisfaction.
Well, music is fun. But it is more fun while traveling. Tune into your favorite FM station right from your car by installing these FM transmitting apps into your mobile,e which is handy and always in your pocket.
See Also: – Best Free E-Book Download Sites Without Registration – TechWhoop
10 Best FM Transmitter Apps
The following are the best FM Transmitter Apps to use no matter where you are traveling to. Some of these FM transmitter apps not only support your smartphones, but they also support your car devices.
Stitcher App
Stitcher App is one of the FM transmitter apps that lists more than one lakh of podcast shows and entails creating your playlist as per your demand. From WNYC's radio lob to wall street journal, it displays everything and delivers the audio version to every upcoming event every day.
Besides creating the lists of your favorite shows and audios, you can set your playlist to download for watching your shows later. Whether it is your apple, android device, or your car, you can listen to podcasts anytime and anywhere. Moreover, the access to the podcasts extends to the smartest technology called Alexa.
See Also: How To Connect Laptop To Vizio Smart TV Wirelessly
Iheart radio app
iHeart Radio is one of the free FM Transmitter Apps. It works online podcasts channels along with the customized ones as per the demands of the user. Besides, it gives entertainment and sports news.
Also see : 7 Best App Lockers for Android to Protect Your Data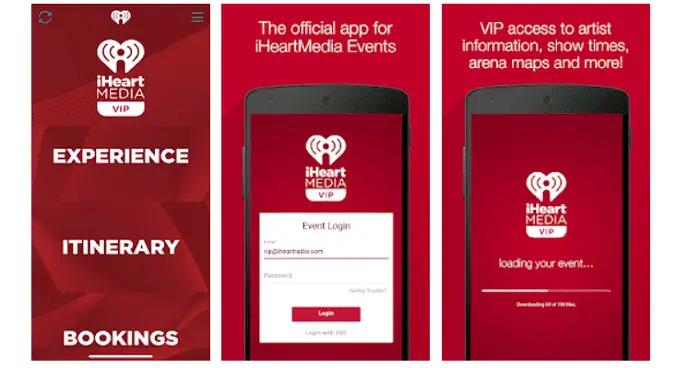 One can use this app on mobile. The outstanding feature of the app is it allows the users to save and replay the music from the live casts. However, the on-demand feature requires a subscription fee.
MyTuner Radio App
Like other FM Transmitter Apps, MyTuner Radio app is no ordinary. It offers over fifty thousand PlayStations along with access to one lakh podcast channels from a Sonos device around the world.
Along with featuring on devices like IOS and Android, it features on Mac and Windows as well. Also, it offers an intrusive and straightforward user interface allowing users to listen to podcasts anytime and anywhere.
TuneIn Radio App
Among other FM Transmitter Apps, TuneIn Radio App has something unique to offer. Here, the app has access to over one lakh real-time radio stations, and over five million podcast channels.
The app has two versions where one is free, and the other one is premium. The difference between the two is that the premium version offers the option to record the podcasts while the free doesn't suggest that.
Radio Tuner
If you are searching for online streaming radio, this is the right place. Radio Tuner has a huge collection of songs, and 50000 users created FM channels. It is one celebrated radio transmitter for android as well as iOS. You can even filter the FM channels based on your interest, be it genre or language.
You can stream this web radio for zero charges. Moreover, you can stream with tons of free presets and create a favorite playlist. You can also search for radio stations using URLs.
However, the free plan has limited radio features. If you want added benefits, you can anytime choose a premium plan.
Radio FM
With Christmas around the corner, a radio that can play Carol's is a must. But searching for a frequency that plays Carol can be time-consuming, and you would certainly not want to waste your time looking for Carol's on the radio on Christmas night. So here's a simple solution. Gift yourself a free Radio FM app. It is free, and it's an official app. It plays well in both android and IOs. And, the best part is, you can search for songs using themes, for instance, Christmas or New year or birthday. Furthermore, you can listen to concerts, comedy shows, etc., all in this one FM transmitter app.
Besides, the music is also classified into different music segments like pop, rock, gospel, classical, and so on.
You can literally grab the experience of an actual radio but with easy to use technology.
With Radio FM, you can also set timings, so you can go to bed listening to some soothing music, which will stop when the set stop time arrives.
You can also set the alarm for your favorite FM channel.
You can play music from any place, so if you are frequently traveling and miss home, what's better than listening to some home town music?
iSimple
Need an FM transmitter for android that works without utilizing a wire? This is the tool you need. It is one of the free Fm transmitters for android phones, and as the name conveys, it's super simple to use. You can scan frequencies near you and listen to amazing music anytime you need. Moreover, this FM transmitter app also supports iOS. Its hands-free feature allows you to connect with radio stations using just your Bluetooth.
You can even adjust settings from a distance. The frequencies provided range from 88 MHz (default) to 108 MHz. The default value is 98.1 MHz. However, you cannot listen to different country music as you could on Radio FM. However, it is good for working people as their hands are busy. You can easily connect the isimple radio transmitter app with your Bluetooth device and enjoy work while listening to some great music.
See Also: How to Block a Channel on YouTube (Top 5 Methods)
Simple Radio
Tune into your favorite radio station from this Simple Radio app.
You can listen to local radio stations offline or world-wide radio stations online. You are searching songs based on genre, country, state or city. It is an uninterrupted experience which never irritates with those buffering states.
You can access your favorites with just a single tap. Simple Radio by Streema is a worthful app that gives you an amazing user interface that always grabs your attention in your music hours.
See Also : Top 11 Prank Apps for Android & iOS Devices
Smart Connect
Smart Connect is an official app released by Sony. It is a trusted app by millions of users all around the world. It gives you access to other devices by simply connecting your smartphone to those devices. You can manage your smart accessories like smartwatches and tablets through this app. You can use your music player from the other mobile and vice versa.
It automatically downloads the required app when connected to your smart device. You can also view your previously connected devices which help you to choose from them and connect quickly the next time you try to connect.
Also See: 5 Best Funny Discord Bots You Have To Try Today (2021)
myTuner
myTuner is a radio tuner app that works only on an internet connection. You can switch between 40,000 AM and FM radio stations that give you all kinds of satisfaction in the genres of news, entertainment, music and much more fantastic channels. You can switch on to local, national or international channels in just a couple of seconds.
myTuner is the best companion among other FM Transmitter apps for your long drives with your friends, family or your soulmate. It gives you the best in the best drives. Enhance your drive experience using myTuner by installing it and play your favorite radio station on your favorite device.
FM Player by TuneWiki
FM Player by TuneWiki is a new Radio that allows you to play your regional radio offline. It is mostly used in the Motorola devices as a trusted FM Player.
You can wave a goodbye to your traditional and old modeled radio player and install this app in your ultra-modern smartphone and enjoy the music of the modern era.
See Also: – How To Delete Your Spotify Account – TechWhoop
Tune Link Auto
Tune Link Auto is an FM Transmitter that allows you to connect your mobile phone to your car device via Bluetooth or auxiliary cable. It acts as a Bluetooth transceiver, FM transmitter and fast charging port.
It provides a wireless link between your mobile and your car system giving you a home theatre effect right inside your car. For the app to work correctly, you need to possess a Tune Link Hardware device. Just plug the device, pair it and use your FM right inside your vehicle.
Quick FM Transmitter
Quick FM Transmitter as the name depicts is a quick one of the FM Transmitter Apps that helps you transmit signals from one device to the other. It works only with devices that can have an antenna. Make sure your device is not in an airplane mode, to make the app work as designed.
See Also: – TOP 6 Prank Apps for Android and iOS Devices (2021) – TechWhoop
Caradio
Caradio provides you with a fantastic on-road experience in your long drives. Pair up your device to the car and play the music on your mobile. It has a hands-free functionality that helps you drive safely with no deviation.
Navigate through the Google Maps to find and reach your destination. You can control the radio from your app or your car system. It is easy, comfortable and safe to use while driving.
Car FM Play
Are you a music addict? Want to connect your FM with your car and enjoy the break free journey? Then no worries! You have the best app here. Connect your FM with your vehicle using the Bluetooth technology.
You can also play your local music in the car by synchronizing your mobile phone. The cloud music gives you unlimited access to songs based on your interest.
Download: iOS
All Connect
All Connect is multi-device streaming app. You can connect your smartphone with any device like Smart TV, speakers, Xbox and many others. It enables you to stream your media content to multiple devices simultaneously.
It is the only app among other FM Transmitter Apps that supports all streaming technologies and gives you the best of the best quality and performance.
See Also: – How to Download Scribd Documents for Free (2021) – TechWhoop
smartSOUND
smartSOUND is a music connective FM Transmitter Apps which can make your music from smartphone play in the car. Just turn on your Bluetooth and pair it with your car head unit and enjoy the music on the go.
You don't have to use your WiFi or any other device to connect this one of the FM Transmitter Apps to your car system. It is easy to use and simple to download.
Conclusion
These are the best ever FM Transmitter Apps podcasting millions of channels and various music genre across the world. You may download any of them and let us know which of them you found the best.