Books are the man's best friend. Books are like a mirror, and we see our reflections through them. With the advancement of technology in the modern era, more people are moving from traditional paperback books to e-books. The use of e-books is questionable since it reduces the user's interest in reading real-time paperback books. But they are beneficial in a way; they minimize paper consumption. Thus, you must know these Free E-Book Download Sites to satisfy your internal bookworm.
Best Free E-Book Download Sites Without Registration
Google Play Books
Project Gutenberg
Open Library
Amazon Free Kindle Books
Internet Archive
Book Boon
FreeBookSpot
Free E-books
Checking for plagiarism and grammatical issues is necessary for every writer out there. Be it for just a simple essay or a complete e-book. To read good e-books, we first need to download them from any online source. These sources can be paid and free. The list of websites for these e-book downloads is innumerable. Out of them, few offer to download free e-books without any registration. So, I have produced a list of sites to download books.
| Website | Description |
| --- | --- |
| Google eBook Store | Being an Android user, you get an edge over others in matters of Google services. |
| Project Gutenberg | The collection of e-Books goes well over 50000. |
| Open Library | The website has a catalog where you can search according to author name, book title, letc. |
| Amazon Free Kindle Books | The Website is primarily for the Amazon Kindle users. |
| Internet Archive | Most of the books available here are historical and academic books. |
| Book Boon | The website offers a great deal of support mostly for the student and the traveler community. |
| FreeBookSpot | Search through the vast collection of books that contain more than 5000 books. |
| Free Ebooks | This website updates from the latest published books. |
See Also: 9 Best Apps That Recommend Books
Free E-Book Download Sites Without Registration:
The evolution of e-books is saving trees. Besides, nowadays, people are trying to keep things compact and light. So, when books come, people prefer e-books over traditional books of compact and small size and easy availability over the Internet for free. These are some of the free e-book download sites
Google Play Books
Google Play Books is a Google e-book digital distribution service. This service is free of cost but contains paid e-books. Being an Android user, you get an edge over others regarding Google services.
Google provides a particular app for Google e-Books (i.e., Google Playbook). Initiate the application on your phone or tablet and access the library of books.
Select books based on the genres, best sellers, or other options. Download the e-book in the format you like. Both paid and free versions of the book are available here. You can also download textbooks here for your curriculum. The interface is ever-changing and easy to operate.
See also: 10 Essential Networking Books You Must Own To Make A Difference
Project Gutenberg
Project Gutenberg is a great initiative to store all free e-books online. It is also one of the top Free E-Book Download Sites.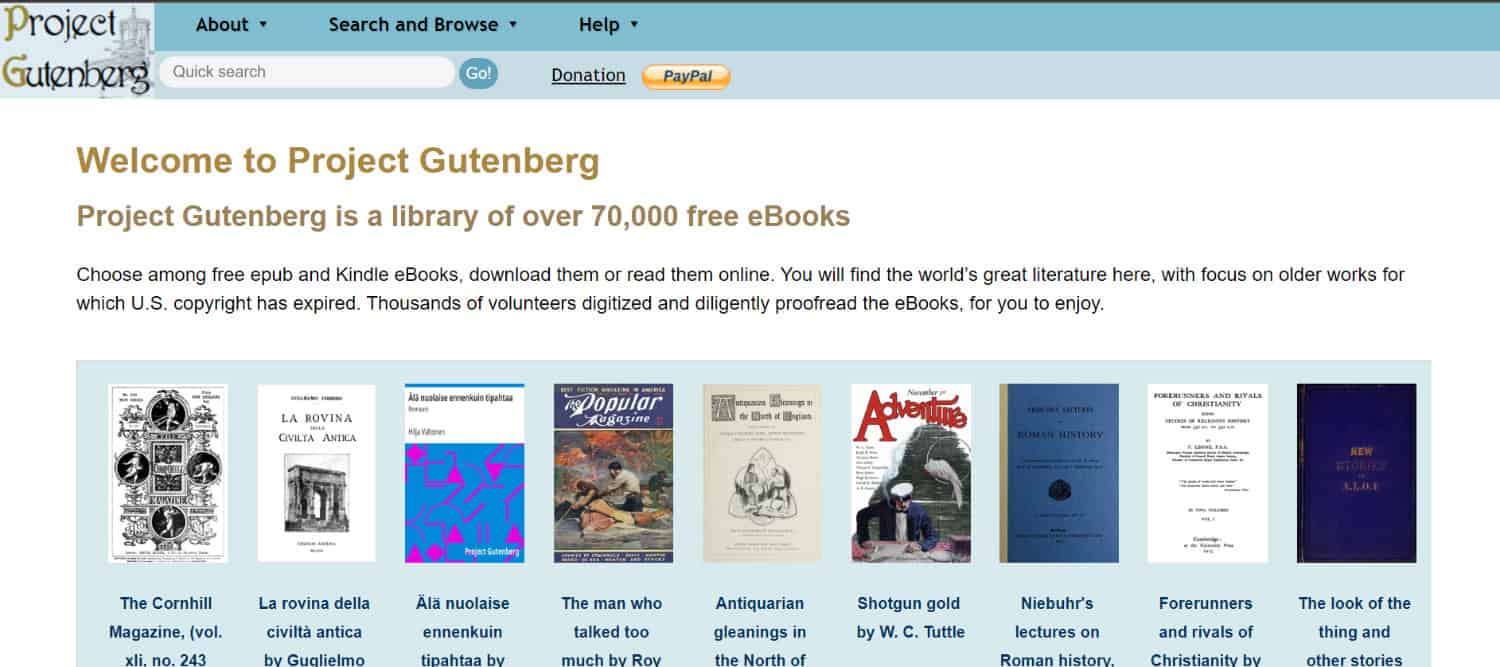 The site is straightforward and informative. The e-books are divided according to genres and order of upload. The collection of e-books goes well over 50,000.
Any book from the collection of books can be easily downloaded and viewed in various formats like epub, Kindle, HTML, and other structures. This Website is very indicative, and no fees or registration is required.
Visit: Project Gutenberg
Open Library
Open Library is another excellent initiative like Project Gutenberg. This Website is an open-sourced project allowing users to alternate or create a new web page for new Books.
The Website has a vast collection of eBooks. Furthermore, the Website has a great catalog where you can search books according to author name, book title, latest, and many other options.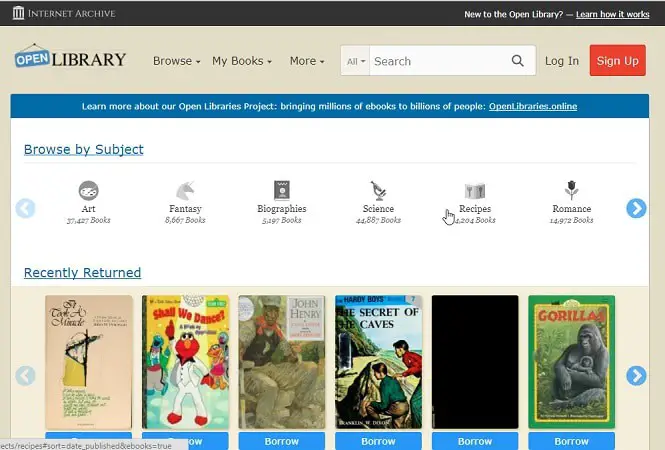 The vast library of Open Library contains over 1 Million E-Books. This Website also allows the user to make corrections and additions to the Website. This Website, being open-sourced, is free of cost.
Visit: Open Library
See Also: 10 Best C Books – Based On Reviews, Popularity, And More!
Amazon Free Kindle Books
A part of the Amazon family, the Amazon Kindle Book is quite impressive. The Website is primarily for Amazon Kindle users. The site has a free section where we can download free books.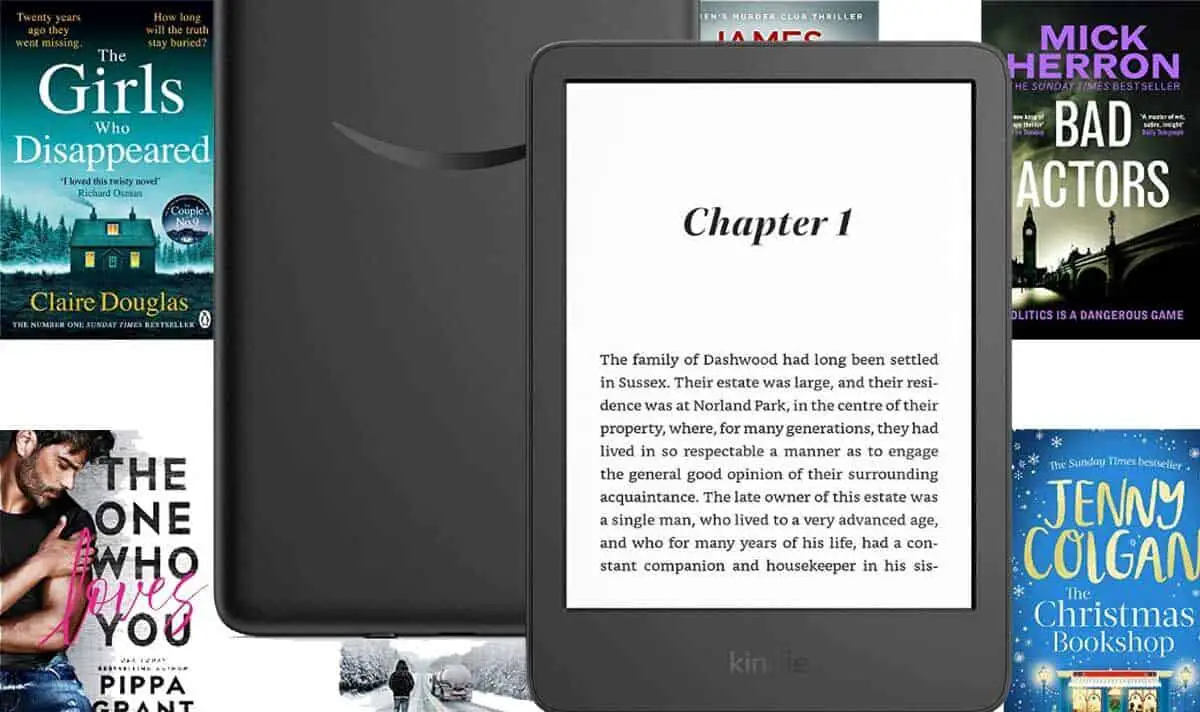 The books vary from Novels to Thrillers to Classics to Romance. The best thing about the site is that the user can view the review of the book while surfing through the books. The books are paid, but many of them are free to download.
Visit: Amazon Kindle Book
Internet Archive
Internet Archive is a not-for-profit online library of e-books. Most of the books available here are historical and academic books. These books are challenging to find anywhere else. As the term suggests, the archive is a vast collection of books now unavailable elsewhere.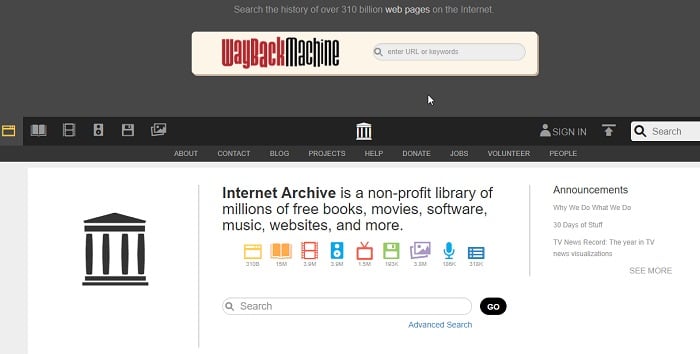 The library has a tremendous collection of over 470 billion pages of books. The site is free of cost, and no registration is required.
Visit: Internet Archive
Book Boon
Book Boon is a straightforward e-book download website. The Website offers excellent support, mainly for students and travelers. Furthermore, The Website has many books like educational and business books.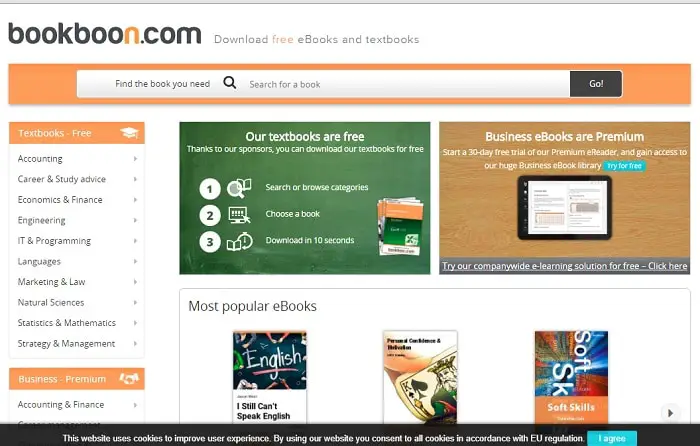 The site has well over 1000 e-books. Quickly access the books on the go and download them for free in PDF format. The Website is free to use, and no registration to download books.
Visit: BookBoon
FreeBookSpot 
FreeBookSpot is a perfect spot for book admirers. It provides free e-books to download and read. The Website offers the right solution for your needs. Search through the vast collection of books that contains more than 5,000 books.
The site contains nearly 96 categories with 72 GB of space storage.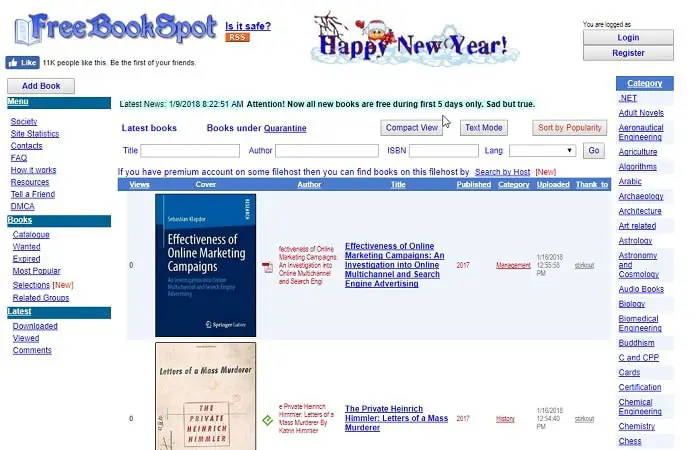 Download any book related to action, romance, thriller, mystery, engineering, science, etc. The site is free of charge, and registration is unnecessary to download any number of books.
Visit: FreeBookSpot
Free E-books
As the name suggests, Free E-book is one of the finest Free E-Book Download Sites. This Website updates the latest published books. The Website has a long list of categories to choose from. Moreover, You can also find featured, top 10 lists, latest arrivals, and many other e-books on the Website.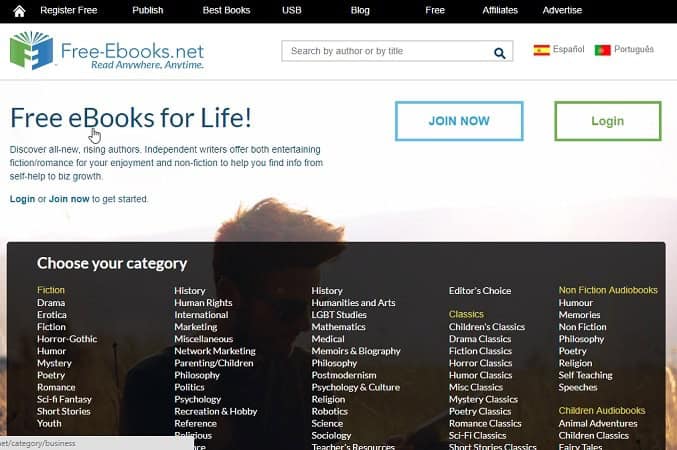 This Website is free. Search for your required book and select the format (PDF or TXT) you need.
Visit: Free EBooks
ManyBooks
ManyBooks is a fantastic choice for avid readers looking to satisfy their hunger for excellent books, with over 50,000 free online books listed online. The site offers a diverse selection of books in eReader types such as Kindle and other major types such as EPUB, MOBI, PDF, TXT, etc.
ManyBooks makes searching for books a breeze, with nicely organized literature sections in many categories.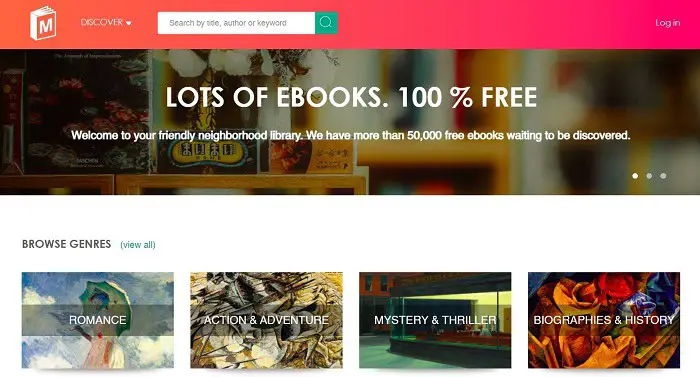 It also features a selection of Suggested and Prominent Authors that might assist readers in choosing their next book. The genre, writer's name, and number of words are all included on every e-book page on this Website.
Because most of the literature on ManyBooks is in the public sphere, you can legitimately download the books free of cost with no strings attached.
Visit: ManyBooks
Feedbooks
Feedbooks provides a massive library of free e-book downloads and public domain books. The Website features a user-friendly design with well-organized categories of books, short fiction and other longer stories to crime novels, adventure to romance, historical to academic literature, and more.
Each book's Downloading page includes valuable information such as a summary, number of words, reading hours, and publication date. You may download books in popular formats such as EPUB, MOBI, and PDF online for free without registering.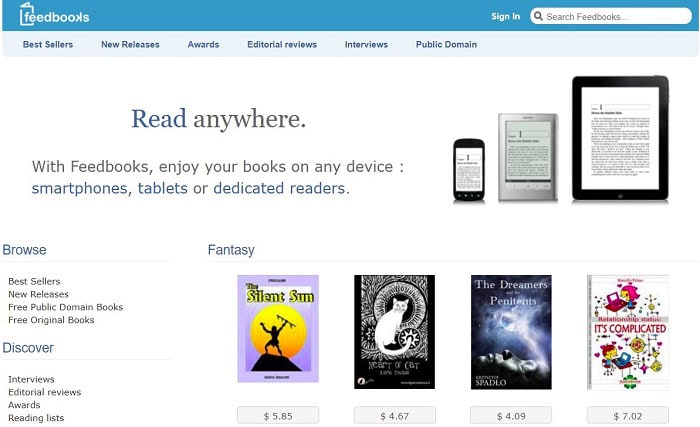 The search tools on Feedbooks make finding new reading content simple. Free Publicly Available Books and Free Unique Books are two sections where you may discover free things to read. Furthermore, it has categories like Bestselling books, New Publications, and Expert Reviews that can assist you in finding new things to read online.
Visit: FeedBooks
LibriVox
Do you prefer to listen to books while commuting somewhere rather than sit down and read them? Take a look at LibriVox. It's a public audiobook collection in the form of a digital library.
Volunteers hear free audiobooks as part of a project to create high-quality recordings of historical literature. Even though audiobooks are not technically e-books, they are an excellent way to read books while on the go and keep you amused.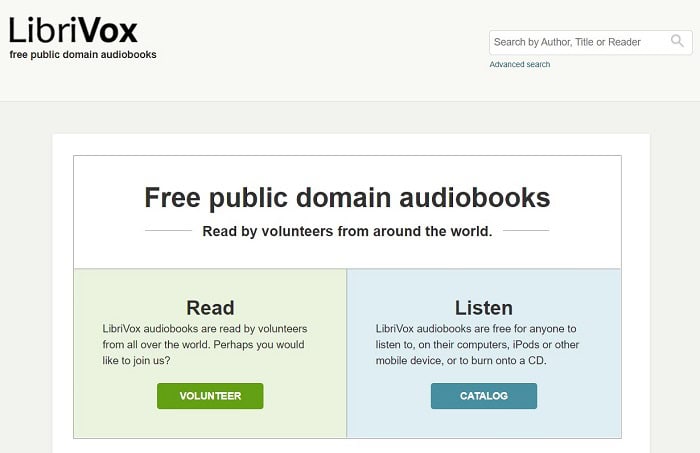 It also benefits the visually handicapped, allowing them to experience great literature for free.
The titles can be found on the Website in MP3 format, with links to the e-book editions available on every title's Website. Therefore, If you're intrigued, LibriVox also has a weekly podcast. It allows an excellent audio experience because all publications are transcribed at 128 kbit/s.
Visit: LibriVox
Smashwords
Smashwords is the spot to go if you're seeking work of literature by independent authors. This e-book directory features content from indie writers and publications from all around the world.
Furthermore, Smashwords' digital book library covers many themes and genres, including adventure, economics, classics, magic, history, religion, and philosophies. Before looking for a book, select the "free" tab.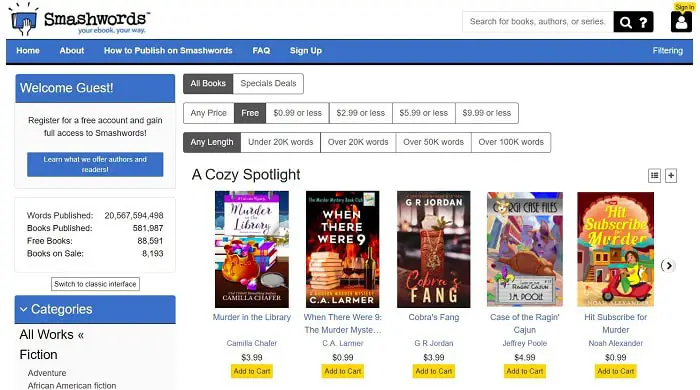 You may use fast filter tools like the number of words and reviews to locate e-books that match your preferences and download the free e-books in various formats, including EPUB, MOBI, PDB, and TXT.
Visit: SmashWords
See also: Top 10 Websites Like Library Genesis | Updated 2023
FAQs
Are the e-books on these sites legal to download?
The e-books available on reputable free download sites are legal and often fall under the public domain or have been released with the author's permission.
Can I access free e-books in different formats?
Yes, many free e-book download sites offer e-books in multiple formats, such as EPUB, PDF, MOBI, and others, allowing compatibility with various e-readers and devices.
Can I create an account to download free e-books?
It depends on the website. While some sites require an account for downloading, many offer direct downloads without any registration process.
Can I download free e-books for offline reading?
Yes, once you download the e-books from these sites, you can usually access them offline on your e-reader, tablet, smartphone, or computer.
Are any specific genres available on free e-book download sites?
Free e-book download sites offer various genres, including fiction, non-fiction, romance, mystery, science fiction, self-help, and many more.
How can I choose the best free e-book download site?
Consider the site's collection, user interface, ease of navigation, user reviews, and ratings to determine the best free e-book download site that suits your preferences and reading needs.
Conclusion
The above list contains Free E-Book Download Sites without any price or registration. But, the policy of the sites can change anytime. So, keep your eyes open and search the websites for your required book. Enjoy reading!