Our laptops and PC's virtually containing our world from work to entertainment everything is enclosed in them. Although people very distinctively separate their work folders from their entertainment ones there are few times when you want to watch a particular movie and if you are anything like me then you will never find the film you were looking for. Thus you must know about the best Movie Catalog Software of 2021.
So down here is list applications for Windows PC which will help you organize and categorize the collection of your movies for you. So go ahead create your movie database and sort it out.
See Also: 10 Rabb.it Alternatives to Use in 2020
Top 10 Movie Catalog Software
Refer our list for the top 10 software to sort your movies easily.
It is an easy to use free Movie Catalog Software which lets you create and maintain your movie database. It allows user import movies from various sources and also gives you manually add the film to your list. Also, another key feature is that this software can fetch information about the movie through IMDB by using scripts.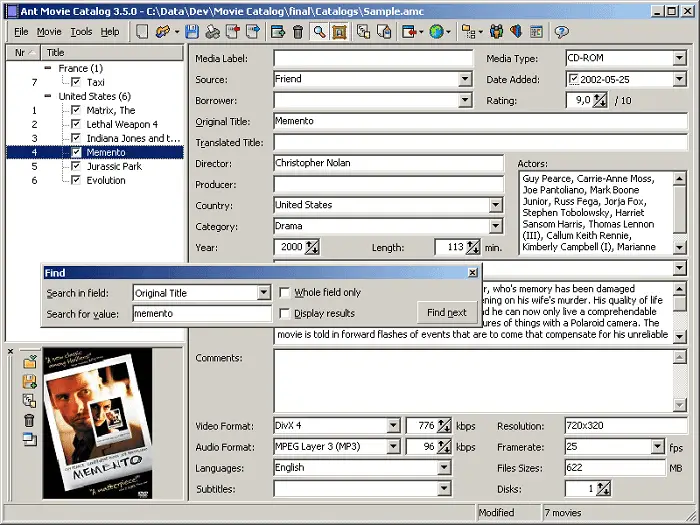 It can fetch any info about the film like Director, Languages, Category, Release year, duration, etc. Also, a printout can be taken off the list of films in the database and after finishing up the chores one can save the database in its native AMC or XML format.
It is designed to manage your collection of CDs, DVD, videos, etc. smoothly and efficiently. This Movie Catalog Software allows you to import and export your movies as well. The user can also fetch some knowledge about the movie like the director, producer, country, movie reviews, characters, protagonist, etc. the best part of this catalog is it supports multiple languages and also provides the script to the viewer.
The source code is open to modification by its users. You can list out the movie according to the genre, alphabetical or year wise, which makes the work immensely easier. Also, it can store the information in two formats either by binary or by XML. Moreover, it is easy to use, less complicated and more convenient to use and how can one say No to such a fantastic Movie Catalog Software.
See also: –  8 Best Free GIF Viewers for Windows – TechWhoop
EMDB
Eric's movie database is a quite simple to use and free best movie manager software which lets the user keep track of one's movie collection as well as our much-beloved Sitcom collection. This Movie Catalog Software automatically imports the information from IMDB page and syncs it with your collection.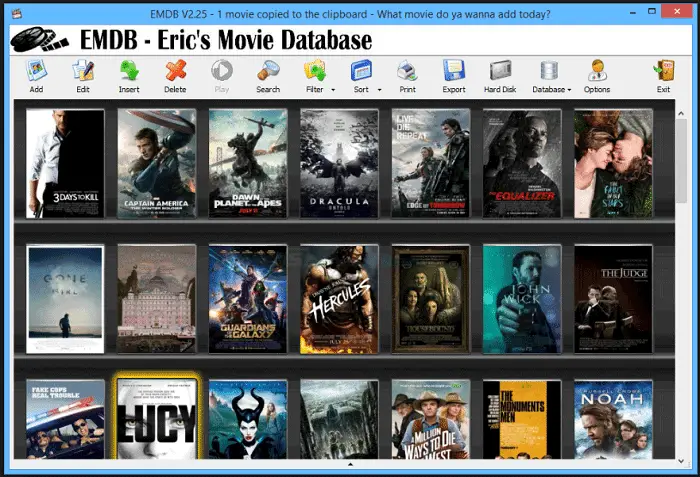 Also one can add movies manually to your database. It has a lot of features which gives it an edge over its counterparts and makes it entirely a user-friendly software.
If you want to keep track of your movies and TV series you have got EMBD. It provides its users to add new movies on their list manually. It automatically imports all related information about the movie from its website. The best feature is it supports both physical discs as well as media files also it supports advanced search tool in addition to that it supports multiple languages.
You can get this software in many languages like English, Dutch, Danish, German, Italian, Portuguese, Slovak, Spanish, Hungarian, Croatian, Swedish, Greek, Catalan, Czech, Norwegian, Japanese, French, Finnish, Polish, Russian, Turkish, Simplified Chinese, Serbian, Slovenian, Arabic, Portuguese (Brazil), Hebrew, Persian, Albanian,
Traditional Chinese, Romanian and Indonesian translations are included in the setup.
See also: – Top 14+1 Free Voice Changing Software For Skype
It's quite simple and easy to use Movie Catalog Software and the job completes correctly. This dvd organizer lets you add movie titles from IMDB and also add folders containing movies manually to it. After getting the movie name, you can add this info to the database.

An interesting thing to note is that this app shows the movie information in a tabular format some of the headers being: Name, Release Date, Year, Duration, Actors, and Genre, etc.
It is easy to use which makes managing movie and videos easy for you. Although it does not have various features, its simplicity can make your work done. A software which lets you add any movie manually and lets you add the movie information by typing.
It shows the information in tabular form, and hence, it makes the task you use less tedious. The best part is it lets you create the backup of your data so that you can quickly recover it. In a lump sum, it's attractive, streamlined, and not bogged down with clunky interfaces or useless features like so many other movie organizers.
It is a bit different movie cataloging software as it fetches the info about the movie from the internet and saves to your database but along with it you can specify the info and mention the target folder along with it.
Also, this movie organizer lets you have a database in various formats including txt, csv, HTML, HTML table, Simple page list, etc. it has both import and export features, so it lets you import movies from other databases but also lets you export and save the film in many different formats as mentioned above.
A Personal Video Database is quite different from other software. The user can catalog his or her movie easily and fast. It has immense tools to sort out and filter out your collection powerfully. The program is expandable in plugins that is, it gathers information from the internet and saves it in its database.
You can both import and export your movie collection. Another feature is it can also export the database through various formats like HTML, HTML TABLE, XLM, etc.
Again it is a free movie cataloging software where you can add movies from any database from any folder to its database for your reference. After adding the movie user can easily update information from the web too.
In case you have a hefty collection of movies and are looking to find a particular movie then it's inbuilt search algorithm lets you find that movie in no time at all. Also here you can mark the movie as seen or not seen and also lend a film to your friend by clicking on option "lend date" and "lend to." So these features make this application even more useful and exciting to use.
For all the movie lovers, this Movie Catalog Software can be eye-catching. If you have a vast movie list, then worry not this catalog provides its user to search the movie through its inbuilt search function. The exciting thing is you can also mark "seen" or "unseen" in the film, this will help the user to mark which movie to watch on this weekend.
Don't watch it alone you can also lend the movie to your friends or dear ones as well because this Movie Catalog Software has inbuilt "lend on" and "lend to" option. Even if you are confused about the movie, you can watch its trailer from "show trailer" option and decide your choice. You can also print the poster of the movie from the "print" option. It is not only free but also has various exciting features to keep your weekend pleasant.
A very user-friendly and free Movie Catalog Software on its main page it shows you latest "box office," "coming soon" and "trending" movie details from the web. It has a quite easy to understand database and also lets you keep track of your movie collection by providing the latest information about it from the web.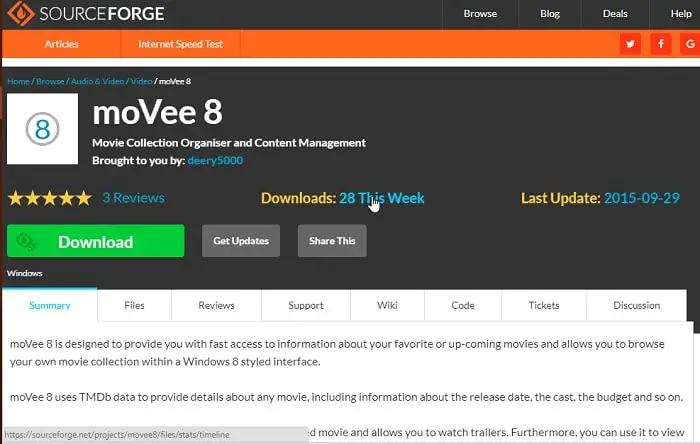 You just have to add movies from a folder by clicking "browse for folder" button on its main page. Like its other competitors, this also fetches the information about the movies from the web automatically so all in all it's an entirely useful Movie Catalog Software for cataloging your films.
Data Crow is a relatively advanced utility which lets the user make catalog and manage the database for various types of collectible items which can be books, contacts, containers, software, movie, album, etc.
When you initially run this app, it asks you to set the working directory for current user and lets you chose the program interface language. You can add items from various websites. Search items manually over it and also save all the information in the end. This is an excellent app for cataloging and resetting everything on your PC.
See also: – 10 Best Free Mouse Mover Software for Windows – TechWhoop
The best thing about this Movie Catalog Software is that it's quite portable. And you don't have on your PC like most of the other applications on this list. This is simple, lightweight, easy to use kind of Software which gets the desired job done.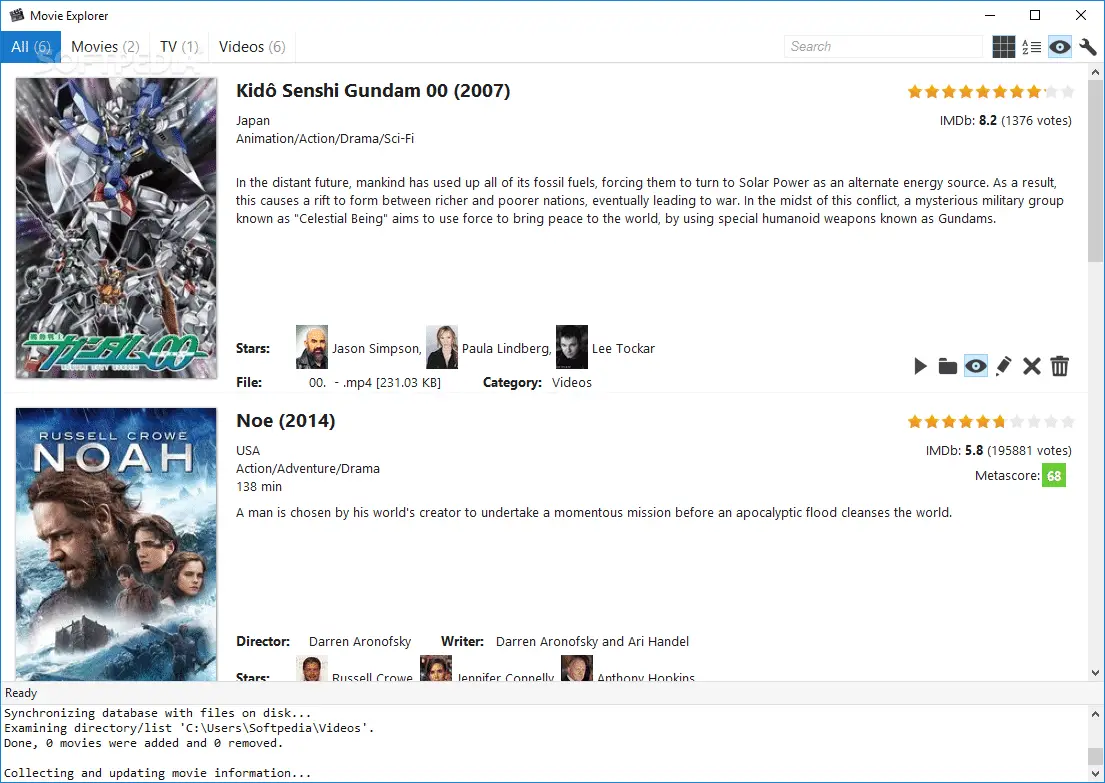 Just put your movies in the default folder, and this Movie Catalog Software will fetch the related information from the web itself. By just clicking the play button you can easily watch any movie. Play with the default video player you have on your PC or Laptop.
jMovieManager is a pretty useful movie collector software for cataloging personal items. It is a Java-based software, so it's quite portable and platform independent. A user just has to execute the JAR file, and you are ready to use this super cool movie manager.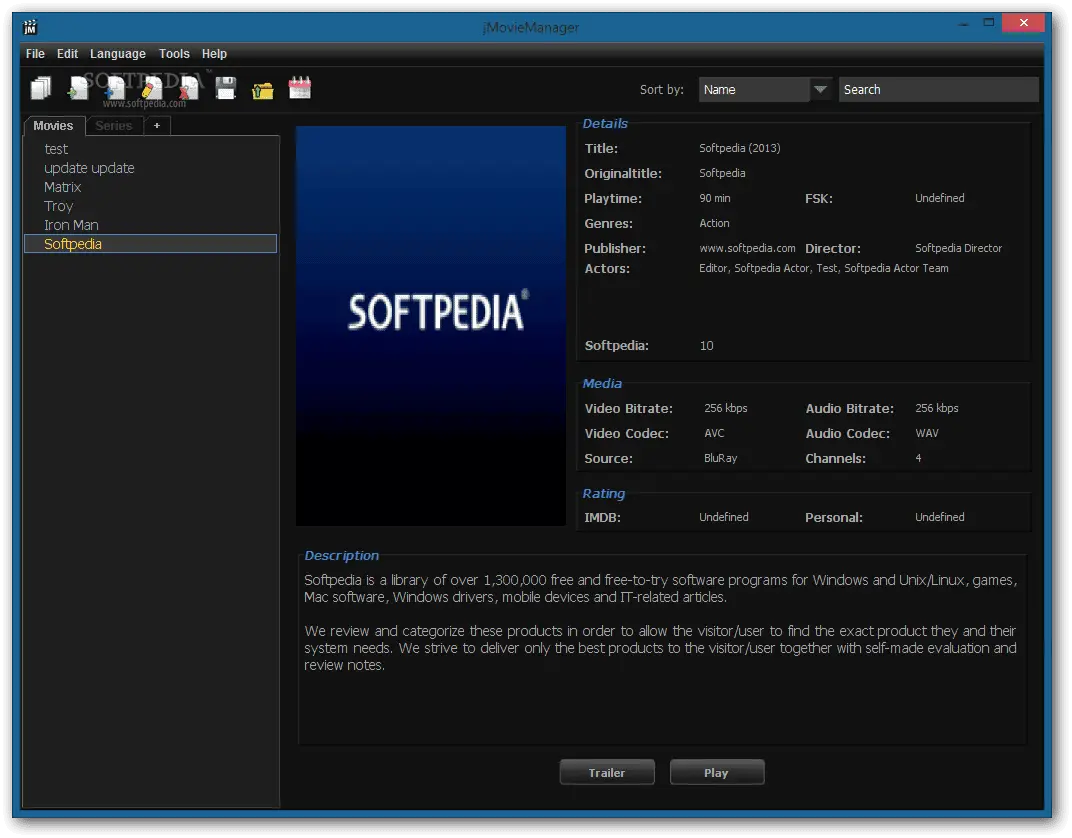 It has a calendar view. So that you can see the Upcoming movies, currently in Cinema and Top rated movies from the list.
See also: – 5 Best MOV to MP4 Converter Tools for Windows – TechWhoop
GrieeX
Again it's an entirely easy to use Movie Catalog Software where you can quickly add movies in the database. Using "add with file," "add to folder" or "add manual'. If you have a vast collection of movies, this is the ideal software for you.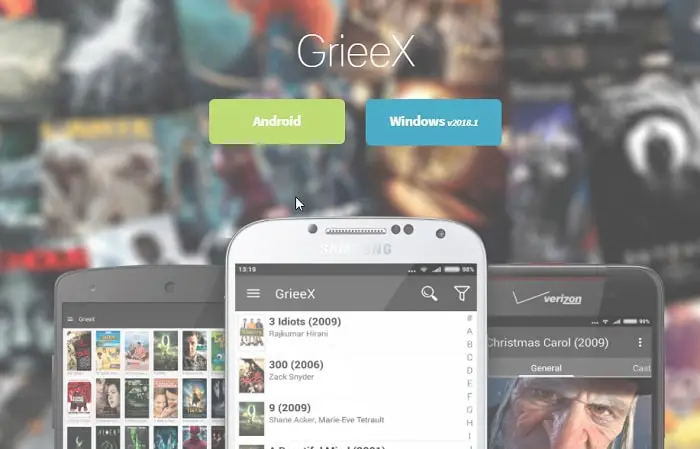 Conclusion
Hence, here are the ten best Movie Catalog Software to make your movie experience memorable and cheerful. What are you waiting for? Make your weekend plans and let the movie make you sit on the edge of you bed.
HAPPY MOVIE TIME!