isThere are not only players with the craze for cricket and football, but there is a huge fan following for Baseball as well. Here are the best Baseball Game Apps you must have if you are a baseball fan. It provides this complete indulgence and a feeling of competition too.
Some of the best baseball game apps for Android & iOS in 2023 are Flick Home Run! Baseball game, MLB Perfect Inning, MLB Fantasy Baseball, MLB Home Run Derby, RBI Baseball, MLB Superstars, and Baseball Kings.
Baseball is one of the most popular sports in the world; easy to learn, entertaining to watch, and reasonably priced. It is well-liked by both amateurs and professionals and is available on smartphones. The top baseball games for Android and iOS are listed here, along with their features.
Finest Baseball Game Apps of All Time
Here are the top Baseball game apps with an updated list of 2023.
Flick Home Run! Baseball game
Flick Home Run! Baseball game is one of the best baseball game Android 2023. This game is simple yet exciting, but you can only use flick to control the batting. This game has five game modes for your delight in which various kinds of throws are materialized into ''life-like'' feelings.
They are many different modes, including Minor & Major Modes, Multiplayer Mode, and also Moon-Star Mode. In the Minor & Major Mode, you get to hit as many home runs as you can. Whereas, in the Multiplayer Mode, you can compete with other players via Game Center. And in the Moon-Star Mode, you get to try for a record with the given balls.
Download – Flick Home Run! baseball game
MLB Perfect Inning 2022
MLB Perfect Inning 2022 offers you the most realistic baseball experience ever. You get a whole lot of new challenges with this season. Customize your own player. And you'll get to control every aspect of the game, from how you wish to hit the ball to choosing the pitches you wish to throw.
Moreover, with this app, you will experience playing baseball in 30 official ballparks and stadiums. That, too, is in realistic 3D graphics.
Download – MLB Perfect Inning 2022
Real Baseball 3D
It is another good application to have your games running. Real Baseball 3D is very simple to play, and you can tap and swing the bat and see your home runs fly out of the park. It is a fast-paced game, and you can enjoy a realistic experience with this 3D baseball sports game. It gets you to choose your own strategy and create your own unique dream team and put them to a real test. Your team can have over 700 players.
Easy one-touch controls and authentic 3D graphics make it worth playing. It has the feature of full team customization, which allows you to create your fantasy team. If you have enough time to play baseball games, this one is worth a try.
Download – Real Baseball 3D
Big Win Baseball
An incredible game for baseball lovers. It gives you exciting features more than any other game app. You get to make your own team and play against opponents from around the world. With Big Win Baseball, you can spectate your team battle and can also boost your player's pitching, hitting, fielding, etc. The game has a Full team and player customization that allows you to have your own team.
Its Bronze, Silver, and Gold card packs help you in finding new players to strengthen your team. You must collect other cards to be at the top. Also, you not just play hers but also earn coins and bucks. So play, level up, and win the Daily Pennant to open more card packs.
Download – Big Win Baseball
MLB 9 Innings 2022
The MLB 9 INNINGS 2017 app is a perfect option if you want a battle quick and also if you intend to invest ten hours playing the same. Not only famous but also one of the baseball apps highly downloaded for stores.
Some of its features includes watching a replay, listening to live commentary, etc. Hold the bat or aim to pitch; it's completely your choice. Overall an awesome experience to take, and totally an enthusiastic atmosphere was served.
Download – MLB 9 INNINGS
ESPN Fantasy Baseball
ESPN Fantasy Baseball Game App is designed to work with all kinds of sports. There are wide possibilities and chances to build your games, create your team, manage the player you want to play with, and even buy players by paying a small amount of money.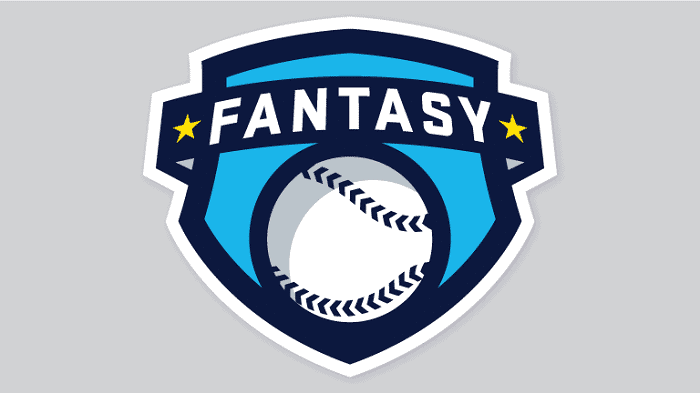 The perfect game to let you work with your strategies and maintain your score throughout. Worth a try.
Download – ESPN Fantasy Baseball
MLB.com Home Run Derby 2022
This is yet another masterpiece cooler designed with massive graphics. It allows participating in derbies which are available in the famous kinds of derby-themed parks.
The three major modes of the application include multiplayer battles where you can choose your opponents. The next one is arcade which you can opt to enhance your game skills and play on your own.
The third and the last one is to play against somebody and to get victorious. Download the game on your gadgets and have fun selecting the mode that suits you the best.
MLB.com at Bat
MLB is another popular one of the Baseball Game App of the MLB enterprises. The MLB games are a lot many and have been made efforts to design with a professional point of view.
The game has a pitch to pitch characteristics and a total of thirty ballparks to gauge your eyes and play. There is also easy access to watch baseball games instead of playing them.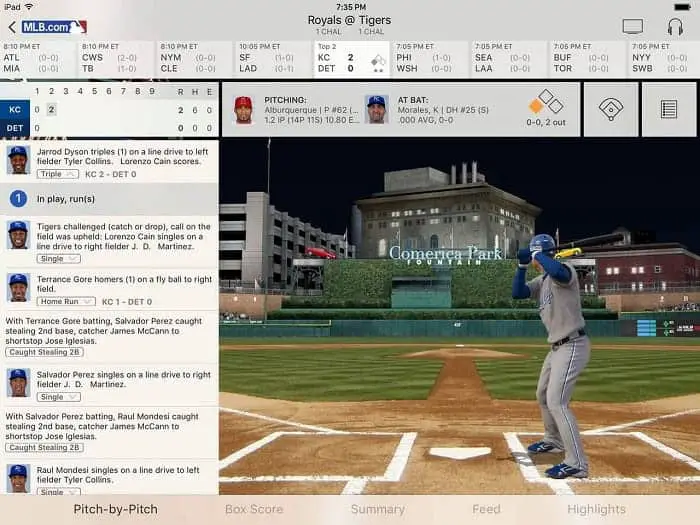 Watching always helps with learning new techniques. Choose your favorite team and have the freedom to keep track of their scores. So, instead of wasting your time, how about going to the app store and downloading the same to have this immense, beautiful atmosphere all along your side?
This application perfectly complements and personalize trip with features like digital ticketing functionality, mobile check-in, offers, rewards, and exclusive content.
This app can access and manage your tickets (MLB account required), team schedule, ticket information, and sales and promotion event listings. Interactive map with a directory of food, beverage, merchandise, and other amenities, check-in for offers and rewards, unlocked through wallet; it has more features like social media clubhouse, including social awards for select clubs.
Download – MLB 
RBI Baseball 16
It is another classic application to have your games running. All the opportunities that a game of baseball requires are enveloped in this game. Have your part of the fun by exploring the ballparks and winning each game with your mind. The previous versions of the same game were not as popular as this because not only the features are taken care of but also the game had an improvisation and a completely new modification.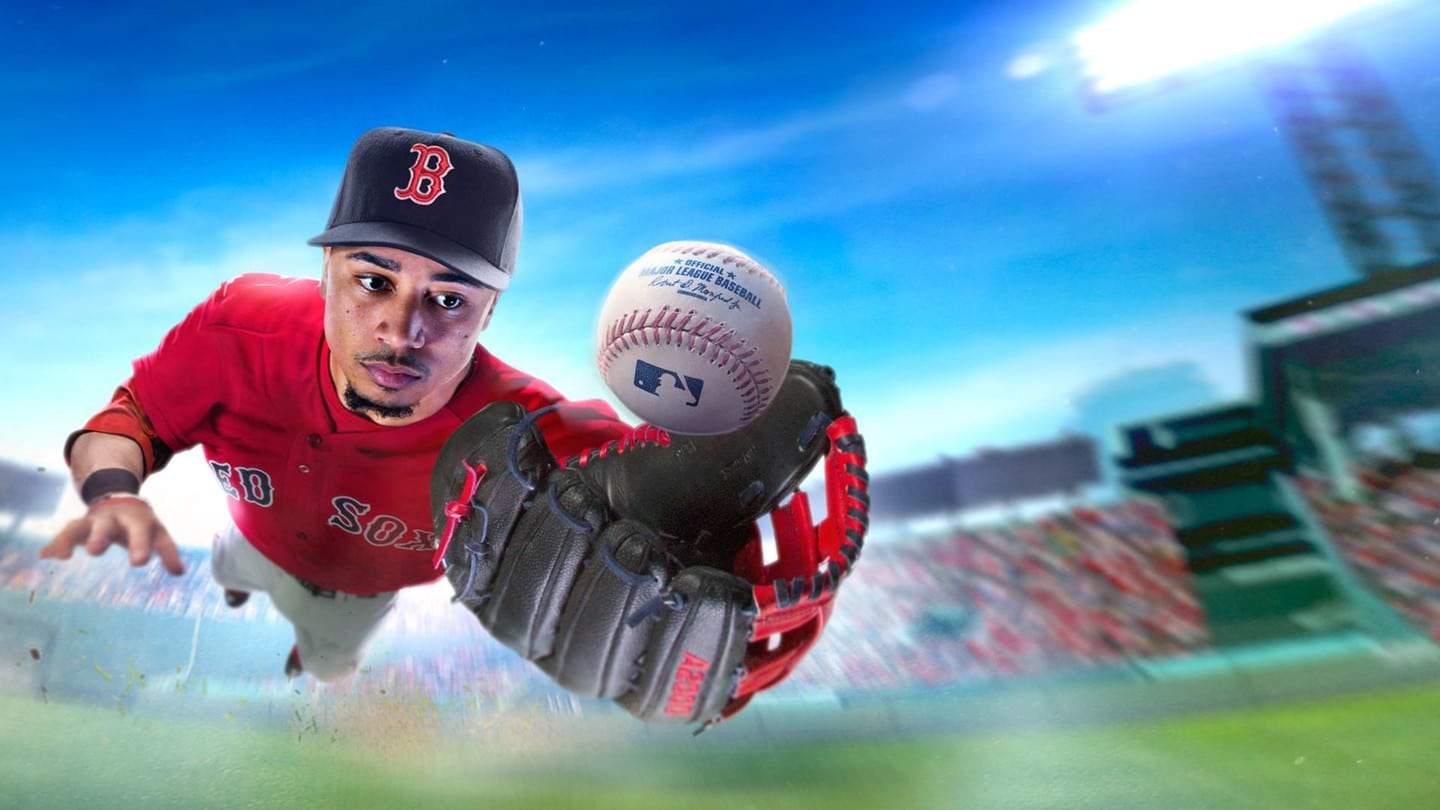 If you have enough time to play a full-fledged baseball game, this one is worth a shot. The new rules, the new graphics, and everything is definitely worth a try.
Download – RBI Baseball 16
Baseball Superstars 2022
This incredible all-new baseball game has a whole new graphics-enabled system. Baseball Superstars 2013 works in two modes; either you choose to be The Pitcher or The Batter. To work on either of the skill, make sure to use one too.
In no time, you are the next superstar of the baseball game. Baseball Superstars also have a daily bonus round to have a look from, like levels, few Player vs. Player modes which allows healthy competition between your friend and you. This game has everything you have been looking for. Download to know the same.
Download – Baseball Superstars 2022
Homerun Battle 2
Homerun Battle 2 is a packed action game and also very addictive. It is one of the best options for the like-minded people to try their chances. The different mode of the game consists of – playing with a random player, where you have full authority over your makeover.
There is also an amazing option to choose from the plenty of available stadiums. Make fine use of your hands to have the best real-time batting experience throughout your lovely play.
Home Run Battle application has features like custom characters, choose stadium. It has six different modes :
Duel: Where one on one match-up battle is held.
Survival: Survival match-up item battle will be held.
Mission: Match-up with a maximum of 4 players to clear missions.
Burning: Never-ending throws burn through the wind and swing blast high
Arcade: Challenge on Achievements and new records.
Training: Practice and train to be the all-time slugger.
If you are out for a search where interaction is a factor, choosing Battles, including Homerun, helps.
Download – Homerun Battle 2
Baseball Kings 2015
Baseball Kings is fun-loving and easy to go around with a kind of Baseball Game App. The 3D side of the game makes it even more interesting and provides a real-time experience. The simple controls of the game help in providing an even better experience.
It also has a good bunch of baseball facilities, and these make the game more of an adventure. There are plenty of levels to play from. The final and foremost goal is to always be the champion and come out as a leader. Enjoy playing in the World Series with your fantastic handful of players and make the best of it.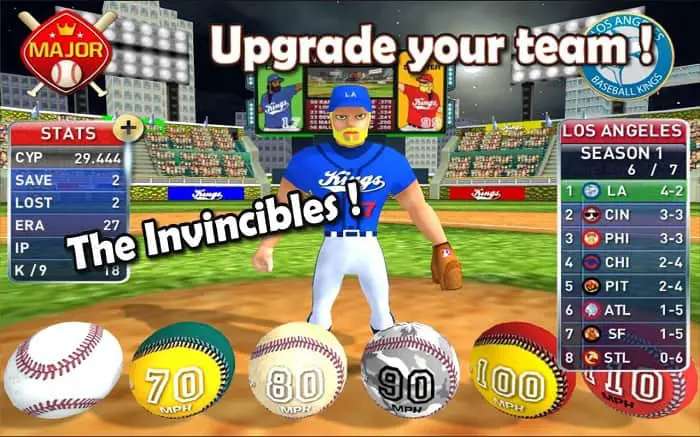 Finally, after a glimpse made on this famous app that can help you to become a baseball star, make sure to use them and play all along to be a winner.
Share them with your friends and choose modes like multi-players for a friendly battle with your friends and folk. Download them on your Android and iOS and have the best time of your life playing baseball.
Download – Baseball Kings
See Also:
FAQs
Is the MLB app free?
MLB is one of the free apps available on the internet today.
What app has baseball games?
Many apps have baseball games. According to the internet, MLB is the most famous of them all. You can also download live videos and audio as well, for free from the App.
What devices support the MLB app?
Almost all the devices support the MLB App. These include Android as well as iOS, along with tablets, iPads, etc.
How many games are played in baseball?
Generally, 162 games are played in baseball. Even then, the number can change.
Conclusion
These are some top-rated baseball game apps that will make you feel like a next-level baseball gaming experience. In case you know other such apps, let us know below in the comments.