Games have become excellent entertainment for many mobile users in this technological era. Such a game world is not only for kids; mobile games also became more popular among all age groups. One such popular game is farming, which is done in rural areas. Thus, you must know about the finest farm game apps for Android and iOS devices.
Urban people do not have enough space or time to farm around their homes, but they can fulfill their desire to cultivate through such hilarious and enthusiastic games. The farming game has grown trendier, and one cannot resist them while using them.
Best Farm Game Apps for iOS and Android:
Hay Day
Top Farm
Farm Ville 2: Country Escape
Farm Frenzy Inc
Township
Zombie Farm 2
Farm Story
Family Farm Seaside
Play charming farming games online without leaving the comfort of your bed. Some may wonder what is in such free farm games, but the players may say it is one of the most fantastic games. Let's explore all of them!
See Also: Solitaire Apps For Android | List Of Top 8 Apps in 2023
Best Farm Game Apps for iOS and Android
Here I have presented you with the most popular and top farm games many players love using Android and iOS. Scan the list, opt for the best that suits you, and dig up the pleasure during your spare time.
Hay Day
Hay Day takes up the first position among several Farm Game Apps genres. Here you can actively grow plants, plant trees, care for animals, grow fish, and extract minerals from mines. Providing all sorts of entertaining work on one platform. While getting to the innovative level, the game introduces new plant and animal species.

You can produce fascinating products and decorate your Farm by purchasing things from the internal store. For every holiday, the game will be updated with diamonds and new decorations material to augment the interest among players.
Top Farm
Download Top Farm in Google Play Store and Apple Store to build the land as you wish. It's a classic farm game. Make your Farm and get help by inviting your friends to grow plants. It is a place where you will be far away from the noise and stress of modern life. The top Farm offers you surprise, adventure, and satisfaction.
In this one of the Farm Game Apps, you can complete your tasks using plans, automobiles, and trains. Meet lovely characters every day. Sports are getting involved in the Farm to make you more energetic while you are on the Farm.
Download: Android | iOS 
Farm Ville 2: Country Escape
Farm Ville 2 is a mixture of farming and puzzles to entertain you. The significant advantage of this farm game is its pleasant visual design which gives you a positive and relaxed feeling. Each level has a unique theme and guides you through the storyline.
Here the hero can spend holidays building the new Farm with other heroes. The game differs from the classical farm game, and one cannot escape it.
Farm Frenzy Inc
Farm Frenzy is the exclusive Farm Game App for Android, which tests your time management and skills. The game provides various exciting features and animals that perform different amusing works. And the farm game carries a lot of mini-games and collections.
The struggle between natural farming and chemical corporations enhances users' interest in this app. The farm game runs with great music and exciting tasks.
Township
This farm game designer has developed it so that the graphics will impress every user. The township is filled with funny, positive characters who will make you enthusiastic while in the game. Create your city in your way.
Zombie Farm 2
The Zombie Farm 2 doesn't look crazy. It is one of the craziest farm games you can download on your iPhone. You grow zombies here to invade other farms and cities if you don't want to grow farms anymore.
Or else you can decorate your Farm with panic gravestones and mausoleums. And the game is full of twists and turns, and the features are regularly updated, which will not let your interest go down.
See Also: Top 19 Word Game Apps for Android and iOS
Farm Story
I want to introduce you to Farm Story, where you can create paradise in your land. Join your charming friends and grow the plants and animals as you wish. The new versions have been released, which escort you to the incredible 3D World. Just explore the game, find the surprises, and win the title of a legend farm.
Grow and harvest plants, breed funny animals, and salt away the memories you like to glimpse in the future. Trade your vegetables and fruits grown exclusively in your garden with your friends.
Family Farm Seaside
Family Farm Seaside is the best Farm Game App, with nearly 50 million players. The platform allows you to interact with other players and get additional points if you add many friends.
The farm game features startling graphics where you can harvest different species of plants and can sell them to your neighbors. Get bonus points by competing with other players.
See Also: Top 6 Best Action Games for Android
Fairy Farm
Girls prefer this game, where you can feel the World of fantasy. Here you can grow mystical plants, unicorns, and taming dragons instead of ordinary animals. Fairy Farm provides you with perfect graphics, i.e., attention-grabbing features.
Idle Farming Empire
Idle Farming Empire is a classic farm game more prevalent among farming fans. You can harvest plants, weeds, fertilize, etc.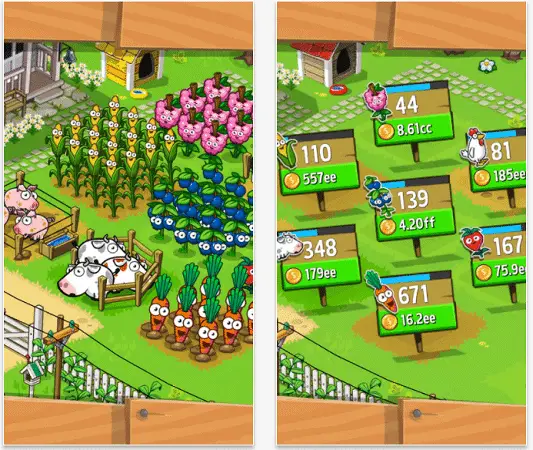 Farmville: Harvest Swap
Farmville: Harvest Swap is a distinctive game that combines "three in a row" and "farm" that keeps every player hooked on to the game. With great graphics and the vividness of the game, it sure gives off a very jolly and happy vibe to its players. The animation of this game is as smooth as butter, so the players stick around with this farm game.
With 800+ levels and a unique storyline behind each scenario, it's sure to bring some positivity to the players. Moreover, it's a multiplayer game, which means that gamers have to interact with other players and cultivate a farm going on with them.
See Also: Top 7 Free Bowling Games for Android and iOS
Big Little Farmer Offline Farm
Big Little Farmer Offline Farm is a farming game that can be played offline. It's a game where you must dig up land, plant, get animals, harvest crops, sell animals' milk, and more. With various options for customization, you can make this Farm look like your dream farm.
You can sell your harvests for a profit, and the smooth graphics of this game is one that the players would like. This farming simulator is one for people who want virtually excellent farming experience.
Blocky Farm
Blocky Farm has pixelated graphics, so Minecraft players will surely like it. This farm game feels like an arcade-style game with many fresh elements. With options like fishing, pets, a weather-changing system, the classical mechanics of farming, harvesting, and opportunities to customize your Farm, this farm game will undoubtedly get your adrenaline high.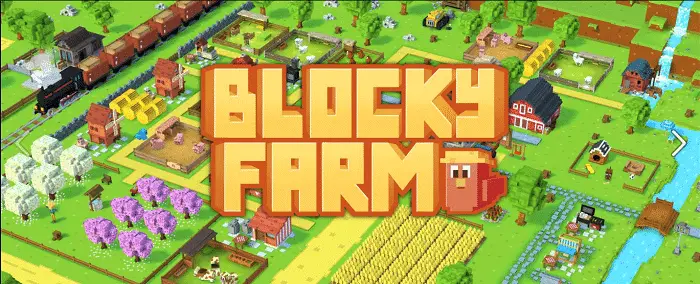 This game also allows you to drive your vehicle to deliver the crops. Its Minecraft-style graphics are sure to win some hearts out there.
See Also: Top 8 Baseball Games for Android and iOS
Let's Farm
Let's Farm is a simple farming game where you can enjoy the farming experience that the game has to offer. With over 10 million players, you can expect this game to be your go-to.
In this game, you can cook food, have pets, visit your neighbors, and even trade your supplies for profit. There are many challenging missions in this game, which gives great rewards. If a 100% farming experience is what you want, this must be your go-to game.
See also: The 10 Best Story Games for Android to Install in 2023
FAQs
Which is the best farm game app on Android and iOS?
The most well-known farm game app available for both iOS and Android is called Farm Ville. Hay Day, Farm Frenzy, and Top Farm. These are all games that you can give a try if you are interested in farm games.
Why should you play farm games?
Farm games are simple games In which the players make a farm. It is beneficial to people who do not have direct access to farming, and this game gives satisfaction.
Are farm game apps free?
There are many Fam game Apps that you can download for free from the play store and App Store. Farm Ville, top Farm are all apps that can be downloaded for free.
Can Farm Games be played Offline?
You can play many Small scale Farm games offline as well. Big Farmer Town and Farm Day Farming are all available offline games.
Conclusion
You can find plenty of the best farming games on the internet, and sometimes you may even confuse yourself with what to choose. Moreover, most of these free farming games are available for Android and iOS.
From the list, pick up one and enjoy playing farming games and spend your spare time with a lot of fun.
See Also: Top 8 Most Addicting Android Games To Play This Winter