Are you a puzzle solver? Do you solve the crossword puzzles in the newspapers and wait for the answers till the next day? Isn't that tiring? Now wave a goodbye to those newspaper puzzles and follow us on this modern-day crossword puzzle solving games. Bring yourself a cup of coffee and go through these fantastic Crossword Apps that help you kill your time and boredom.
Crosswords are one of the most interactive and best games, which in my opinion is the game with no age limit. Like most children, my grandparents, who used to wait every day for the newspaper to solve the crosswords puzzle on the last page, introduced crosswords to me. However, with the grace of technological advancements, papers are long gone! Now, we have endless games in the palm of our hands, and we can play it for as long as we want and with whoever we want.
13 Best Crossword Apps To Play Now!
These are the 13 best crossword apps which you are going to like for sure.
Crossword Puzzle Free
Crossword Puzzle is a simple and addictive game that enables you to kill your boredom. Six new puzzles are added daily which enhance your interest and lessens the routine mood in this one of the Crossword Apps. 400 free crosswords in English, 100 in Spanish and 40 in Portuguese. This game is the best when you are trying to learn a new language.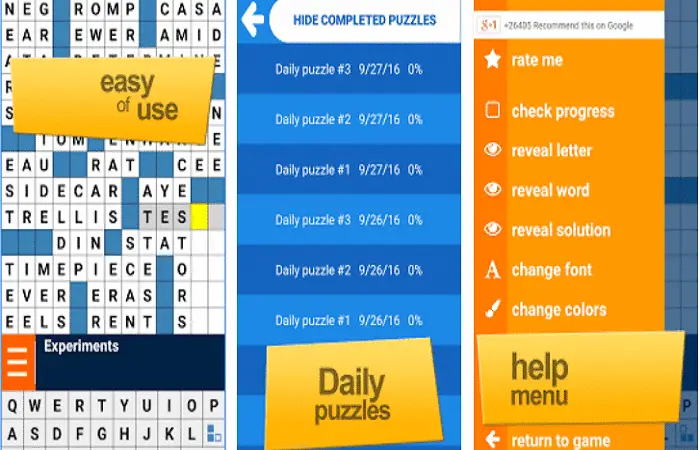 You can unveil letters when you are stuck. It has five different fonts with 4 different themes that increase your in-app experience. Try the app with benefits of expanding your vocabulary knowledge and smartness.
Crosswords with Friends
Playing with friends is always fun and entertaining. They turn even the dumbest games into fun. Then how about the best games? Crosswords with Friends is one of the best Crossword Apps to play with friends.
Invite your friends and challenge them to solve puzzles. You can check the leader board to know who is topping in this one of the Crossword Apps. A new puzzle is added every day to give you, even more, fun in playing a new crossword every day. You can use the hint feature to get help in solving puzzles.
See Also: – Top 7 Apps to Sell Stuff on Android and iOS – TechWhoop
World's Biggest Crossword
World's Biggest Crossword Puzzle as the name indicates is the biggest and tallest crossword with thousands of clues in three different modes – world's biggest, tallest and diamond puzzle mode.
You have 450+ crosswords to solve, 45 trophies to collect and 10 achievements to unlock. Enjoy the unending crossword puzzle levels with a new puzzle daily. Play smart and stay smart.
Crossword Puzzle Free by Redstone
Crossword Puzzle by Redstone is one of those Crossword Apps that keeps you occupied in your free time. New packs are added every month to give you an unlimited package of crosswords in your journey with the game.
Do you want to enhance your vocabulary? I bet this is the best game to do that. The game tests your vocabulary to the extent to win. This game runs on the latest version of Google Play, after that it is the game for you.
It also consists of three levels: Daily Puzzles, Standard Puzzles, and Bonus Puzzles. While playing the game, you can reveal a word or a letter or skip the whole word according to your vocab. And claim the coins thereof.
The layout of the game is straightforward, which makes it easier to play. This game enhances your vocabulary and is a great way to learn from the ages of six and beyond. The word guessing of this game ranges from easy, medium, and sturdy.
You can reveal letters, words or entire puzzle using the hint feature. The wrong letter is highlighted to give you an idea of your predicted word. You can access the puzzles even in the offline mode.
See Also: – Top 8 Best Emoji Apps for Android You Can Download – TechWhoop
Crossword Quiz
Crossword quiz is a challenging game with three exciting hint options. When you are stuck, you can either reveal a letter or remove letters or get the entire solution.
It has word descriptions, emoji combinations, and photos. Get yourself some time and try this app and make your time worth playing.
Crossword Unlimited by Havos
Crossword Unlimited as the name suggests has unlimited crosswords with customizable grid size. Grid size can vary from 3 to 20 in m x n order. You can specify the language style whether US English or UK English as per your preference.
Crossword Unlimited
You can choose from the three modes of difficulty. It generates the crosswords based on your interests and ability to solve. These are auto-generated and have infinite game levels.
Word Search
Word Search is one of the Crossword Apps where letters are randomly arranged in the grid, and meaningful words are to be found. You can horizontally, vertically or even diagonally to make a word.
It has various categories of words like animals, countries, sports, etc. You can play the game in any of easy, medium or difficult modes. This game has a multilingual feature where you can choose your language and play accordingly.
Crossword by Word Find
Crossword by Word Find belongs from exciting and addictive Crossword Apps. Here, you can play with letters, use your brain, search for words and test your smartness. Complete the blanks with the dedicated words by filling in the right letters.
There are numerous levels to solve and use your time productively. This improves your spellings, smartness and thinking strategies. You can invite and play with your friends as well. You can even earn coins at each level and later use these coins to unveil the hints for words you cannot solve.
See Also: – Best Video Grabber Tools to Download Online Videos – TechWhoop
Fill in Crosswords
Fill in Crosswords is similar to a crossword game. Instead of clues, words are given which are to be arranged in their respective places. There is a mix of grid styles like American, Italian, French, etc.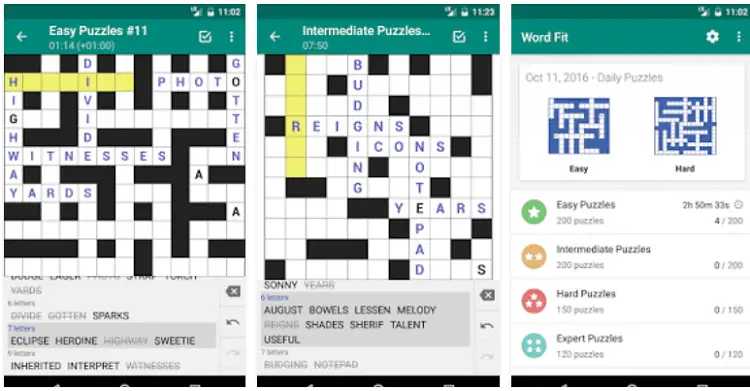 Fill-In Crosswords
Two new puzzles every day. You can customize the features and look and feel of the app in the settings. Choose from 3 different modes of difficulty and play which suits you the best.
This game application is available on Android and IOS app stores. This game is comparatively more comfortable than the conventional crossword puzzle because of the reason that we are provided with a list of words to choose from and fill the missing blank. Unlike, the traditional game, we are not provided with a clue but the word itself to choose from.
The game is categorized under 'Easy, Medium and Difficult' levels, which contains 200 puzzles in each category, giving the players a good time for the wordplay. Not only this, the game is available in more than one language, namely Italian, French, German and English.
One-Clue Crossword
This is also a very intriguing and engaging game, which will keep you glued to your device 24*7. The specialty of this game is that it is also not the popular crossword puzzle; it provides a picture, which will be related to the words used in the puzzle. Instead of the boring clues, you will see a picture that will directly or indirectly connect to the missing word.
For Example, if you are given a picture of a sunset, your word options can be blue, white, Sun, Beauty, Clouds, etc. This way, the game forces you to think multi-dimensionally and opens up various options to choose from, unlike the usual straightforward thinking. Thinking 'out of the box' will make you win.
Cody Cross
This app is a themed game, which provides a very informative tutorial when you run the program for the first time. The game needs an internet connection to run and is built on an intelligent base. The visuals of this game are exciting and keep you interested in the game throughout the game.
This game is based categorically on different topics like Fashion, Food, Ancient Greece, Literature, Inventions, etc. The game contains a sky full of information.
There are many different puzzles for each category of the game, and you can subscribe for special packs for a minimum amount of money. One can save the progress through the cloud and synced on all of your devices. This feature is quite handy.
Daily Celebrity Crossword
This crossword game intrigues its user as it is nowhere in connection to any celebrities of the world. The layout and design of the game are very minimalistic which in my opinion the reason for its fame is.
The theme of the game changes on every occasion like on Valentine's Day, Father's day, mother's day, etc. The makers of the app are some of the world's most accomplished writers, have published their literature work, and puzzle games on top magazines and newspapers.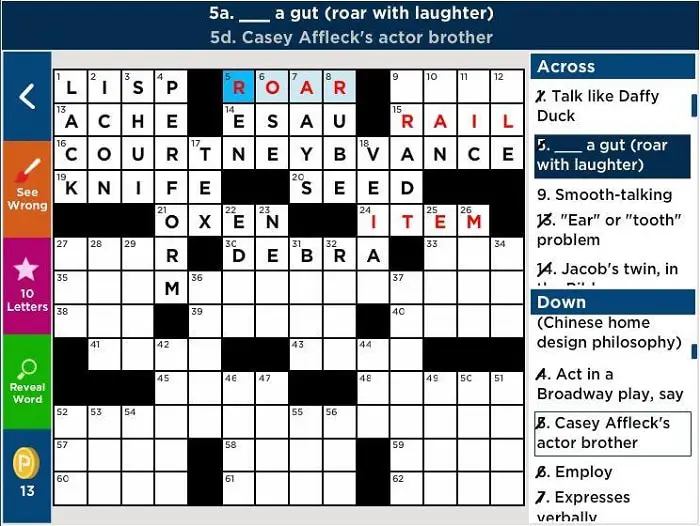 The game challenges its users to expand their vision and thought to win the game with top points. Every win in the game will claim you rewards in the form of coins, which can be redeemed as per your wish to get hints and skip the words when the game gets tough for the user.
This is a handy feature of this game, which makes it involving in the game without boring.
Astraware Crosswords
Astraware Crosswords are perfect time killers. You have three difficulty modes where you can choose the best mode that suits you. Play on hard mode if you want it to be more challenging. Weekend puzzlers will keep you occupied in your holiday times.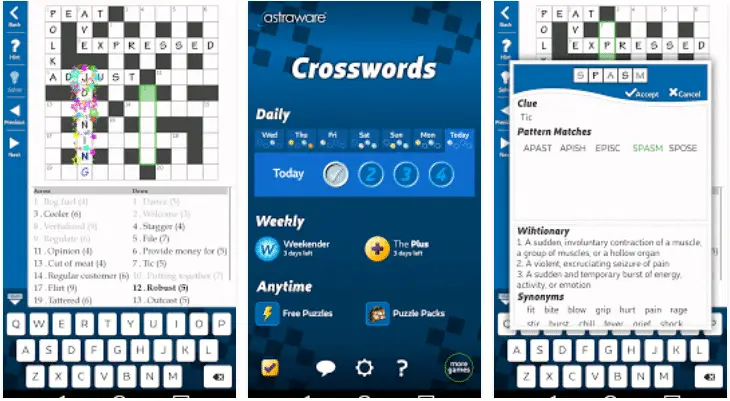 Astraware Crosswords
Play offline with unlimited hints in this one of the Crossword Apps. 60+ puzzles with 4 grid sizes will addict you to this game. A new daily challenge every day is worth enjoying with these Crossword Apps.
See Also: – How to Download Facebook Live Videos (Best Methods) – TechWhoop
Conclusion
If you are a crossword freak and are excited to solve puzzles for fun and haven't yet made to the digital platform, consider the best crossword puzzle games available on the Google Play Store and Apple App Store for IOS versions.
The list mentioned above of crosswords are the best crossword games available on the digital platform. Now, go and play with your loved ones and spread the word!
This is our compiled list of best Crossword Apps. Let us know in the comments which Crossword Apps you like most and also don't forget to share your experience with these Crossword Apps to help us improve our feed.