Are you a puzzle solver? Do you solve the crossword puzzles in the newspapers and wait for the answers till the next day? Isn't that tiring? Now wave goodbye to those newspaper puzzles. And follow us on these modern-day crossword puzzle-solving games. Bring yourself a coffee and go through these fantastic Crossword Apps that help you kill your time and boredom.
Crosswords are one of the most interactive and best games. Which, in my opinion, is a game with no age limit. Like most children, my grandparents used to wait every day for the newspaper.
To solve the crosswords puzzle on the last page introduced crosswords to myself. However, with the grace of technological advancements, that is not how things work anymore! Now, we have endless games in the palm of our hands. And we can play it for as long as we want and with whoever we want.
See more: Vocabulary Apps to Aid Your Vocabulary.
17 Best Crossword Apps To Play Now!
These are the 13 best crossword apps that you are going to like for sure.
Wordalot- Picture Crossword
We must have encountered many crosswords, but Wordalot is something out of the ordinary. We include it in our list of Crossword apps, as it presents the problem in pictures. Which is not something you see every day.
The app provides you with a picture. The picture is the clue you'll use to solve the crossword. As exciting as it makes everything, it does add a certain degree of complexity to the whole thing.
I say that because you don't know what the clue could be. So you have to take into consideration the entire scene. And every element along with that.
Visit: Wordalot
See Also: How To Practice Mahjong By Yourself [Complete Guide]
Shortyz Crosswords
A very apt name for an equally good game. Shortyz makes it to our next spot in counting the crossword apps. It is just your regular cross-puzzle game with standard rules and aesthetics on your phone.
The makers of the game have kept everything pleasingly raw. Also, the game gets its dose of cross-puzzles from several different sources. The sources include newspapers' daily editions. Thus it digitalizes the old age where everyone would solve crosswords on paper.
Visit: Shortyz Crossword
5- Minutes Crossword Puzzle
Do the Crosswords that take forever to solve bore you? Or need a partner for your bus ride to the daily needs store? Or maybe just a little something to refresh your mind or gather your thoughts?
Well then, the 5-minute Crossword Puzzle can be your perfect partner. It has a collection of such crosswords that take only a short time to solve. Hence, the name. The words or clues are usual. They belong to stories, movies, songs, or anything general. 
Anything that you can solve quickly. And if you can't solve something, you may pass it and check on it later. Convenient? Very. You see These reasons in our list of crossword apps for Android and IOS.
Visit: 5-minutes Crossword
Wordscapes
Wordscapes is the one that is sure to call out the geek in you. It is not your conventional puzzle with just crosswords to entertain you; it is much more than that. For the folks who love to play around with words, tread along with anagrams, or swirl with the riddles as they do.
Then the Wordscapes can be your best bud, as it caters to everything you enjoy. Talking about words, there are some word apps that you'd like.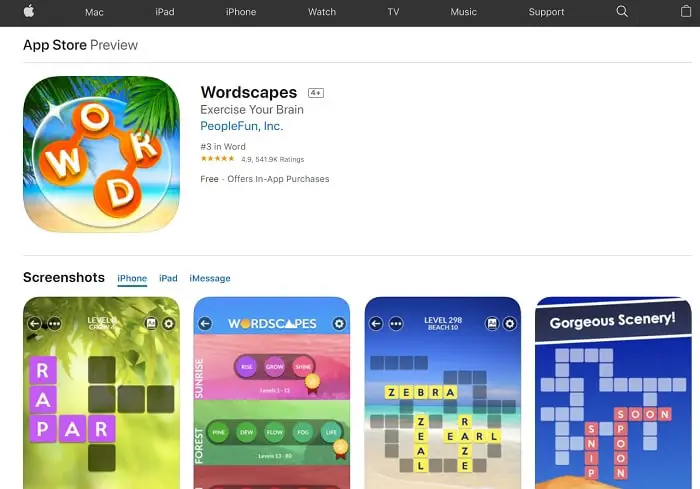 You'll have to scout the insides of your brain to solve everything it gives you. Yes, it'll begin with something simple, but only to warm you up for the harder ones. Not all the 6000+ crosswords that it has can't be easy-peasy, right?
All that and the images' stunning backdrop make everything almost perfect. Thus, they make it one of the best Crossword apps for Android and IOS.
Visit: Wordscapes Crossword
Crossword Puzzle Free
Crossword Puzzle is a simple and addictive game that enables you to kill your boredom. It adds six new puzzles daily, which enhances your interest and lessens the routine mood in this one of the Crossword Apps.
Four hundred free crosswords in English, 100 in Spanish, and 40 in Portuguese. This game is the best when trying to learn a new language.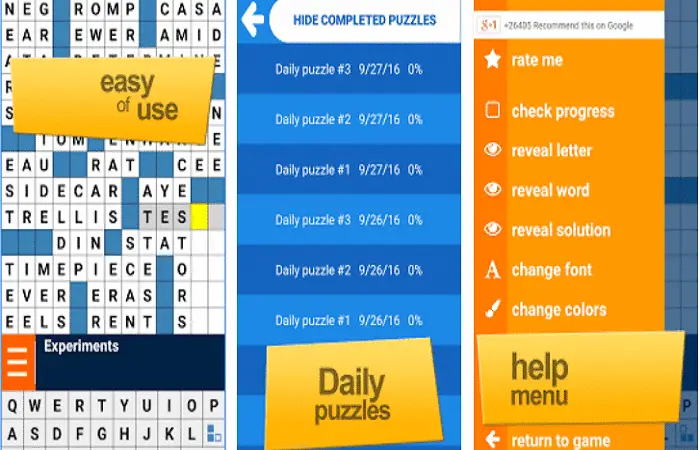 You can unveil letters when you can't think of anything. It has five different fonts with four themes that increase your in-app experience. Try the app with the benefits of expanding your vocabulary knowledge and smartness.
Crosswords with Friends
Playing with friends is always entertaining. They turn even the dumbest games into fun. Then how about the best games? Crosswords with Friends is one of the best Crossword Apps to play with friends.
Invite your friends and challenge them to solve puzzles. You can check the leaderboard to know who is topping this one of the Crossword Apps.
The game adds a new puzzle every day. To give you even more fun in playing a new crossword every day. You can use the hint feature to get help in solving puzzles.
See Also: – Top 7 Apps to Sell Stuff on Android and iOS – TechWhoop
World's Biggest Crossword
World's Biggest Crossword Puzzle, as the name indicates. It is the most significant and tallest crossword with thousands of clues. It comes in three modes: the world's most influential, tallest, and diamond puzzle modes.
You have 450+ crosswords to solve, 45 trophies to collect, and ten achievements to unlock. Enjoy the unending crossword puzzle levels with a new puzzle daily. Play smart and stay smart.
Crossword Puzzle Free by Redstone
Crossword Puzzle by Redstone is one of those Crossword Apps that keep you occupied in your free time. It adds new packs every month. To give you an unlimited package of crosswords in your journey with the game.
Do you want to enhance your vocabulary? I bet this is the best game to do that. The game tests your language to the extent of winning. This game runs on the latest version of Google Play.
It also has three levels: Daily Puzzles, Standard Puzzles, and Bonus Puzzles. While playing the game, you can reveal a word or a letter. Or you can skip the whole talk according to your vocab. And claim the coins thereof.
The game's layout is straightforward, making it easier to play. This game enhances your vocabulary. And is a great way to learn from the ages of six and beyond. The word guessing of this game ranges from accessible medium, and sturdy.
Also, you can reveal letters, words, or entire puzzles using the hint feature. You have to highlight the wrong letter to give you an idea of your predicted word. It is possible to access the puzzles even in offline mode.
See Also: – Top 8 Best Emoji Apps for Android You Can Download – TechWhoop
Crossword Quiz
Crossword quiz is a challenging game with three exciting hint options. When the game sticks you up, you can either reveal a letter. Or remove letters or get the entire solution.
It has word descriptions, emoji combinations, and photos. Get yourself some time and try this app and make your time worth playing.
Crossword Unlimited By Havos
As the name suggests, Crossword Unlimited has unlimited crosswords with customizable grid sizes. Grid size can vary from 3 to 20 in m x n order. You can specify the language style, US English or UK English, per your preference.
You can choose from the three modes of difficulty. It generates the crosswords according to your interests and ability to solve. The game generates them automatically. And have infinite game levels.
Word Search
Word Search is one of the Crossword Apps where the game randomly arranges the letters in the grid. And you have to find meaningful words. You can make a word horizontally, vertically, or even diagonally.
It has various categories of words like animals, countries, sports, etc. You can play the game in any easy, medium, or difficult modes. This game has a multilingual feature where you can choose your language and play accordingly.
Crossword by Word Find
Crossword by Word Find belongs to exciting and addictive Crossword Apps. Here, you can play with letters and use your brain. And search for words and test your smartness. Complete the blanks with the dedicated words by filling in the correct notes.
There are numerous levels to solve and use your time productively. This improves your spelling, smartness, and thinking strategies. You can invite and play with your friends as well. You can even earn coins at each level. And later, use these coins to unveil the hints for words you cannot solve.
See Also: – Best Video Grabber Tools to Download Online Videos – TechWhoop
Fill in Crosswords
Fill in Crosswords is similar to a crossword game. Instead of clues, it gives words you must arrange in their respective places. There is a mix of grid styles like American, Italian, French, etc.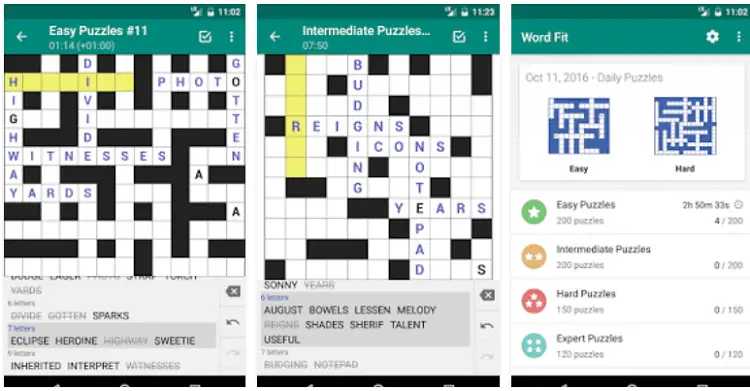 Two new puzzles every day. You can customize the app's features and look and feel in the settings. Choose from 3 different difficulty modes and play which suits you the best.
This game application is available on Android and IOS app stores. This game is comparatively more comfortable than the conventional crossword puzzle.
The reason is that it provides a list of words to choose from and fills the missing blank. Unlike the traditional game, we don't get a clue but the word itself to choose from.
The makers categorize the game under 'Easy, Medium, and Difficult' levels, which contain 200 puzzles in each category. Thus, giving the players a good time for the wordplay.
Also, the game is available in multiple languages, namely Italian, French, German, and English.
One-Clue Crossword
This is also a very intriguing and engaging game, which will keep you glued to your device 24*7. The specialty of this game is that it is also not a famous crossword puzzle.
It provides a picture that will relate to the words used in the puzzle. Instead of boring clues, you will see a picture. That will directly or indirectly connect to the missing word.
For Example, if it gives a sunset picture, your word options can be blue. Or it could be white, Sun, Beauty, Clouds, etc.
This way, the game forces you to think multi-dimensionally. And opens up various options, unlike the usual straightforward thinking. Thinking "out of the box" will make you win.
Cody Cross
This app is a game that works around themes and provides a very informative tutorial when you run the program for the first time.
The game needs an internet connection to run. And they have built it on an intelligent base. The visuals of this game are exciting and keep you interested throughout the game.
This game covers different topics like Fashion, Food, Ancient Greece, Literature, Inventions, etc. The game contains a sky full of information.
There are many different puzzles for each category of the game. And you can subscribe for special packs for a minimum amount of money. One can save the progress through the cloud and sync it on all your devices. This feature is quite handy.
Daily Celebrity Crossword
This crossword game intrigues its user as it is nowhere connected to celebrities worldwide. The layout and design of the game are very minimalistic, which is why it is famous.
The game's theme changes every occasion, like Valentine's Day, Father's Day, Mother's Day, etc. The app's makers are some of the world's most accomplished writers. They have published their literature work and puzzle games in top magazines and newspapers.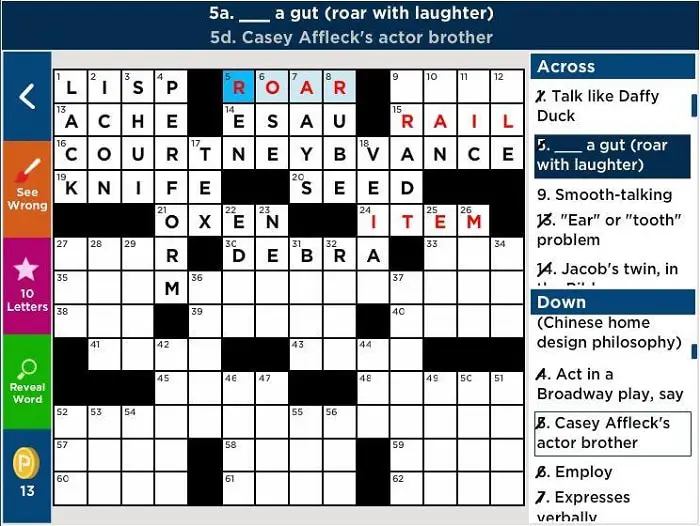 The game challenges its users to expand their vision and thoughts to win the game with top points. Every win in the game will claim rewards in the form of coins, which you can redeem as per your wish. To get hints and skip the words when the game gets tough for the user.
This is a handy feature of this game, which makes it involved in the game without dullness.
Astraware Crosswords
Astraware Crosswords are perfect time killers. You have three difficulty modes where you can choose the best mode that suits you. Play on the hard way if you want it to be more challenging. Weekend puzzlers will keep you occupied in your holiday times.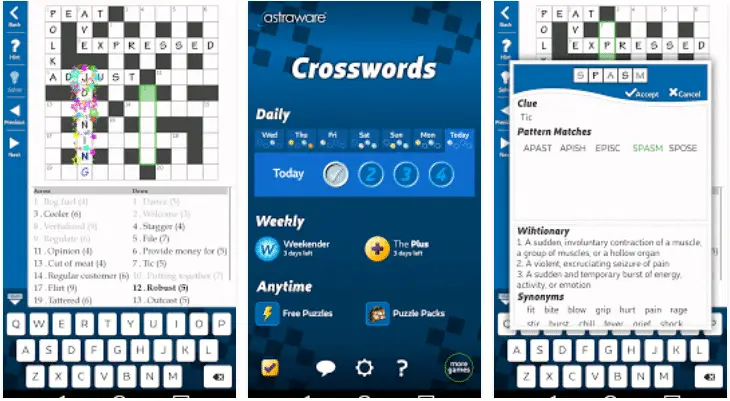 Play offline with unlimited hints. 60+ puzzles with four grid sizes will addict you to this game. A new daily challenge every day is worth enjoying with these Crossword Apps.
See Also: – How to Download Facebook Live Videos (Best Methods) – TechWhoop
Conclusion
Are you a crossword freak and excited to solve puzzles for fun? And haven't yet made it to the digital platform? Consider the best crossword puzzle games available on the Google Play Store—and Apple App Store for IOS versions.
The list above of crosswords is the best game available on the digital platform. Now, go and play with your loved ones and spread the word!
This is our list of best Crossword Apps. Let us know in the comments which Crossword Apps you like most. And also, don't forget to share your experience with these Crossword Apps to help us improve our feed.
See Also: Best Wishlist Apps