Are you a puzzle solver? Do you solve the crossword puzzles in the newspapers and wait for the answers till the next day? Isn't that tiring? Now wave a goodbye to those newspaper puzzles and follow us on this modern-day crossword puzzle solving games. Bring yourself a cup of coffee and go through these fantastic Crossword Apps that help you kill your time and boredom.
See Also: – Top 10 Android Screen Recording Apps – TechWhoop
10 Best Crossword Apps
Crossword Puzzle Free
Crossword Puzzle is a simple and addictive game that enables you to kill your boredom. Six new puzzles are added daily which enhance your interest and lessens the routine mood in this one of the Crossword Apps. 400 free crosswords in English, 100 in Spanish and 40 in Portuguese. This game is the best when you are trying to learn a new language.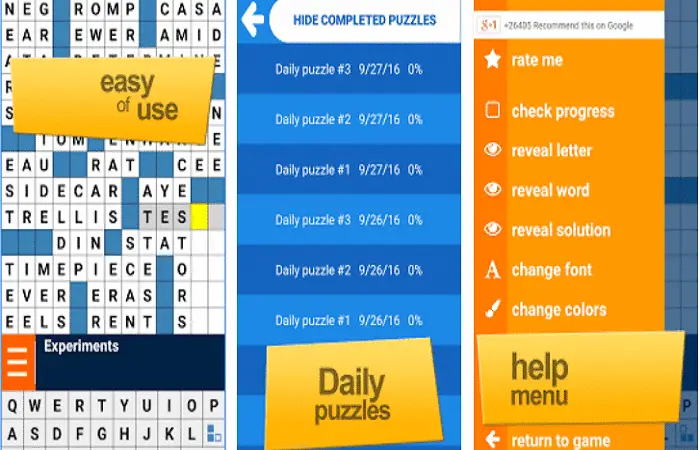 You can unveil letters when you are stuck. It has five different fonts with 4 different themes that increase your in-app experience. Try the app with benefits of expanding your vocabulary knowledge and smartness.
Crosswords with Friends
Playing with friends is always fun and entertaining. They turn even the dumbest games into fun. Then how about the best games? Crosswords with Friends is one of the best games to play with friends.
Invite your friends and challenge them to solve puzzles. You can check the leader board to know who is topping in this one of the Crossword Apps. A new puzzle is added every day to give you, even more, fun in playing a new crossword every day. You can use the hint feature to get help in solving puzzles.
See Also: – Top 7 Apps to Sell Stuff on Android and iOS – TechWhoop
World's Biggest Crossword
World's Biggest Crossword Puzzle as the name indicates is the biggest and tallest crossword with thousands of clues in three different modes – world's biggest, tallest and diamond puzzle mode.
You have 450+ crosswords to solve, 45 trophies to collect and 10 achievements to unlock. Enjoy the unending crossword puzzle levels with a new puzzle daily. Play smart and stay smart.
Crossword Puzzle Free by Redstone
Crossword Puzzle by Redstone is a word puzzle that keeps you occupied in your free time. New packs are added every month to give you an unlimited package of crosswords in your journey with the game.
You can reveal letters, words or entire puzzle using the hint feature. The wrong letter is highlighted to give you an idea of your predicted word. You can access the puzzles even in the offline mode.
See Also: – Top 8 Best Emoji Apps for Android You Can Download – TechWhoop
Crossword Quiz
Crossword quiz is a challenging game with three exciting hint options. When you are stuck, you can either reveal a letter or remove letters or get the entire solution.
It has word descriptions, emoji combinations, and photos. Get yourself some time and try this app and make your time worth playing.
Crossword Unlimited by Havos
Crossword Unlimited as the name suggests has unlimited crosswords with customizable grid size. Grid size can vary from 3 to 20 in m x n order. You can specify the language style whether US English or UK English as per your preference.
You can choose from the three modes of difficulty. It generates the crosswords based on your interests and ability to solve. These are auto-generated and have infinite game levels.
See Also: – 9 Best iOS Emulators for Windows – TechWhoop
Word Search
Word Search is a crossword game where letters are randomly arranged in the grid, and meaningful words are to be found. You can horizontally, vertically or even diagonally to make a word.
It has various categories of words like animals, countries, sports, etc. You can play the game in any of easy, medium or difficult modes. This game has a multilingual feature where you can choose your language and play accordingly.
Crossword by Word Find
Crossword by Word Find is an exciting and addictive game. Here, you can play with letters, use your brain, search for words and test your smartness. Complete the blanks with the dedicated words by filling in the right letters.
There are numerous levels to solve and use your time productively. This improves your spellings, smartness and thinking strategies. You can invite and play with your friends as well. You can even earn coins at each level and later use these coins to unveil the hints for words you cannot solve.
See Also: – Best Video Grabber Tools to Download Online Videos – TechWhoop
Fill in Crosswords
Fill in Crosswords is similar to a crossword game. Instead of clues, words are given which are to be arranged in their respective places. There is a mix of grid styles like American, Italian, French, etc.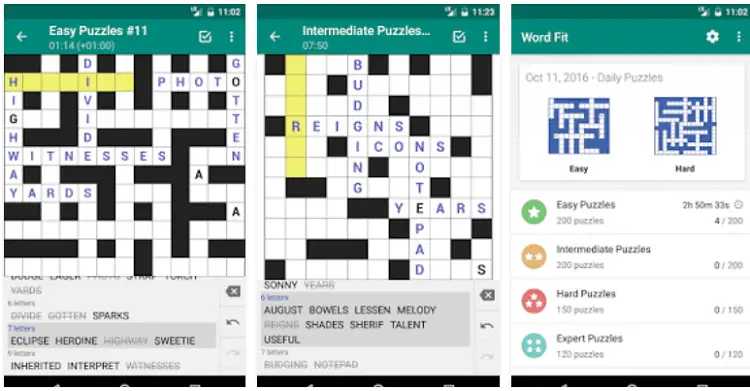 Two new puzzles every day. You can customize the features and look and feel of the app in the settings. Choose from 3 different modes of difficulty and play which suits you the best.
Astraware Crosswords
Astraware Crosswords are perfect time killers. You have three difficulty modes where you can choose the best mode that suits you. Play on hard mode if you want it to be more challenging. Weekend puzzlers will keep you occupied in your holiday times.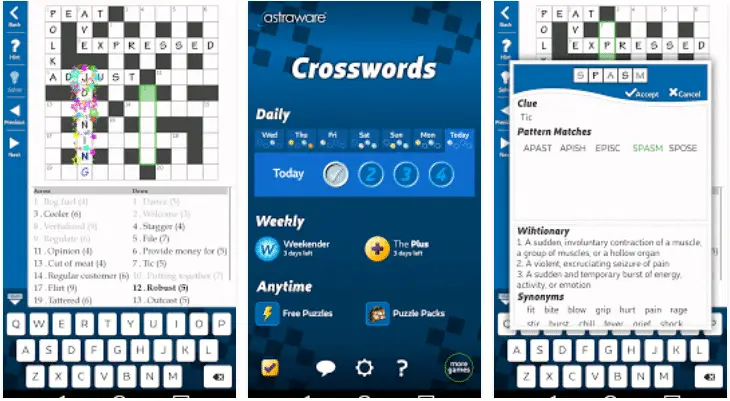 Play offline with unlimited hints in this one of the Crossword Apps. 60+ puzzles with 4 grid sizes will addict you to this game. A new daily challenge every day is worth enjoying with these Crossword Apps.
See Also: – How to Download Facebook Live Videos (Best Methods) – TechWhoop