Anglo-Saxon or more commonly known as Old English, is a language that was high on demand in between the 5th and 12th century. The language was highly preferable for communicating among the people of the then eastern and southern Scotland (England). It was a significant dialect for the Germanic tribes in England. Learning old engish through Old English Translator is as simple as it gets. As the Germanic tribes were invading and getting dominance over several parts in England, the Old English became the official language.
It also abolished the former, Roman language that was bought by the Romans at their time of ruling the country. One who studies Arts (in language), they know the difference between the old English and the modern day English.
But, we as a regular people are only concerned when we need them. And most of us love to read novels of some great writers in the past. While reading, we counter some terms that are not familiar with us or the writing is not what we know.
Therefore, you will need an old English translator at that time. So, today in this article, we have listed out 4 best free translators that you can grab to ease your reading.
Top 4 Old English Translator
Lingojam Old English Translator
Lingojam Old English Translator once again came out with this whacking feature of converting the modern English text into old English. The website is very straightforward as it only does the job of transcribing your text or scripts.
Some of you might be familiar with the website but for the people who had no clue about the site can inevitably head into it and try out translating some. The UI is not anything high-level; anyone can use that without any instructions or customization.
Go to the site and start typing as much as you can into the left box. And the output will be displayed in the box beside it. To use the generated text, use the copy paste method.
Fun Translations
Fun Translations is a multi-lingual translator. But in this case, it does the job of an old English translator, precisely. The site also offers other tool options and feature which you can access for free. (if you need any)
Once you get into the website, scroll down a little bit and you will find a text box entry. Start typing there as much as you can and after you're done, click on "Translate" button. At this stage, you might need to scroll up a bit to see the translated text.
There is no box or window for displaying the output. The time you request for translation, it processes your request and then shows the output in a yellow color bubble text. You can copy the text from there and paste it anywhere you want.

You also get additional features; first, you can directly Tweet on Twitter and second, it gives you an option to make your T-shirt with the translated text.
If you are a frequent user and do this job of translating modern English to old English, then you can also get the API file of the old English translator downloaded on your device. In that case, you might have to pay an amount to gain access to their premium features.
English Old English Dictionary
This is an Android application which you can get it for free from the Google Play Store. Though it's a dictionary, you can consider this app for translating your modern English words into old English terms.
After you are done with the downloading and installation process, open the app and select "EN-ANG." It will help you translate the modern English term into old English.
Alternatively, it can also translate the old English terms to modern English words. For that, you need to select "ANG-EN" and then start searching for words in old English.
The main advantage of this app is that you don't need to turn on your device's Internet connection. It works offline. And like most of the other dictionary apps, it is also powered with Text to Speech facility. So, if there is any confusion regarding the pronunciation of any word, you can get the voice assistant.
Download Now: Android
Freelang
Freelang is not any online free old English translator tool. It is basically dictionary software that you will have to download and install on your computer PC or Android device. But it pretty well does the mere job of a translator.
Therefore, this is why we included this software on our list of old English translator. You can access both the old English-to-modern English as well as modern English-to-old English dictionary in the app.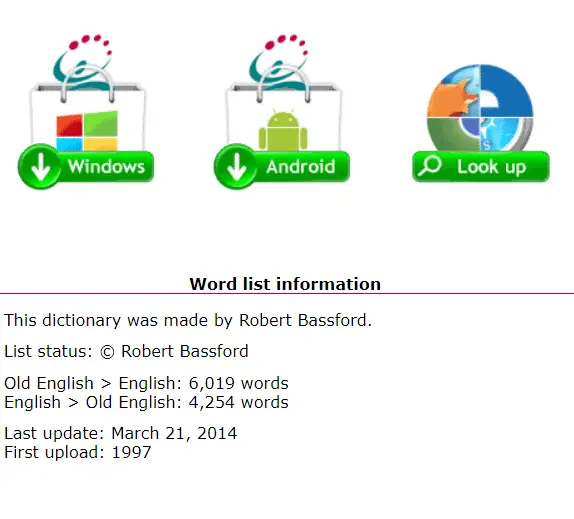 You can download the app for your respective devices (either Windows PC or Android device) and start exploring new words from the dictionary. And on the bonus side, the company also provides you with a free online translator, similar to the dictionary software.
So, if you are running out of space on your computer and mobile or don't intend to occupy the memory of your device, you have an alternative option now.
Bottom Line
Unfortunately, there is no free application for the Apple iOS users. The old English translators that are available on iTunes are all paid.
So, if you are an Apple user and at the same time also need an old English translator then you will have to spend a little penny. Or you can head into Lingojam or Fun Translations.
Overall, all the tools as mentioned above are free though some of them are online services, so in the case, you will need to spend a small amount of getting a data card.