Shakespeare is known to be a genius of all time but he sure does not speaks the tone and language that we do. Shakespeare was indeed a great man and he sure invented a hell lot of words in his own style. Everything that he did was unique and famous in his time. This is the reason why we still are a fan of his great Dramas and poems. This is why we still worship his language style. This brings me down to focus on the different Shakespeare translator tools that are coming before you right away.
Top 4 Free Shakespeare Translator
Lingojam – English to Shakespearean
Lingojam is one of the best Shakespeare translators to opt for. You can decide for yourself once you visit and try it for yourself. It is effortless as there are two available Windows.
The left side you have to write your language and the right side will automatically display the Shakespearean version of it.
It does not get any easier. You can even try using comical words to know how they sound in the Shakespearean language. The choice that you want to opt for is ultimately yours and this is one of the best ways to get your instant translations without having to wait much longer.
The Shakespeare language is also called popular Elizabeth's language. It never uses the same words and phrases that the English language uses. In fact, you might feel astonished to do not have heard of you of these words that have been used in some of the phrases of Shakespeare language.
Your Dictionary
If you read Shakespeare's poems and dramas, then you might be aware of the way he talks and the way uses his language. It is unique, and it's very tough to use it in our everyday conversation.
However, there are options to use such languages, and one is with the help of Shakespeare translator. Because of the complexities, it is often difficult to understand the language of Shakespeare. It always seems in incomprehensible.
But, it is very astonishing to find out that he was himself a student of modern English. Yes, Shakespeare used to speak the same language as used today and it's nothing different.
The great part about Your Dictionary is that it is more like a dictionary and yet it does the conversion job pretty well. Some of the common words that you would find by Shakespeare and their translations are as follows.
Cunning – Clever, Sharp
Deserving – Merit, reward
Honest – Pure
Trigon – A triangle
Undergo – To take on
Want – To lack YARE – Prepared, ready
Wall-Eyed – Wide-eyed, angry, surprised
Zany – Idiotic, Clownish
Shmoop
As genius as he might be but there is one thing that we definitely need to know that he never spoke in the language that we did or instead he did? Who knows? Well, even if he does so it doesn't make sense to us right now.
With the help of this modern English platform, you can easily convert your modern English language into Shakespeare's language.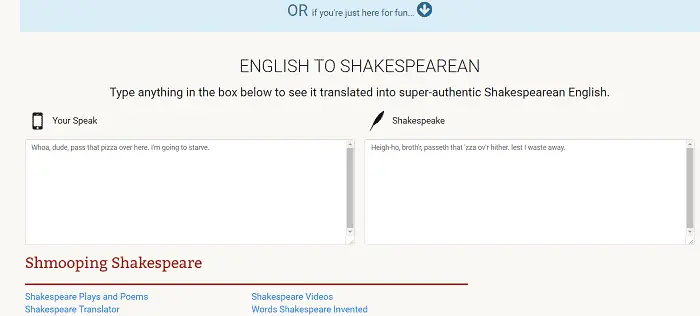 You can do so by just writing your text and receive the Shakespeare's play simultaneously side by side with full details and summaries. Shmoop will help you in picking up everything that he has put down.
That is where his glory lies and that is how we can get an instant solution for our confusion. What more could you possibly want for?
Fun Translation
Fun Translation is one another Shakespeare translator with the help of which you can convert your English language into Shakespeare's tone. Not to forget, Shakespeare is famous for his language has been worshipping for women years now.
In the meanwhile, during his time, he invented a hell lot of words in his style and his way. These words had no resemblance to the English language that we speak today.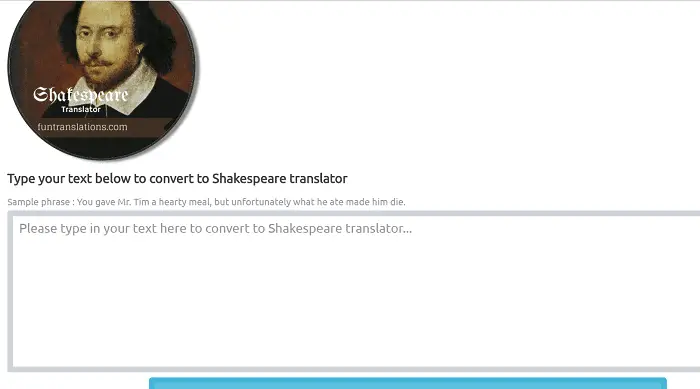 This is all unique and very new at this time. Things changed and even today Shakespeare is known for his language and his work and narration style.
Well in order to get control over his language it is essential for us to understand them as well. He has done a lot of dramas and poems in his own way and they are still considered as one of the sole reasons to practice literature.
This Shakespearean language translator brings you the best option with the help of which you can input your English language and get the corresponding Shakespeare language.
Final Thoughts
The English to Shakespeare translator or Shakespeare to English translator tools that we have above are entirely free to use. However, you can always opt to use the advanced features as these features will need you to pay a little bit.
For some of these websites, the glossary of words is not that much and if you want to have access to the entire library, you will have to go for the premium services.
So, if you are okay with available options then, you don't have to worry to put your hands into your pocket. Go ahead with Lingojam or your dictionary to extract the maximum benefit out of it.
All the tools mentioned above are completely free, and you can use them as per your need. The only requirement is a good Internet connection because these services are online.