Do you remember the GameCube by Nintendo? Man, that was one of the cool kids type toys back in 2001. This gaming device happens to be the predecessor of the ever-popular Nintendo Wii. As with any upgraded system, the Wii is backwards compatible with the GameCube, so you can still enjoy GameCube ROMs of the Wii, in case you were to upgrade (in the past). Thus, you must know how to get GameCube ROMs for free now!
You can make use of an application is called Nintendont to install GameCube ROMs on the Wii Mode of your Wii U. But, say you have a GameCube which you found while cleaning out your closet, and want to load up some ROMs on the thing and play once again. But you don't know where to get reliable download links to the ROMs so you can relive the memories of your (luxurious than mine) childhood.
Well, you google search for it, and this page might have popped up (yay, for me). That is because this article is the only place you ever need to see to get reliable, trustworthy websites from where you can download GameCube ROMs or ISOs. So without wasting any more time on thinking up intro words, let's get straight to it.
4 Best Sites to Get Free GameCube ROMs in 2018
The ISO Zone
Theisozone is one of the places where you can find a ton of different ROMs for a lot of gaming consoles and other platform devices. All you need to do is head over to site and click on the first option you notice, which says GameCube ISOs. You will have a list of all the popular gaming titles meant for the GameCube. Go ahead and find the title you want, as all of them are in alphabetical order.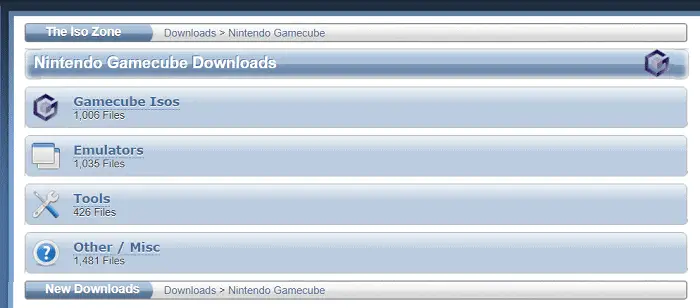 Once you find the GameCube ROMs that you need, you click on it, and it will open the description page of the game along with the download links. The file is often in multiple parts but beware. There are plenty of ads that pop up with each click of yours. But considering that you are getting the ROM free for our GameCube, I guess you can overlook it.
You can play any games you want to, like be James Bond and stop the evil government from replacing world leaders with clones, or maybe chill out with some pickup and play golf games such as Ace Golf. Just be prepared to download relatively (expectably) large file sizes. They have a community as well, for which you can register if you want to be among the members to discuss cool stuff. If not, hit the download links and move on.
PortalROMs
Portalroms also has some of the most extensive collections of Nintendo console ROMs and ISO files out there. You might have heard this name in a lot of other lists where ROMs for other Nintendo consoles have been kept in focus. Just like all those other options, our GameCube is also available on their website.
I have mentioned this before too. Portalroms is a very well-made website. You will have no trouble navigating the interface and its straightforward menus. So, you can download Luigi's mansion (which was merged with the ever-popular scarce meme from back in the days of 2016, remember?) by clicking on it. The download links are unique with servers specific to regions like USA, Europe, Asia, etc.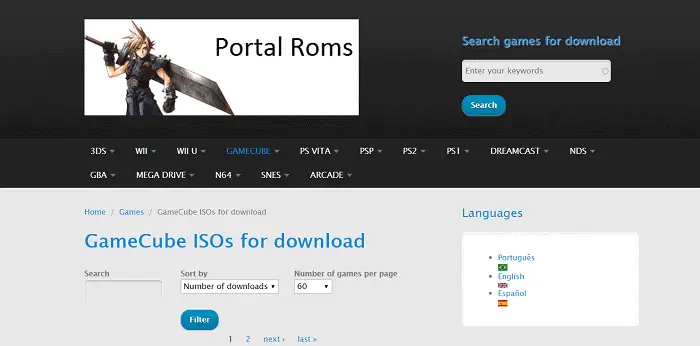 There is a wait time of 90 seconds before the download starts. The file is in torrent format, just how a true internet pirate likes it. So you will need to have a torrent downloader in case you are a noob and do not have one on your computer already. UTorrent is an excellent tool to get, here is a download link (for Windows operating system) so you want to have to go looking for it yourself (it is straightforward to find though): http://www.utorrent.com/downloads/win. You're welcome!
Romulation
Romulation allows users to quickly find and download their favorite GameCube ROMs or ISOs for free. Just head over to the site and search for the game you want. If you're going to see what is on the menu, just scroll down, and you will see the entire lost of GameCube ISOs listed in alphabetical order.
You can modify the order in which they sort from the menus you see above the list. You can choose ascending or descending order as well as if that makes any difference in your choices. But it is good to have variety anyway I guess. Just click on the entry that you have an interest in and press the big, yellow button that says download.

There is one small drawback though. There is download limit for free users who access the content using guest profiles. You will need to be a premium member to download files that are over a gig, I guess. I tried to download a file of 1.03 GB size. And it said "File too big for guests to download, create an account to download instantly!"
Some other game such as Super Mario Strike did not show me the download button at all! They just showed a red dialog in the place of that yellow download button, and it read Game download restricted. You can choose specific regions to select your GameCube ROM files. You can choose from USA, Europe, Japan, France, Germany, Italy, Korea, Netherlands, and Spain. Or you can leave it at the default where it is set to all regions and will display every ROM file available on deck.
If you enjoy an excellent quality website which facilitates fast, reliable links for game ROM downloads. And don't mind having to register for it, then go to this website. If you are ready to deal with a little bit of ad annoyance but want to be able to access everything for free. Then the other options on this list are better choices for you.
Rom Hustler
ROM Hustler is a weird looking website but gets the job done just fine. Head over to the site from this URL and click on the GameCube option from the menu on the homepage:
Again, some of the ROM packages here are in two parts, you have to download and join them using a tool such as 7Zip.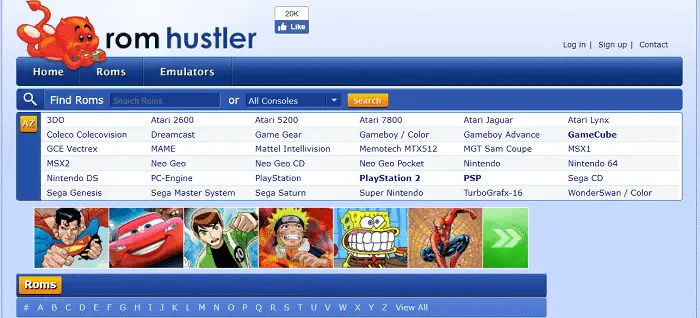 Some of the ROMs present here are ESA protection, meaning they cannot download using a guest account. I got the "This is an ESA defended rom, the download is disabled" warning prompt for the Mario Kart Double Dash game ROM. But as long as you stick t the guest verified ROMs or make an account for yourself. The rom hustler is an exceptional website for downloading all the most magnificent game ISOs or ROMs for your Nintendo GameCube.
Final Words
Okay, so these were four of the best sites. Which provide trustworthy, reliable links for you to download some great GameCube ROMs for the Nintendo GameCube. Remember, this is piracy after all. And you should know what you are getting yourself into before heading over to these websites an extensively downloading ROMs.
Downloading them for personal use is fine, we all do it every so often. But just don't try to make black CDs of the things and start selling them at half rate or whatever. If that happens and you got in trouble, you have not seen this article. And the entry in your browser's history is a mistake. Though I assume that you clear your history almost every day for obvious reasons. Cheers!