Curves that redefine smoothness enslave your eyes to its beauty, and never compromises on performance and speed! Indeed demands poetry define MacBooks. And, a lot of money. And that is when you look up for used ones and think whether you want to buy them or not. The way out of your worries is to buy Refurbished Macbooks! Maintain a happy lifestyle instead of a curtailed one, and there is no need of selling kidneys to buy a MacBook!
See Also : MacBook Air Won't Turn On? Here's How to Fix It [Updated]
What Does Refurbished Mean?
So, what is a refurbished laptop? Is it an used one? Worth buying it? What about the price?
A refurbished laptop is as good as new, except that it is a device returned for a specific glitch which has been fixed, or if the user changed their mind after buying it and decided to buy a different one. The best part is that you still get a warranty (probably a reduced one when compared to the original) from the seller. Worth the shot?
Definitely, since it is a new device with all the data reset and gives you the same overall experience as a brand new laptop. Except for the part where you unbox it entirely, but on the positive side, you get bubble wraps too!
Visit the link to read about how to approve iPhone from PC. Click here!
Why Shouldn't I Buy Used Refurbished MacBooks?
A used MacBook will be cheaper or more expensive, but unless you know that it is from a verified source, we recommend not buying one. "I mean, come on! Even if it is a used one, it is still a MacBook!?", Well, a refurbished one is cheaper too, and even has a guarantee from the seller that you can return or exchange the product if you find any defect in it. Whereas, in a used one, the best privilege you can find is hoping that it works again, and eventually, you will end up paying double the price of a brand new MacBook in trying to fix your Refurbished Macbooks.
It's madness redefined, but not refurbished. Hence, we advise you to tread wisely, and not all those wander online in search of used MacBooks are lost, some are just looking for trusted sources. Worry not, as we have listed sites that give you the best of the Mac world as well as save your salary in the real world!
See Also : Simple Methods to Eject CD from Macbook Pro | Easy Steps
8 Best Sites to Get Refurbished Macbooks
Here are a few sites from which you can buy your refurbished MacBooks from:
Apple
The most trusted site you can find to buy refurbished MacBooks and certified Apple products is Apple's itself. A variety of Mac and related goods that are suitable to a MacBook will be listed. This is what Apple says about them:
A one-year warranty backs all refurbished Mac models, have free delivery and replacements, and also involve: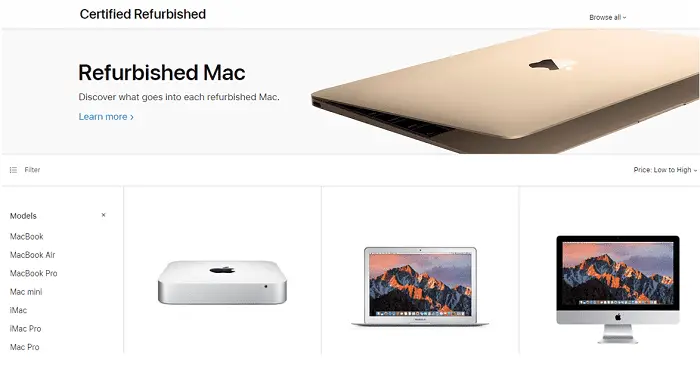 Full functional testing, original Apple part replacements (if necessary), and out-and-out cleaning.
The primary Operating System or a more up-to-date version.
All refurbished machines are repackaged in a brand new box with all accessories and cables.
Hah! If only I had known about refurbished goods before!
Prices start from $1099, $849, and $1099 for MacBook, MacBook Air, and MacBook Pro respectively.
Visit : Apple
See also: How to Clean MacBook | Top 9 Methods (Both Air and Pro)
Amazon
Probably the most reliable and used domain to book anything, you name it, challenges Amazon. Known for its one-day delivery and excellent service, it features a variety of Macbooks – from used ones to brand new as well.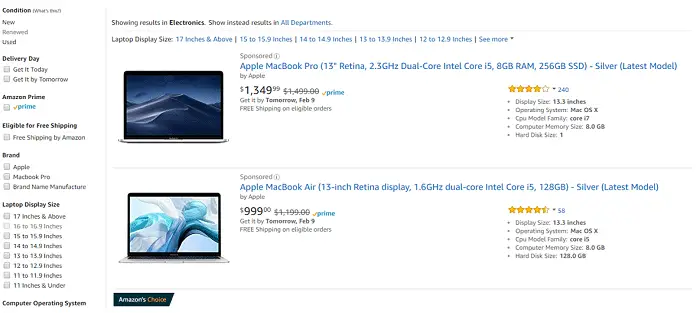 Although Refurbished Macbooks are mentioned under new in Amazon, and only turn up as buying options, prices start at $450 for used models.
Visit : Amazon
See Also: Battery Is not Charging on MacBook Pro | Easy Ways to Fix It
BestBuy
"Shop Now And Save", they say, and they mean 101% of that because they offer the latest electronic gadgets almost at the ease of users' choice, sophistication, pricing, and all factors that make an online shopping website a one to rely on! Starting from $600, it is worth the scroll.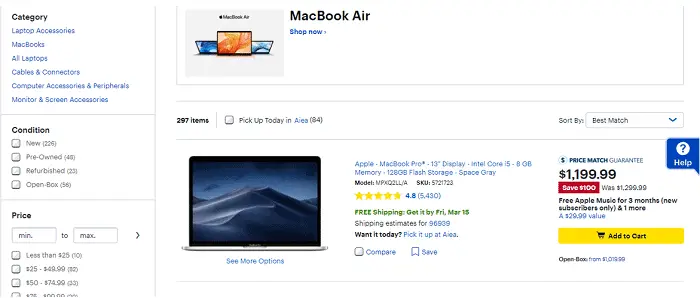 Visit : BestBuy
Gazelle
A site to buy used cell phones and Electronics is a top site for Refurbished Macbooks too! Gazelle even allows you to sell your used devices and bag a discount or an offer while buying new ones.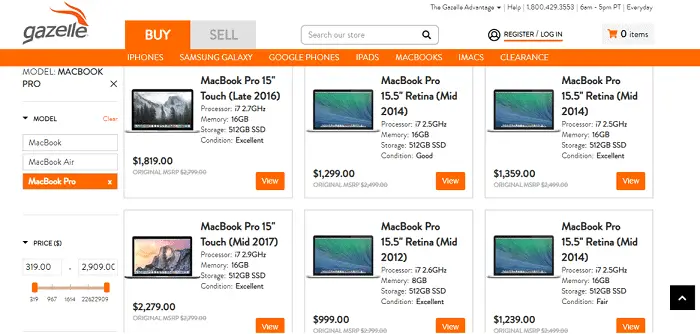 $669, $269, and $319 for the three methods, namely – MacBook, MacBook Air, and MacBook Pro. Striking deals on all their products, so it is a must-check-out website, not just for Apple products, but everything tech that money can buy!
Although the pricing may vary, it is definitely a go-to website to buy Macbooks!
Visit : Gazelle
Mac Of All Trades
'Mac' of All Trades since Apple decided to take off the headphone Jack. You can buy used Macs and refurbished MacBooks from this website. Imagine a single website built specially for buying MacBooks, and you get this one.
Here, you can shop by Screen Size, from 12 to 13 inch in MacBooks ($799 onwards), 11 to 13 inch in MacBook Air ($429 onwards), and 13 – 15 – 17 inch MacBook Pro ($450 onwards). Prices vary accordingly. If you are looking for Macs, they have ones from 20 inches to 27 inches.
Visit : Mac of All Trades
MacMall
Apple Mac Computers, iPads, iPad pro docking-station & Accessories from MacMall, as they proclaim to be the #1 MacBook Warehouse. A decent e-shopping 'mall' to buy your gadgets from.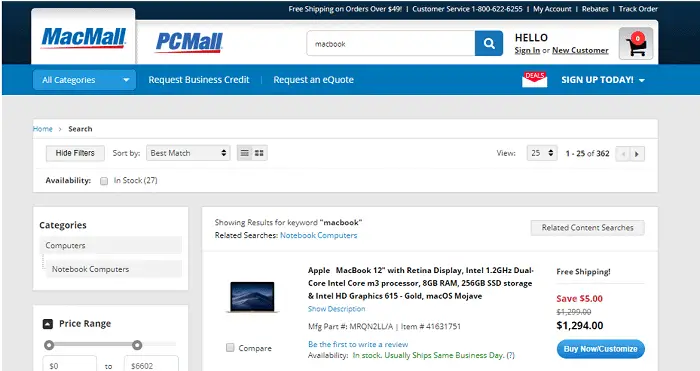 However, MacMall does not imply that only Macs are sold here. If you want to purchase iPads or any other Apple product, you may find them here at reasonable prices.
Visit : MacMall
Overstock
This website has deals from $270 onwards, but such products usually come with no guarantee of quality.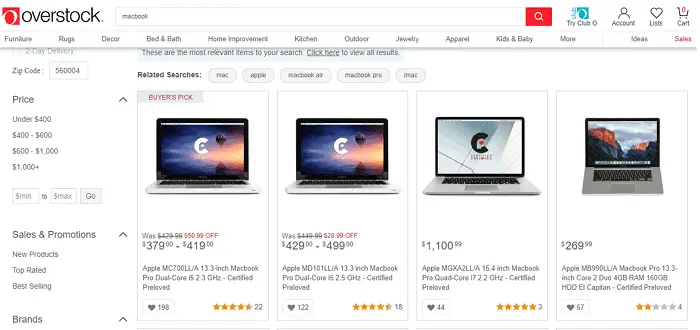 It has a fair range of Macbooks including all the latest versions and models, which do not compromise on processor speed and more, so it is worth the visit.
Visit : Overstock
See Also : 9 Best Websites to Buy Instagram Likes and Followers in 2019
eBay
Would undoubtedly recommend eBay for the best Refurbished Macbooks deals and offers from online, but not guarantee-wise.

Has a wide range of MacBooks starting from $450 and until the expensive latest models.
Visit : eBay
See also: How to Clean MacBook | Top 9 Methods (Both Air and Pro)
Conclusion
You can totally buy a refurbished MacBooks along with USB SD adapters and still get the benefits of a brand new, but a refurbished one is what keeps your pockets heavy as well as your tech and gadget needs to be met! Based on numerous surveys, interviews, polls conducted online, and TechGurus, and even ascetics, a MacBook is ofttimes declared as the best laptop in the modern day, when seen in many perspectives such as ease of use, robustness, performance, and a variety of reasons like gaming, developing, video editing, and much more!
You can see yourself using Refurbished Macbooks in a café while you sip your coffee with stylish couture and a business meeting on your agenda if you follow any of the above websites. If you have any other fantasies or tales with a MacBook, comment below!
See Also : 5 Ways to Fix Your MacBook Pro When it Won't Start