EPS is an acronym for Encapsulated PostScript Vector Graphics. Graphics are the images that are created by the computer. These graphics are in-line art, graphs, diagrams, geometric designs, etc. Thus, you must know about the best EPS Editor Software out there!
Did you know that Encapsulated PostScript (EPS) is a graphics file format that follows the Document Structuring Convention (DSC) of PostScript documents? It was created way back in 1987 by Adobe's founders, John Warnock, Chuck Geschke, and Aldus.
These graphics are illustrated in 2 different ways: Bitmaps and Vector Graphics. Vector Graphics are created using mathematical statements that place lines and shapes in 2D or 3-dimensional space. These vector graphic images are stored in EPS formats. There are various EPS editors you can use to create stunning graphics, such as
Inscape
Scribus
GIMP
Vectr
Microsoft Expression Design
Inker
GhostView
Gravit Designer
An application that is capable of editing EPS files is EPS Editors. EPS files are easy to edit, but finding open-source software that can fulfill all your requirements is difficult.
Top 15 EPS Editor Software
To simplify that process, we have the best 15 EPS Editor software that is free and compatible with your Windows Operating System.
Inkscape
Inkscape is a free design tool with flexible drawing tools, broad file format compatibility, and a powerful text tool. It also supports Bezier and Spiro curves. Moreover, Inkscape is a collection of designing tools for drawing, shaping, texting, embedding bitmaps, and cloning.
You can apply various transformations with numeric values for an accurate result. Furthermore, you can apply Z-order operations to your design easily with the help of the software.
You can form layers of hierarchical trees to make your design look even more enjoyable. There is so much more to explore in the application. Download the application for free and enjoy unlimited access to all its features.
Download: Inkscape 
Scribus
Scribus is an open-source application that can edit vector graphics. The EPS files are opened in a drawing pad, where various editing tools can be applied.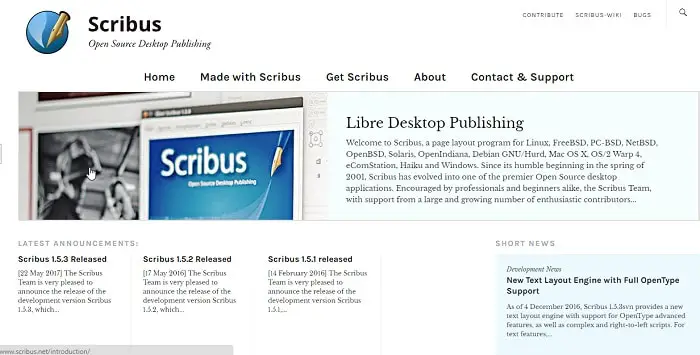 You can insert text, tables, images, and shapes in the Scribus application. It also supports the Bezier curve and a freehand tool. You can apply filters to your vision and preview it before saving your file.
Download: Scribus
Microsoft Expression Design
Microsoft Expression Design is a freeware offered by Microsoft Corporation to perform edits on vector graphics. The application allows you to drag and drop files into the editor. You can draw shapes, flip them, cut specific parts of them, zoom in/zoom out, copy, paste, and delete. You can use a pen for drawing objects, filling colors, aligning, and duplicating.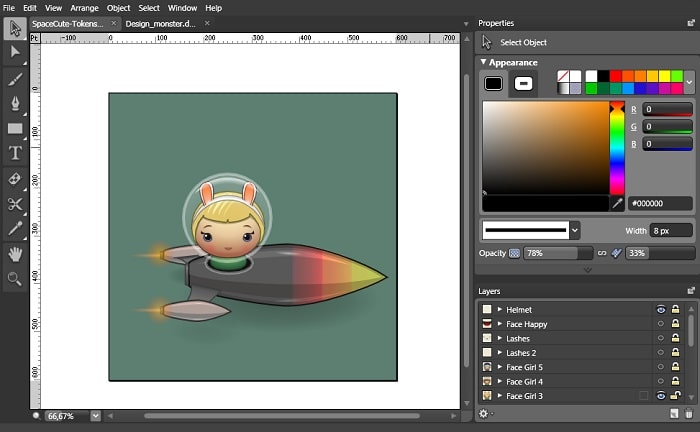 It is an advanced graphics editing tool that most designers prefer to have. It meets all the requirements the user desires in an editing tool. Apart from the advanced tools, essential editing tools are also embedded.
Download: Microsoft Expression Design 
GIMP
GIMP is an image viewer and editor that lets you modify your images to a greater extent to give the photos a better look than the original. It is not capable of editing or viewing EPS files by default. But you can make the application work on EPS files by downloading GhostScript.
Appending an external script may take extra time, but it is worth spending the time on. You can add objects and shapes to the image using the tools embedded in the software. It supports freehand drawing, path tool, pencil, blend, paintbrush, etc.
Download: GIMP
Inker
Inker lets you draw shapes neat and fast. You can organize the color palettes and adjust the colors. You don't require any special skills to master the app. It is a simple graphic design tool with a user-friendly interface. You can group your creations and layers as you like.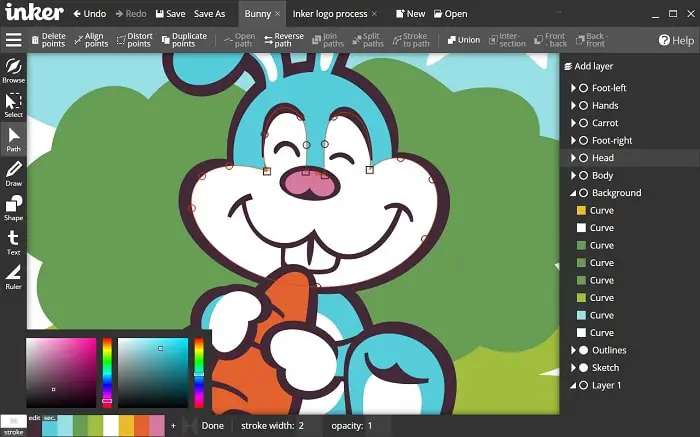 It lets you draw logos and typography and simplifies sketch inking. This simple yet effective software is free for the Windows operating system and the Android Operating System.
Download: Inker
Vectr
Vectr is a graphics software used to create vector graphics for free. It is a flexible application where you can share your designs with a URL that can have access by the software or the web page. You create logos, presentations, cards, or brochures with high-quality graphics.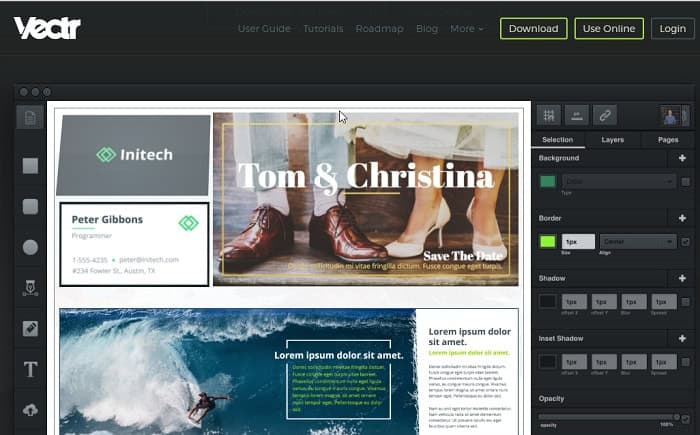 Vectr is a package of advanced editing tools and filters which enhance your graphic design experience with the software. There are extensive features to explore, and they are even fun to implement.
Download: Vector
Gravit Designer
Gravit Designer is an open-source EPS editor fully featured software that works on various platforms, including Windows. It has beautiful designs to improve your creativity and the beauty of your design. You can create designs and share them where your plans are in the cloud.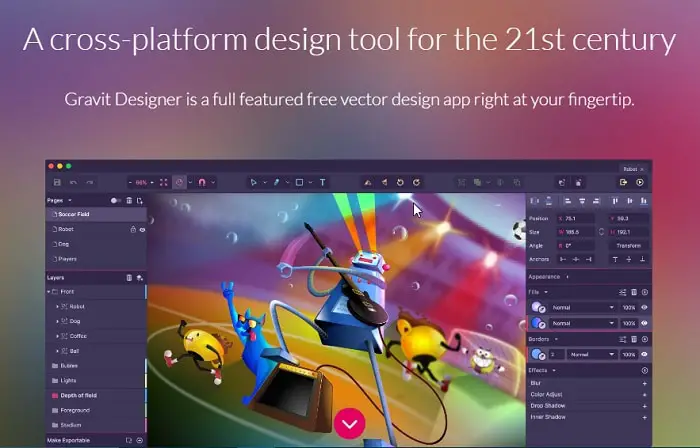 Gravit has advanced features in 2D vector design, like Boolean operations, symbols, pages, and more. Explore the various components inside the application and use them to the fullest.
Download: Gravit Designer
GhostView
GhostView and GhostScript are the two cooperating programs used to create vector graphics. It establishes the viewing window, while GhostScript lets you draw in it. Also, GhostView is widely popular as an EPS Editor Software.
Likewise, it has extensive features to work on and improve your design. It also supports keyboard shortcuts to access the tools from the keyboard.
Download: GhostView
Turbo Plot
Turbo Plot allows you to create plots and save them with bitmaps or vectors. It is a package of various editing tools and features to enhance creativity in your design.
Moreover, it has a clean and straightforward user interface that requires no skills to use the application like a professional. Also, you can draw any number of figures in the application, and each figure is unique by a figure ID.
Download: Turbo Plot
XFig
Similarly, XFig is a graphic design editor that lets you edit EPS files easily. You can draw figures using circles, rectangles, lines, curves, and text. Furthermore, you can convert the native Fig format to various other formats using the software.
Also, XFig supports keyboard shortcuts which speed up your entire design process. All in All, it is a perfect EPS Editor Software.
Download: XFig
LibreOffice Draw
LibreOffice created this open-source EPS editor, LibreOffice Draw. As for the availability of Windows, it is compatible with Windows versions Vista, 7,8, and 10. This editor is not just available for Windows but also for Linux and Mac for free. The app is easy to use on EPS files. You can also choose various editing tools to add effects to your image. Some necessary tools like fill color, shape tool, selection tool, etc., are also offered.
Other features of LibreOffice Draw are that you can input text, slides, photos, infographic charts, common shapes, etc.
Other than eps format, you can export files in different forms, such as gif, tiff, png, pdf, avg, etc. It also favors input formats like text doc, drawing, webpage, jpg, png, spreadsheet, ott, etc.
Download: LibreOffice Draw
Apache OpenOffice
With Apache OpenOffice, you can modify your EPS file in any way. Thus, it is a good option as an EPS editor software. This editor is an office suite. It offers a bunch of tools as well to alter vector files. Some tools included are a grid, navigator, slide insert tool, layers section, field to write the date, time, name, etc., add a hyperlink, pictures, shapes, tables, fill color, and much more.
You can also rotate or flip based on your need. Also, converting, arranging objects, aligning objects, grouping, and ungrouping are some other features of Apache OpenOffice.
There is a wide array of options available in file export format. Some standard forms are gif, BMP, eps, png, ppm, avg, pdf, and others.
Download: Apache OpenOffice
IrfanView
For quickly editing Eps files, you can also opt for IrfanView. It is free software. It is best for those who have lesser editing needs. However, the tools offered by this editor are everyday image editing tools and not vector modifying tools. Some editing tools provided by this freeware are the Selection tool, Paint tool, Eraser tool, Clone object, add text, Color Picker, Flip object, Rotate subject, Crop image, etc.
However, before you opt for this editor, remember that the file output format is not EPS. You can choose from formats like jpg, png, ico, gif, pdf, etc.
Download: IrfanView
XnView
XnView might be your best tool if you work on other image formats along with eps format. Even though using the software is easy, editing tools are limited. There are some filter effects and a few image-altering tools. Filters like Blur Image, enhance an Image, sharpen, slice, etc., are all available. Rotate, flip; the crop are some tools available for altering images.
Besides these, you can also insert text or create a watermark on your EPS file.
Once you finish editing, you can save the file in any format except for EPS. Some keep image and export formats are BMP, gif, jpeg, jpg, etc.
You can freely use this tool for personal purposes, but you will need a license if you use it for commercial reasons.
Download: XnView
See Also: How To Check Graphics Card On Windows 10
Photomania DX
Another software that is free for personal use is Photomania DX. However, the editing choices are quite a few. It is suitable for applying effects such as enhance, contrast, transform color, sharpen, temperature setting, grain effect, film effect, shadow setting, highlight modification, brightness, etc.
This tool offers no photo-altering tools like crop, flip, etc
The export document type is pdf, html album, slideshow, etc. Also, note that the eps files you edit cannot be saved as EPS files. However, you can choose from emf, gif, png, jpg, and other image formats.
Download: Photomania DX
Conclusion
So, this was out of the hand-picked list of the top 15 EPS editor software out there. Give them a try & let us know your views.
Here are some handpicked articles for you: