Images are the best part of any event. Capturing moments with friends and family is utterly adorable. Pictures help you recollect your memories and live your moments again with your loved ones. They are witnesses of a few moments as well as powerful mood boosters. Let it be a more minor or more significant event; photo shoots have become mandatory. You will need an image viewer to relive these memories on your system or PC.
Now with the selfie, the public tends to click more pictures than ever; after clicking photographs, you transmit them to your PC, but they often get mixed up with other images making them difficult to find when needed. This article advises downloading some of the best image viewer software. You can also save photos to an SD card by default on your Android for better photo management.
It's not unusual to have thousands of photos scattered across poorly labeled folders and a dozen devices. Image viewer software for Windows allows you to organize your life in photo albums and take care of your digital memories smartly and friendly.
See Also: What Is PNG File And How To Open A PNG File?
Top Image Viewer Software
Hundreds of image viewer software for Windows are available in the market that claims to organize your photo library, but some of them have proven worth it.
Those days are gone when we used to have picture negatives to store and develop the required photos. Going digital also bought a big problem-too many images! Yes, thousands of pictures piled up on your device, including laptop, desktop, portable hard disk, cloud devices, flash drives, smartphones, etc.
The difficulty doesn't end there; you also have to deal with duplicate photos, cropped photos, resized photos, enhanced photos, and so on. The solution to this problem is you need good image viewer software for Windows. Between digital cameras and especially smartphones, there's been a massive increase in the number of pictures we have to manage.
So, to save you from trouble, we have listed some of the best image viewer software for Windows.
See Also:  Dame Da Ne Meme Maker | The Ultimate Guide
ACDSee Ultimate 2023
If you want a platform to implement your exceptional skills, this image viewer software is just for you. This is an improved version with lots of new features and enhanced graphics. It will edit your pictures in a way that you will feel is happening for real in front of your eyes. It is designed very cleverly with a combination of GPU- layers and RAW editing.
Furthermore, you can link your smartphone with this tool and share photographs effortlessly.
Adding to this, some prominent editing tools with ACDSee Ultimate are auto exposure, contrast settings, controlled color enhancement, and refined saturation. Some more exciting features include control over text path (write text following curves and other shapes), easy tone adjustments, renaming and resizing (be it in pixels or percentage) multiple files at once, quick search feature, crop and watermarking bunch of images together, and brush adjustments.
For targeting a particular piece in an image, you can choose from Luminosity selection (for bright areas), pixel (of a specific color or brightness) selection, and polygonal selection (for irregular shapes).
However, the most notable feature of ACDSee Ultimate is the inspiring tutorials offered by Professional Photographer Alec Watson. Besides tweaking photographs, he also talks about improving productivity and administering assets.
Furthermore, they promise a 30-Day refund too if their products don't meet your expectations.
Visit: ACDSee Ultimate
Microsoft Photos
Do you need an image viewer for Windows OS? Well, what's a better tool than Microsoft Photos? This particular tool enables you to edit pictures without any difficulty. Moreover, you can smoothly search for images linked to places, people, or any memories.
It also allows you to resize the image view for speedy scrolling. Not just have they improved their design, but they have also created timelines for easy navigation.
Some standard features involve cropping pictures, rotating images, color enhancement, adjusting luminosity, red-eye correction, erasing blemishes, and more.
You can create slideshows out of images or create videos with photos. Furthermore, it supports JPEG, JPG, PNG, GIF, and a few additional formats. Additionally, you can add music, text, friendly filters, and sketch to your videos and photos. You can create magical images by adding 3D effects like burning or smoke effects.
The remix is another fantastic option that gives instant results. This option can create mixes of photos, songs, text styles, etc.
Furthermore, you can save all your creativity in an album and share it with friends.
Visit: Microsoft Photos
Adobe Photoshop Elements
Adobe launches quality products for professionals. This software, Adobe Photoshop Elements, is no exception. It is fueled by Adobe Sensei AI technology. This software equips you with incredible tools for editing, managing, and creating spectacular images. Furthermore, it allows you to share your creations as well. Moreover, this fantastic tool can bring motion to your still photos.
Adding text, adding custom effects, duplicating objects, changing image orientation, and automatic adjustments are only a few features named from the massive list of useful features.
You can add fun GIFs and also animate photos. Also, you can easily create eye-catching social media content with Adobe Photoshop Elements.
Moreover, they offer tutorials on how to use tools to bring out the best in photos. An excellent tutorial is creating a perfect landscape by removing haze and undesired objects and adding duotone effects to images for a modern look.
Besides, you can create beautiful selfies but auto-recognition features and enhance facial features bundled with this tool.
Adding to the list also offers easy fixes such as removing blemishes, reducing noise, correcting tones, and adding color.
Visit: Adobe Photoshop Elements
XnView
XnView is a photo-organizing software that lets you view, organize, edit, and browse images. It lets you rename your pictures in a batch and find duplicate photos.
The image viewer provides three different view modes: Thumbnail, full screen, and Film Strip View.
It lets you hold your photo library in different views, like a full-screen filmstrip or thumbnail. 
You can export your images into over 70 formats and read about 500 formats like ICO, TIFF, APNG, etc. It also has a screen capturing tool with profiles like Window, Desktop, and Rectangle catch.
Download XnView
Irfan View
Irfan View is a trusted image viewer running successfully for a few decades. It supports multi-formats and multi-language to reach out to users across various regions. It has a thumbnail preview option that gives you a comfortable viewing experience.
You are free to edit your image using the editing tools that the software supports. You can apply the adobe photoshop filters right from this software. Its variable features keep you occupied with your images loving them more and creating more. There are various plugins available on the website that lets you do additional edits like lossless rotations.
Visit: Irfan View
FastStone
FastStone is both an image viewer as well as an editor. Its wide variety of features helps you modify your image as you desire, giving it a creative look. You can compare your pictures and decide which to put in your inventory.
It lets you remove red-eye, resize, crop, email, print, and adjust colors. It supports multiple formats to make your image compatible with your device. The musical slideshow with 150+ transition styles will drop your jaw while watching your pictures play. Give your image a new look by adding filters and effects.
FastStone doesn't include cloud storage and social media options, but it has excellent editing features and organizational tools.
Visit: FastStone
WildBit
The WildBit viewer lets you view your image in thumbnail and full-screen views. Image rotation, wallpaper set capability, zoom, expanded perspective, and many more variable features made this software occupy its place as one of the best photo viewers for Windows 10.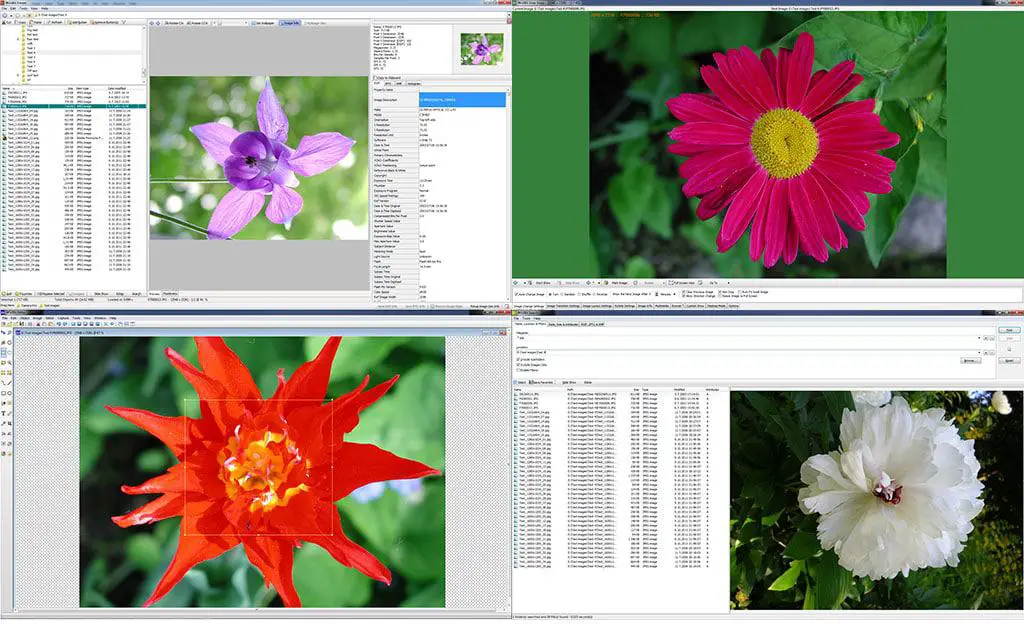 The slideshow with 176 transitions and a custom show list editor provides a professional way of viewing your images extraordinarily. The editing tools make you a pro in image editing when you master using this software.
Visit: WildBit
Picasa
Picasa is one of the oldest and most simple Photo organizing software for Windows in which you can import photos from scanners, cameras, memory cards, etc.
You need not import photos every time you open the program. Just select a drive, and your Picasa does the rest. Add tags to your images by location or name, and your software sorts them accordingly.
When it comes to editing, Picasa has it all. It has features like facial recognition and special effect filters; you can add text in photos, crop, auto contrast, and can perform retouching of pictures. Providing a bevy of organizational options and some essential photo editing tools, you can sort your images by their file folders or create virtual albums to handle sorting.
Download – Picasa
FreeVImager
FreeVImager is an image viewer as well as an image and video editor. Most viewers are dedicated only as image viewers and image editors. But FreeVImager stands unique for its dual editing feature.
It helps you multitask, like running various projects at the same time. It supports 15 formats, including JPEG, BMP, GIF, TIFF, PNG, PCX, AVI, ZIP, AIF, WAV, MP3, WMA, AU, MID, and CDA.
Visit: FreeVImager
Vallen JPegger
Vallen JPegger is the most popular image viewer in the US, Poland, and Sweden. It supports 40 different image file formats.
VallenJPegger has extended features like lossless rotation and includes an MP3 organizer. It supports multiple international languages, which helps the software reach every individual in numerous countries.
Visit: VallenJPegger
Image Glass
Image Glass comes with a simple user interface wrapped with various features. It supports over 30 file formats. You can rapidly switch between images and choose your pictures directly from the clipboard. It supports multiple zooming and image navigation features.
The necessary edits are available in the software by default. You can convert your image format into ten other structures. It has different theme packs to make your software look as you desire.
Visit: Image Glass
InViewer
InViewer is a multimedia viewer which supports images, videos, and audio. The supported image formats are GIF, TIF, PNG, BMP, JPG, JPEG, and ICO. MP3, WMA, WAV, and M4A are the supported audio formats. The supported video formats are MP4, WMA, AVI, MPG, MOV, M4V, and WEBM.
Visit: InViewer
123 Photo Viewer
123 Photo Viewer is a replacement for the default photo viewer. It provides additional features like pausing in the middle of the GIF file and magnifying each frame, directly opening PSD files, open TGA and DDS texture files.
You can directly delete a file without a prompt of a confirmation window by using the 'delete' key. You can magnify an image instantly by clicking on it.
Visit: 123 Photo Viewer
Movavi Photo Manager
This new software to manage your digital image collection from Movavi for Mac and Windows saves your energy. Download and see how easily you can work your images in your desktop photo assistant! And Managing photos made it quick.
You can click the button to group pictures. Find photos by day, date, and location fast—simultaneous processing of multiple images. See photographs in various standard formats.
Visit: Movavi Photo Manager
Photo Viewer – Windows 10
It's not a Windows Photo Viewer, but you might still have Windows 7 or 8.1 upgrades. Press and hold a picture in File Explorer to search, or right-click and pick Open with. When you can't run Microsoft Picture Viewer on Windows 10, you can't.
This image Viewer does the same things in Windows 10 and more. To zoom in or out, click on Ctrl + mouse wheel. In More > Preferences, adjust the mouse wheel setting.
Open a file from the Folders view or File Explorer to search the photos in a folder, then turn right or use the arrow keys to see the following object.
Tap a screenshot to display the focus, erase, rotate keys, etc.
Visit: Photo Viewer – Windows 10
Quick Look
When switching from using the Mac OS to running Windows 10, this software has many features that help you the most.
One element you may have skipped from switching to Windows 10 is using QuickLook, but now it has become easy to do this work using this software. This is one of the most trusted image-viewing software for most people.
Visit: Quick Look
Adobe Bridge
Adobe Bridge is another image viewer software engineering with a straightforward user interface. You can import/export/view all this software's assets and batch export to JPEG. Be it an iOS user or Android, you can easily import photos from your mobile. The fascinating part about this software is it has automated cache management that'll create more space to work.
Serene color settings with metadata generation. Want to build your personalized websites with mind-blowing photos? Opt for this software, and experience its unique features.
Download  Adobe Bridge
Nikon ViewNX-2
If you want to transform your still images and instant clicks, what could be better than this image viewer software, Nikon ViewNX-2? This software comes along with extra features like you can store, edit, and browse images as well as movies. It has an image editor that performs functions like RAW editing and other editing. This software provides a fantastic Nikon Movie Editor feature if you want to edit videos.
It uses Nikon Transfer 2 to transfer images from one source to another, From a camera to a PC/laptop. O have to perform elementary operations to use this software. You can switch workspaces using tabs—easy JPEG, PNG, or TIFF file adjustments. You can select a display from different versions of the captured image. Various functions like filtering, sorting, portraying, rotating, etc., make this app one of the sorted image viewer software.
Download  Nikon ViewNX-2
Picajet Photo Organizer
Are you confused and irritated because of how random your pictures are? Don't worry; Picajet Photo Organizer is amongst the best image viewer software, with many exceptional features. You can easily manage your extensive collection of photos and can access them anytime.
It uses optimized photo processing techniques for high-speed indexing. It has dynamic categories with numerous icons to put your images effortlessly. You can zoom in to a large extent; they are designed for massive databases. Even hide your private photos and perform many batch operations. Not only this, but you can store your images and live without worrying about losing them. You can easily optimize and customize your pictures.
Download  Picajet Photo Organizer
DigiKam Photo Manager
The following software on the list of best image viewers is DigiKam. DigiKam is an open-source multi-platform image management tool with a feature-packed Windows port.

Your collection can be sorted into folders and albums, making DigiKam flexible enough for your organization's scheme. It is an advanced image viewer software that makes importing and organizing digital photos straightforward. DigiKam software helps you to edit and view photos from your digital camera and also, and you can upload them to social media.
Download Digikam Photo Manager
Magix Photo Manager 12
This software is the latest in the Magix Photo Management line. It's an all-organizing, editing, and sharing application. It has a friendly, stable user interface and comes with an import feature using which you get your pictures and videos from your digital camera, scanner, or phone.
Magix Photo Manager has essential editing features like red-eye correction, automatic image optimization, and panorama picture creation. It can fish out duplicates by matching similar scenes, and then you may delete the unnecessary ones. Also, with the export option, you can save pictures anywhere.
Download  Magix Photo Manager 12
StudioLine Photo Basic 3
The next one on the list of best image viewers is StudioLine. StudioLine Photo Basic 3 lets you sort the items in your photo collection while executing simple edits to your snapshots.
You can create a slideshow of your photo gallery using this tool in a few clicks. The editing features of this software include- crop, rotate, red-eye effect, uploading photos to a website, and other touch-ups. On the organizing end, Photo Basic 3 consists of the ability to add descriptors to the image, to add tags, and geotags. So, go ahead and use this software.
Download  StudioLine Photo Basic 3
Photo Organizer
Photo Organizer helps you streamline your photo library by organizing it in a single place. Also, it lets you rename the image in a batch, freeing you from the difficulty of renaming every file.
It scans and removes duplicate data to recover the space on your hard drive. Also, it allows you to revert all the changes when you want. So, if you have done something wrong accidentally, you need not worry about it while using this image viewer software.
Download  Photo Organizer
FAQs 
Is an image viewer free to use?
Many image viewers are free and can be downloaded and used without cost. However, premium or advanced image viewer options are available for purchase.
Can an image viewer play slideshow presentations?
Yes, most image viewers have a slideshow mode that allows users to view a collection of images in a sequential and automated manner.
Does an image viewer support zooming and panning?
Yes, image viewers typically allow users to zoom in and out of images for a closer look and pan across the image to view different areas.
Can an image viewer view images in full-screen mode?
Yes, an image viewer often provides a full-screen mode that maximizes the image display area and minimizes distractions for a more immersive viewing experience.
Conclusion
Save your millions of photos with the help of this image viewer software, manage them, and share them with ease.