Video editing has become a very trendy nature in most of the humans. Most of the people address video editing as their passion, while few dream of building a career in this field. Video editing helps you in giving your video a new look with exciting effects. Green Screen is one such effect that enables you to change your boring and plain background into a scenic beauty or a magical film. Thus getting a Green Screen Software is a must!
This technique of removing the background and filling it with colour before changing the background is called chromakey. Chromakeying is a famous worldwide technology used in video editing. There is much software that helps you in applying green screens, but most of them are difficult to use and give massive overheads.
Lightweight, user-friendly and straightforward Green Screen software are available for free for windows. Then why use an expensive one! Here are 10 best free Green Screen software you may find interesting!
Top 10 Free Green Screen Software to Use in 2019
Here you will find the top green screen software for easy editing. Do check them all!
Filmora
It is the best video editing software that allows you to produce magical videos out of ordinary videos. You can chromakey any footage by following straightforward steps. Load the image you want to load in the background and load the video as well.
Then highlight the image and make the part of the picture transparent by right-clicking the image and browsing through the options. It also has various exciting features to make your editing look real and magical.
Visit: Filmora
See Also: Top 10 Best Video Enhancement Software for Windows – TechWhoop
VSDC Video Editor
VSDC Video Editor is wide-spread editor trusted by millions of users worldwide. It supports all editing tools to enhance your video editing skills. When it comes to chromakeying, the editor gives you the best resultant product. Chromakeying is just a piece of cake when it comes to VSDC.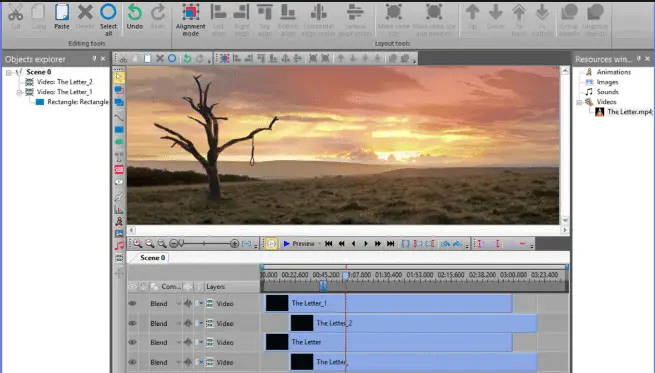 Drop the 2 videos you would like to collate and make the background of one video transparent, and it is replaced with the video you have dropped your project video. It gives an efficient and clean output which is seamless and looks purely real.
Visit: VSDC Video Editor
ShotCut
This is another Green Screen Software that enables you in creating a creative video out of a simple routine video.
Load the two videos you would like to collaborate and use the options- 'remove colour' and 'adjust colour' to remove background and club the background from another video. You can use various filters to give your video an additional attraction from the eyes of the viewers.
See Also: 10 Best Free MP4 Joiner Software for Windows – TechWhoop
Visit: Shotcut
Wax
Wax is a flexible video editor. It supports various special effects that make your composing seam extraordinary. It can create 2D and 3D effects supporting variable features. Green screen is one such exceptional feature that adds more impact on the video.
Import the video file into the editor and make sure your video is in the supported format. Wax only supports AVI files. You can set your background as green or blue as per your choice of interest.
Visit: Wax
Windows Movie Maker
Windows Movie Maker is a video editor and a Green Screen Software by Microsoft Corporation. It is effortless and user-friendly that enables easy video editing. You can create professional videos in an easy go.
Green Screen editing is free of cost and results in a perfect video with no noise or disturbance in between. The process might take time, but it is worth the result.
See Also: Top 6 Best Vine Editing Apps for iOS (2019) – TechWhoop
Visit: Windows Movie Maker
VirtualDub
VirtualDub is a Green Screen Software that lets you perform various operations on videos. Green Screen technique is one among those activities that give an auxiliary effect to your video. Virtual Dub makes your work easy by allowing you to perform the background replacement in just very few steps.
Import the two videos. Right, click the video you want to accomplish chromakey and select the Green screen. Drag the replacement video into the timeline. On a single click on the green screen, the videos are collated. It is as simple as that.
Visit: VirtualDub
Movavi
Movavi is an exciting video editor which enables easy chromakeying. You just need to download the software and install it. Rest of the process is so simple. Import the two media files you want to collaborate and place them one over the other.
The Green Screen video should be placed on top of the other video. Open chroma key from the tools and click on the background of the image to turn it into the green. Click apply to get your video ready. Feeling so simple! Yes, it is very user-friendly and easy to use.
Visit: Movavi
AVS
AVS is a featured video editor with advanced effects. You can change the background of any video and make it look outstanding with more interesting backgrounds. To apply this feature, you need to use chroma key effect after importing two videos which you want to combine the foreground of one video with the background of another.
Add the videos to the timeline and place one over the other. Select the foreground image to apply green screen in the background. Click on the green screen and watch your video in the new background.
See Also: Top 6 Best Free Keylogger Software for Windows to Monitor Keystrokes
Visit: AVS
XSplit Broadcaster
XSplit Broadcaster is an easy Green Screen Software that permits you to use all the available features to the fullest. Give your video a new life by adding a chromakey effect.
Before adding a video to eliminate background make sure your background image and the foreground image colours do not overlap. Otherwise, the foreground image may be damaged before editing.
Visit: XSplit Broadcaster
OpenShot
OpenShot is an open source video editing software. It supports the chromakeying feature giving your video the best magical background. Drag the video into the editor and apply the chromakey effect. It eliminates the background and provides a green screen.
Now drag another footage and place it below and click on the green screen. Both videos are collated, and you can see the chromakey effect.
Visit: OpenShot
Hope, you liked our list of green screen software.