These days videos are one of the most straightforward and savvy entertainment options for us. While videos can be a lot of fun, they are equally impressive in terms of commercial implications. Thus, the cumulative requirements that a video must satisfy are exciting content and attractive visuals. For maintaining both, the videos must be edited properly, and therefore a quality video editing software like this one here is a must. Today in the world of e-gaming, everyone wants to show their skills through Twitch or Youtube, and for that, they need to have sound knowledge of gaming video editing software. 
These video editing software can simplify the transitions and add numerous effects, transitions, audio tracks, etc.
Although mainly professional software costs a lot, users can trust some online open-source tools to provide a professional-like editing experience.
Also see: 10 Best Free Video Editing Software for Mac OS
9 Best Gaming Video Editing Software
In this regard, the following may prove to be handy:
InVideo
It is a free cloud-based best gaming video editing software for montages that enables users to create and edit videos with effortless ease. 
A simple user interface in an online video editor is an asset for beginners and professionals alike. Facebook video editors like InVideo offer a much more fun experience of video editing compared to others.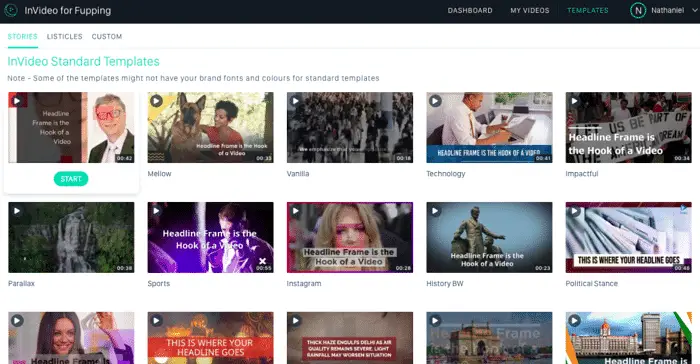 This is because this video editor has several video templates that you can use to create better-looking videos with just a few clicks. 
What makes it a powerful tool is creating videos with the help of automated options quickly.
See Also How To Turn Off NVIDIA Overlay | Explained With Pictures
Windows Movie Maker
It was once a popular free gaming video editing software for windows wherein users could make simplistic videos using drag and drop features. Windows Movie Maker boasts prominent features such as adding effects, transitions, titles, credits, audio tracks, etc., to videos. 
It also contains some prominent features such as timeline narration and auto movie. Users can also share their creations on popular social networking platforms such as Facebook, Twitter, and YouTube. 
It comes pre-installed with the Windows OS, and hence compatibility is not a problematic factor for this software.
Visit: Windows Movie Maker
OpenShot 
This free gaming video editing software enables users to add numerous video tracks to the timeline. Users can also add tile templates and effects to their videos. 
Advanced features such as waveform editing for audio tracks and visualizing the audio help the user make professional-quality video clips. Apart from including over 70 different languages, this video editor's significant benefit is the regular updates to the software. 
This helps in using the latest software every time. The only drawback is that because of being open-source software. There are numerous bugs and other problems that need to be fixed. If you want to learn how to Download Embedded Video Easily? Check out this.
Visit: OpenShot
See Also: How To Turn Off NVIDIA Overlay | Explained With Pictures
VSDC Video Editor
This gaming video editing software has numerous features that users can avail for free. The platform's smooth editing experience enables even beginners to enjoy creating their video clips and other media projects quickly. 
Many features help this software achieve its distinction in the market as a professional quality software. 
These features include adding a wide range of filters to the videos besides filters, overlays, transition effects, and color correction abilities. 
It can easily handle all media files due to the broad format support, including HD and 4K videos.
Visit: VSDC Video Editor
See Also: How To Download Embedded Video Easily? (2023)
Avidemux
It is a free gaming video editing software that can design videos using simplistic features on windows OS. Users can perform simple tasks on their videos, including cutting, filtering, and encoding. 
Avidemux can support a wide range of AVI, MPEG, MP4, ASF, and a wide range of codecs. This video editor supports features with practical usage but not so much as a stylish look. 
Its simplistic and straightforward interface will enable you to learn basic video editing quickly as a new user. The significant disadvantage here is that users can not add filters or transitions since the editor does not have a timeline.
Visit: Avidemux
Kdenlive
This open-source software is compatible with Windows, Mac, and Linux-based systems. Kdenlive gaming video editing software has a simple UI, but advanced-level tools are favored by beginners and professionals alike. 
It boasts of a multi-track timeline function that can import multiple videos and audio clips onto the timeline.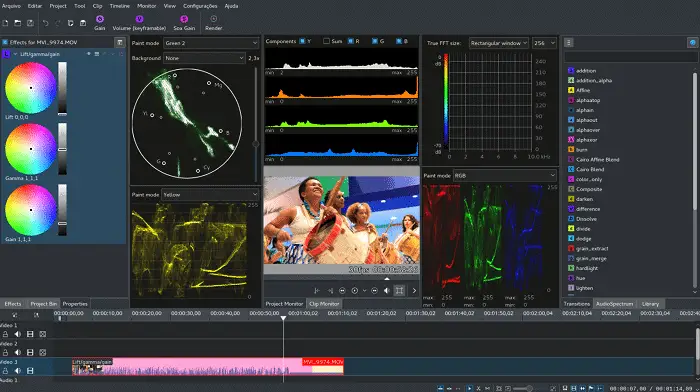 Even if your system crashes or there is any similar emergency, your file is not lost because it creates a backup. 
An online forum is where you get to ask your doubts and questions to other fellow users. A lack of a support team means many items can go unanswered too, which is the only lacuna to the software.
Visit: Kdenlive
How To Optimize Windows 10 For Gaming. Click here!
HitFilm Express
This popular free movie editor and compositor offers many free features to users. You can add visual effects and avail compositing options for free. Besides using semi-professional tools for gaming video editing software purposes, users can add various video transitions and products to the videos. 
It also supports multiple file formats for importing videos, including AVCHD, AVI, DV, MP4, MPEG, MOV, and MMV. Files can be exported in two output formats only, i.e., AVI and MP4. Additionally, users may find the interfaces a bit difficult for beginners to navigate.
Visit: HitFilm Express
Lightworks
It is a great gaming video editing software with many features and video effects. Users can edit up to 256 videos, audios, and Still Images. This has been the go-to software for many professionals and moviemakers for the past 25 years. 
This professional editing tool can easily edit YouTube videos and 4K quality videos too. Users can import videos and audio in all the latest formats and share them with their peers. 
Its well-designed interface supports many advanced features and supports output formats such as MP4, MXF, QuickTime, AVI, MTS, MPG, M2T, etc. The disadvantage is that the user interface may prove to be difficult for amateurs and beginners.
Visit: Lightworks
Shotcut
This is a free and open-source games video editor for Windows, known for its numerous features and broad media support. The several audio-video effect options of this software enable users to create advanced-level videos. It has a flexible interface that is very similar to Adobe Premiere Pro.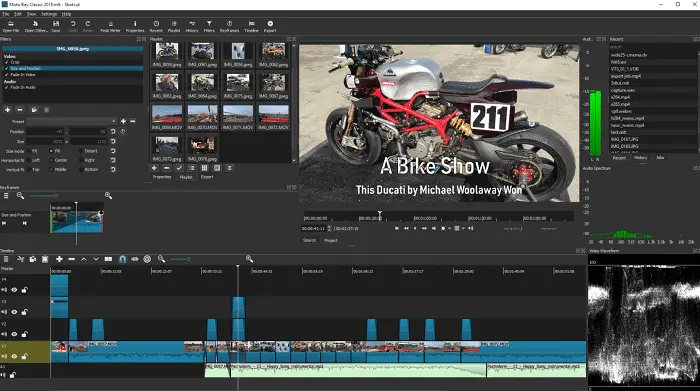 Besides timeline editing functions, overlays, effects, transitions, audios, etc. Some other advanced tools and features may be complicated for beginners who want to learn rudimentary editing. This is the single most disadvantageous fact about this software.
It is essential to understand that compatibility and interface of the software or online tool are crucial considerations. While the above list is neither conclusive nor exhaustive, you should find the right gaming video editing software tool for you by researching these parameters based on your experience level.
Visit: Shotcut
Movavi 
Movavi gaming video editing software deserves a noteworthy mention in this list. It hosts some very useful tools and cutting–edge software to share with others. You will not have to spend hours learning its complex features when you find a simple guide when you first use it.
Movavi includes most if not all the fundamental editing tools additionally a slew of extras like stop motion video, pre–made intros, resequencing, and other additional effects you'll need.
Movavi Video Editor Plus hosts a basic interface with beginner panels, allowing you to make a polished gameplay video in less than an hour maximum. The software lets you concentrate on the creative and gaming aspects and frees you from technical concerns.
Editing your games, gameplay experiences, and fun discord chats becomes easier and more fun. Optional auto–adjustments to improve video quality.
VideoPad
The free version of Videopad can suffice for basic edits. The paid version has more sophisticated features. The timeline and storyboard editing features are purportedly included in the free trial. Unfortunately, the application disables various tools after a few adjustments.
The free version's capabilities are comparable to those of WMM, while the paid versions are comparable to Lightworks or shortcuts. 50+ editing transitions and background effects. Among the other gaming video editing software, this is a pro in 3D video editing. An intuitive interface allows for the creation of complex edits. The free edition has very basic features but allows you to do pretty much every basic edit.
Visit: VideoPad
AVS 
Another gaming video editing software is AVS. It has many of the same functions as professional game editing tools. However, the ability to edit and generate films with a large library of audio effects to improve the edit is included. The video quality and user interface of the AVS video editor are both excellent.
It is relatively simple to use. Converting files to multiple formats and creating DVDs are handled by the audio and video synching tools and conversion tools. Some of the unique features include masking, subpixel accuracy, and blending options.
Basic editing features like chromakey and some great correction options as well as Great audio enhancing capabilities. Editing Blu–ray video Supports most media formats and codecs. You can also create slideshows, But The trial version is limited.
Visit: AVS
Blender
Blender is a sophisticated free editing software for gaming 3D modeling programs that can also be used for movie editing and audio mixing. It's ideal for RPG games, as well as a range of other characteristics like animation, which make it ideal for most PC games. The scripting tool in Blender allows users to customize their panel.
This software's sequence editor allows you to do everything from waveform visualization to video masking. As a result, it's one of the greatest gaming editing apps on the market. With synchronization and scrubbing, sequencing choices, and speed control, you can do some great edits. Blender is a flexible program, but it's especially well suited to gaming.
Visit: Blender
See also: How to Extract Audio From Video | Top 11 Ways
FAQs
Which software do gamers use?
There is a plethora of options for gaming video editing software. Movavi, AVS, Lightworks are popular choices among gamers.
Which video format do streamers use?
Streamers make use of .mp4 or .avi to maintain the quality of the gaming video.
Which is the best free video editor?
Blender or Windows Movie Maker are easily available for free and they provide great features.
See Also: 10 Best Wedding Video Editing Software In 2023
Conclusion 
All of the above Best gaming video editing software on the list have their own pros and cons. Choice of software fairly depends on the work you want to do and the investment you can provide for it. I personally recommend the Adobe package because it includes all sorts of game video maker editing software one will require. But if you don't want to invest in these software's pinnacle or Movavi can be the best for you.