Today if the business wants to run smoothly and efficiently then it requires custom software solutions. Not all the companies capable of delivering the highest quality products. Hence, a software development company need to have a team of expert software developers who use the latest technologies and programs available in the industry. Here is the list of top ten custom software development companies to evolve your business.
Where there's business, there is a need for leads. Here are best 7 Lead Generation Companies And Services Of 2023 for your reference.
Custom Software Development Companies for Your Product Development
Check the list below of the top 10 software development companies:
Skywell Software
Skywell software development company provides custom solutions and seamless services to the clients worldwide. It offers a broad variety of services in the multiple industry verticals including healthcare, finance, agriculture, retail, e-commerce, and others.
This one of the Custom Software Development Companies focuses on mobile/web development the same as on innovative AR/VR development services. Company's key clients are CISCO, ACC, Syngenta, Auchan, Nova Poshta International, and others.
Founded – 2008
Company Size – 51-200 Employees
See Also: Top 7 Marketing Apps For Real Estate Agents That Are Worth Your Time
STX Next
STX Next empowers your business with the help of over 150 developers with outstanding codes and result drove the quick process. STX Next is Europe's largest Python software house, based in Poland. Their core services are Python and JS development. STX Next is capable of providing development team extension as well as comprehensive services including Product Design, DevOps and Cross-platform Mobile App Development.
The expertise of their team gives the flexibility to serve the reputed clients developing an extraordinary work model.
Founded – 2005
Company Size – 201-500 employees
VironIT
It provides end to end software development services including mobile applications, web-oriented software products, software integration and solutions, support and maintenance.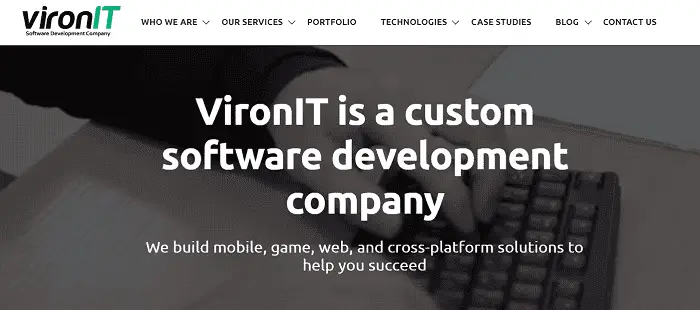 A Company has completed the projects in different niches such as eHealth, Sports, Banking Gaming, etc. The key Clients are JSport.com, Turkcell, Meetville.com and many more.
Founded – 2004
Company Size – 50-249 employees
See:
Quovantis
Quovantis is one of the best custom software development companies which deliver the software to every sector of the industries. It solves the problems and also fulfills the business goals of the Client with the help of software developed solutions.
The primary purpose of this company is to provide a delightful digital experience to the start-ups and leading product companies. The focus of the company is to solve the problems efficiently. It works in numerous segments of the industry such as IoT, Big Data, education, healthcare, finance, augmented reality, information security and many more.
Founded – 2010
Company Size – 50-200 employees
Oxagile
It is a custom software development company which provide custom web and mobile applications with the primary focus on multi-platform video streaming, hybrid TV and VoD solutions.
The company has successfully completed around 400 projects in various niches, such as Entertainment, eCommerce, Healthcare and others. The company has high profile clients as Google, Disney, Vodafone and much more.
Founded – 2005
Company Size – 201-500 employees
EffectiveSoft
Effective Soft is an international company with 18 years of professional experience. It mainly focuses on the following technologies .NET, C/C++, Java, AngularJS, PHP, MongoDB.
The company provides the custom software in multiple verticals of the industry such as banking and trading, elearning, entertainment, and mobile applications.
Founded – 2000
Company Size – 50-249 employees
ELEKS
ELEKS is one of the Custom Software Development Companies help to provide digital solutions through expert software engineering and consultancy services. It works with high tech Fortune 500 companies and big enterprises boosting the value they offer for the modern world.
Their specialties are data science, Quality assurance, and testing, AI, Blockchain, IoT, Big data and analytics, security services, etc.
Founded – 1991
Company Size – 1000-5000 employees
Merixstudio
Merixstudio is planning and developing digital products since 1999. They understand the need for start-ups very well. By collaborating closely with international companies such as GS1, Divio, Toshiba, etc., it turns the ideas into realities.
The core competencies are rich web application development, frontend, and backend support, developing UI/UX design complying with modern trends.
Founded – 1999
Company Size – 51-200 employees
Praxent
This one of the Custom Software Development Companies has launched over 300 products with multiple industry verticals. The core competencies of Praxent are web portal, platform, software modernization, and SAAS products.
They develop custom software and provide great products for user experience. This company produces a prototype design to ensure sustainable growth for your business.
Founded – 2000
Company Size – 11-50 employees
See also: 5 Types of Legal Software Every Law Firm Needs
FrogSlayer
It builds the custom software packages to evolve your business by developing the new or changing the existing systems.
The company believes in providing the unique solutions which their Clients can rely on years to come. The principal clients are Weatherford, Wrigley, NCR, Bestbuy and many more.
Founded – 2005
Company Size – 51-200 employees
See also: How to Manage a Website | A Beginner's Guide in 2023
Conclusion
These are some of the custom software development companies you can check to improve the productivity and revenue of your business. However, we suggest you follow best software development practices to effectively manage the software development process.