Any regular browser will know about a few annoyances that come along with the internet. Pop up messages, mate! Sometimes you will a million dollars out of nowhere, and other times you get instructed to give your phone number because your frigging battery has been infected with some deadly virus. You and I both know that these are fake as a high school girl's drama, but that does not make them any less annoying. One of these browser pop up scams is the infamous National Consumer Center Virus or Scam. Is national consumer center legit? They claim inanely stupid things like you will magically win a new phone or maybe a brand new MacBook for no reason.
You know that its BS when you have not participated in any contests, and you still win gifts. Nah mate! Our world is a bit too sour for nice things like that. That level of happiness would be illegal because you will have to steal them things if you want free stuff without participating in any contests.
Before we proceed on how to clean this crap up from your browser, let's first know how did you start receiving such pop-ups and page redirects in the first place. All these little gripes have started because your system is now infested with a relatively small, but no less bothersome piece of malicious code, called as adware.
That software usually comes bundled with the regular, right software you downloaded from a file hosting site which had questionable security.
Anyway, you are apparently not one of the smart kids if you read the entire paragraph before this. Because an intelligent kid would know not to download software from a shady looking website in the first place.
How to Remove National Consumer Center Virus or Scam
Anyway, now that you have gotten yourself into this non-lethal pickle, here are some ways by which you can remove the adware that's causing you to see fake national consumer center gift card scam messages, and getting your hopes up that you won a free iPhone 8 Plus.
Use a malware scanner tool to clean out the garbage
There has never been a time where you need to download a malware remover tool. The one offered by Malwarebytes seems pretty good. You can download one for yourself from this link.
Just Run the software and allow it to modify your device through account control, by selecting Yes. It is a straightforward tool, both regarding installation, as well as usability.
There are just three buttons for you to be concerned with because that's all there is to click on! First, select the Scan option which scans your drive and lists all the malware or suspicious files in the window below the buttons.
It gives the full path to each of the files detected as malicious, so you can go ahead and delete the entire folder if you want to do it manually, like a man! Alternatively, you could do what ordinary people do and just select the Clean button and wait for the software to finish doing its thing.
When it says all programs have been successfully removed from the computer, you know that your PC is finally free of all malware. Or at least that's what we hope.
Sometimes, this bundled malware may not show up on these scan lists and could still be among the apps, causing trouble. In that case, you will need another program which is just as fast and efficient as the Malwarebytes adware cleaner tool.
Get the Malwarebytes Anti-malware tool
Download the Malwarebytes anti-malware tool from this link. Once you download the software, double-click on it to open it. It will walk you through the straightforward wizard to set it up.
After you have done that, click on the big button that reads Scan Now. Wait for the progress bar to complete. This tool will look through your memory, file system, setup files and registries.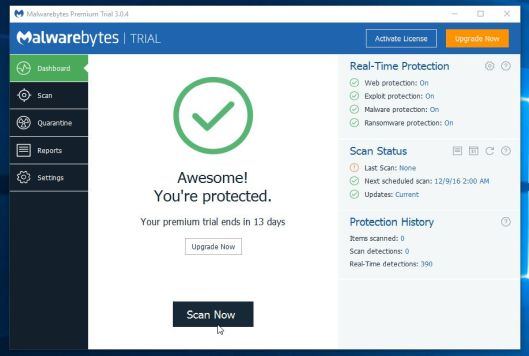 It will then show you a list of malicious software that are classified as suspicious under the current virus definition. Click on the option in the bottom right corner that says Quarantine Selected.
Some of them will be registries that have been loaded in your C drive, which means they might require additional permission or commonly, a reboot for them to be removed entirely from your computer. It will ask permission after clean up to reboot your computer system, Click Yes and your system will restart on its own.
Once you reboot it, check if you still get the same kind of national consumer center scam messages. If they're not here for now, that's great. But wait, there's more!
It may not be active and the app related to it might still be hibernating after that reboot, so you will need to make sure that it has been completely removed. To do that, you should do this next step as well. It's optional, but I recommend you do it anyway.
Get an antivirus supporting software
An antivirus support software is the one which runs parallel to the existing protection you have on. This will do its functions without interfering with the antivirus and vice versa. One such popular software is HitmanPro.
Keep in mind that it is a paid service, but there is an option to try out a free 30-day trial. That is just what we need mate! A quick trial of the full version to get our system back to its former glory!
Open the file and run it through its paces using the setup wizard.
Then, have it scan your system for malware once again, and see if anything new shows up on the list. If there is nothing shown, your system is clean from the above 2 steps, so you can close this window and go back to what you were doing online.
But if something does show up, thank me for writing this additional paragraph late at night, and click Next. Select the option for the free trial by clicking on activate free licence option. This will clear any remaining malware and adware from your system.
We have revealed three layers of malware removal processes. I can almost guarantee that after these three stages. Your system will not continue to see the fake national consumer center message. Happy browsing mate, cheers!