File hosting services are convenient to invest in. You can comfortably host your files online for the targeted users to access and download. We could all use a cloud storage for content caching and general purpose backups, so here are top 6 free file hosting sites to host data online.
All of these have a free account/ plan, and upgrading to a paid service is not mandatory. There is no expiry date on your free access privileges. I have made sure that there are none that would compromise your data privacy publically as Google Drive would. So feel free to use any one of them for your convenience.
See Also: – Top 10 Best Encryption Software for Windows – TechWhoop
Top 6 File Hosting Services
This is the ultimate file hosting site for any user. It gives you UNLIMITED free space, without the need any registration! Once you upload your data, your download link will be emailed to you. You can download your files only through that link, and you can also share it with anyone you want to provide access to it.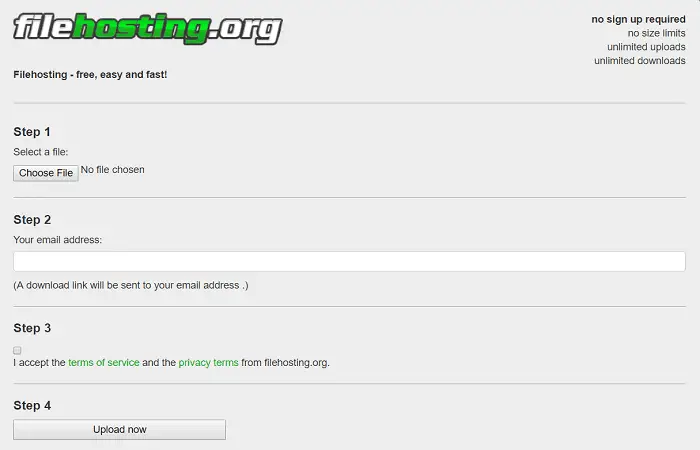 What's more remarkable is that there is no restriction on upload file sizes, so you can upload as large of a file as you want without it being compressed or dropped for being too large.
This is another free and unlimited file hosting site for your convenience. There's just one small drawback from the earlier filehosting.org, which there's a limitation on the upload size. You can only upload a maximum of 200 MB.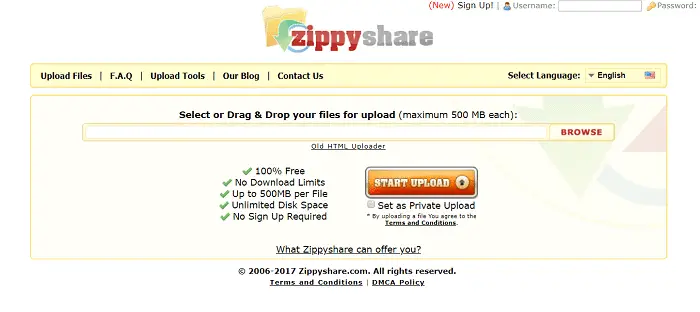 There is still no need for any registration, so you still have the convenience of uploading files without registering first. As long as your file sizes are under 200 MB, you can use this site for direct downloads and easy sharing worldwide.
See Also: – How To Remove Write Protection On Micro SD Card – TechWhoop
This site needs your registration but does not involve any premium accounts. You also get free and unlimited storage, with an upload size restriction of 5 GB. This could be listed as better than Zippyshare, but the fact that Zippyshare doesn't need any accounts you need to login to upload your files to it.
You can share files through links which anyone can with access download, and is pretty fast at keeping the count as well.
Mega is a replacement or alternative to the ever-popular MegaUpload. A New Zealand based file server which was shut down a couple of years ago. Although we are unsure whether Mega will be around for long, we might as well take good use of it when possible. It's better not to put up too many files of critical importance because if it shuts down again, you will also have a part in accounting for the losses incurred.
That said, the data offers that you get with Mega are pretty sweet, even on the free plan. You get 10 GB of usable bandwidth per month with the free plan, and a total of 50 gigs of storage. This is strictly meant for casual, occasional shares and will not suffice for business level usage, mainly because you cannot offload all of the data at once due to the seemingly limited bandwidth.
With a purchase of $10 per month, you get a massive 2 TB bandwidth with 500 GB of space available. And the topmost plan of $30 will get you 8 TB of bandwidth and a total of 4 TB storage. Although it doesn't seem to be very reasonable, you need to appreciate their newfound enthusiasm towards data privacy and security. You can use the free plan for all your general file sharing purposes.
See Also: – Top 3 Methods to Access Deleted Comments on Reddit – TechWhoop
This is one of the most useful file sharing systems for direct data download. It gets you 100 GB for free storage when you sign up to it. That's twice as what you'd get with Mega up there. Now granted, it isn't as polished as Mega and some other options in this list, but it is more than enough for pretty much everyone.
It allows global file sharing and secure links for direct downloads. Being one of my personal favourites, 4Shared has permitted me to manage my files and others files which I needed elegantly. Their app for your smartphone allows you to quickly access and keep track of all relevant data on there.
They even have a music app linked to this file server. You can get a ton of free content off of this website and put your own in it.
Being one of the popular options out there, sabercat host is a site which allows 5 GB of storage space. It doesn't require you to create an account like some others on the list, which is always convenient. Its server has some of the fastest responses to upload and download requests that I've seen out there. The interface is very clean and organised, friendly for the web as well as mobile users.
There are not several downsides to this, other than the fact that you'll have to pay to get unlimited storage, but you can choose to do so for specified time intervals if you don't plan on sticking around for too long, but want a premium experience as long as you're around.