File hosting services are convenient to invest in. You can comfortably host your files online for the targeted users to access and download. We could all use cloud storage for content caching and general-purpose backups, so here are the top 6 free file-hosting sites to host data online.
List of 11 Free File Sharing Sites to Check Out!
Google Drive.
Jumpshare.
Microsoft OneDrive.
Box.
Amazon Drive.
Dropbox.
Hightail.
Mediafire.
All these have a free account/ plan, and upgrading to a paid service is not mandatory. There is no expiry date on your free access privileges. I have made sure that none would compromise your data privacy publicly, as Google Drive would. So feel free to use any one of them for your convenience. Want to create your server for web hosting?
See also: Solve In Easy Steps "Zippyshare 403 Forbidden" Error – 2023
Top 13 File Hosting Services of 2023
Here is a list of the top 13 File Hosting Services you need.
Filehosting
This is the ultimate file hosting site for any user. It gives you UNLIMITED free space without the need for any registration! Once you upload your data, your download link will be emailed. You can download your files only through that link and share them with anyone you want to provide access to.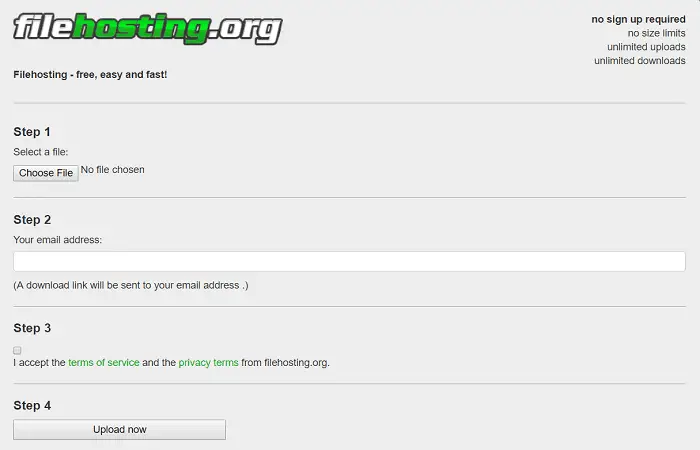 What's more remarkable is that there is no restriction on upload file sizes, so you can upload as significant of a file as you want without it being compressed or dropped for being too large.
Visit: FileHosting
See also: 000Webhost Review: Hassle-Free Web Hosting With Zero Flaws
Zippyshare
This is another free and unlimited file hosting site for your convenience. There's just one minor drawback from the earlier filehosting.org: a limitation on the upload size. You can only upload a maximum of 200 MB.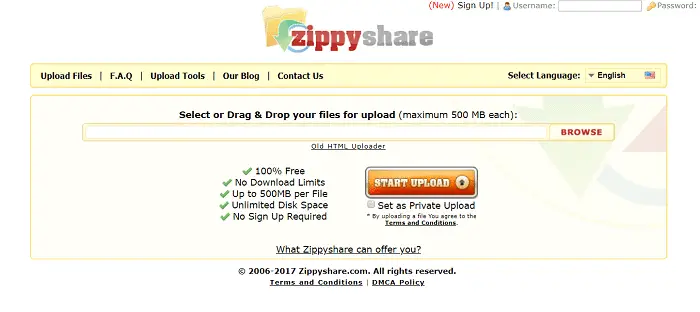 Registration is unnecessary, so you can easily upload files without registering first. If your file sizes are under 200 MB, you can use this site for direct downloads and easy sharing worldwide. It is one of the most convenient File Hosting Services.
Visit: Zippyshare
Box
The Box is one of the most popular file-hosting platforms among business customers. This file and document hosting service has a tremendous automated workflow and allows several third-party collaborations, intelligent classification of files, and categorization.
The Boxx will provide you with a free plan for up to 10GB space, but if you are looking for more, the $5 starter's goal is pretty good as it provides up to 100GB space and collaborations with up to 100 other users and many more features. The business plans have even better services and way more space, but they can be costly and less helpful to individuals. But if you are looking for a secure and trusted platform, then Box is an option you should try.
Visit: Box
File Dropper
This site needs your registration but does not involve any premium accounts. You also get free and unlimited storage, with an upload size restriction of 5 GB. This could be listed as better than Zippyshare, but the fact that Zippyshare doesn't need any account,s you need to log in to upload your files.
You can share files through links that anyone can access and download, and it is pretty fast at keeping the count. It is one of the most decent File Hosting Services.
Visit: File Dropper
Mega
Mega is a replacement or alternative to the ever-popular MegaUpload—a New Zealand-based file server shut down two years ago. Although we are unsure whether Mega will be around for long, we might as well use it when possible. It's better not to put up too many files of critical importance because if it shuts down again, you will also have a part in accounting for the losses incurred.
That said, the data offers that you get with Mega are pretty sweet, even on the free plan. You get 10 GB of usable bandwidth per month with the free program and 50 gigs of storage. This is strictly meant for casual, occasional shares and will not suffice for business-level usage, mainly because you cannot offload all the data simultaneously due to the seemingly limited bandwidth.
With a purchase of $10 per month, you get a massive 2 TB bandwidth with 500 GB of space available. And the topmost plan of $30 will get you 8 TB of bandwidth and 4 TB of storage. Although it doesn't seem reasonable, you must appreciate their newfound data privacy and security enthusiasm. You can use the free plan for all your general file-sharing purposes. It is an excellent alternative for all File Hosting Services.
Visit: Mega. nz
See Also: Top 3 Methods to Access Deleted Comments on Reddit – TechWhoop
SugarSync
SugarSyncc is one of the best file server hosting services if you forget to sync your data on time! The auto-sync feature ofSugarSyncc makes it one of the best cloud storage services available.
It also has several other useful features like remote file deletion, protected sharing, various collaboration tools, etc. It also has specialized apps for mobile phone users on Android and ios.
SugarSync lets you try out all of its plans for free for a month, and the cheapest plan starts from $7.49/month. You can outfit 2TB of storage and hosted file server storage if you get the higher goals. It works on a month-to-month plan basis, and you don't have to get yourself an annual plan unnecessarily if it is not required.SugarSyncc is also trusted for its highly secure service, so you may want to consider this platform if you must store sensitive information on the cloud.
Visit: SugarSync
4shared
This is one of the most useful file-sharing systems for direct data download. When you sign up for it, it gets you 100 GB of free storage. That's twice what you'd get with Mega up there. Now granted, it isn't as polished as Mega and some other options in this list, but it is more than enough for pretty much everyone.
It allows global file sharing and secure links for direct downloads. Being one of my favorites, 4Shared has allowed me to manage my files and others I need elegantly. Their app for your smartphone will enable you to access and keep track of all relevant data there quickly.
They even have a music app linked to this file server. You can get a ton of free content from this website and put your own in it. It is one of the most commonly used File Hosting Services.
Visit: 4shared
See Also: How To Buy A Self-Storage Facility?
ElephantDrive
ElephantDrive is the cloud storage and file hosting service introduced by Amazon web services, which gives you an idea about its popularity and security. Elephant Drive offers end-to-end encryption, several collaboration tools, and many other features you won't find on other platforms.
The free plan offers up to 2GB, but you can quickly get an individual plan at just $10, giving you up to 1TB of storage space. You can also expand the storage with some additional small payments. The business plan provides you with much more storage and file size limit.
ElephantDrive is one of the best options for those who like to work in teams. It provides fantastic sharing, collaborating, and integration features while protecting you from ransomware or any security breach, and it is also one of the very few hosting services that support Linux machines. It is super compatible with many devices, giving it a significant upper hand compared to other best file-sharing sites.
Visit: Elephantdrive
Livedrive
If you are looking for an online document hosting solution that provides unlimited data storage at a minimal and affordable price, Livedrive is the answer. This platform was developed in 2008 and is one of the earliest and most trusted online platforms.
The plans start from just $8 monthly, providing unlimited storage and file protection. You can also get a 14-day free trial for all methods. So if you want huge storage space, you should try out Livedrive.
Visit: Livedrive
SaberCatHost
Being one of the popular options, sabercat host is a site that allows 5 GB of storage space. It doesn't require you to create an account like others on the list, which is always convenient. Its server has some of the fastest responses to upload and download requests that I've seen out there. The interface is spotless and organized, friendly for web and mobile users.
There are not several downsides to this, other than the fact that you'll have to pay to get unlimited storage, but you can choose to do so for specified time intervals if you don't plan on sticking around for too long, but want a premium experience as long as you're about. This is one of the most premium File Hosting Services.
Visit: SaberCatHost
IDrive
IDrive will offer you endless syncing of your files, also those on network drives. The web interface also promotes sharing data by email, Facebook, and Twitter. The important thing is that IT admins have access to the IDrive Thin Client application. This enables them to back up/restore & manage settings. It also works all their computers' connections via a centralized dashboard.
It also offers IDrive Express, which will send you a physical hard disk drive if, by chance, you lose all your data. IDrive Express will allow for the speedy restoration of all your backup files. IDrive's business version exists and offers priority support, single sign-on, unlimited users, and server backup. It is one of the File Hosting Services with endless syncing.
Visit: IDrive
Hostinger
Hostinger succeeds in giving customers a lot of additional features while keeping prices among the lowest around. Unlike unlimited storage and bandwidth, it also throws in unlimited websites, databases, FTP users, subdomains, and parked domains for most customers. Users can choose weekly or daily backups and an optional SSL certificate for additional security protections.
You can begin with a stripped-down plan for one site, then swiftly add and customize your prospects to include domain and email hosting and optimized configurations for WordPress before scaling to the equally affordable cloud and VPS packages. It is one of the most successful File Hosting Services.
Visit: Hostinger
iPage
iPage is very cheap in terms of affordability but has a long list of add-ons that constantly keeps it at the top of our reviews. It has a free web builder and thousands of responsive templates. The iPage users can get professional-looking sites operating in no time. Some of iPage's focus features include unlimited disk space, scalable bandwidth, and a free domain name for a year.
iPageSites hosted with iPage enjoy high availability, and the host provides efficient backup software to guard data and get sites back online in the event of a disaster. With iPage's free online store, it gets PayPal integration; thus, eCommerce is very comfortable. It is one of the most affordable File Hosting Services. Occasions are coming to get some discounts. You can find the best web hosting deal in 2023 on Black Friday.
Visit: iPage
Want to create your server for web hosting? Get started by reading this article: How to Create Your Server at Home for Web Hosting.
Conclusion
These were some of the top affordable and trusted file hosting services as of 2019. Now get your site up and running in no time! Let us know your favorite ones in the comments now!