Today, you have tons of websites to store your files. You don't even need to shell out any hard cash to do so, most of these services are free, and some offer free as well as paid features. The best part about these file-sharing sites is that they are robust, secure, and provide the functionality to share files across various social media channels. You can easily store your files and send the links to your contacts.
See also: Solve In Easy Steps "Zippyshare 403 Forbidden" Error – 2023
19 Best File Sharing Sites to Use Now
Check out the best-picked file-sharing websites.
Icedrive
Another one-stop solution to your storage and file-sharing problem, Icedrive is the future of storage solutions. This storage and file-sharing service not only helps you backup and store your data in a completely safe manner, but it also helps you demonstrate them in an excellent, organized, and neat way and even allows collaboration with other users.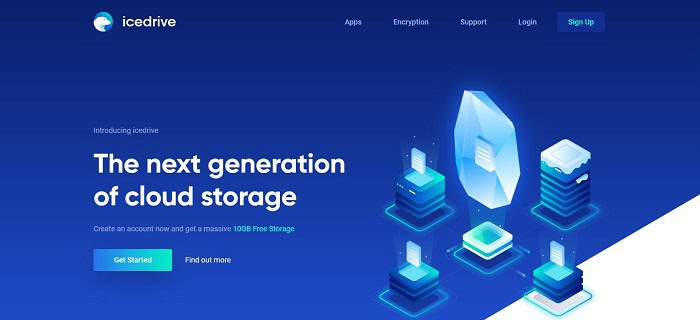 It has a variety of features that are listed down below:
With this app, there will be no privacy concerns with storing your data inside a third-party app. This is due to the fact that Icedrive uses encryption called Twofish, where only the user owning and uploading the data will be capable of using it. To others, the entire text will seem gibberish, including the people who created the app.

To top it off, Icedrive has an incredibly high limit for storage which makes it a fantastic file sharing style. On this site, you can easily store and share files as big as 100 TB. 

It is also a speedy solution to your storage issues. Not only does it offer fast uploading, but it also does not require much time to sync the data with your other devices in use. All you need to do is mount the Icedrive with a simple click, and you will have access to everything you need and then some more.

It literally cannot get better than this, but it does. The interface is incredibly easy to use and users from all over the internet have been raving over it. Moreover, you can also stream your data and share it with others as and when required with no added hassles. 
Visit: IceDrive
Sync
Sync.com is one of the best file-sharing sites you can get on your desktop or mobile phone. Like most others, it also provides cloud storage which is a perfect answer to all your problems. From storing and saving all your important data safely, it also includes discretion on privacy matters and is an excellent solution to store data that is sensitive in nature. You can check out some P2P file sharing software here.
The best features of Sync are as follows:
A person can share/send/save a file of any size to anyone across the world, even if they are not a registered user of the site.

It supports all kinds of Operating Systems. From Microsoft to Apple to android, Sync has got you covered.

Sync also provides multiple plans, both free and paid according to your needs, and all you have to do is select one. The best part about all these plans is that all of them offer an unlimited transfer of the files, and there is no bar on size. However, there is a minor con to this as well. Most users have reported the site becomes slow and lags a lot if you try and send/share files that are greater than 40GB.
Visit: Sync
FileWhopper
Coming from an Australian company, FileWhopper is a unique file-sharing service that has no limits on the size of files you can send. It is meant mostly for sending vast amounts of data, be it files or entire folders, to one or several recipients. The service offers outstanding security by encrypting data before transfer and additionally securing it with a password set by the sender. The recipient can start downloading your files even before they are fully uploaded. There are small apps both the sender and the recipient have to download to help the transfer go faster, but these apps self-delete when their job is done. 
What's also great about FileWhopper is that it automatically resumes the transfer if your computer suddenly reboots or your Internet connection is temporarily lost. Unlike with many other cloud storage services, with FileWhopper, there are no weekly or monthly fees. You pay for each file or folder you send. Prices start from $0.99 and depend on data size. Files are stored on the server for 14 days by default and get automatically deleted at the end of this period or once all requested downloads have been completed. You can also learn how to open ASPX files safely.
Use FileWhopper to send a video library, a virtual machine, or any really huge file or folder. It could be 100 GB, a terabyte, 10 TB, or even more. Visit their website below to get a quote. 
Visit: FileWhopper
OneDrive
OneDrive is one of the amazing file-sharing sites by Microsoft. You get an option to see all their plans, and you can also sign up for free. Whether you are using your phone or tablet, computer or laptop, access any file anywhere from where you left. Once you sync all your devices, the data also gets updated everywhere. Easily share your important files with your family or friends and perish those moments forever.
The best part about this site is there is no need to attach any large documents, share a link, and your document is shared. You can also explore Office 365 and OneDrive, of course. You get 1 TB storage on this site, and some premium features too. Collaborate and share your files by clicking on the link provided below.
Visit: OneDrive
iCloud
If you are a Mac user and looking for some sites to store your data and share as well, iCloud is the best choice. This is also ranked as one of the best file sharing sites because of its fantastic features. It is used by over 850 million users and still counting. Now wirelessly backup your data on the cloud using this site.
You can do many things with this Cloud computing service. Not only this but you can backup and restore, send emails, find your friends, and your iPhone too. You can also stream your photos, messages, and safely keep your data encrypted. Explore this site more by clicking on the website below.
Visit: iCloud
Dropbox
The look and feel of Dropbox feel quite similar to Google Drive, but it is much more simplistic and refined. The basic account provides 2 GB of free space, which you can extend by inviting your friends to join the service, installing the Mailbox app for iOS or Android, and installing third-party apps that Dropbox provides from time to time. The Pro version of this file-sharing website starts at 8 pounds a month, with 1 TB of storage.
Apart from its functionality similar to other file sharing sites, Dropbox has introduced a new feature – Paper, similar to Google Docs, where you can natively view doc files in the browser itself. With the new Showcase feature, you can showcase your work to your clients with just one click.
Dropbox occasionally comes up with offers bundled with third-party re-sellers. I got a 50 GB pro account with my new purchase of an HP Pavilion Series Laptop. So, watch out for new offers on the website. Above is a video tutorial on the working of Dropbox file sharing.
Visit: DropBox
See Also: How to Remove Zepto Virus in 8 Simple Steps
Uploaded.net
Uploaded.net is among the most popular file-sharing sites that use cloud storage. This site has a robust business in cloud storage. Its office is in Switzerland and the UK. You can store all kinds of data like videos, images, or documents.
It is absolutely safe and had some issues which are resolved by the engineering team. Uploaded.net also has many different plans to choose from. You can also use the customer care service if you have any doubts regarding this. Do visit this site by clicking on the link below.
Visit: Uploaded.net
MediaFire
MediaFire is among the trusted file sharing sites used by over 50 million people. The best part about this file hosting service is that the free account comes with 10 GB of storage which you can increase all the way to 50 GB inviting friends through referrals. The maximum file size allowed is 4 GB though, and there won't be any bandwidth restriction on downloads.
However, they will be ad-supported. The uploaded files can be easily shared across your social media handles with one secure download link.
These links are in the form of a 'one-time' link so that the recipient can't share those with anyone else. It supports multiple uploads, and you can easily organize them using the built-in file explorer.
If this much space is still not enough, and you want more space, you can always upgrade to a pro account with 1 TB of storage and an ad-free experience for $3.75 a month.
Visit: MediaFire 
See Also: 5 Ways to Recover Deleted Files on Mac | Recover from Emptied Trash
SendSpace
If you have difficulty sharing big files, SendSpace is designed for you. This is also regarded as the top featured file sharing site. You can drag your files and put them on the bar provided below. Send, receive, track, and share your large data easily.
Once you visit this site, you will see many options like signing up, tools, and log in. You can also contact them via mail ID or phone number.
Visit: SendSpace
4shared
4shared has been in operation since 2005 and is still going strong. You can upload all sorts of files, whether it is an mp3, video file, app, image or ebooks. The best part of 4shared is the social sharing page, where you can discover the latest trends in music and video, the books people share, the most recent apps and games. It is quite an exciting proposition.
4shared is also available in the form of mobile and desktop app so that you can access your files from anywhere. The free account comes with 15 GB of storage, with a maximum file size of 2 GB, albeit with ads.
Visit: 4shared
See Also: 6 Best ISO Maker Software for Windows (Free & Paid)
Zippyshare
Zippyshare is different from the other file-sharing sites in the sense that it is an entirely free service. It offers users fast download speeds, with a maximum file size of 500 MB. Zippyshare has unlimited disk space, as long as the max file size stays under 500 MB. The uploaded file can be downloaded anytime and as much as you need.
The lifespan of the file is up to 30 days without any activity. You can also upload files without signing into the service, and there is a mode for private upload so that only you can view those files.
You can select photos, videos, audio or documents or anything else you like. Once you upload the file, the file-sharing link will automatically generate. And you can share it across your social media accounts.
Responding to user queries, Zippyshare has recently launched a beta uploader where you can use a downloader tool to upload your files onto the system.
Zippyshare is one of my personal favorites. I often use it to download my files both on my PC and smartphone.
Visit: Zippyshare
Mega
File sharing sites faced significant DDOS attacks back in the day. Megashare got taken down by the authorities a couple of years ago. Mega is back in its second iteration after its founder, Kim Dotcom got arrested a couple of years ago due to piracy charges.
Megashare is now Mega, with a much simplified and cleaner version, and a complete cloud interface. All uploads and downloads happen on the web browser interface and offers users up to 50 GB of free file hosting.
Mega prioritizes privacy and keeps all your files secure with end-to-end encryption. If that doesn't satisfy you, you can also get a pro account starting from 5 pounds a month and all the way up to 30 pounds a month, and offering anywhere between 200 GB to 8 TB of storage.
If you want to stay with the free account, worry not as there are many options to increase your data limit. Each friend invite earns you 10 GB, and installing their mobile and PC app gives another 35 GB of total space. Reason enough to cheer?
Visit: Mega 
See Also: Is Dailymotion Safe? Everything You Need to Know
Google Drive
Google is among the most trustable brands in the world. Google's services are widely used, be it YouTube, Gmail, or Google Drive. Google Drive was launched in 2012, and now it offers 15 GB of free file sharing for your photos, documents, and videos. You can access it from any device, be it your PC or smartphone.
You can invite others not just to view your files but also collaborate on the same. Google also has native support for your documents and photos in the form of Google Docs and Google Photos, so you don't need to rely on any third-party apps.
You can decide to access Google Drive through any web browser. Or you can also download its app to backup and sync your data.
Visit: Google Drive 
Depositfiles
Depositfiles is a perfect place to store your files securely and easily share them. You can create a free account and get unlimited file storage time and space, with a maximum file size of 10 GB.
The files are easy to manage with its free built-in file manager, and you can password protect the files to protect it from unwanted intrusions. Free users get only a single connection though and come with ads.
If you don't want any of these, you can get a Gold Account that doesn't have such restrictions.
Visit: Depositfiles
Box
Box lets you securely share and edit your files on the go. It is necessary if you are working on a team project and you need to share your work with others. With Box, all your team files are in the cloud so that you can access it anywhere in real-time across any device.
Box also comes with Microsoft Office 365 integration, so if you are on a PC, you can seamlessly access your files.
The free account comes with a 10 GB storage and 250 MB file size limit. The personal pro version is available at Rs. 785 and comes with 100 GB of storage and 5 GB file limit. You can forget email attachments as you can share the files straight through a link or right through Box.
The best part is that you can preview your files before downloading them, as it supports over 150 file types.
Visit: Box
Bit
The work is no more limited to one place. In the season of the pandemic, remote work has gained immense demand. In such a situation sharing the file with your teammates is made easier by these file-sharing websites. Today the content we create is shared in multiple different formats using these sites. One such celebrated website is Bit.ai. Here, you can upload an image, video, URL, tweet depending on your work needs and store them as required.
Bit is a one-stop destination for cloud-based storing and also managing content.
Using their Workspaces, you can organize your documents and other contents and also make it available for your team without any confusion. Moreover, every single workspace has a sturdy and technology-supported library that gives you a place to store your content data in any format they exist. You can store the videos, audios, pdf, Google sheets, images in your digital workspace. Although these features are good, the praiseworthy quality is, you can also make smart Bit documents for discussion around that document. All kinds of Industry sectors speak highly of this site. Also, this tool is quite Intuitive and straightforward, making it a user favorite.
Visit: Bit.ai
Jumpshare
Are you searching for a site that allows smooth data storing and also a place for work collaboration? You can do both of these simultaneously at the same place. That place is Jumpshare. It is intelligent enough to handle the data as well as handy enough for work collaborations. It is an awesome file-sharing site as it allows you to share files like pdf, screenshots, recordings, creatives in this one place. These files can also be easily distributed to employees and employers in a very uncomplicated manner. You can share the URL with the people you want to show the content.
Not just this, they even send you feedback on the same document with comments options and even tagging options. With Jumpshare, you can not only manage and organize work files but also personal records as well. You can further follow it up with the right to view these documents and allow your team to view the particular document. Other amazing features include taking screenshots and transforming videos into GIFs.
Visit: Jumpshare
DropSend
10 MB is generally the standard file size for Mailing documents. But what if you have a file size larger than 10 MB? Mailing large files have been a difficult problem for all of us. However, there is a solution to this as well. DropSend is the file upload site that you need! Sending large files has never been easier before DropSend. With this tool, you can send up to 8GB of large-size files. All you need to do is upload the file into their servers and send the link to the person you want to deliver the large file. Moreover, to upload the doc to the server, you need to just drag and drop the doc from your device to Dropshare. You can even share multiple files at once.
The receiver will receive a downloadable file link. This way, your large files will reach the receiver without altering your documents. Furthermore, if you are concerned about your document's security, Dropsend assures you that it protects your uploaded files by 256 AES Encryption.
DropSend's free plan, however, gives you limited storage of 4GB and allows only five shares every month, which we think might not be suitable for commercial purposes.
Visit: DropSend
Hightail
If you are looking for free file sharing sites which provide a lot of functionality, you can't go wrong with Hightail. It is much better when you have large files to share.
Apart from the standard file sharing option, they also provide collaboration. Where you can invite others to work on the project and edit it along. File uploading is easy and secure, which can be done through drag & drop or import from other URLs.
Just like Box, you can also preview your files, be that mp3 files, images, videos, docs, etc. You can even password-protect your content and share them only with a specific group of people.
The service also has a download tracking feature, so you know who has accessed your files. You can also set time limits, by which files you wish to access. The basic account comes with 2 GB of storage and an uploads limit of 250 MB.
The pro account starts at $8.25 a month and offers unlimited storage with a maximum file size of 25 GB. There is also custom pricing for workgroups and teams, with unlimited storage and a maximum file size of 100 GB.
With a pro account, you get recipient tracking and access codes to protect your files.
Visit: Hightail
See Also: Fix: Laptop Won't Recognize External Hard Drive Error
FAQs
What are the pros and cons of storing data in cloud-based file sharing sites?
Using these apps can save a lot of time and energy and provide improved remote access to data in a safe manner. However, privacy concerns and ethical issues regarding data ownership may still be a recurrent problem.
Conclusion
So these were some of the best file sharing sites we would like to recommend to you. Check them out and let us know which one you liked the most.
See Also: WinX MediaTrans Review | The Only Review You Need to See