As everyone believes that Government Jobs are the best Jobs because their work pressure is not that much as one faces in the corporate world. Also in government jobs, one can maintain work-life balance. But getting a government job is not that easy. Thus, find them through these Government Jobs Websites and maybe you'll get a chance to have one.
So if you are facing difficulty to get a website where you can get complete details about all latest and upcoming government jobs, then you are landed at the right place.
In this article, I will provide you Eight Best Government Jobs Websites where you can easily find govt. Jobs and can apply for them.
See Also: Top 5 Tested Employee Scheduling Apps for Android | 2019
Best Government Jobs Websites in India
Here are the Best Government Jobs Websites in India for you to get started with job hunting.
Jobnews.today
This website provides you all the upcoming notifications, latest notifications, and employment news. You can easily and quickly get abundant of pings related to all of your dream jobs that you are preparing for.
This one of the Government Jobs Websites also provides you a discussion forum where student or job seekers get guidance from the experts. You can also clarify your doubts on this job discussion forum.
This website has come with many useful features. One of those best features is – You can get job notification from all the states and the union territories.
Visit: Jobs News Today
Indian Govt Jobs
This is an Indian one of the Government Jobs Websites. On this site, you can easily find latest government jobs for Indians. When you are redirected to the site, there you can see a lot of latest govt. Job notifications on the home page itself. You can also categorize your search for quick results.
For that, on the home page, you can see a lot of categorization according to fields like Railway, Bank, Indian Army, Indian Navy, UPSC and much more thus making it one of the decent Government Jobs Websites.
You can click on any field according to your preference. Suppose, you tap on Railways field. Then you will get all the notification related to railways only. You will get complete details also like Name of the Post, No. of vacancies, last date for apply, etc.
Visit: Indian Govt Jobs
See Also: Top 10 Websites to Post Free Classified Ads in India
Freejobpoint.com
Freejobpoint also categorizes jobs according to the fields. Apart from the government jobs, you can also get Engineering jobs and Medical jobs on this site.
This website doesn't provide you notifications in a huge list which you have to scroll down. It will provide you job notifications in a differentiated manner. So you can directly go to that field in which you want to apply.
You can register for this website either through Facebook or by creating an account on the site itself. There you can see a lot of frequently asked questions that may solve your query.
If you didn't find a one, then you can ask your question also. It is a mobile phone friendly website. So even if you don't have a desktop or a laptop then also you can easily access this site on your mobile device.
Visit: Free Job Point
Job Sarkari
Job Sarkari is one of the best Government Jobs Websites if you want to search latest government jobs in any sector. As here you can search according to the department, by location, according to the number of vacancies and according to your education.
Apart from the job notifications, there you can also get your exam results, your admit cards, syllabus of the exam and answer keys.
You can also get trending current affairs on this website. So it is a complete and well-structured package for you. You can register yourself on this website so that you can get daily updates in your email box directly.
Visit: Job Sarkari
Free Job Alert
Free Job Alert is also an Indian internet site. There you can get job alerts of almost all fields like Govt. jobs, IT jobs, Engineering Jobs, Teaching jobs, etc. You can also get your admit card and call letter. One of the very useful Government Jobs Websites.
Here you can see cut off marks and answer keys related to various exams. You can go through the exam pattern, selection criteria and syllabus for the exam to which you want to appear for.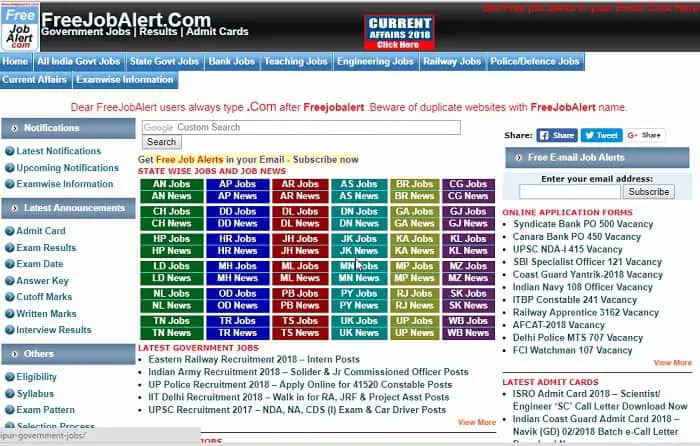 To prepare yourself in a much better way, you can go through previous years question paper and Interview questions, which you easily get on this website. You can also go through current affairs.
On the top-left corner, you can see "Current Affairs." Click on that, and you can read latest current affairs which may come in your government exam.
Visit: Free Job Alert
See Also: 8 Best (G.K.) General Knowledge Apps for Android
Employment News
Employment News is another website that makes you aware with latest government job vacancies. It provides you job highlights in a very crisp manner, i.e., Name of Post, No. of Vacancies and Last date to apply.
Here you can read latest and modern editorial articles also. There is a column of "Special Article" that will help in your Interview preparation. To motivate yourself, you can read success stories also. It is an old website that was launched in 1976.
Visit: EmploymentNews
Naukri.com
Naukri.com is like a search engine where you all can get job alert for almost all types of jobs. Like govt. Jobs, international jobs, walk-in jobs, etc. At the top, there is a Jobs column, from there you can browse through jobs according to your skills, designation, location, and company. It is one of the Best Government Jobs Websites too.
You can also go through the company profile like its salary structure, all about that company, interview questions asked by that particular company, etc.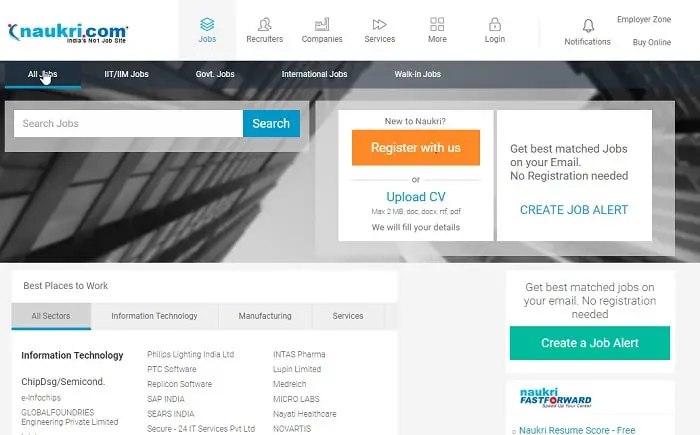 Here you can upload your resume. So that you get job notifications according to your matching skills. By clicking on Create a Job Alert, you can get best-matched jobs directly in your mail box.
Visit: Naukri.com
See Also: Top 10 Best Personal Assistant Apps For Android
Sarkari-Naukri
On this website, you can search jobs in two ways.
The first way is to use the search box which you can see at the top-right hand side. There you can type related keywords like "MBA" or "Jobs in Gurgaon" and then press Enter.
The second way is to use the top navigation menu. Where you can easily customize your search according to "jobs by companies," "jobs by Post," "jobs by the qualification" and last but not the least "jobs by state."
You can register here for free by entering your email ID. So that you will receive all upcoming job alerts in your mail box.
Visit: Sarkari Naukri
Final Words
With this, I have completed my list. I hope this article will assist you to get Government Jobs Websites where you can find notification about all latest government jobs in India.
Thanks for your reading and All the best for your shining future!
Also Refer: 10 Best Free Job Listing Sites for Employers | Worldwide