This post will give you a rundown of some of the best date and time widgets for Android in their respective categories: Clock and Weather, World Time, Diary and Alarm Clock, Digital Calendar Widgets, and Analog Calendar Widgets.
Discover the finest selection of widgets that bring convenience and functionality to your fingertips:
Clock and Weather Widgets
World Time Widgets
Diary and Alarm Clock Widgets
Digital Calendar Widgets
Analog Calendar Widgets
Date and Time widgets for Android are great because they make it easy to keep track of your day and set reminders. These widgets give you everything you could want, including a clean layout, customizable or changing options, and alarms that wake you up without disturbing anyone else in the house. You might be late for a meeting or wait weeks for delivery—every minute counts. 
Click here to read our article on Custom Mouse Pointers | Top 17 Cursor Packs To Try Right Now
Some Useful Data And Time Widgets For Android
Here is the list of some of the most valuable data and time widgets for Android:
Clock and Weather Widgets
These are used to show you the Time and weather conditions
Android Clock Widget
This is the best clock widget of 2023 that you can add to any of your home screens. It includes the date, trending weather forecasts, and a "feels like" temperature.
It features simple, clear graphics and has an AM/PM indicator for night owls.
Download: Android Clock Widget
HTC Clock Widget
This is HTC's official clock widget from their Sense UI. It comes as a bar-style widget (like the photo on the left) or an analog-style one (like the one on the right).
The weather information is "futuristic," but it's still easy to read. Also, check this article to check screen time on Android. 
Download: HTC Clock Widget
Morning Weather Forecast
This clock widget gives you the weather forecast. It includes the temperature, whether or not it will rain, and how cloudy the day will be (color codes).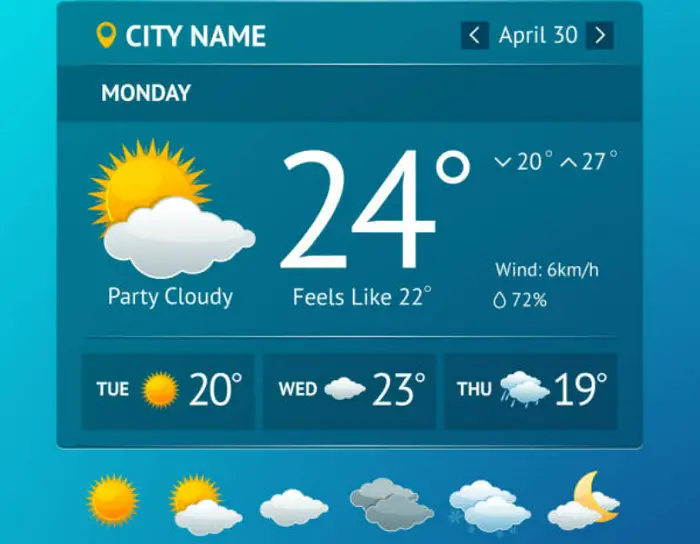 You can also add three more things to the widget: battery status, Time of sunrise/sunset, and an optional world clock. Now, Click here to learn how to customize your desktop using the many Rainmeter skins available.
Download: Morning Weather Forecast
Analog Clock Widget
This is a simple time and date widget with no frills. The face of the clock features friendly big letters for easy reading.
It has an AM/PM indicator for night owls and an accurate digital clock display on a black background (like most phones' screens). You can choose between 2 different styles: a digital clock or a simple analog clock.
Download: Analog Clock Widget
Olive Clock
This is an excellent free date and time app with various skins. You can select the Time and date according to yourself (today, tomorrow, yesterday, or last week), add weather info and check the forecast, and change the number of seconds on each tick for those like that.
Download: Olive Clock
Weather Clock
This might be your tea if you want something simple and clean, like a minimalist date widget.
The widget features six generic clock graphics – one for every hour: 0:00, 1:00, and 2:00.
Download: Weather Clock 
World Time Widgets
To show you Time across different time zones worldwide.
World Clock And Weather
This widget allows quick and easy access to the current Time in several different time zones. The device has a list view on the left side with all of your cities – you can change anything about any location by tapping on it to bring up its settings screen.
You can even add and organize any number of cities to be tracked, which makes it a valuable tool for travel planning, looking up the local Time and weather conditions in another town, or even just as an exciting way to pass the Time (for example, comparing the weather in Boston with that in London).
Download: World Clock And Weather
Big Time World Clock
 This is one of the best Android widgets for quick access to Time in cities worldwide. It has a big, bold clock on the main view and a list view of your saved locations on the left.
You can change anything about any area by tapping on it to bring up its settings screen. A built-in weather service also sends an email alert whenever it gets new data from Yahoo, Current Weather, or Open Weather Map (all three offered by this widget).
Download: Big Time World Clock
Diary and Alarm Clock Widgets
For helping you set a timetable or schedule for the day, setting reminders and alarms.
Download: Diary and Alarm Clock Widgets
Press-Press
It is a fully-featured alarm clock widget available for free from the Google Play Store. It has a clean material design and a layout resembling the Pixel launcher.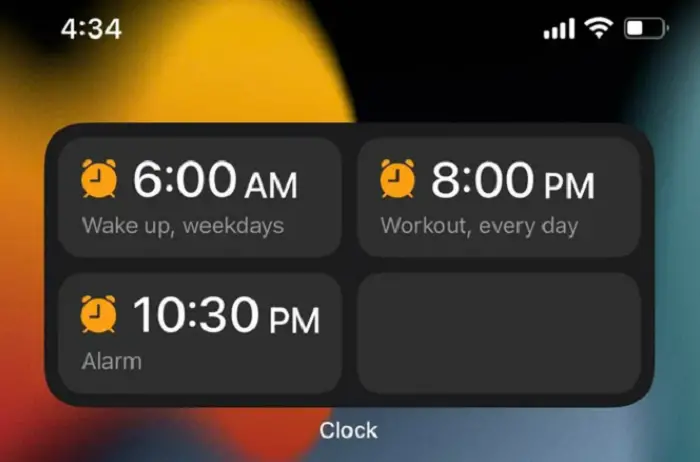 You can customize the look of this widget by setting background colors, changing font sizes, and choosing among different icon styles. This app allows you to display your upcoming alarms and reminders from any other app that supports the reminder functionality in Android.
Chronodot Android Alarm Clock Widget
Chronodot is quite simple to use and one of the few alarm clock widgets that aren't free. It offers custom alarm times, a pleasing and clean design, support for reminders, various customization options, and a delightful color scheme.
You can even choose where your widget appears when you pull down the notification shade. Chronodot is a good option if you're willing to pay a little.
Digital Calendar Widgets
For showing you the monthly and yearly calendar on your Home Screen. 
Download: Digital Calendar Widgets
Timely
As the name suggests, this simple and effective calendar app makes adding, editing, or changing the date on your calendar easy. It's free and relatively lightweight at 1 MB. It is an appropriate date and time widget for Android.
You can customize it to show a text-only version or include a plan with a list of events in your day. You can even import Google Calendar events straight into Timely to help keep you organized. An option also allows you to schedule alerts for upcoming events on your phone. Still, this feature is unavailable for individual circumstances—only daily and weekly event notifications are supported.
Download: Timely
Google Calendar
Google's official calendar app is just a front-end for Google Calendar, and the same may be said of many other calendar apps. Google Calendar is accessible through the browser or a free Android app and syncs your events to all your devices, including smartwatches and tablets. You can also share calendars with friends and family or create collaborative schedules so that everyone can see who is doing what and when.
The app supports Android Wear, and you'll also get event reminders, travel time between appointments, and more features as you use it. It's ad-free, lightweight at less than 4 MB, and available in multiple languages. 
Download: Google Calendar
Read More: 11 Best Spy Cameras to Get in 2023 [Detailed Review]
Analog Calendar Widgets
It's like an all-in-one calendar widget that helps you view dates and times, set reminders, plan the day, etc. 
Download: Analog Calendar Widgets
Timetable
Excellent design makes this calendar very aesthetically pleasing.
Download: Timetable
Google Calendar
A genuine classic offers a powerful yet simple interface.
Download: Google Calendar
Orb Calendar Widget
You can customize this widget with your images and colors.
Astrid Calendar Widget
Many calendar widgets are essential, but this one looks attractive and highly functional.
Download: Astrid Calendar Widget
Business Calendar
 One of the best calendar widgets for professionals.
It's a business tool with great features for scheduling meetings and keeping track of your work.
Download: Business Calendar
FAQs
What are the best date and time widgets for Android?
Time is an important aspect of our lives, and careful consideration should be given to its use. Android time widgets are an excellent way to view Time accurately. Many widgets are available, but these are the best- Timely, World Clock+, Engage Time, Chronografix, etc.
How do I put my Android phone in a different time zone?
There is a great app that can help you with this. It's called the 'World Clock Widget.' It makes it easy for you to view various clocks across multiple time zones on your Android home screen.
How do I add a time widget to my Android screen?
Click on the launcher icon (three dots) on your Android Home screen, which looks like a house. Then click App Drawer to see a list of all your apps. A green dot should be on the top right corner of every app visible in the list. This means it is an app you can use as a widget. Choose the Timer app. It will open up as a screen to configure it. You should see a timer on your home screen! You can choose which timer you want to use from the list of timers and whether you want it as a 24-hour timer. Make your choice and then click 'Set,' followed by 'OK.'
Conclusion
Get ready for all those deadlines to be crossed off! Since Time is money, it's no wonder you're looking at your phone and wondering how to manage your Time better. With this article, I hope you can find a suitable date and time widgets for Android and start your day.
See also: [Solved] Start Menu and Cortana Aren't Working in Windows 10