Rainmeter is an open-source system monitoring program for Windows. It was software that was first developed for Windows XP. To customize your desktop using the many Rainmeter skins available.
What started off as a way to display various info on the desktop. Has since become one of the best ways to make your desktop the coolest. And the best part of RainMeter is that both the software and its skins are free for rainmeter download and use.
See also: 20 Kodi Skins You Must Install 
RainMeter themes are the visual tools that help your desktop display various information. It can be as simple as single-purpose tools to a complex multi-purpose application.
Multiple skins on the same desktop interact with each other using commands called 'Bangs.' The best part of RainMeter is that it is for everyone.
Or, if you want to customize the existing skins. Then this software also doubles up as a robust toolkit that allows you to tinker with the skins. You can do this by changing some of the variables in the skins code. Or if you want to do thorough customization, you will have to code using the scripting language used by the software. Which is relatively easy to learn and use (difficulty level is at par with HTML or JavaScript). Do you know, how to install rainmeter skins? You can use this guide in order to customize skins perfectly.
The Windows 10 update has vastly improved both features and visual aesthetics of Windows. But, there is only one default interface. And users can change the visuals by changing the background image. Which makes the visuals experience of the new Windows a bit boring after some time.
But like the older versions of Windows, here also RainMeter allows users to ramp up the display. This is by using and customizing their skins. With the huge developer community of RainMeter rolling out new skins frequently. It can get confusing and also literally impossible for users to go through the whole array of skins to choose the best one.
That's why, in this article, we have put together the best RainMeter Skins of 2023 that are available for Windows.
25 Best Rainmeter Skins for Windows
Tech-A
A simple, but supremely robust and highly functional skin. The Windows logo is featured in the background of the Tech-A Skin which also has displays for CPU functions, Date and time, and a myriad of other shortcuts that makes this skin not only look futuristic and good but extremely useful too. This skin also has a YouTube video installation guide, that helps new users to install the skin seamlessly.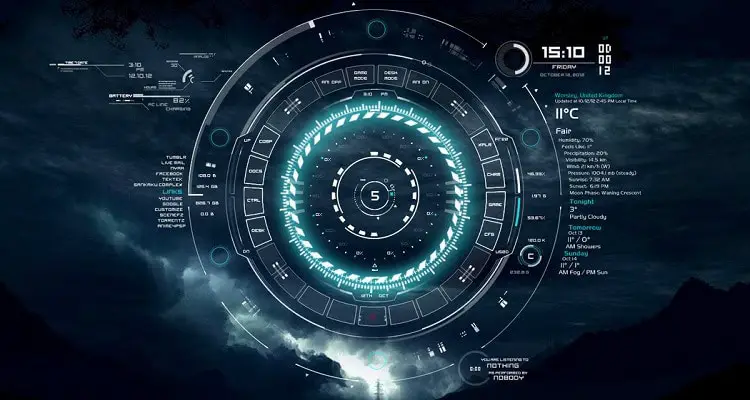 Amatical 
Amatical is a fun, highly customizable rainmeter skin for your desktop. Its stand-out feature is the quote displayed on the screen. The skin suite allows you to pick any quote that inspires you to display it on the screen.
Apart from this, you will also be able to add different widgets from the settings. These include the date and time widget, weather widget, google search bar, etc.
This skin can also help you monitor your CPU, RAM, and Hard Disk usage. 
See also: How to check RAM frequency.
Newspaper Rainmeter Desktop
High on the old-school vibe, Newspaper Rainmeter skin displays a variety of information on the desktop all of which is arranged wonderfully to make it visually very pleasing. This rainmeter Deviantart skin has 14 desktop launchers, a mailbox skin (for Gmail users only), weather skin, a notepad pop-up, and a systems stats pop-up along with a working pocket watch and a cigarette that burns all displayed on your desktop when you use this skin.
Eker_lina rainmeter The SKIN
If simple things are what you like, then you will love Eker_Lina skin which is very simple and clutter-free yet has a lot of functions to display. Using this skin, you can display things like- Time and Date, Folder count, WinAmp, iTunes, Upload & Download, Drive, FAV launcher, RSS Feeds, Facebook, Twitter, Google Search, Gmail to name a few.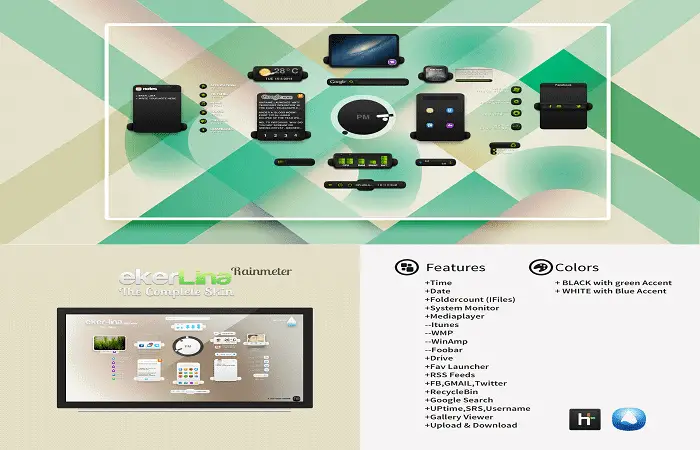 The black color of the widgets displayed looks nice when combined with a light color background image. Moreover, you can also change the widget color and combinations to suit your preferences better.
LIM!T [1.2]
L!M!T is a modest but ingenious rainmeter skin suit. Its design is cleverly done such that when seconds pass, the minute's text fills up. Similarly, as minutes pass, the hour's text fills up. If you're not comfortable with a 24-hour clock, you can easily switch it up to a 12-hour one. In the latter option, as the hours' pass, the AM/PM field changes accordingly.
See also: Best Clock Widget Apps.
Another cool feature is the weather display. The current temperature is shown in text-filled by three bars representing different temperatures. The lowest is represented by blue, the highest by red, and the current temperature by gold. This feature allows you to determine the weather outside and access the daily forecast quickly. 
Mond
Like L!M!T, Mond is also a desktop rainmeter skin with a minimalist design. This skin is perfect for those who prefer a straightforward design and are not fans of overbearing features. 
Mond rainmeter skin suit comes with a simple weather widget and a rainmeter audio player. It can also be easily be personalized with a wallpaper of your choice.
Battlefield 3 – Rainmeter
This skin is modeled after the immensely popular first-person shooter game. The Battlefield 3 theme is very popular with gamers not only for the visuals but because of its functionality that allows customization to make the desktop feel and behave like a gaming console.
Along with the usual Weather, Data, and time display you get a full customization sidebar where you can put your favorite applications, shortcuts, and tools.
 Rainmeter Win10
The Rainmeter Win10 is another highly customizable rainmeter skin suite for Windows 10. The theme allows you to pick and choose from a wide variety of features to make up your display screen. The skin has also added several new features in the latest update. These include a game icon, mini steam, steam id, WiFi language, etc.
You can also track your system activities such as battery consumption, hard disk storage, RAM, memory, processor information.
See also: 13 Best Computer Diagnostic Software Tools
Rusa Jantan
Rusa Jantan has all your vital widgets such as the control panel, search box, and download manager in fun and attractive styles. It also has music player icons so you can easily access your Spotify playlists.
See also: 8 Ways to Fix Spotify Won't Open
The best part about this skin suite is that it allows you to switch users through the logout button on the skin. Thus, multiple users can personalize the theme as per their needs and interests.
Before Dawn RM Bar
Before Dawn is probably one of the smallest and simplest skins on the list with a size of just 29.5 KB. This deviantart rainmeter skin is also probably one of the easiest skins to run as the installation is fairly simple without any major tweaking.
The information provided by the skin is displayed in an organized manner in the central display bar with icon links for your favorite websites and applications and also RSS feed.
Big Sur
The Big Sur skin suite's primary purpose is to transform your Windows 10 Display to look like macOS Big Sur. The font, icon, layout, etc., are all reminiscent of macOS.
The skin has a compact sidebar with auto-align options and customizable labels and colors.
JARVIS + SHIELD Interface : Rainmeter Theme
The Jarvis Rainmeter skin has always been prevalent skin even in Windows 7 and 8. Among the many Iron-Man-themed cool Rainmeter skins, this is one of the most stylish and makes your desktop looks like Iron-Man's computer- Jarvis.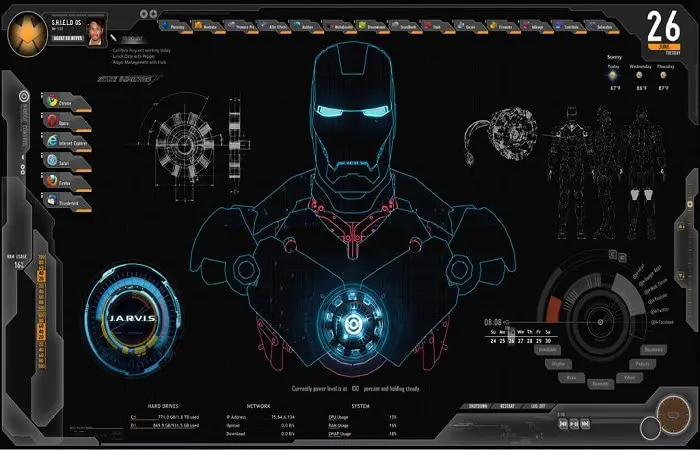 This skin includes basic system monitoring information, Weather, Time and Date along with email and other application shortcuts.
Senja Suite
Designed for the TV or Anime character fans, Senja Suite theme can display your favorite characters on the desktop in a slideshow of images.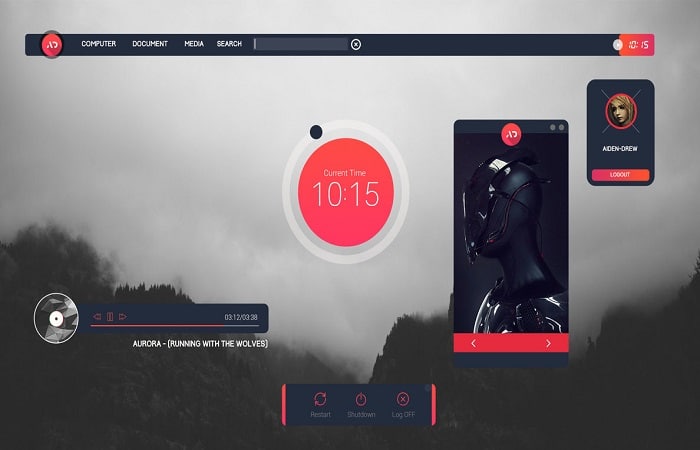 The skin also provides the usual contemporary skin features like Date and Time, media information, and power control buttons, thus making the skin not only a visual treat but functionally very usable.
Speed
This minimalist skin is really soothing for the eyes, with its frosted glass transparent appearance and muted backgrounds with very few effects. Speed skin is derived from the fact that the CPU and RAM function display looks like a Speedometer.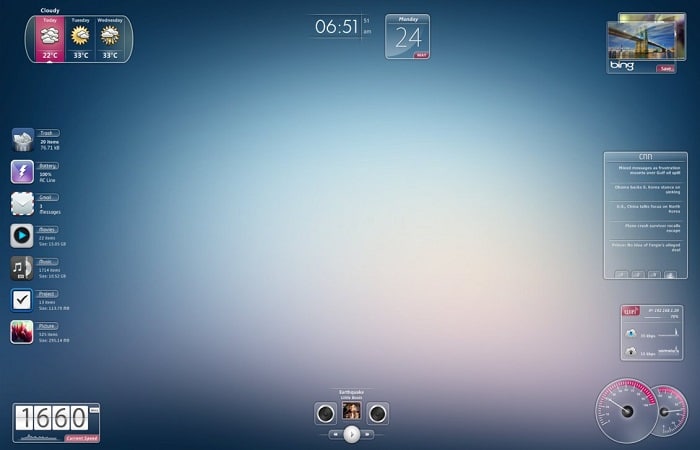 Rainmeter – Darkness Falls
Darkness Falls as the name suggests is an amazing theme. If you like dark-themed things, then this is definitely the skin for you. Also, it features things like widgets, displays and the wallpaper comes in dark mode. Now, you can even enable the dark mode in Notepad++.
An added advantage of Darkness Falls is that you need very little customization to start hence making it easier for the users to being with.
Razor
The name of the skin is given because of the Razor effect given to the background display by the sharp and glossy effect. The visuals of this skin is entirely dependent on the type of background you use with it which can be anything from simple colored backgrounds to dramatic pictures.
Otherwise, in terms of functionality, the skin provides all the usual features like Clock, shortcuts, weather, power, and customization docks.
Enigma
Enigma has been rated as one of the most downloaded RainMeter skins. Such was its popularity in 2009, that RainMeter made this its default skin that year.
The all-new version is available for Windows 10 in 2018. The best part of this skin is the way the content can be displayed which makes it look really awesome.
Windows 9 Single Mark 4
One of the best simple and minimalist RainMeter skins available for Windows in 2023 is this Single Mark 4. The visuals of this skin are based on the normal Windows visual concept but the gadgets and the layout make it look really good.
If you are looking for a simple skin, with minimal objects and customization requirements then you should definitely try out this skin.
Neon Space
Neon Space is for all the fancy glory futuristic loving users who want their desktop to look like a computer from the Sci-Fi movies. Although very fancy-looking, the dark colors paired with the neon glowing colors make for a very soothing display.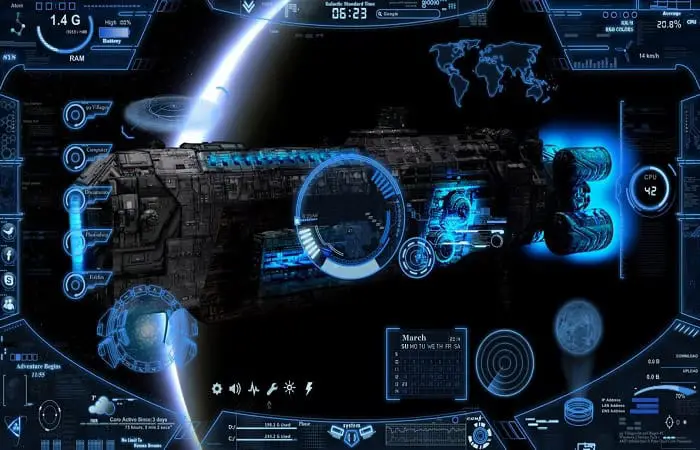 Along with all the normal features and widgets (Date and time, CPU usage, RSS feed, etc), there is a bunch of fake displays too which adds to the complex futuristic feel.
Pog Pack
Pog Pack is based on a central cluster type analog-digital display that has all the information needed. This skin has 10 variables all of which are highly customization.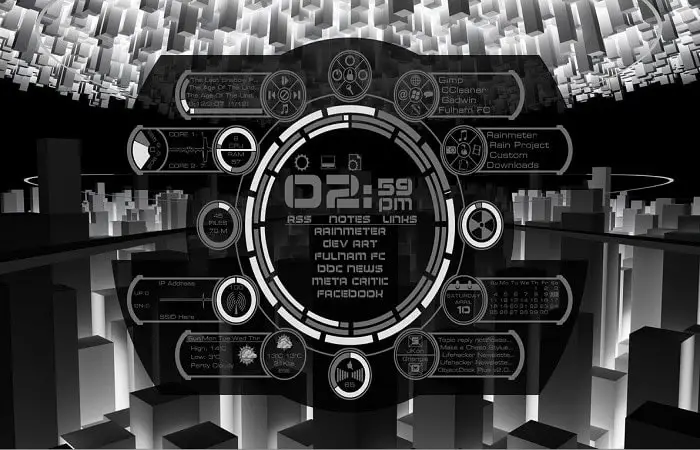 The ABP V1.2
ABP is another elegant RainMeter theme based on aesthetic designing and simple visuals to give the users an awesome visual and functional experience.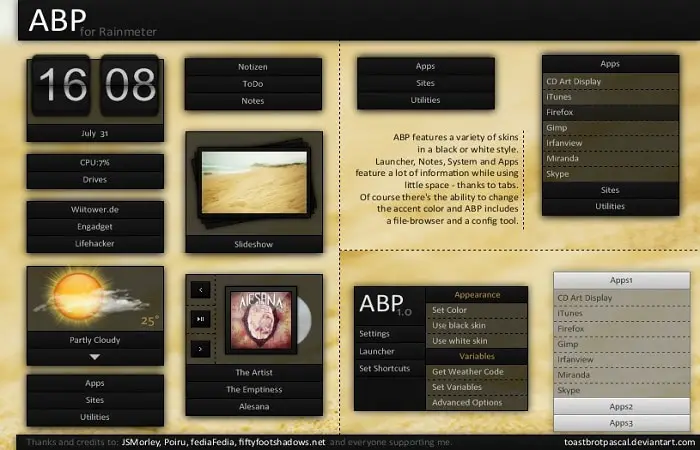 The apps, widgets, and notifications are in a very categorized manner which makes it easy to access. Also, the information is in a drop-down menu which makes the desktop clutter-free.
Taboo
One of the best themes for black and white lovers. It is with a simple design and loads of black and white skins to choose from. It also allows customization of the placement of the widgets and the information displayed by each of them.
Rainmeter  – Space Theme
As evident from the name, this Space RainMeter theme is modeled to provide space and space travel-related effects. The background of this skin is a super quality image. Which when coupled with the numerous widgets and features makes this an excellent skin. Especially for the space-lovers to use.
The characteristics of this skin also include eight skins and three audio visualizers.
Rainmeter – Elegance 2
An upgrade on the older skin- Elegance, this new version is a more elaborate and better-looking version; Hence, Elegance 2. If you are looking for simplicity, this is the right choice for you because of the simple, graceful style.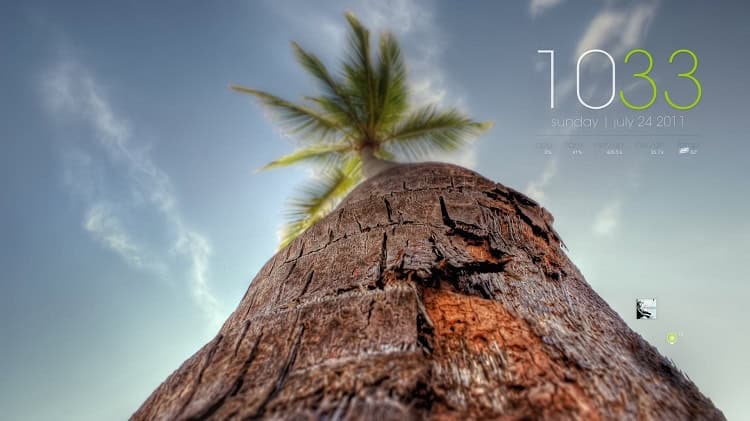 For customization of Elegance 2, a color changer tool that you can use to change the color in one click.
Wisp
Although fully packed on the widgets and features list, Wisp is another of those RainMeter skins whose visuals entirely depend on the type of background the user decides to pair with it.
Horde for Rainmeter
Another skin for the dark theme lovers. Horde has a solid color dark background with minimal effects giving it a serious look.
Features like Enigma taskbar, Enigma Calendar, Enigma network line, and network address are present there. Not to mention, RSS Readers, Kingdom hearts memorized Clock, Power Toy, and a HUD.
Obsidian for Rainmeter
Obsidian is one of the best & user-friendly RainMeter Skins. It looks like an architectural model. Where all the icons, widgets, and shortcuts are available in a block arrangement.
Although simple, it can be very efficient to use due to its icon arrangement and looks good too.
End of The Worldpileus Suite
This skin is designed in the backdrop of an epic (but imaginary) image. It gives a terrific visual experience. You will also get all the standard RainMeter widgets like Date and Time, PC usage, RSS feed, notifications, etc.
Adian Bolon Aero
An all-green-based theme for Windows 10. Adian Bolon Aero skin is highly customizable and allows you to access all your required applications in a single click.
Unity
Another skin for the simplicity lovers. Unity features all the standard widgets and features of RainMeter skins.
It is present immaculately and straightforwardly.
If you are an Overwatch fan, check out our article on 11 downloadable Overwatch skins.