Chrome is one of the fastest, if not the fastest web browsers available. What if we told you there is a possibility to make it even quicker and more efficient? This is all possible through the hidden Google Chrome flags menu. You can access this menu by typing chrome://flags in your Chrome's address bar.
However, be careful as these options are made for developers. Do not change anything that you don't understand as most of the features available in this menu are experimental. You can make the changes given below for more efficient browsing safely. All you need to do is search for the option, i.e., type the heading in the Search flags field and do as told in the article.
List of Best Google Chrome Flags
You should try these 14 Google Chrome Flags for efficient browsing
Automatic Tab Discarding
When enabled, the tabs in the background are discarded from the system memory in order to conserve the total memory. This option in Google Chrome flags is recommended if you have an old or a low spec computer. The discarded tabs don't close automatically but are reloaded every time you switch to them.
To turn this feature on, click on the drop-down menu under the heading Automatic tab discarding and select Enabled.
Material Design in the rest of the browser's native UI
This option extends the material UI Google features on its latest OS to the chrome browser. All you need to do is click on the Enable button next to the option.
You will need to relaunch the chrome app in order for the changes to take effect. Sometimes, the Google Chrome flags won't change after a relaunch. You might require a full system restart in order to reflect the changes thoroughly.
New omnibox answers in suggest types
This will allow new types of answers in the drop down you get after something in the address bar. It replaces the search suggestions with currency conversions, dictionary definitions, sports scores, or translations, wherever possible.
From the drop-down menu, select Enabled and relaunch chrome.
Fast tab/window Close
This will enable fast tab closing by running the tab's JavaScript handler independent of the GUI of chrome. To put it straight, all it does is visually hide the closed tab and then correctly unload it and close it in the background.
This will speed up your browsing speed for sure. To enable it, click on the Enable button next to the option.
See also: – How to Fix "This Page Has a Redirect Loop" Error – TechWhoop
Tab Audio Muting UI Control
When this option is enabled, the audio indicator, i.e., the speaker icon in the top right corner of the tab doubles as a button. Clicking this button will mute the audio output for that particular tab only. This will also add a command in the context menu to mute multiple selected tabs quickly.
To enable this, just click on the Enable button.
Experimental QUIC protocol
The QUIC protocol is a combination of the TCP and UDP protocols by Google. It aims at bringing better speeds to the internet while increasing the security. The protocol is still in works and the algorithm for QUIC is evolving.
Since it is in its experimental phase, you will have to enable it by selecting the Enable option next to it from the drop-down menu.
Smooth Scrolling
The smooth scrolling feature makes the sliding animation more fluid and continuous on the chrome browser. However, this comes at an additional cost of your system resources. It is not recommended for older less powerful systems.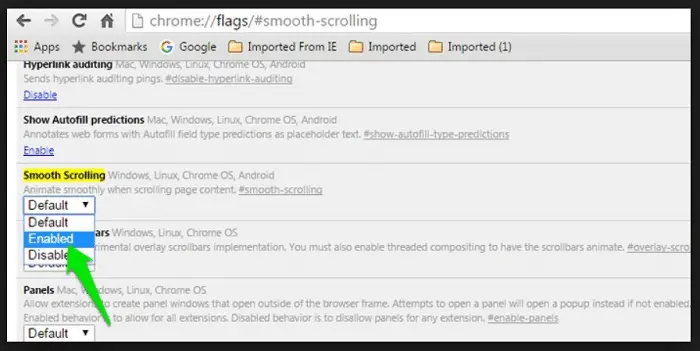 To enable smooth scrolling, select Enabled from the drop-down menu next to it in the Google Chrome flags page.
Number of Raster Threads
This option can be used for the number of raster threads used for processing an image. Changing this setting can help your browser in loading images faster. Changing the value for this option determines the number of cores that chrome has available for itself.
All you need to do is click on the drop-down menu next to it and select 4 from there.
Experimental Canvas Features
Enabling this will enable the use of underdevelopment canvas features. Even though unstable, these Google Chrome flags features should increase loading times for web pages on chrome significantly.
The option should speed up performance while having a slight decrease in the quality of how the web pages display. Just click on the Enable button next to it to enable this.
Touch Events API
You can force Chrome to use or not use this API in order to save some processing power every time chrome launches. You can set it to Enabled from the drop-down list if your device has a touchscreen. Else you can set it to Disabled. If you are not sure and want chrome to decide when to enable or disable the feature automatically, you can set it to Automatic.
However, Automatic is the default value and thus, you can leave the Google Chrome flags as is if you can't decide whether you need the touch support or not.
Must see:
[Solved] This Site Can't be Reached in Google Chrome – TechWhoop
4 Best Free VPN for Chrome to Ensure Complete Safety
Tab Groups Collapse Freeze

If you're working on something, we often are in need of multiple sources to gain information from. Therefore, we tend to keep multiple tabs open on our Chrome or make tab groups for convenience. But keeping too many tabs open enables Chrome to consume a lot of our resources and memory. Obviously, we'd like to avoid that.
Enabling Tab Groups Collapse Freeze Flag on Chrome allows us to do just that. As the name suggests, it freezes the tabs that are not in use currently. This helps your device to save up on memory and resources.
Password Import
If you work with multiple browsers, keeping track of all your passwords can be quite the hassle. Chrome saves our passwords when we enter them. Enabling password import helps you to import these passwords into your new browser after migrating.
This is very convenient as you don't have to save passwords one by one, nor are your previous passwords lost. You have to search for Passwords imports, then go to your saved passwords in password settings and click on import.
AutoFill Predictions
You might be using your Chrome browser often to fill several forms with your personal details. You might also be required to fill in your details while placing orders through different websites. This is where the AutoFill Predictions flag comes to your rescue. It smartly predicts the information that you've to fill in and gives suggestions.
These suggestions are in the form of placeholders that annotate your web forms. If you tap on the suggestion, it automatically fills various fields such as Name, Address, Contact number for you. You need to enable this flag and then re-launch your Chrome. You can also choose to edit or remove the suggestions by going to Settings.
Fast Downloads
Everyone enjoys downloading multiple things simultaneously instead of having them queued up. For this reason, Chrome introduced the Parallel Downloads flag that completely revolutionizes slow downloads. Parallel downloads allow up to six resource downloads concurrently by splitting.
Typically, browsers have a limitation for the number of connections that you can establish with the host. Chrome overcomes this limitation. This flag works on your Mac, Windows, Linux, Chrome OS, as well as online. Enabling this flag not only allows concurrent downloads but also accelerates your download speed. 
FAQs
Which flags make Chromebook faster?
Flags that disable system notifications collapse tab groups and allow parallel downloads usually make the Chromebook faster.
Where can I find Chrome flags?
You can launch your browser and type "chrome://flags". You will find a list of all the flags. Further, you can search for specific ones.
Is it safe to use chrome flags?
Chrome flags are safe to use. However, they haven't been explicitly tested for security, so you might want to be careful
Final Words
Before following all these steps, make sure that you are running the latest version of Chrome. These experimental Google Chrome flags features, once they become stable and evolve enough, are in the most recent releases by default.
It is also a good practice to clean your history and other temporary internet files in order to boost the performance by freeing up the system resources. Also, web browsing is a RAM intensive task if you open a lot of tabs.
Make sure to close unwanted tabs and any processes in the background. Lastly, if you run into any problems due to a change in the Google Chrome flags settings, click the Reset to default button and relaunch chrome.