Want to prank or create fun among your friends or relatives? Then, here is an excellent idea for generating fake airline tickets or boarding passes. With these fake boarding passes, you can easily have fun with your friends or relatives. You might think it needs some editing skills that may be time-consuming or difficult to Generate Fake Airline Tickets or boarding passes. Don't want a fake but an actual ticket at a lower price? Click here.
Using Adobe Photoshop might be time-consuming. However, some online websites generate fake airline tickets or boarding passes in simple steps. Yes, it is so simple to generate fake airline tickets through online websites, and those look like an actual boarding pass
By email sharing those tickets, you can easily prank your friends or relatives. Sometimes you may be forced to stay at your relative's home, which you don't like. In this situation, this online airplane ticket generator will significantly help you. You can easily escape from a situation showing you had a flight journey. Let's look at a few websites that generate fake Airline tickets. You might also like flight tracker apps if you're looking to find schedules of flights. They are available for both Android & iOS platforms.
Top 4 Sites to Generate Fake Airline Tickets | Fake Boarding Passes
Refer to our updated list of best sites for getting fake flight tickets now!
Fake Flight Tickets
Fake flight tickets are more convenient for generating fake tickets than the previous ticket generator. Their website is simple and easy to redirect if needed because the home page has it all. You don't have to keep juggling the pages for your fake ticket.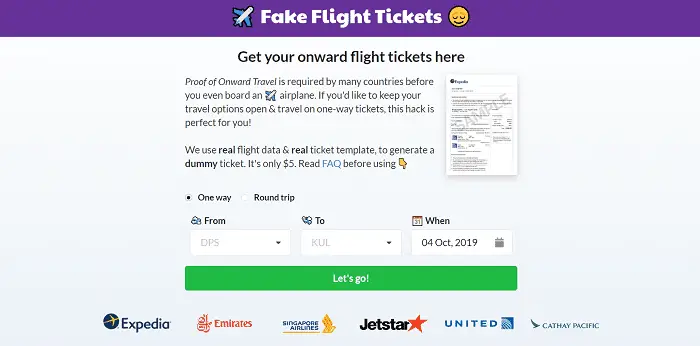 Fake flight tickets also give you referral credits. You get one free ticket after every third person who uses your referral link to generate a phony ticket. With fake flight tickets generating fake tickets is easy and fast.
How to Use Fake Flights Ticket
KeyFlight.io
KeyFlight is one of the best sites to generate fake flight tickets in 2019. Check out KeyFlight now.
It would be best to remember that you have to save the boarding pass and then mail it to someone, Do not share the ticket link, as it gets deleted from the site within 152 minutes. Here's a video tutorial on how to use & generate fake airline tickets:
Return Flights
Return flights are another fake airline ticket-generating website, just like the previous one. Everything you need to do is on its homepage; you don't need to jump over pages to create fake plane tickets. The fields offered to buy this generator are more compared to Ticket-O-Matic.
Besides the basic info, you must provide more details like flight number, price, itinerary number, etc. You need to know the relevance of the real-time flight details while filling out the form.
Also, you must remember that the itinerary number should not be the same if you are printing more than one ticket, and it should not be very much with each other.
How to Use Return Flights?
Once you are done filling in all the entries, click on the "CREATE TICKET" button, and it will start downloading a Zip file which you have to unzip using any third-party application on your computer PC.
Unzip the file to find a document with the ".HTML" extension. Just click on that, and it will open the webpage on your default web browser.
If you want to send the fake ticket to someone else, capture a screenshot of the airline ticket and send it to them because you won't be able to share the link until both devices are connected to any particular network or server. (as it resides on your computer only)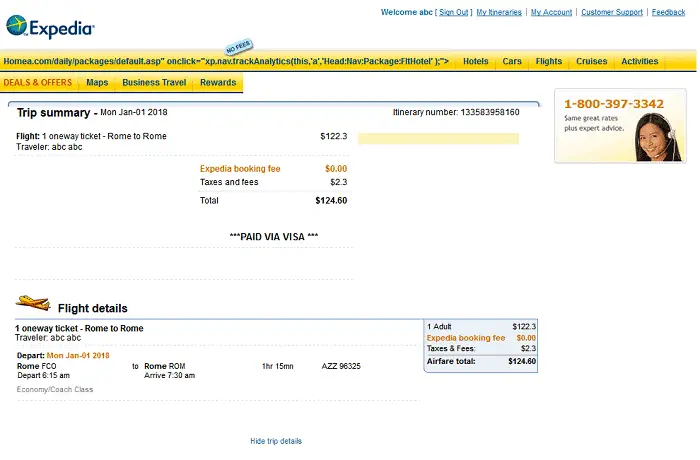 After entering the details, you can save the ticket either in. PNG or. JPEG format. Also, there is a facility for sending tickets to your friends through email.
Ticket-O-Matic
The first fake ticket generator on the list is, Ticket-O-Matic. This site and its simplified UI are free and very easy to use.
It is a free online tool to Generate "Fake Airline Tickets" or boarding passes. The generated tickets look like actual airline tickets because of their appearance same as the original.
They contain details on the original ticket, such as the airline logo, barcode, time, destination point, etc.

Using the Ticket-o-matic tool, you can Generate Fake Airline Tickets or boarding passes with only a few easy steps.
How to Use the Ticket-o-matic Tool?
Nothing is attractive or eye-appealing on the initial page or the site's homepage. The only thing you need to do after you get into the website is, click on the "STAR NOW!" button.
You can also find an option to share this website on another social networking site, just below the start now button.
Once you click Start Now, you will be redirected to the next page consisting of 5 fields you must fill in along with the drop-down box from where you must choose the airline service.
After you complete the form, click "Done," it will redirect you to another page consisting of the boarding pass. On this page, you will find two options for saving the ticket: ". PNG" format or ".JPG" format.
The size of both formats varies, and additionally, the site allows you to mail the PNG file to any designated email ID. But you can't do the same with the JPG file.
Steps to Generate a Fake Airline Ticket in Case of Any Other Website
Firstly, visit the above websites and follow the below simple steps to generate a fake airline ticket or boarding pass.
Insert Passenger Details.
Enter all the prerequisites such as passenger name, from to, flight date, and boarding time.
Select the airlines from 33 different airlines.
Click on Done after entering all the details.
You can find your ticket with complete details in the new window.
Save the airline ticket on your system either in PNG or JPEG format.
You can also send it to your friends or relatives through an email with a message.
A confirmation message will also be visible on the window with the sender's email address, the recipient's email address, and the message you have written.
FAQs
Is generating fake airline tickets illegal?
It is illegal to generate a fake airline ticket that can lead to serious legal complications, and you might end up in jail.
Do airlines issue dummy tickets?
The dummy ticket is not fake because it is provided by the airline to offer proof to the company or anywhere, but one cannot use it to travel or board the flight.
Which is the best online Fake airline ticket generator?
Fake flight tickets are the best online platform available because it is effortless to use and convenient as well. You can generate the ticket in no time.
Are fake airline ticket generators free?
The fake airline ticket generators that generate actual boarding passes are not free. It does come with a fee, and you have to complete the payment to create the boarding pass
Final Words
It looks simple, right?! And also consumes very little time to generate a fake boarding pass. So why wait for it? Follow these three simple steps using the ticket-o-matic tool, create a fake airline ticket, and have fun with your friends or relatives.
Be the first among your friends or relatives and start creating Fake Airline Tickets in a few minutes. And start surprising them by forwarding the airline ticket through emails and have fun among your friends.