We are living in the age of internet and prefer to use online services more as they are more comfortable and we don't even have to move from our bed. But here's the problem.
Every other website today requires registration or subscription to their website to get their services. And every time you register or sign up, you need an email address. Now giving them, your official email address can be risky.
Surely, you'll get the services, but they might scam your email. They might scam your inbox with their recent offers and services.
I'm sure you don't want to mess with your official email, in fact, nobody does. So, that is why you need a temporary or a fake email address so that you can avoid spamming of your official email address and can still subscribe to different websites. You might as well use it for email verification.
And if you are looking for a fake email address generator, you are just at the right place. Following are the best websites you can use to generate your fake email.
List of Best Fake Email Address Generator
Dispostable
This is for the people who don't want to waste their precious time on creating an email. Dispostable is fast, and it has a straightforward interface.
Dispostable just asks you to enter the email Id you would like to have, and that's your temporary email address. Also, you can make as many fake email addresses as you want according to your requirement.
Yahoo
If you have an email on yahoo, then it is probably the best place for you to generate a temporary email address.
Yahoo allows you to generate over 500 fake email Ids with costing even a penny. You will have to follow some simple steps to create a fake email from yahoo.
The steps are as follows:
First of all, log in with your Yahoo id.
Click on the 'Option' button and then choose Mail option.
In the left sidebar, click on the 'Disposable email.'
Now you just have to choose your base name and you're ready to go.
10 Minute Mail
As the name itself suggests, 10 Minute Mail generates a fake email for you which works for the next 10 minutes. Its pretty simple and doesn't ask much.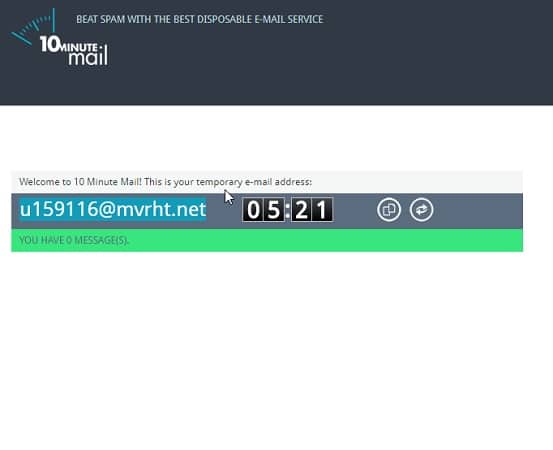 You just have to enter the required email Id and that's your fake email Id for the next 10 minutes. It also reduces the chances of error.
You can send and receive emails which appear on your homepage for the next 10 minutes. 10 Minutes Mail is absolutely free and allows you to create as many fake email Id's as you want.
Guerrilla Mail
Guerrilla Mail is again a free fake email address generator. It allows you to make as many fake email Ids as you want to prevent your official email from spamming. It has a comfortable, flexible and user-friendly interface for the visitors.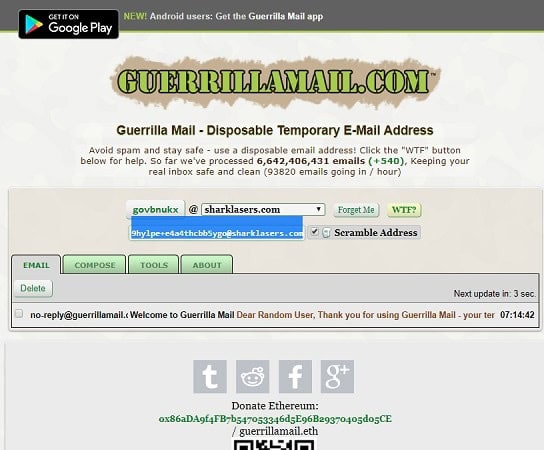 You just have to enter the details and it immediately creates a fake email for you. You can send and receive emails from other websites.
Guerrilla Mail also allows you to send an email with an attachment up to 150 MB and it offers email to check in every 9 seconds.
SpamBog
SpamBog is one of the best fake email address generator and gives you an email with the domain of your choice.
It gives you 20 different domain options and you can choose either one of them as your temporary email Id.
Unlike other fake random email generator, SpamBog is much more secure as it gives you a password to the email provided and it has a login option.
So, you and only you can see the received emails. SpamBog is pretty easy to use. You just have to click the Key icon and a random email Id will be generated in which can choose the domain of your own.
It works just like the regular email services. The only difference is that it is temporary to prevent spamming.
MyTemp
Most of the fake email generators generate an email which lasts only for a few minutes or max to max a few hours but admits it; sometimes we need them for a little more time. If you are looking for the same, MyTemp is perfect for you.
MyTemp allows you to use the provided fake email Id for the next 24 hours which is more than enough. It has a private box for your messages with a unique Id for each user.
MyTemp gives you a direct link to your fake email which you can access from anywhere. The moment you click on the 'Start' button, your fake Id will be created and your username will be at the top right corner.
You can always create another email but then the moment you create a new email, all the details of your previous email will be lost and you won't be able to access them anymore.
Fake Mail Generator
Fake Mail Generator is pretty basic and does what it says. It is a popular fake mail generator which prevents spamming of your business email. Since its basic, it's simple too.
Fake Mail generator asks you to enter your name and gives you different domain options. Choose whichever domain name you like and it will generate your fake email in a moment.
Trash Mail
Last but not the least, Trash Mail is also an efficient fake email generator. It gives access to your fake email without any time limit which means you don't have to worry about your temporary email getting expire before your work.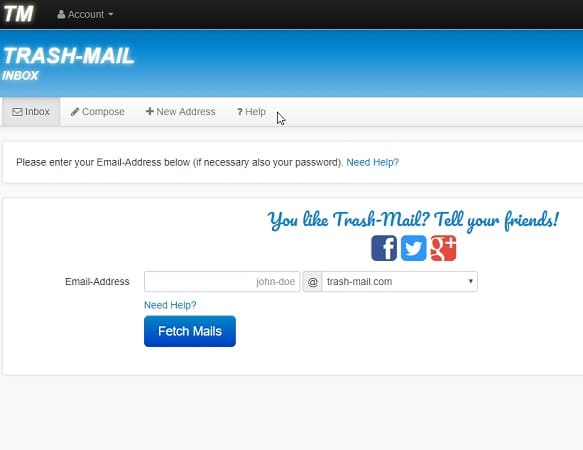 Also, Trash Mail offers you 16 different domain names and you can pick up whichever domain you want. Once you have your fake email, you can receive and even reply to other emails which is great.
There were some of best fake email address generator websites you will get on the Internet and they are always ready to help you. I hope this article was useful to you.